Copenhagen consistently ranks as one of the world's best cities to live, even making the top of some lists. Naturally, a capital city with so much to offer its residents, also has much to offer visitors. From royal palaces to picturesque 17th century Nyhavn, to one of the world's most acclaimed culinary scenes, there's a lot to enjoy. Here are 9 must things to do in Copenhagen.
1) The Tower of Christiansborg Palace
One downside of visiting Copenhagen is that it's generally a pricey city. Because everyone is paid a livable wage, virtually nothing is cheap. There are some exceptions though, with the tower of Christiansborg Palace being a notable one.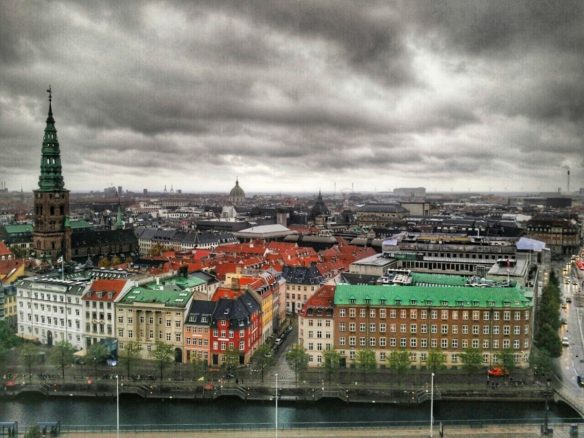 Christiansborg Palace, in the center of Copenhagen, is the former home of the Danish royal family. It now houses the Danish parliament. It's free to visit the top of the tallest tower in Copenhagen, and an elevator takes you most of the way. From 350 feet, you get an amazing view of beautiful Copenhagen.
2) Lunch and Drinks in Nyhavn
Nyhavn, which translates to "New Harbor", is actually one of the oldest harbors in Copenhagen. Nyhavn was constructed between 1670 to 1673 by order of King Christian V. It was dug by Swedish prisoners of war from the Dano-Swedish War of 1658-1660. Hans Christian Andersen, who wrote The Little Mermaid, lived here for 18 years of his life.
Lined with colourful buildings and an abundance of ships, Nyhavn is one of the most photographed areas of Copenhagen. When the weather is good, it's also one of the most popular places to sit outside for lunch or drinks. If you're looking to be healthy, Danish smoked salmon is excellent.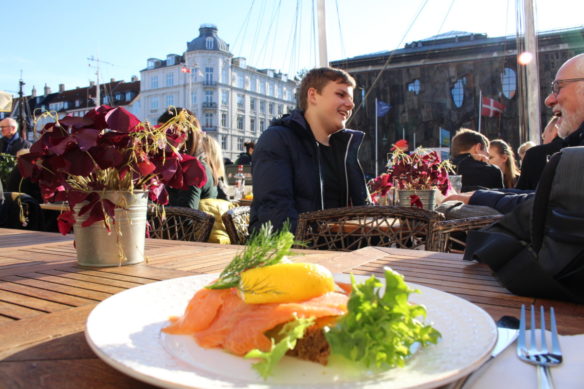 3) A Canal Boat Tour is One of Must Things to do in Copenhagen
Nyhavn is a great place to jump on a boat tour of Copenhagen. The city was originally a fishing village, and shipping is still an important part of the Danish economy. Taking a canal boat tour is an efficient way to see the highlights, while offering an appropriate perspective of the city.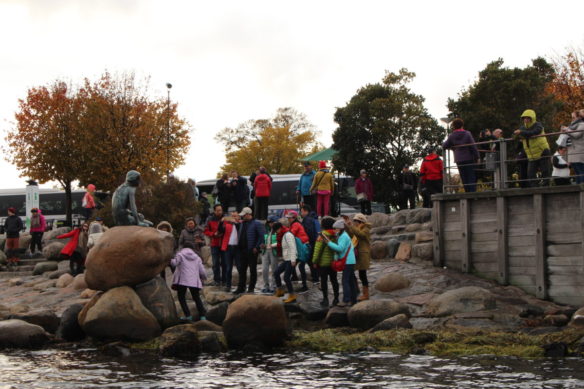 It also gives you a chance to quickly see the most overrated tourist attraction in Copenhagen, the Little Mermaid statue. This popular out of the way statue takes all of about 20 seconds to take in. Don't go out of your way, see it via a canal boat tour. Canal boat tours cost around $17 USD. It's only the cost of a couple beers in a Copenhagen pub!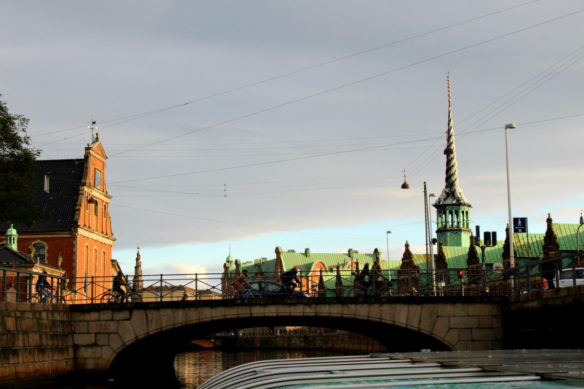 4) Changing of the Guard at Amalienborg Palace
Amalienborg Palace was built in 1760 and is the current home of the Danish royal family. Everyday at 12pm, palace guards march through the streets of Copenhagen from their barracks, near Rosenborg Palace, to change shifts at Amalienborg.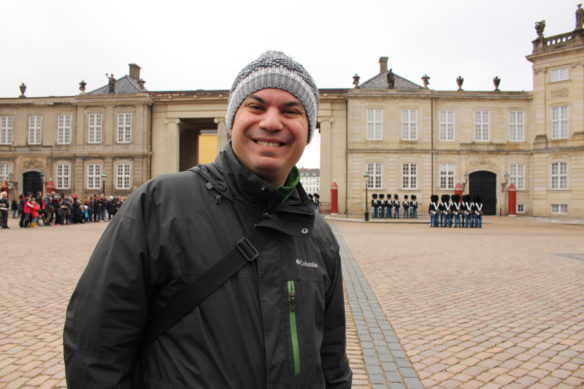 The changing of the guard at Amalienborg Palace draws a good sized crowd, so arrive early if you want a front row spot. And when the guards start moving, don't inadvertently stand in their way. Unless you want to be yelled at by security, like we were.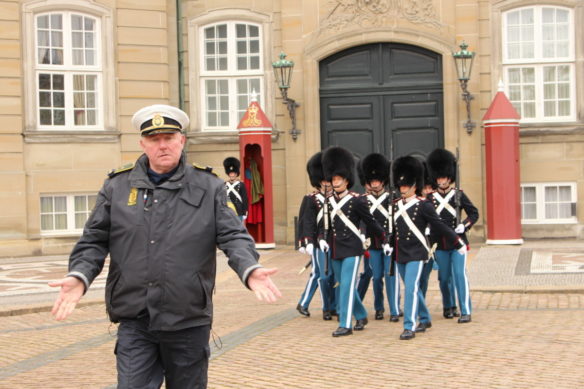 5) Stroll Through Christiana, But Don't Take Photos
In 1971, hundreds of Copenhagen residents squatted in a massive abandoned military complex in the city. The government initially battled to keep the squatters out but then decided to let them have it since they weren't using the space anymore. Today Christiana, sometimes called "Freetown," is a thriving alternative community with restaurants, bars, shops, stalls and is a major tourist attraction.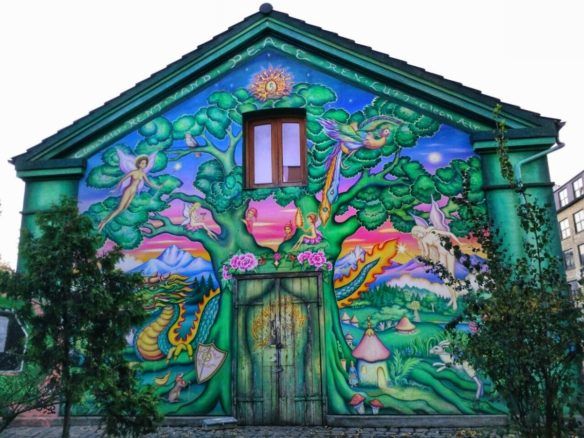 Christiana has a "Green Light District" on Pusher Street where marijuana and hash are openly sold. Most Christiana bars allow people to smoke ganja, so the community also draws visits from locals too. While Christiana is one of the must things to do in Copenhagen, the community does not allow photos. 
6) Eat at the World's Best Restaurant
Ok, so you're probably not going to get a table at Noma, which has previously been voted the world's best restaurant. But founder Rene Redzepi, who is considered the world's most influential chef, recently opened 108 around the corner from Noma. 108 is a more affordable alternative to Noma, and they share the fermentation lab that has helped transform Copenhagen into a top foodie destination.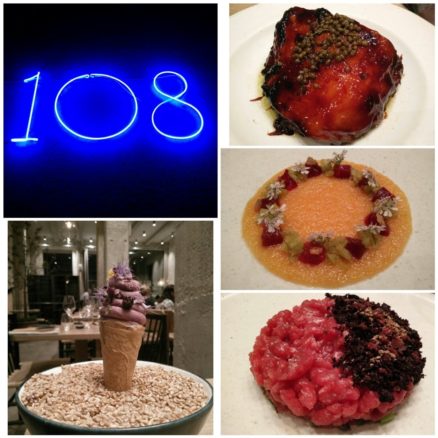 During our recent stay in Copenhagen, we thoroughly enjoyed the food, service and overall experience of eating at 108 (Unfortunately, currently closed). With a focus on fresh and unusual ingredients and experimentation, the chefs and staff of these restaurants are artists and scientists, in addition to being restauranteurs. They also brew the best brown ale we've ever drank.
7) Enjoy a Traditional Danish Dish: Hakkebof or Pariserbof
You have to try some traditional Danish dishes in Copenhagen and a must is Hakkebof. Hakkebof is a minced beef patty topped with fried onions, a fried egg and a side of red beets. Instead of a hamburger bun, carbs come solely in the form of boiled potatoes. We definitely recommend Restaurant Karla for this dish.
Another popular minced beef dish in Denmark is Pariserbof. Pariserbof is served with a raw egg on the side and horseradish, and is typically eaten at lunch. As many people aren't in to raw eggs, Hakkebof is the better bet for most.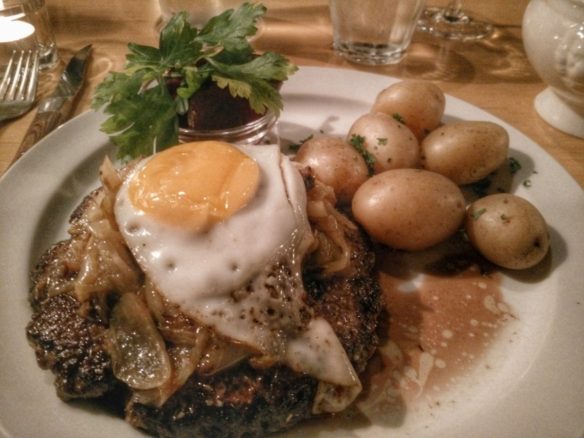 8) Take a Day Trip to Kronborg Palace (Inspiration for Hamlet)
A great day trip from Copenhagen is the setting for Shakespeare's Hamlet. Kronborg Castle in Helsingor (Elsinore in English) was built in 1585 and is located 50 km north of Copenhagen. Comfortable trains conveniently connect Helsingor and Copenhagen every 20 minutes, and the ride only takes an hour. Buy the 24 hour pass and you'll save a bunch over a roundtrip ticket.
Over the years many famous actors like Laurence Olivier, Vivien Leigh, Michael Caine, Jude Law, Kenneth Branaugh and many more have visited Kronborg Castle to perform Hamlet. During our visit there was a Renaissance festival, which made the setting a proper throwback to centuries prior.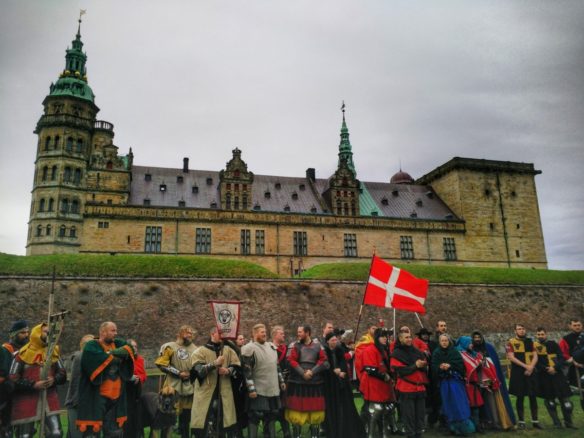 You can see the Swedish town of Helsingborg from Kronborg Castle and the ferry across only takes 20 minutes, and costs just 59 DKK ($9 USD) roundtrip. Don't leave your passport in the hotel though, you currently need it if you want to visit Sweden.
9) Where to Stay in Copenhagen? Stay on a Boat!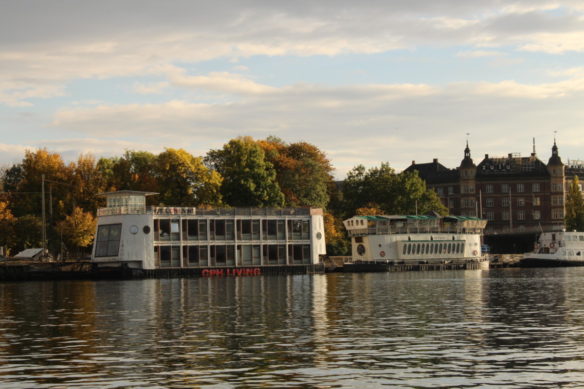 Consider staying on a boat in Copenhagen. An excellent choice is the boutique 12 room CPH Living. It's where we stayed for 5 nights and it's also previously been reviewed in the NY Times. Be sure to book there well in advance as it's a popular choice that sells out.
Best Ways to Travel to Copenhagen
Discount carrier, Norwegian airline, has made travel to Scandinavia more affordable and efficient than ever. We flew directly from Orlando to Copenhagen on a comfortable and new Boeing 787 Dreamliner, for a great price. And since Norwegian offers deals on one way fares, you can customize your itinerary to fly back from another European city. In our case, we caught another cheap and comfortable direct flight on Norwegian from London Gatwick back to Orlando.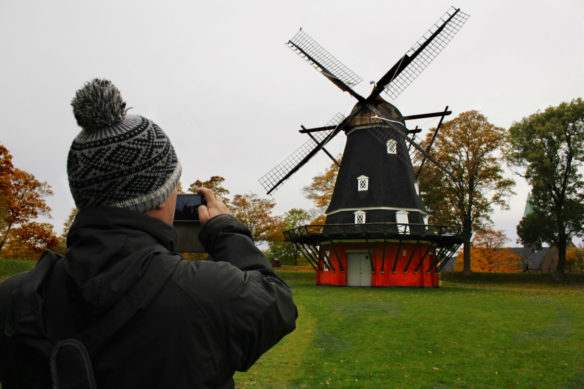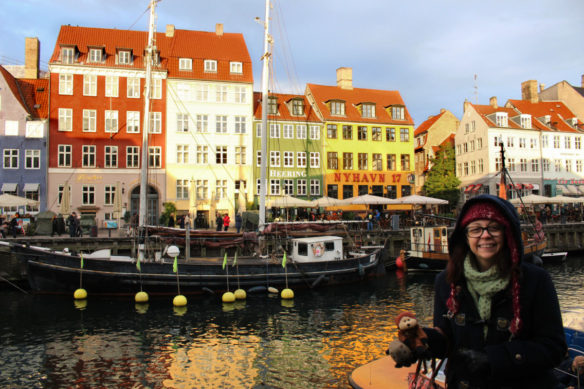 Because the education system in Denmark is so good, traveling in and around Copenhagen is easy for English speakers. Practically every Dane speaks English. And the public transport system is clean, safe and efficient. The train from Copenhagen to Malmo, Sweden only takes 20 minutes when the border is open. Unfortunately, the border currently has a checkpoint so the process has slowed down. But having another country to explore, right on the doorstep of Copenhagen, is yet another great reason to visit the Danish capital.
For more great tips, check out the official Visit Copenhagen and Visit Denmark pages. And if you're looking to plan a trip to Scandinavia and have, email me at alex(at)wanderlustmarriage.com or leave a comment below!
Disclosure: This article contains some affiliate links. We receive a small commission when you book or sign up through certain links and it costs you nothing extra. When it suits you, please use them, as it helps us help you!