There's something magical about the second largest town on Greece's biggest island. We're frequently asked "what is your favorite place?" For us, it's now Chania, Crete. There's a lot of beautiful places in the world, so the warmth and hospitality of locals helps to set top destinations apart.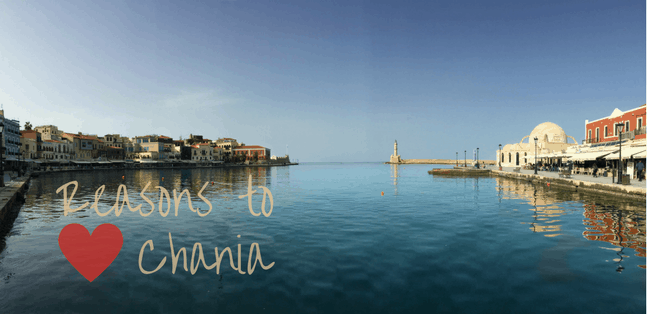 The former Venetian colony's old town is filled with colorful buildings and charming tavernas to eat and drink. Go out for dinner in Chania, Crete and it's the norm to receive complimentary dessert and a small carafe of raki (a distilled grape spirit). It's also heaven for artists and foodies. As you might imagine when you blend Italian and Greek influence together.
Venetian Harbor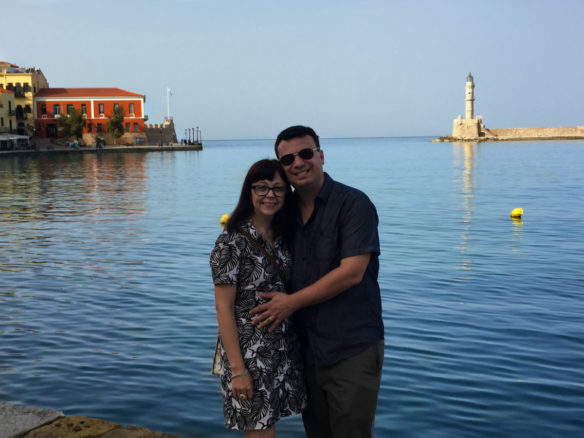 If you arrive in Chania by rental car or bus from Crete's capital of Heraklion (like we did), the 2 and 1/2 hour coastal drive is very picturesque. And once you set eyes on the Venetian Harbor, you'll be struck by its charm and bounty of great hangouts. The center of the harbor is the old Venetian lighthouse, which dates back to 1585. As the harbor is heart shaped, it's larger than it appears at first glance.
Stroll, eat, read, drink, return to your room and repeat. That's a recipe for a perfect vacation in Chania, Crete. We spent days unwinding here and were truly touched by the warmth of the locals, who also know how to have a great time.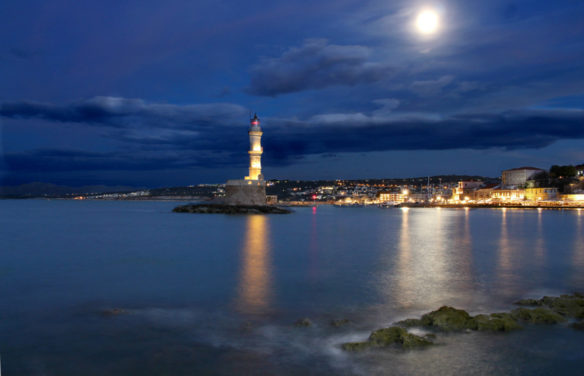 The Old Town of Chania, Crete
We stayed at a lovely five room B & B with a kitchenette, just steps from the Venetian Harbor. We wish we could have stayed at Dream Art Studios for months, rather than five nights. We were greeted by fresh jam and a small carafe of raki on a tray in our room. A sign of a lot more hospitality and charm to come. There are a lot of great guest house options in the old town of Chania, Crete. Read some TripAdvisor, Yelp and booking site reviews and support a small business. You'll be glad you did.
The Old Town of Chania, Crete's quaint laneways are filled with great restaurants, bars, cafes and shops. Many of the shops are owned by talented artists, which is a refreshing change from factory made trinket shops. We spoke extensively to the proprietor of a gift shop who sold hand crafted jewellery and souvenir tourist mementos. She spoke philosophically and diplomatically when discussing the Greek financial crisis. "We frequently change political parties in Greece. All that really changes is the dialogue. Change must come from within."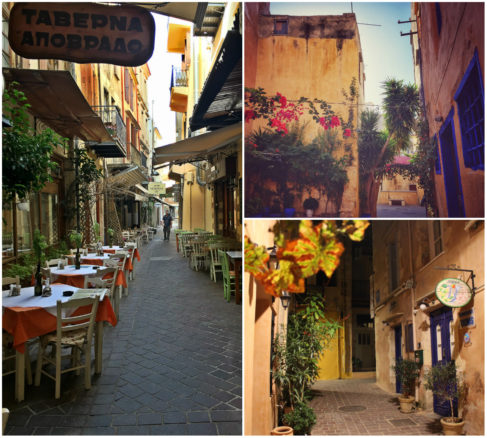 Shopping: Reasons to Love Chania, Crete
A must in the Old Town is the Agora, the town's large indoor market. This is the place to go to stock up on fresh olives, cheese, herbs and other local delicacies. If you're inclined to cook in your room, you could also buy fresh meat and seafood here.
Among other things, Greeks make excellent hand creams with olive oil, chamomile, lavender and other natural ingredients. These make practical gifts for friends and family living in cold climates. We also highly recommend buying Greek oregano, thyme, honey and of course, extra virgin olive oil. The quality of these ingredients are as good as you'll find anywhere in the world.
In addition to its old world charm, Chania also has a modern side. Step out of the Old Town, and you'll find just about everything else you might want. Yes, there is an H&M, but have a look in the small shops first.
Phenomenal Food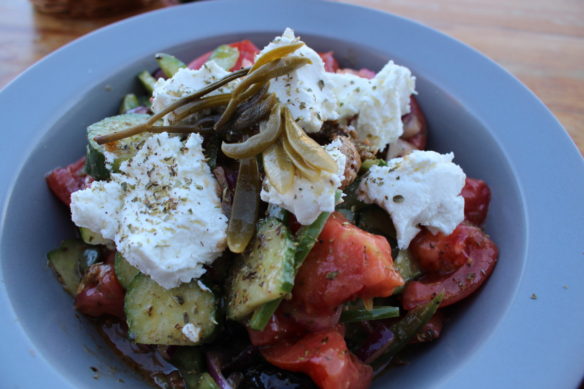 Cretan salads are as good as salads come. They feature myzithra cheese instead of feta. Myzithra is a deliciously soft and creamy sheep cheese. Piled generously on top of fresh tomatoes, olives, cucumbers, onions, croutons and dressed with high quality extra virgin olive oil, oregano and capers, it's fantastic. We could eat Cretan salads every day for a month and not get tired of them. They're also sensible because Greek dishes can be heavy. With a wonderful view of Chania's Venetian Harbour and the lighthouse, the outside terrace at La Bodega is a great place to enjoy a delicious Cretan salad over drinks.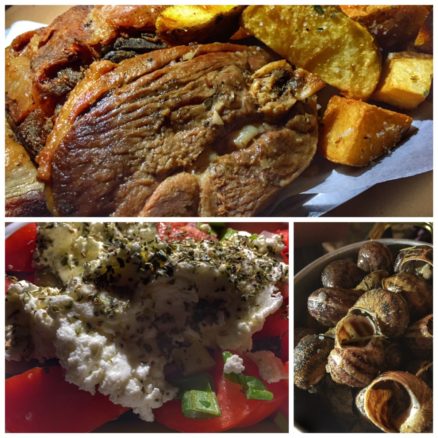 We ate at a casual psarotaverne (fish tavern) at the Agora. Our mixed platter of fresh calamari, sardines and shrimp were wonderful and inexpensive. Plan to have one of your lunches at the market.
There are so many awesome restaurants in Chania along the harbour and Old Town. Look for crowds of locals and live music. You'll have a fun time over a delicious meal.
Virtually everything in Chania, Crete is a delight. Between fresh seafood, lamb, pasta and traditional Greek dishes, it is foodie heaven. Try the fresh grilled octopus too, it's a local specialty that just melts in your mouth.
Safety
It's nice to be able to walk around a town at night and feel safe. We frequently walked around some of Chania's narrow laneways when they were desolate and never felt threatened. Bell also ran through the laneways by herself in the early morning and felt very safe. Touristy places where lots of locals are struggling in a tough economy often breeds a lot of crime. While crime happens everywhere, Chania is very safe by global standards.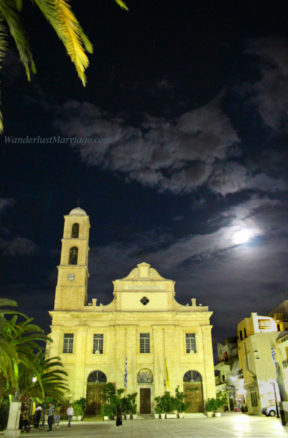 Drinking, Dancing and an Awesome Nightlife
Nikos Kazantzakis was born in Crete and is famous for writing Zorba the Greek. Crete embodies the lively essence of Greece, with its own unique traditions and meals. Cretans know how to have a great time and that spirit is infectious. When we're bogged down in city life, we daydream of returning to Chania, Crete…and just staying awhile.
Getting In and Out of Chania, Crete
Chania International Airport serves many European destinations with direct flights during the warmer months. You can also fly into Heraklion and rent a car or take a bus to Chania. In our case, we flew directly into Heraklion from Vienna, then caught a bus to Chania, and flew out of Greece from Chania.
For additional recommendations, check out the Crete section on the official Greek tourism board's page. And this article also has a lot of additional tips on Chania.
More on Greece
We've visited Greece several times over the years, and have written extensively on the country. A few more articles you might enjoy are:
Palace of Knosos, Europe's Oldest Civilization (just outside Heraklion, Crete)
Syros, the Best Greek Cyclades Island to Visit in Winter
7 Reasons Athens Might be Europe's Best City to Visit
Athens One Day Cruise: 3 Greek Islands in 12 Hours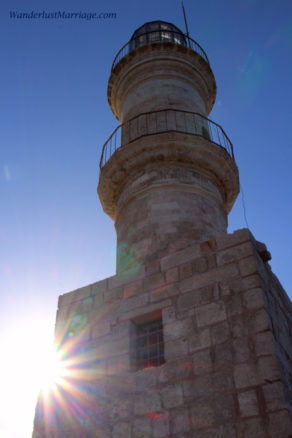 If you enjoyed this article, please retweet with the hashtag #VisitGreece or share elsewhere on the web. And if you're planning a trip to Greece, contact me at alex@wanderlustmarriage.com or call me at +1-857-919-9327. I'd love to help tailor a phenomenal Greek vacation that helps you get fantastic bang for buck!