Too many drinks can catch up with you, so Amsterdam came up with a wonderful solution to the great outdoor urine stream epidemic that challenges cities. Guys still have it easier and the man below drunkenly approves with a resounding thumbs up. Amsterdam's outdoor urinals…sponsored by…Estee Lauder?
Outdoor Urinals are a Solution for Big Parties
King's Day celebrates the Dutch monarch, King Willem Alexander's birthday. It is the biggest celebration of the year across the Netherlands with festivities throughout the entire day. People dress up in orange and drink heavily, resulting in many males urinating outdoors. To alleviate this problem, the Dutch set up additional four man outdoor urinals to reduce urine streams in alleys and around people's doorsteps. While sober, this was not an endeavor I was keen to partake in. But add some beers and desperation to the equation and I was willing to give it a go!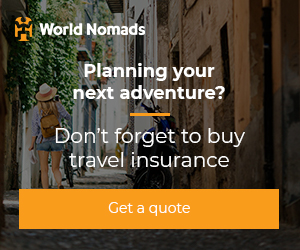 There are a lot of great day trips from Amsterdam you can take. During summer the Netherlands is an underrated country to enjoy some great beach destinations like Texel island, Zandvoort Van Zee near Amsterdam and Scheveningen beach near The Hague. There are loads of great bars and restaurants, that come complete with proper toilet facilities, but if you're not a customer the Dutch generally frown upon using their establishment as a public toilet. Solution? Set up picturesque 4 man outdoor urinals on the beach boardwalk, in plain sight of men, women and children.
Outdoor urinals are not just temporary fixtures in Dutch cities and beaches. Amsterdam also has permanent green colored outdoor urinals that are enclosed. There are many of them along the beautiful canals in the city centre. And of course, they're frequently used in Amsterdam's Red Light District! Because they're green and enclosed, they are not as obvious, unless you walk by and smell one. I always told Bell they should make the color red, so they stand out a mile away. She vehemently disagrees.
Outdoor Urinals Around the World
Dublin, Ireland has recently implemented a few sporadic outdoor urinals. Peak drinking times tend to see many streams of urine permeate the city streets. But Amsterdam is still far ahead of the curve here, as many alley corner and doorways actually have urine splash back guards- so if you think you can just pee on someone's door, your pants might serve as a reminder that this is a bad idea. Dubliners who wake up to Sunday morning pee (or vomit) near their door, could really make use of this simple deterrence.
What are your thoughts on potentially putting outdoor urinals in your city? Perhaps outdoor urinals in parks, beaches and high traffic areas in cities like New York, Chicago and Los Angeles could be a great way to get rid of those pesky urine streams.
Where to Stay in Amsterdam?
Hotel prices in Amsterdam vary depending on time of year and availability. Try and book something with free cancellation well in advance when you can, especially for summer and the holidays!
Luxury
It doesn't get more luxurious than the 5 star Waldorf Astoria Amsterdam. Set along the UNESCO World Heritage listed Herengracht canal, the hotel is made up of six monumental 17th century canal palaces. The 2-Michelin star restaurant Librije's Zusje Amsterdam is perfect for an on site gastronomic experience.
Pulitzer Amsterdam is a great luxury choice located within 25 interlinked 17th and 18th century canal houses, between the famous Prinsengracht and Keizersgracht canals. Combining traditional and modern Dutch design, the hotel has 225 unique guest rooms and suites. It's walking distance from major attractions, but on a quieter end of the picturesque western canal belt.
Radisson Blu is the one of the best value luxury stays in the center of Amsterdam. Spacious rooms are decorated in colorful themes like Golden Age and Naturally Cool. Their on site restaurant serves international meals and an extensive breakfast buffet.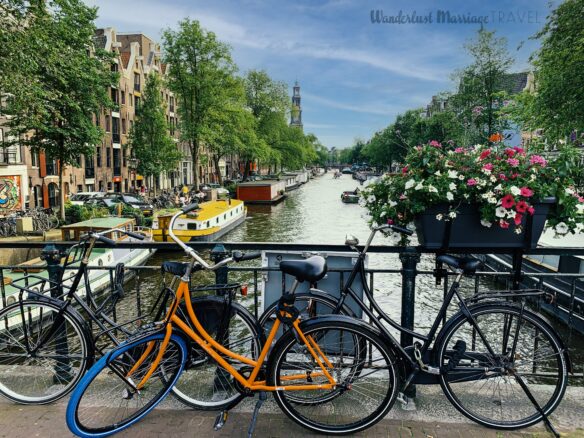 Mid Range
Citizen M is a comfortable and ultra modern hotel in Amsterdam. Every room at citizenM Amsterdam has wall to wall windows and large beds with luxurious linens. Guests can modify room color, temperature, control the smart TV and also adapt the black out curtains all from an Ipad mini.
We also recommend Motel One Amsterdam and Motel One Waterlooplein as they're good bang for buck, with a great breakfast buffet featuring delicious higher end bakery quality breads, pastries and croissants. All rooms have a private bathroom, air conditioning and flat screen TV.
Lloyd Hotel offers unique rooms in a transformed historic building. Within 10 minutes you can reach Amsterdam Central Station by tram. Rooms come in different shapes and sizes, so this is a good stay for travelers who get freaked out by cookie cutter hotels.
Apartment Rentals
Families and groups of friends will find the best value booking short stay apartments in the Netherlands. Booking has apartment listings and we often find the experience to me more professional compared to booking through other sites. Amsterdam's historic center is especially busy on summer weekends and popular holidays like New Year's and King's Day.
Budget
Backpackers should consider fun options like the popular Flying Pig Downtown and Flying Pig Uptown. Both centrally located hostels are 420 friendly.
Disclosure: This article contains some affiliate links. We receive a small commission when you book or sign up through these links and it costs you nothing extra. When it suits you, please use them. Thanks!