Brussels is romantic. With an abundance of delicious chocolate, pastries, food, beer and phenomenal architecture like the Grand Place, there's a lot for couples to love. But Brussels is also a base to explore beautiful and romantic towns in Belgium and neighboring Holland, France and Germany. Paris is around 90 minutes by train, so while doable, it's far for just a day trip. Here are 6 romantic day trips from Brussels that are an hour or less by train.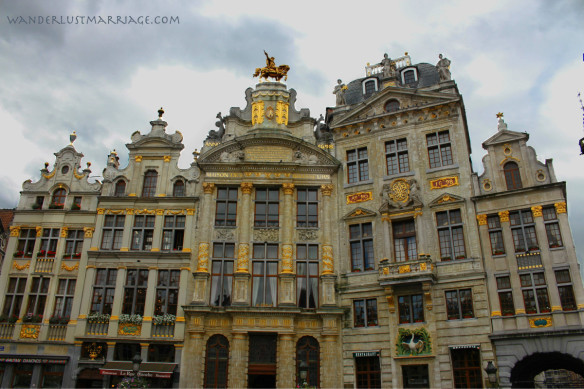 Brugge (Bruges), Belgium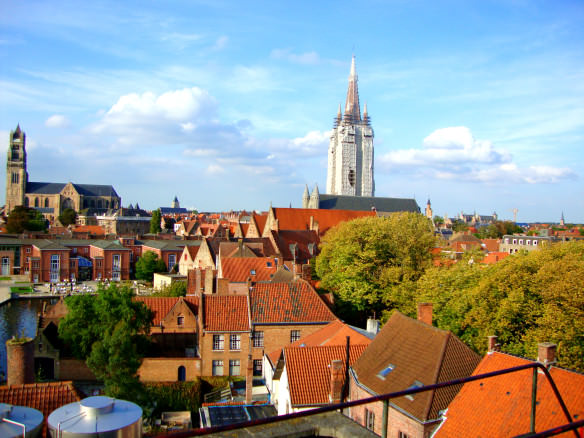 Brugge is one of Europe's most well preserved medieval cities, making it a famously romantic place. About an hour by train from Brussels, it's where we first met in 2002 and have subsequently re-visited several times since. Bell's first travel tattoo commemorates the occasion with a Belgian passport stamp of the date!
If you can visit Brugge on a weekday, plan for that. Weekends, especially during warmer months, are extremely crowded.
If you want to indulge in chocolate, Brugge has you covered with around 80 chocolate shops! You can find one drunk in your sleep. Savor the experience by buying small amounts in various shops, so you also receive a lot of delicious free samples. There's even a chocolate museum called Choco Story, which is worthwhile. Chocolate is a great aphrodisiac and Brugge has visitors beyond covered there.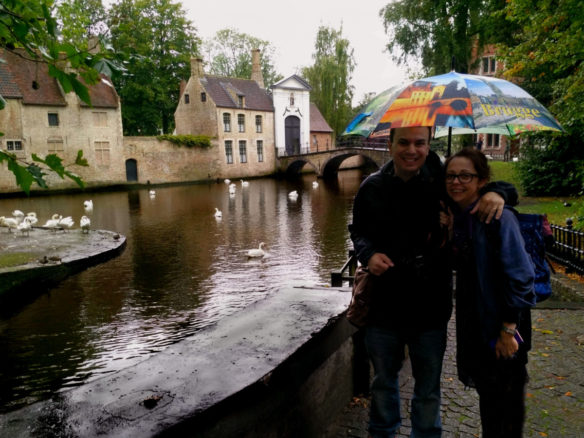 Craft beer lovers will love the De Halve Maan brewery, and the wonderful view of Brugge from its rooftop. Another epic view of the city is from the Belfry in Brugge. Be sure to catch the view from one of them, or both.
Many cities try and compare themselves to Venice, with Amsterdam, Hamburg and Mykonos among them. Anyplace where you can cruise a small boat or gondola alongside gorgeous centuries old buildings can claim this, and Brugge is no exception. Hop on a canal boat to cap off one of the most epic romantic day trips from Brussels.
Ghent, Belgium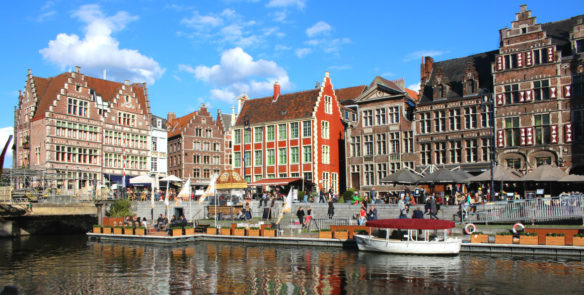 Just 30 minutes by train from Brussels, beautiful Ghent continues to grow in popularity. Famed travel writer Rick Steves tours of Belgium and Holland now feature Ghent as a stay. We've visited Ghent multiple times and have been wowed by its impressive architecture. While still drawing visitors, Ghent is far less touristy than Brugge. So along with its closer proximity to Brussels, it could make more sense to choose Ghent for a romantic day trip over Brugge. Especially on summer weekends, which have become overwhelmingly crowded in Brugge.
Dating back to 1180 and surrounded by the River Lieve, Gravensteen is one of the largest moated fortresses in Western Europe. Other architectural gems in Ghent include the Cathedral of St. Bavo, Stadhuis (town hall), the Belfry of Sint-Baafsplein and the Groentenmarkt (old market area). Combined with delicious Belgian food and beer, Ghent is definitely one of the best romantic day trips from Brussels.
Lille, France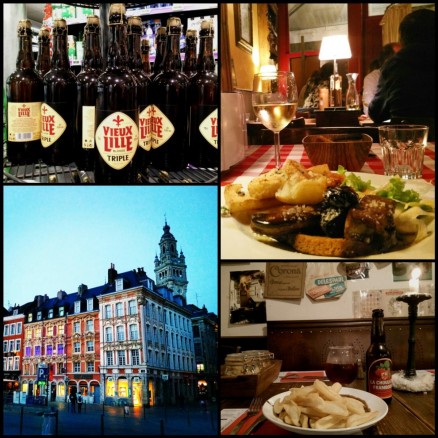 Lille, France is just 37 minutes via the high speed Thalys train from Brussels Midi (aka Brussels Zuid) station. The charming narrow streets of the old quarter, Vieux-Ville, packed with restaurants, bars and shops is an area where you could easily spend hours exploring. While the Grand Place of Lille isn't quite as magnificent as the one in Brussels, it's still beautiful and worth having a drink in the square to relax, admire and people watch. Strolling around Lille makes for an enjoyable day, and there's also a lot of worthwhile sites and museums.
Lille is filled with charming bistros, particularly on streets like Rue de Gand. Le Domaine de Chavagnac is a serious duck centric restaurant, great for enjoying delicacies like foie gras over delicious wine. Candlelit French Flemish bistros cater to beer aficionados, with a large selection of brews in everything from cozy and romantic, rustic and posh settings.
Local specialties include pot'je vleesch (rabbit stew), waterzooi (chicken stew) and carbonnade (Flemish beef stew). Lille offers delicious cuisine at better bang for buck prices compared to Brussels or Paris, with gourmet style dishes generally in the neighborhood of around €14 ($15 US).
Aachen, Germany: Romantic Day Trips from Brussels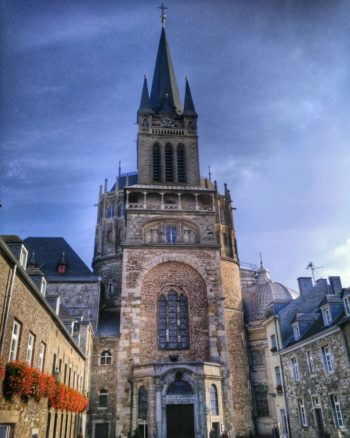 Aachen, Germany is the spa capital of Germany. It's also only an hour by direct train, making it one of the best romantic day trips from Brussels. Aachen is home to Germany's oldest church, the Aachen Cathedral, which dates back to 796. Other architectural gems include its impressive gothic town hall, the Aachen Rathaus. Aachen is also the burial place of Charlemagne, who famously lead the Holy Roman Empire.
Aachen is packed with great bakeries and sweet shops. You can load up on German favorites like pretzels, gingerbread, schnitzel and curry worst. Spend a few hours strolling this splendid town and then head to Carolus Thermen, one of the best spas in Europe, to soak your tired legs.
Leuven, Belgium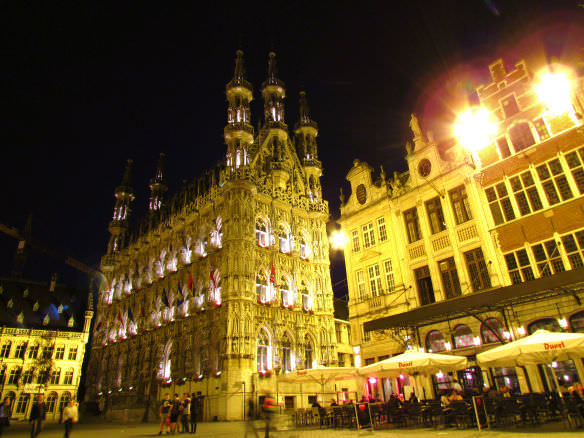 Leuven, Belgium is 15 minutes by train, so it doesn't get any more convenient among romantic day trips from Brussels. A quintessential Flemish university town that isn't overrun with tourists and bureaucrats, Leuven has a charming and authentic feel. Grab a delicious meal in a square or head to Cafe Leffe, owned by Anheuser Busch-Inbev, which is headquartered in Leuven. Despite its lack of tourists, Leuven is packed with picturesque places to enjoy delicious Belgian dishes and brews.
You can rent bicycles from the train station for around €10 ($11) per day. Leuven is a lovely town to cycle, and safer than Brussels because it's much smaller and not as congested with cars. It's a quick bike ride to the countryside to enjoy peaceful forests, streams and wheat fields (think of a Monet painting). Additionally, Leuven is only about 9 miles (15km) from the border of Wallonia, the French speaking southern province of Belgium, so you can easily cycle there.
Antwerp, Belgium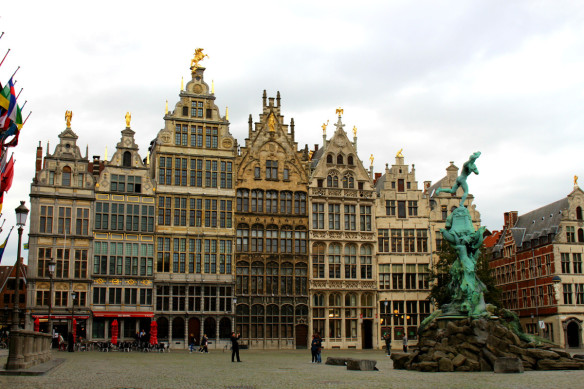 Just 40 minutes by train from Brussels, Antwerp is the diamond capital of the world. If you're looking for an engagement or anniversary ring, this is the place. But Antwerp is also an architecturally wonder filled town with delicious Belgian treats. As soon as you disembark the train, you'll literally smell fresh waffles being made in the train station.
The biggest cathedral in the Lowlands is Antwerpen Kathedraal, which exhibits an impressive collection of Baroque art by famed artists like Peter Paul Reubens. You can also visit the former house and studio of Reubens, the Rubenshuis. The guild houses and Stadhuis (Town Hall) of Antwerp's Grote Markt (Grand Place) are stunningly beautiful. Grab a drink on a cafe terrace with a view and enjoy.
Craft beer aficionados will love the Kulminator, as they age Trappist (monk brewed) beers and some rather rare brews. It's one of the most unique pubs you'll encounter in a country filled with pub gems. Some even consider Kulminator the best pub in the world. Are cozy pubs romantic? A quiet afternoon visit to the Kulminator is.
The Netherlands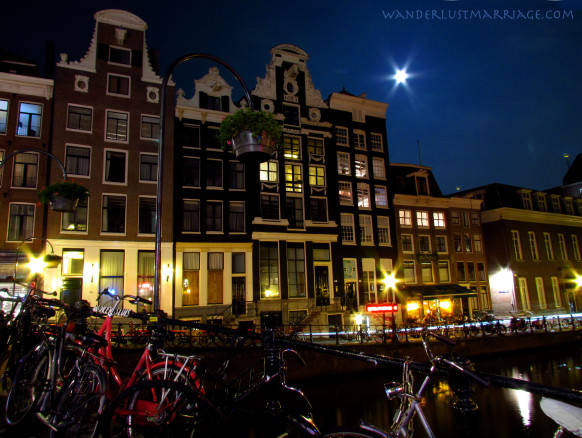 We previously lived in Amsterdam for 3 and 1/2 years, and have returned to the low countries several times since. I even guided a small group tour through Belgium and Holland in September, 2015. If you're heading to Amsterdam, read our popular article on 10 Awesome Day Trips from Amsterdam!
Planning a vacation in Belgium or Holland and have questions? Leave a comment or email me at [email protected] and I can assist you!