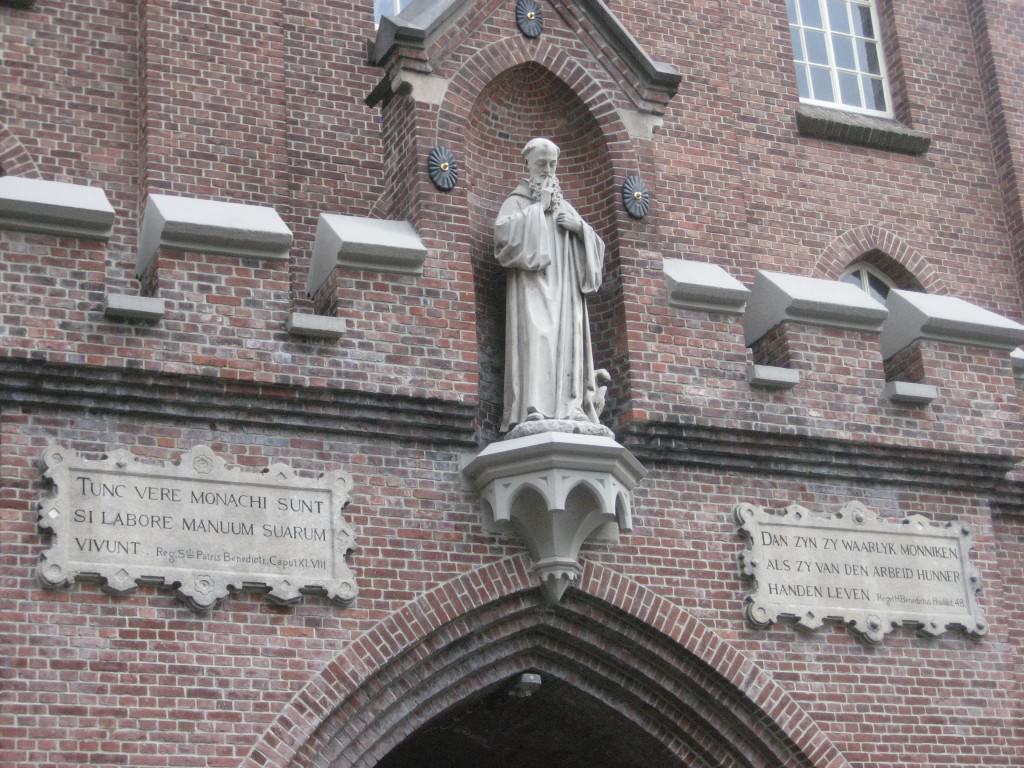 Whether you're Christian or not, monk made beer is special. Some breweries even make
abbey style
beers, passed off as the real deal when they're not. There are only
8 Trappist monk breweries
 of the Cistercian order approved to sell beer with the official Trappist label. 10 additional monasteries are approved to sell other Trappist products. These include spirits, cheeses, jams, biscuits and soaps which keep their monasteries self sufficient, as per the order of St. Benedict. Six of the Eight Trappist breweries are located in Belgium-
Achel
,
Orval
,
Westmalle
,
Rochefort
,
Westvleteren
,
Engelszell
 and the most recognized,
Chimay
. While Bell and I were living in the Netherlands, we had the opportunity to visit the La Trappe brewery, the only monk made beer in the Netherlands.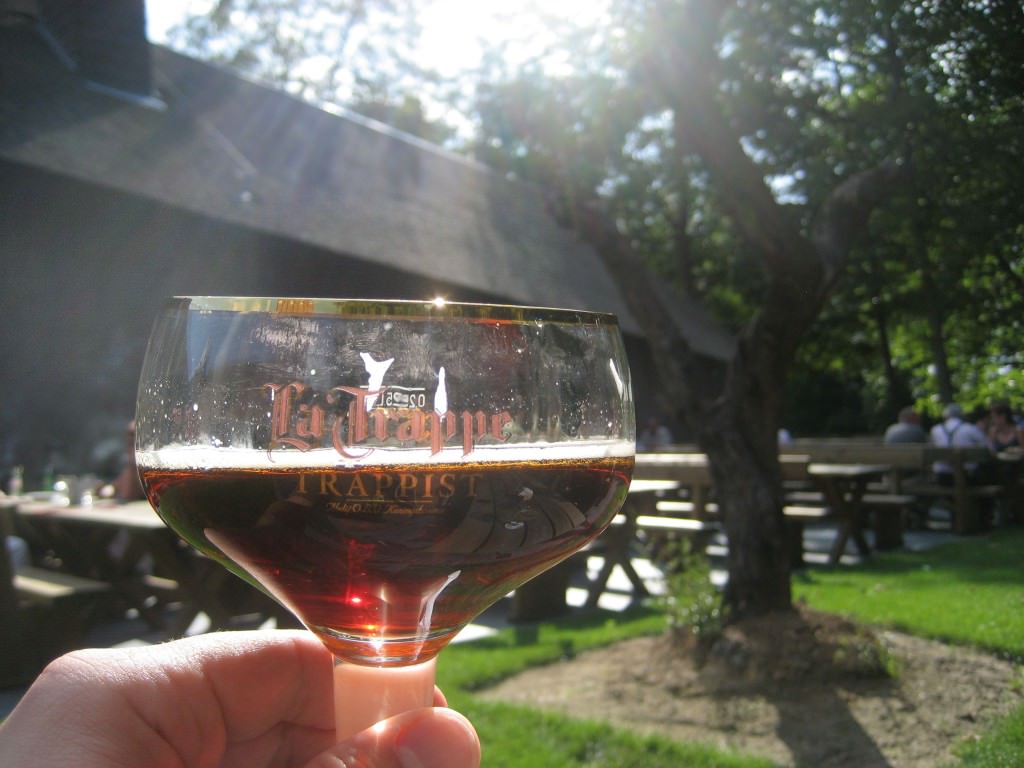 Getting to De Koningshoeven Brewery
The De Koningshoeven brewery, makers of La Trappe, is located near the town of Tilburg, in the southwest of the Netherlands, just a 15 minute drive from the Belgian border and about 1 and 1/2 hours from Amsterdam. Officially, the De Koningshoeven brewery lies in the village of Berkel-Enschot because Benedictine Monks aren't really into setting up shop in the middle of a bustling town.
The quiet property of the abbey Onze Lieve Vrouw (Our Beloved Lady) can be reached by public bus from Tilburg's central train station in just 10 minutes. The buses do not run frequently though, only every two hours on weekends so check the times. You can also rent a bicycle from the train station and be at the abbey quickly, barring you don't get lost. And if you have a car, the abbey welcomes you with free public parking.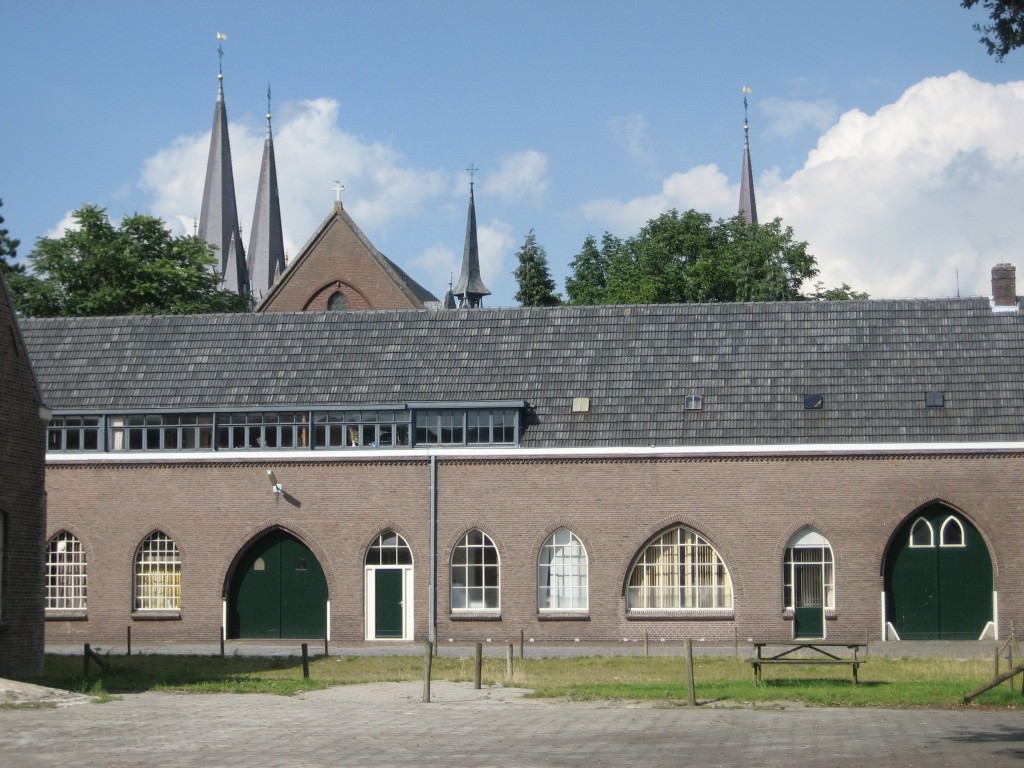 Bell and I caught the bus from Tilburg's central station as I did not want to drink and bike, a favorite pastime of the Dutch however. Reaching the large and peaceful abbey grounds is quite dramatic. The first thing that greets you is a castle looking brick gate with a marble statue of the Virgin Mary gazing down at you. Unfortunately, you cannot enter through this gate. Instead you walk over a small wooden bridge that leads you through a side entrance of the abbey. Once you enter the abbey grounds you're immediately greeted by the La Trappe gift shop.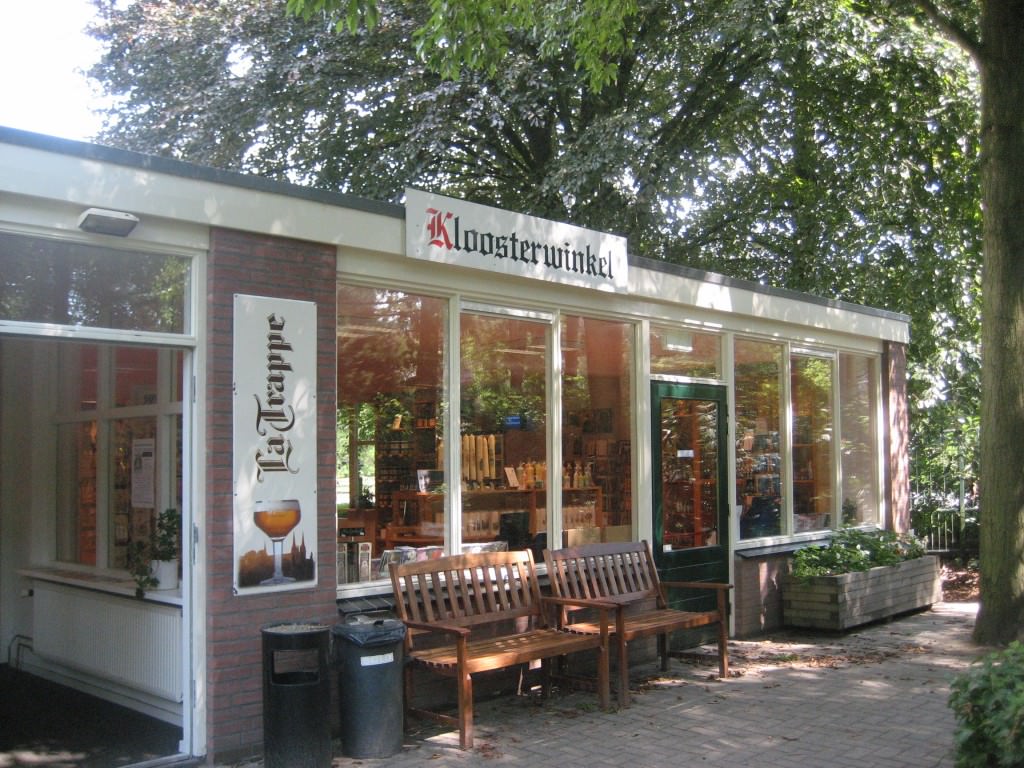 La Trappe Gift Shop
The La Trappe gift shop is probably where you will encounter the only monk during your visit to the abbey. One monk regularly works behind the register, but the monks generally prefer to work away from their guests, in silence. The La Trappe cafe and brewery tour are operated by hired workers who are not monks. In the gift shop you can purchase all the La Trappe beers in small and large bottles.
The gift shop houses many more goodies asides from beer. You can find Trappist cheeses, liqueurs and chocolates among many delicious treats that are difficult to find outside the abbey. You can also purchase La Trappe bar towels, and Trappist soap and face wash gift bags. Of course you can buy La Trappe beer glasses too. Just know that visitors receive a free glass after the brewery tour, to be picked up back in the gift shop.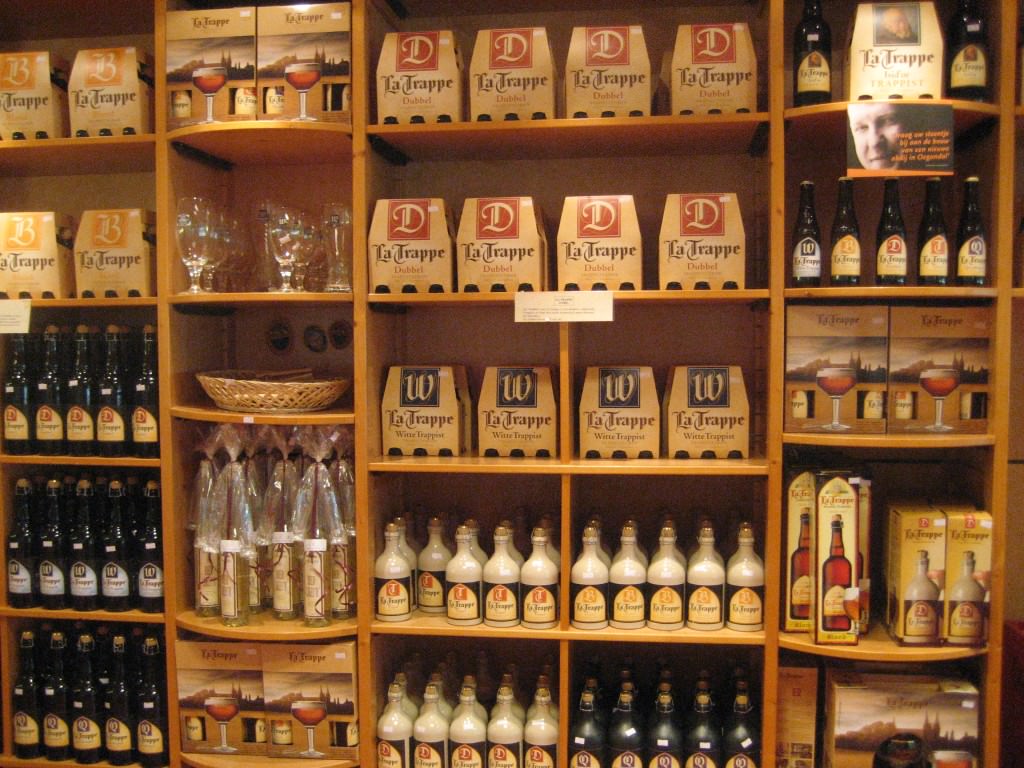 La Trappe Brewery Tours
La Trappe is the only Trappist brewery that allows you to regularly tour their facilities from April-October and one of the few where you can enjoy a bar and restaurant within the abbey walls. Summer is the best time to visit De Koningshoeven as you can sit on their spacious patio consisting of about 20 large wooden tables. The inside seating area is also quite spacious and nice, it is sparsely decorated but has a modern rustic feel that is wonderful to enjoy when the weather outside isn't agreeable.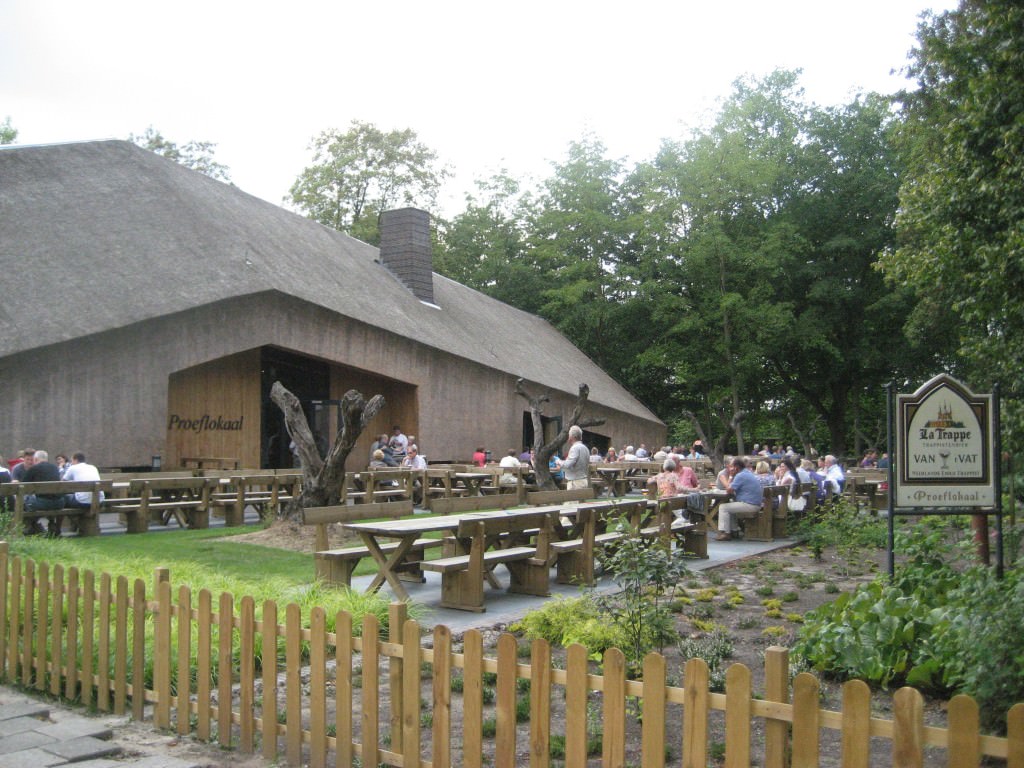 La Trappe Tasting Room
The abbey bar serves all 9 La Trappe beers currently being brewed, most of which can be purchased on draft as well. This is also by far the biggest selection of beers any Trappist brewery offers. Their lunch menu has a wide variety of items including Trappist cheeses, soups, salads, sandwiches and several hot meals. When we went I had shrimp croquettes with salad. Bell's meal was quite diverse and included tomato meatball soup, a small salad, 2 types of Trappist cheeses on 3 slices of buttered bread, and sliced ham with a fried egg. It was a lot of food and a better dish than the shrimp croquettes.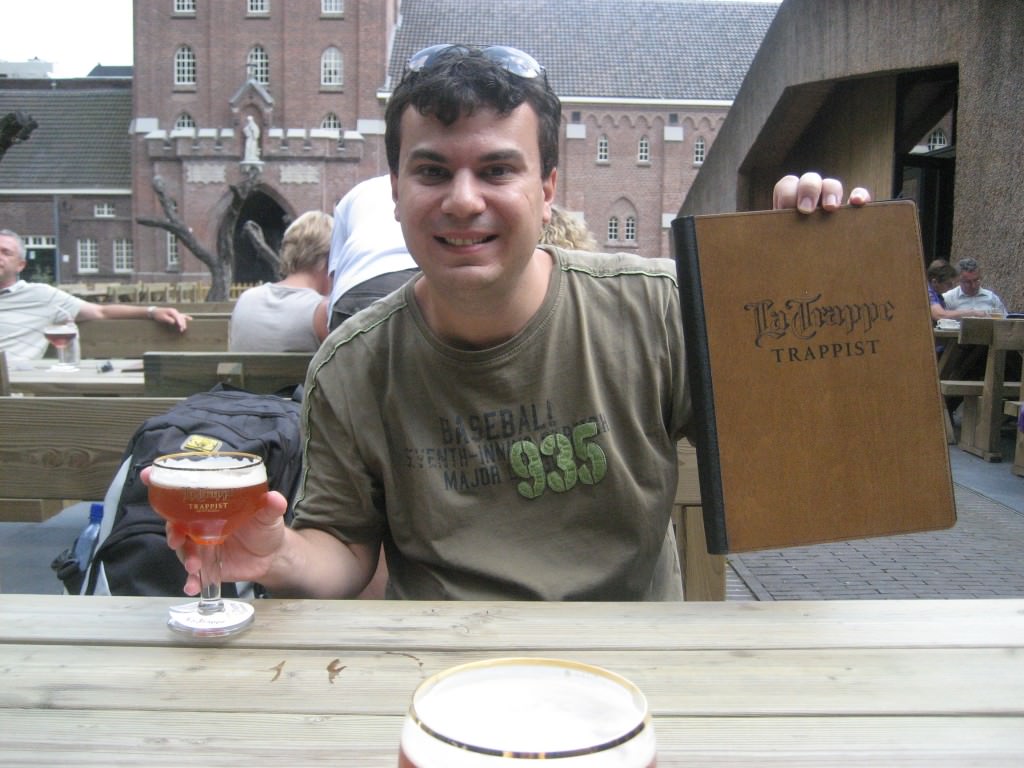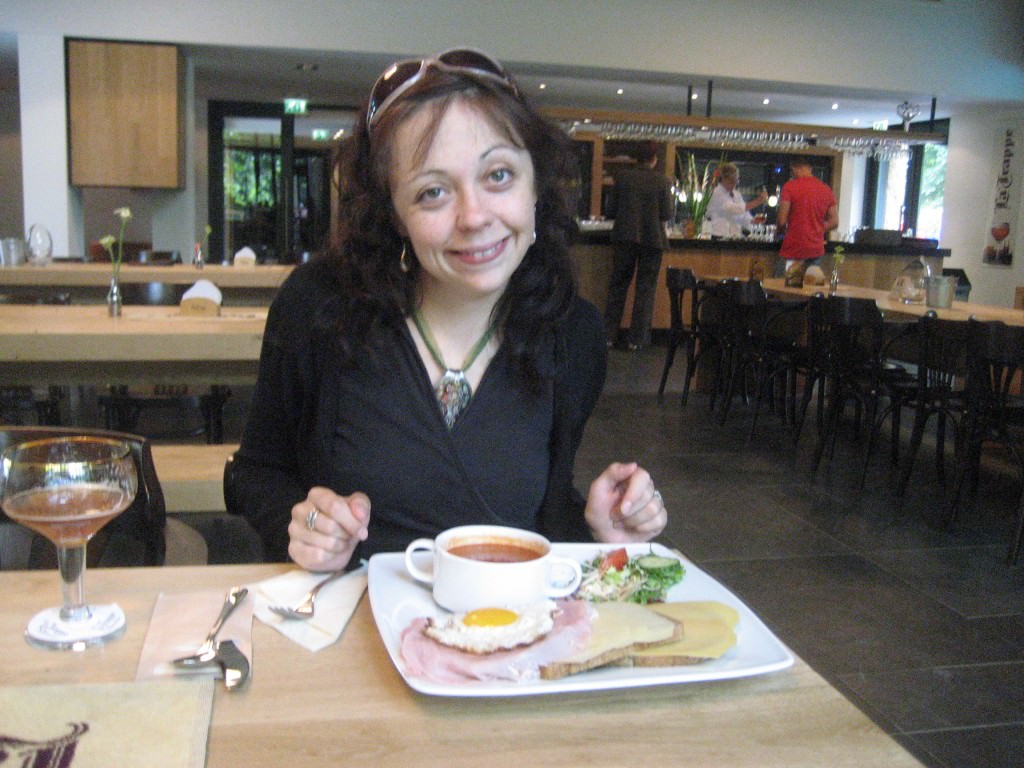 What to Expect on the Brewery Tour?
After lunch and a few delicious beers it was time for our 3:30pm tour. Tours are only conducted in Dutch and we were the only foreigners that day. But our friendly Dutch guide provided us with an English printout explaining most of what he was discussing. He even addressed a few important highlights in English, just for Bell and I. The brewery and abbey grounds tour costs 10 euro and includes a beer glass and a free beer following the tour.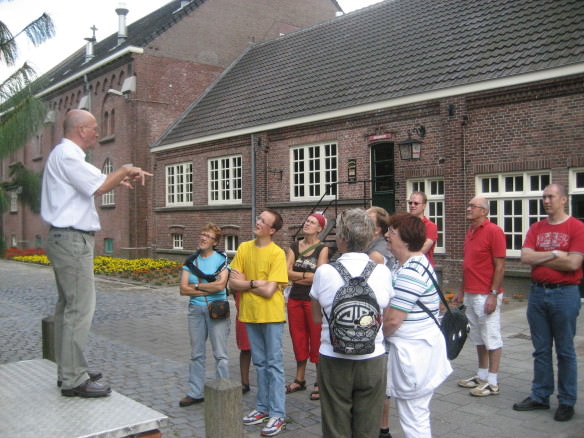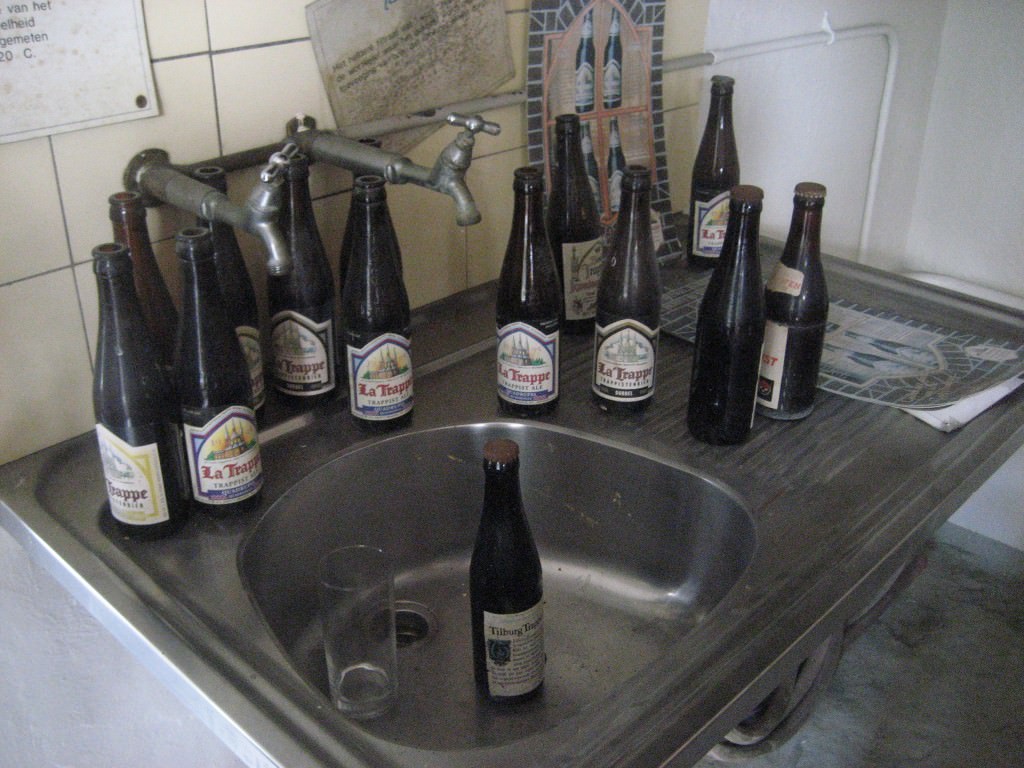 During the 45 minute tour, you not only see La Trappe beer vats and the bottling/distribution warehouse but you also see the lovely abbey garden and the old bakery. Unfortunately the production line was not bottling beer on the day we visited as it's always exciting to see an army of beers zipping around a conveyor belt. The gigantic stacks of La Trappe crates certainly warranted a big thumbs up though!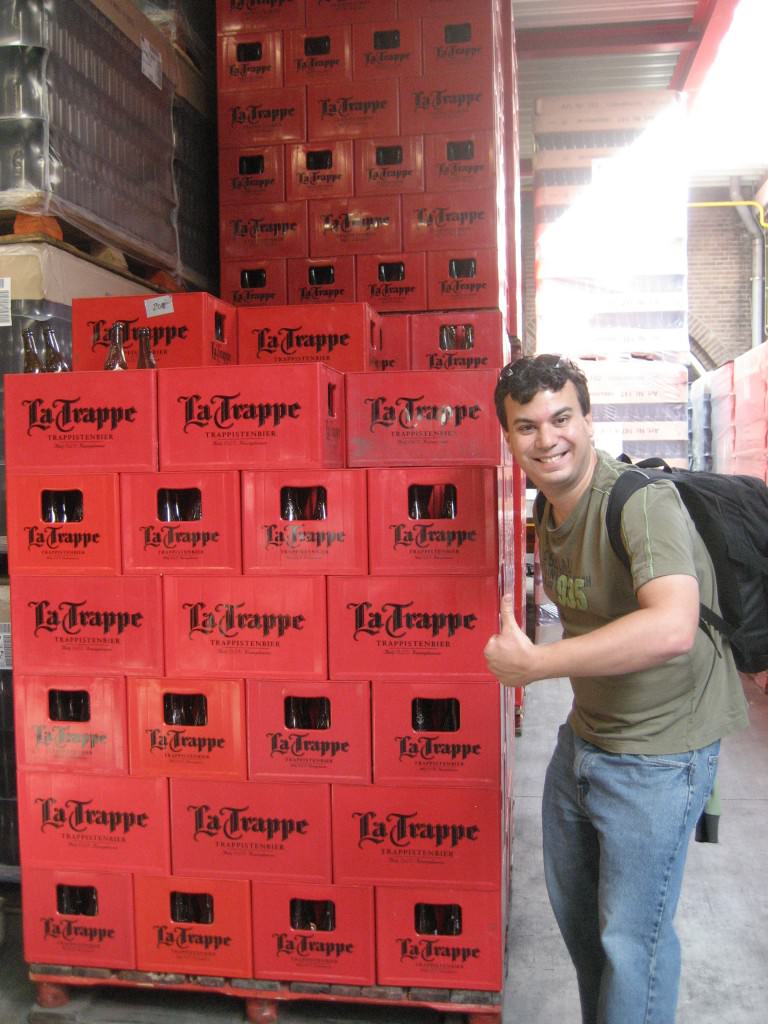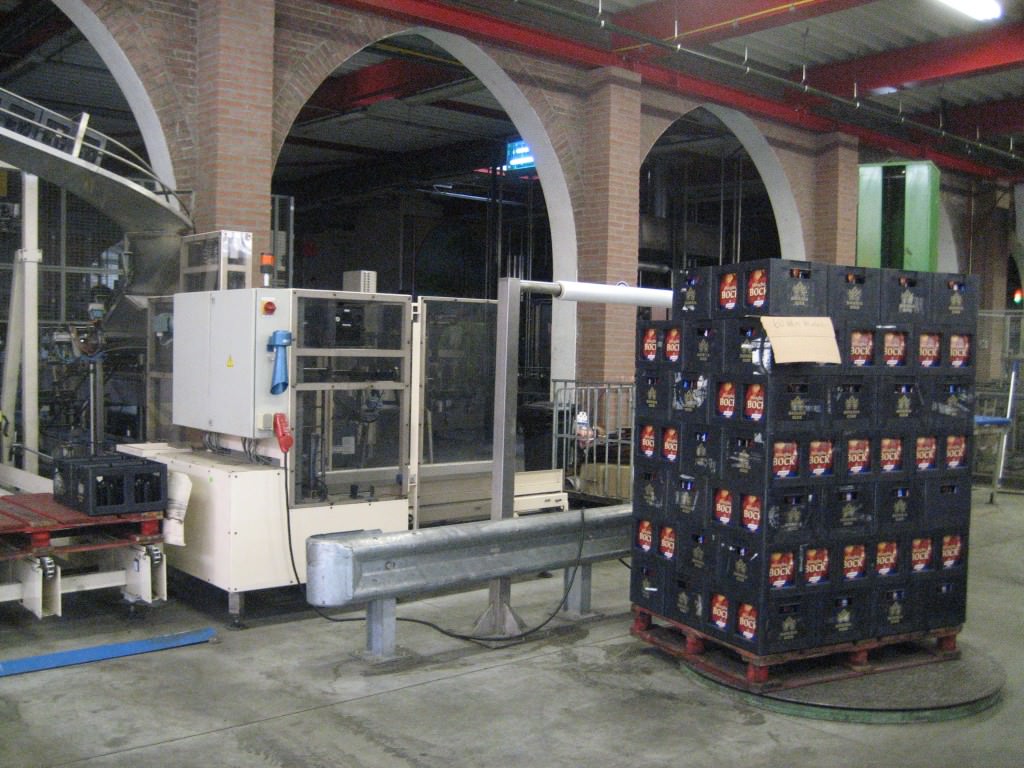 Where Does the Money from Trappist Beer Sales Go?
An added bonus of supporting any Trappist beer is that additional revenue not used to sustain the monastery goes towards other charitable endeavors. Trappist monks aren't looking to purchase yachts, so they don't accumulate wealth off the sale of their beer.
We've been on a lot of brewery tours but the De Koningshoeven brewery is the best we have experienced for a beautiful day out. And barring you haven't totally rocked the boat, you don't have to worry about being restricted in beer consumption like you are at some breweries. The Monks might be quiet and pious but they're obviously pretty cool.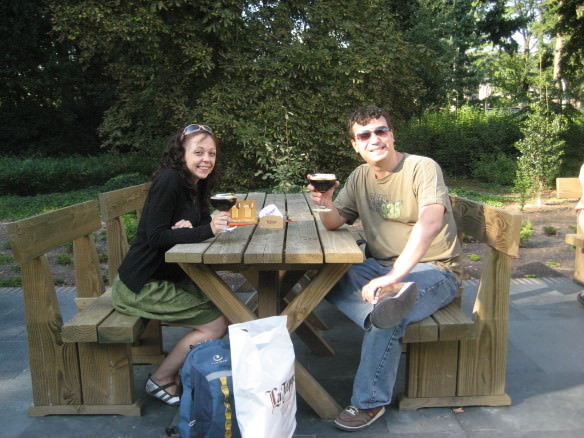 We didn't book ahead but according to the
La Trappe website
you should. Additionally, the monastery now offers cycling tours of the area as well!
Regular excursions, (from 1 person) 

Monday to Thursday (only during the summer period, April to October)
At 2pm.
Fridays at 2pm
Saturdays and Sundays at 1.30pm and 3.30pm
Tasting Room and excursions
c/o Bierbrouwerij de Koningshoeven B.V.
Eindhovenseweg 3
Berkel-Enschot
PO Box 394
5000 AJ Tilburg, the Netherlands
Phone: +31 (0)13 572 26 50
Fax: +31 (0)13 543 74 72