When people of think of Singapore they normally think of Singapore Slings, shipping, finance or skyscrapers. But the city offers far more than that with rich cultural diversity that leads to an excellent variety of attractions, cuisine and shopping. Singaporeans also love their conveniences and high priced designer items. Despite being sandwiched between Malaysia and Indonesian islands, we actually didn't realize the tiny city-state nation had Sentosa island, a great man made beach in Singapore!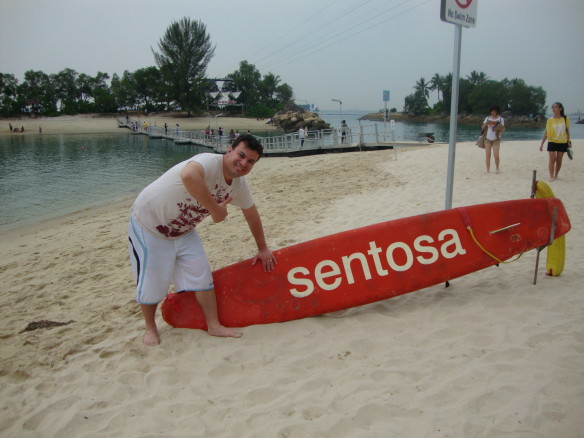 Travel to Sentosa Island by Public Transportation
To reach Sentosa Island via public transport you can catch a monorail called the Sentosa Express from Singapore's Harbourfront metro station. It's very convenient to get there from anywhere in Singapore because the metro network is vast, clean and because of its colonial past, English is the official language of Singapore. When we visited Sentosa Island we had the misfortune of it being a public holiday. This meant hordes of the densely populated nation were heading for the beach. We waited nearly 30 minutes to get on a jam packed monorail, and train pushers ensured the cars were filled to capacity.
Luckily it wasn't far to the first stop, Universal Studios Singapore, which is surrounded by lush palm trees. As a Floridan who briefly worked on the Back to the Future ride at the Orlando park, I couldn't help feeling a bit at home, especially since I was also jammed into a monorail. There are two additional stops after Universal Studios and that's where you find the massive man-made beach, built from reclaimed land and imported sand. It also comes complete with McDonald's, 7-11 and a local coffee shop chain right near the stop…Again, home!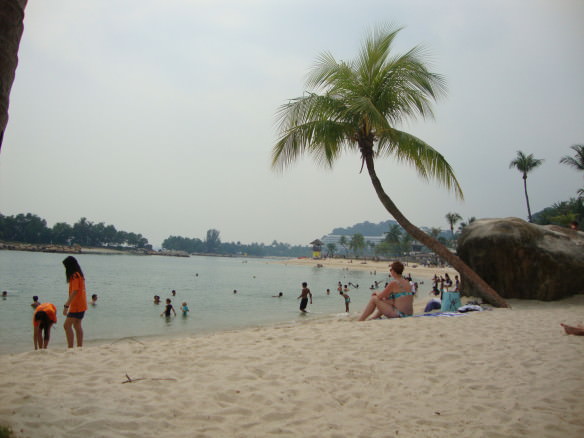 Diversity of Sentosa Island
Being a public holiday, the beach was jam packed with the most culturally diverse group of people we've ever shared a beach with. Singapore residents constitute around 75% ethnic Chinese, 15% Malays and nearly 10% Indian. Interestingly, the groups pretty much keep to their own. While there were groups of Indian men on the beach, there were hardly any Indian women. There were plenty of Chinese women lapping up the sun in bikinis though. It was only later in the evening that many Indian women arrived with their families to have picnics on the beach in Singapore.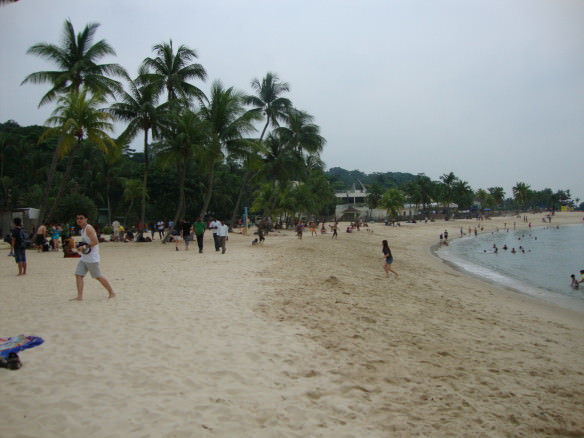 Sentosa Island Bars and Restaurants
There are lots of good bars and restaurants to eat and drink on Sentosa Island. Bell and I found bar stools with a great view of the beach and ordered reasonably priced pizza that was pretty good. But unless you are drinking local beer in nondescript places, alcohol in Singapore is expensive. So if you're on a tight budget and want to drink on Sentosa, stock up at duty free before arrival! Then enjoy some mixed drinks before you hit the beach. If you're on a really tight budget, bring a picnic to the beach as well.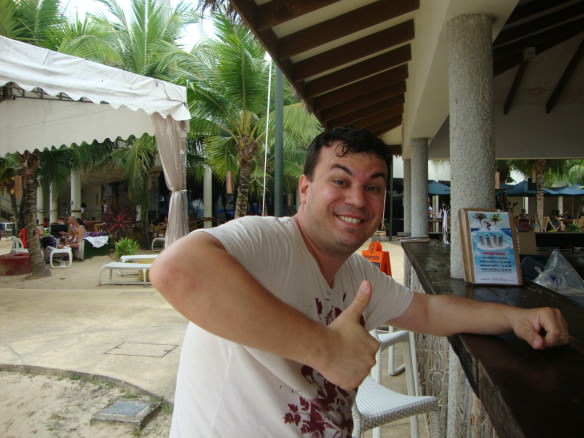 Many Large Ships Docked Outside Singapore
Another great aspect of Sentosa Beach is the incredible view of many massive ships anchored nearby. It's probably a similar site to what the German soldiers saw at Normandy, except there were also hordes of people lounging in swimwear and nobody was shooting at us. Singapore was the largest port in the world in 2005 before being surpassed by Shanghai. The monorail provides an incredible view of the enormity of the small island nation's shipping docks.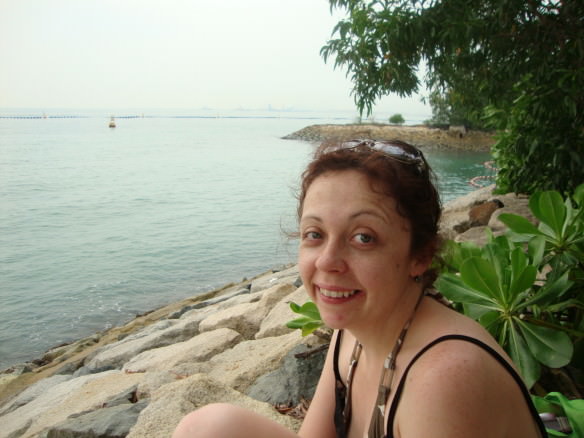 Universal Studios and Other Sentosa Island Attractions
Sentosa also boasts other attractions asides from Universal Studios Singapore. There are bumper cars, a sky lift to the top of the hill where you can then luge back down and a spinning observation tower among many things. Additionally there is a massive "Merlion" you can climb to gaze out at the city through its mouth. The Merlion is a mythical creature that is the symbol of Singapore. It has the body of a fish, representing Singapore's origins as a fishing village and the head of a lion, which its significance comes from the city's original name, Singapura, meaning "Lion City."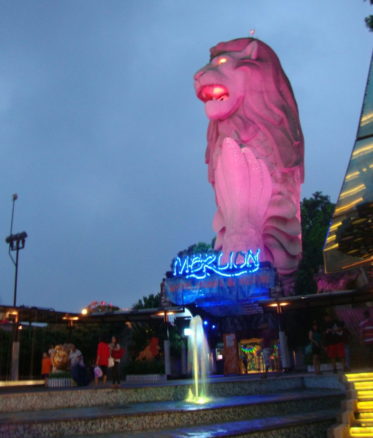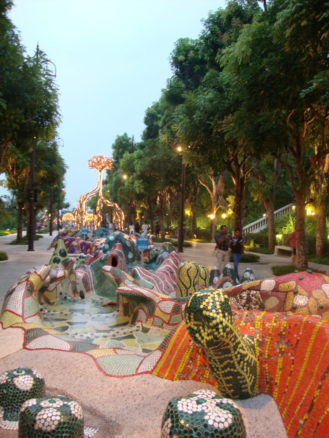 Sentosa Island Monorail
There isn't much natural about the beach in Singapore, but it can be a relaxing day out if planned correctly. If you go on a busy day like we did and are trying to get back to Singapore via the monorail, do not wait in the long queue near the Sentosa beach station. Instead catch the lift or take a stroll up the hill to the middle station called Imbiah. You'll wait a significantly shorter amount of time to get back to the city from there. And if you're a traveling Floridian, you'll feel very much at home at what Singapore claims is "Asia's Favourite Playground."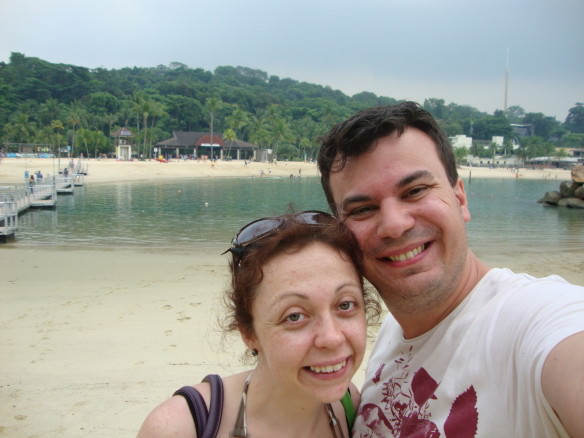 Save Money on Staying in Sentosa Island, Singapore
Singapore hotels tend to be expensive. Families and especially groups of friends will find better booking short term rental apartments. We generally find booking apartments on sites like booking.com to be a great option. Book listings with consistently great reviews for the best experience.
More of Our Articles on Singapore
Interesting and Funny Singapore Pictures
Leave a comment below if you have a question or comment on travel in Singapore!
Disclosure: This article contains affiliate links. We receive a small commission when you book or sign up through these links and it costs you nothing extra. When it suits you, please use them!