Singapore is an island city-state that borders the tip of southern Malaysia. It's multicultural population constitutes houses a global financial center, making it one of the world's wealthiest places. It's year round tropical climate makes Sentosa Island a good spot for a family beach getaway. Chinatown is home to the Buddha Tooth Relic Temple, said to house one of Buddha's teeth.
Schedule a Stopover in Singapore
Emirates has 3 flights a day from Dubai to Melbourne and two of them stop in Singapore, so we took advantage and had a great time in both cities. It's a very long trip to Australia so it's worth breaking it up and experiencing a couple world class cities.
We flew Emirates from Dublin and paid a little extra for the stopovers. The Emirati government actually subsidizes their two national carries (including quickly expanding Etihad airline based out of their capital, Abu Dhabi) to bring more tourists into their country by consistently providing competitive fares with better service than most airlines provide. They even serve free cocktails in coach!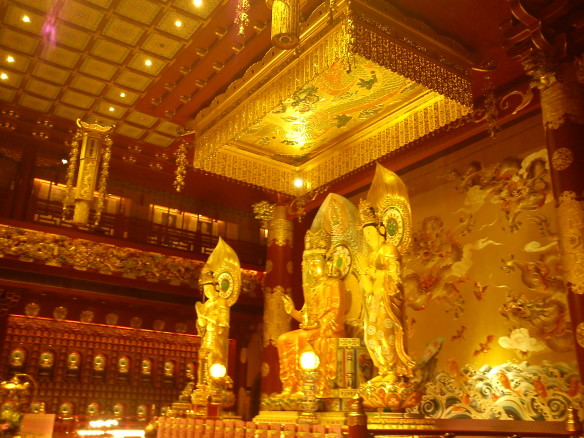 Singapore Highlights
Singapore was not on either of our bucket lists because of its reputation for being strict, sterile, ritzy and expensive. While we found all these stereotypes to be true in some form, we also discovered much more and we were both surprised by how much we liked it.
We thought Singapore would be all high rises and shopping centers, but step foot in Chinatown, areas around the river at Clarke Quay and many other places and you feel like you can be in Anytown, Southeast Asia. We loved this about SIngapore.
Singapore is also home to a large Indian population and in "Little India" you feel like you could actually be in India for several blocks. Little India is home to an massive outlet called the Mustafa Shopping Center. The store is probably twice as big as a Super Wal-Mart – incredible!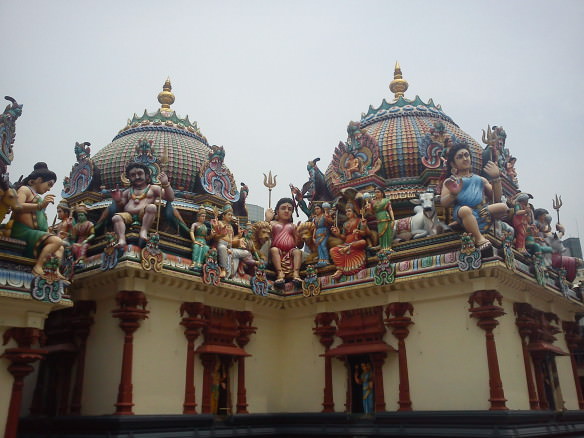 Is Singapore Expensive?
It's true that Singapore is one of the world's most expensive destinations. But there's also great value in eating at the street stalls, so there's definitely good deals to be found. Singapore does not have to be expensive and it's 100% worth visiting, especially if you can arrange a free stopover!
Orchard Road
If you want to save money in Singapore, don't spend too much time on ritsy Orchard Road! The amount of shopping centers with high end outlets in Singapore is a spectacle. But the abundance of Gucci, Prada and Louis Vuitton stores all over the city kinda diminishes their exclusivity (as does ripoff models that can be purchased around southeast Asia). Given all the poverty in this world, we kinda dig that aspect.
Save Money on Food and Drinks in Singapore
The huge disparity of wealth in Singapore means you can still eat and drink at local places cheap because much of the labor is inexpensive. Many Malaysians are granted guest worker visas and they generally make about $24 Singapore a day (around $20 US), working up to 16 hour shifts. To put this in perspective, a Singapore sling at the Long Bar at the Raffles Hotel, where the cocktail originated, costs $30. As Kurt Vonnegut would say, hi ho.
But you cannot drink as cheaply as you can in most places in Southeast Asia because the taxes on alcohol are very high. Malaysia also has very high taxes on alcohol since that's a predominantly Muslim country.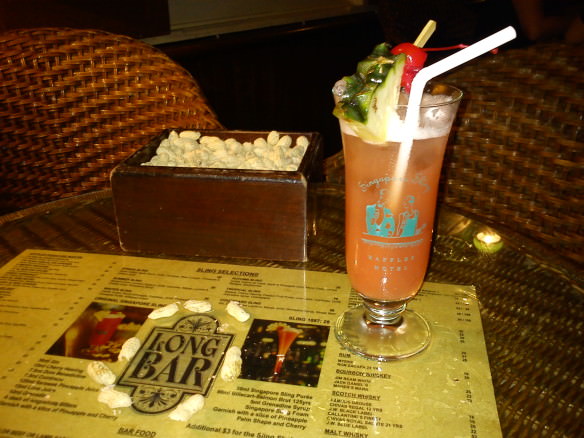 Where to Drink Cheap in Singapore? Chinatown!
Bell and I found many local places where we could drink massive 633 ml Tiger beers for around $5-$6 Singapore dollars and ate most meals in cheap local restaurants in the neighborhood of $3-$6 Singapore dollars. We even ate a tasty vegetarian meal in a food court for $2. Contrary to popular belief, you can have an excellent time in Singapore for very little.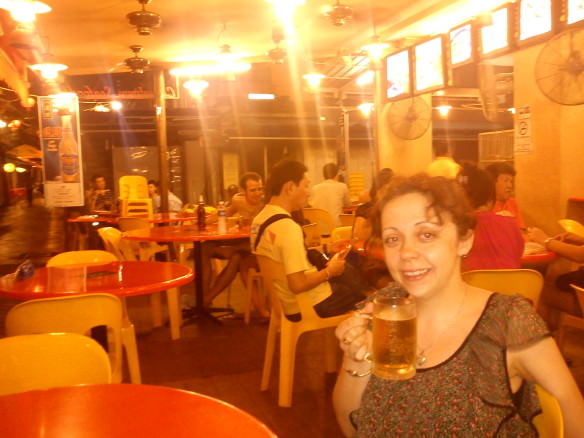 Is English Common in Singapore?
There is a lot to say about this ethnically diverse place of predominantly Chinese, Malaysians and Indians, whose official language is English, but most don't even speak it that well. English makes Singapore an easy place for Westerners to get around and Bell coined it "Asia Light." As there are so many nationalities in Singapore, English is widely spoken. So it's easy to travel around Singapore at your own pace!
Be Wary of Strict Laws in Singapore
Singapore has some of the strictest rules in the world so be sure not to eat or drink on the subway (among many things) or you could face a $500 fine. I forgot and took a swig of water on the metro and everyone who saw this looked at me in disbelief. Fortunately, no undercover police witnessed this!
Thankfully no authorities caught me swearing either! That could have resulted in fines, two years in prison and possibly having my butt caned. No joke. Take the rules in Singapore seriously.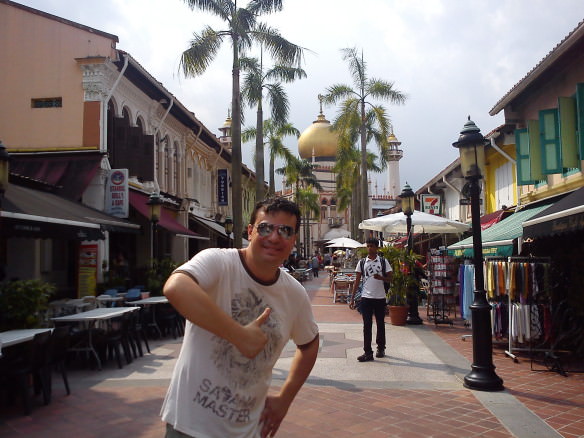 Staying in Singapore
Sleeping in Singapore is the biggest expense of visiting. We paid around 400 euros total, for 4 nights, including breakfast, for a very small room, but with an awesome location close to everything at the Best Western Jayleen 1918. The 75 year old owner randomly joined us at breakfast two mornings and we enjoyed our chats with her. As she occasionally makes the short 45 minute drive to Malaysia to pick up cheap food, she even offered to drive us there for free, but with so much to do in Singapore we politely declined.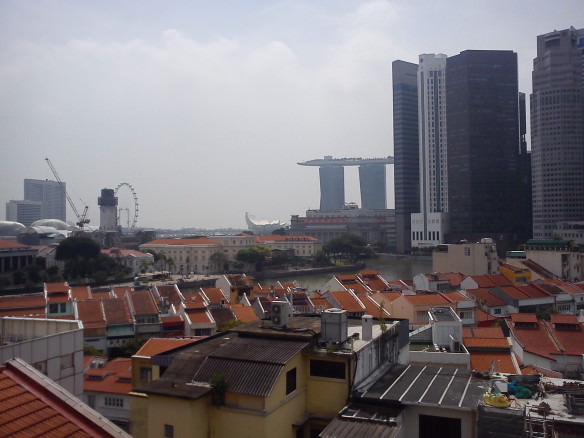 Guests of the 42 room hotel have access to a large, mostly empty rooftop with a stunning view of Singapore, including the 3 tower Marina Bay Sands hotel with the largest roof top swimming pool in the world. There are a couple plastic tables and chairs and one night we enjoyed a wonderfully romantic takeaway meal up there, just the two of us. We paid $10 for an entire meal for two and the spectacular view all to ourselves made it worth $500.
Save Money on Hotels in Singapore
We often find that booking.com offers the best hotel deals. That's especially the case in Europe, but often in North America and Asia as well. When you know your dates of travel, book quality accommodation in advance with free cancellation!
Fly to Singapore Very Cheap
We frequently take advantage of travel rewards points and earn multiple free flights each year. If you need tips on this, leave a comment below or email me at [email protected] and I can help you save on travel!
More Singapore Articles
We've previously written these articles on travel in Singapore:
Buddha Tooth Relic in Singapore
Sentosa Island: A Man Made Beach in Singapore
Interesting and Funny Singapore Pictures
Leave a comment below if you have a question or comment on travel in Singapore!
Disclosure: This article contains affiliate links. We receive a small commission when you book or sign up through these links and it costs you nothing extra. When it suits you, please use them!