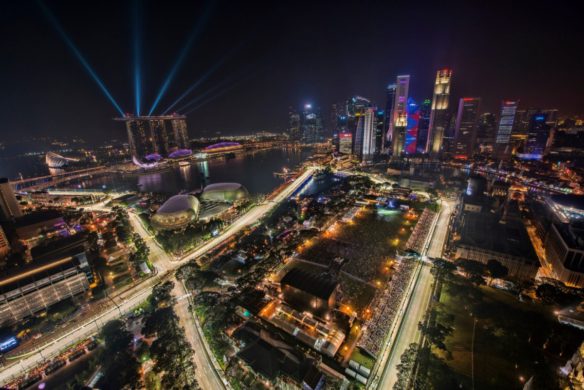 Photo credit: Wikimedia
Singapore's Economic Power
Singapore has quickly climbed the heights of economic power. It's now one of the most technologically advanced cities in the world. It is a relatively new country, gaining independence from Malaysia in 1965. As there are some negative stereotypes associated with traveling there, such as high costs, strict rules and a harsh penal system, many travelers wonder, is Singapore worth a visit?
Is Singapore an Oppressive State?
Myths abound about the oppressive state of the country. Is it true that you are not even allowed to chew gum? Yes – Singapore's government banned the sale and import of chewing gum in 1992. Many other rules and regulations restrict behaviors within the country. If you're caught drinking even water on the subway, where no food or drink consumption is allowed, you could face a stiff fine.
Strict Rules in Singapore
The advantage of strict rules is that Singapore is very safe and clean. Harsh punishment awaits those who break the rules, and while this isn't ideal, it does mean that you won't encounter trouble walking anywhere in the city, anytime of day or night. As long as you are on the right side of the rules (i.e. not breaking them) you will be fine.
Singapore Casinos
Casinos are a popular draw in Singapore. Locals must pay a stiff $100 fee to enter, but tourists and non-residents can enjoy free entry. The most famous card rooms include the Sentosa Resort and the Marina Bay Sands Casino, which has a smart-casual dress code for players.
What is Singapore's Weather Like?
Singapore is well known for being steaming hot. Year round temperatures in the low to mid 30's celsius (90-95 fahrenheit). But the country is still cooler than many nearby South East Asian nations, due to being an island surrounding by the sea. Air-conditioning is also prevalent, so there is sufficient reprieve from the heat during a visit.
Singapore is Expensive
Another complaint amongst weary travelers is that Singapore is expensive. The city serves as headquarters for many major Asian and international companies. This means Singapore condo prices are high, especially within the Central Business District.  Indeed, the country is known as one of the most expensive countries in the world, but how does this reflect on the costs of traveling there?
Cost of Living in Singapore
While Singapore's cost of living is high, budget all the way through to high end luxurious travelers can have an awesome time. Transport and food costs in particular are very reasonable, and if you are on a tight budget it's possible to find a bed in a shared dorm for around $10 – 20 US per night. Private rooms can be found for around $30 a night. Singapore also does luxury very well, and if you plan right, good deals can be found.
Cost of Alcohol in Singapore
Many people complain about the high cost of alcohol in Singapore. And sure, if you're drinking Singapore slings at the Raffles Hotel, where the drink originated, it's going to be an expensive night. But if you sit on plastic chairs in Chinatown (anytown southeast Asian style) and order buckets of beer over tasty food, you're going to spend significantly less. Singapore is pricier compared to Southeast Asian countries like Thailand and Vietnam, but it's still cheaper than traveling in many places in Europe or North America.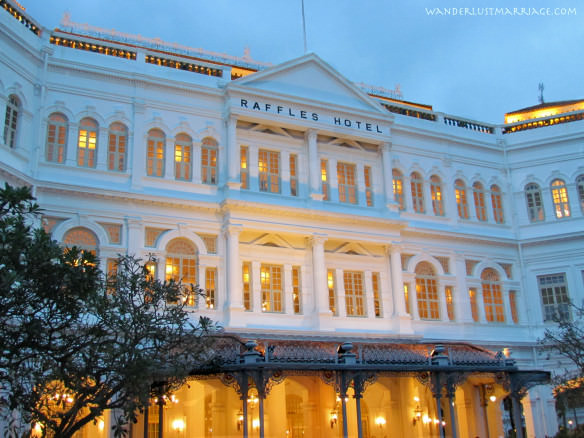 Is Singapore too Clean and Boring?
Some people find that Singapore is sterile and boring, but these visitors probably didn't venture far from trendy Orchard Avenue. For families, there are the beaches and attractions of Sentosa Island, including Universal Studios Singapore. There are also impressive temples like the Buddha Tooth Relic buddhist temple and Sri Mariamman hindu temple (both pictured below).
Singapore is a modern metropolis, and while some may see this as a reason not to travel there, others will revel in the attractions and offerings, which include some of the best art galleries and museums in Asia, as well as some of the world's best cuisine. Stroll through one of the many hawker centers (food courts) to try out delights like satays, noodles bowls and the very popular chilli crab, and you can expect to pay around $2 – $5 for one of the best meals of your life!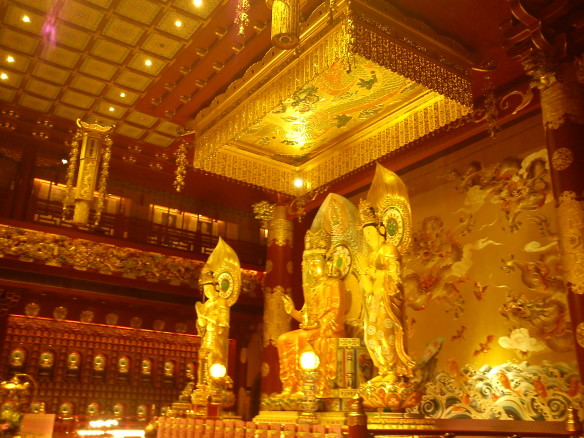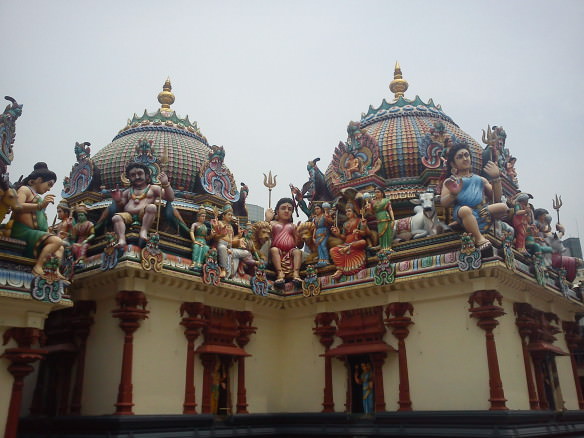 Singapore is Very Multicultural
Singapore is a multi-cultural fusion of sights and smells. Take a walk through Chinatown, Little India, and Arab Street to experience the bounty of great eats and shopping. Singapore's residents are primarily of Chinese ethnicity, but there are significant minorities of Malay, Indian and Arab people. Cultural fusion adds layers of dimensions to a city, and Singapore is more ethnically diverse than more homogeneous Asian capitals like Beijing, Seoul and Tokyo.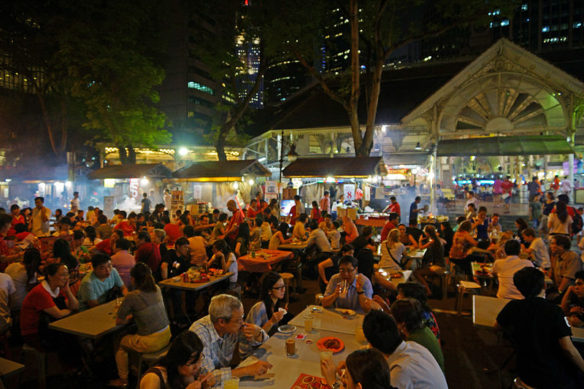 Photo credit: Wikimedia
Marina Bay Sands
Singapore also knows how to put on a great show. Be sure to catch the Marina Bay Sands light and water show, every evening between 8.00pm – 9.30pm, as well as the Night Rhapsody, in which the 'Supertrees' of Singapore are illuminated. This might be one of the most sci-fi things you experience, and an eerie kind of romance.
Singapore's Changi Airport Consistently Ranks as the World's Best Airport
Changi Airport consistently ranks as the best in the world. Asides from a wealth of shopping options, there's a lot to keep you occupied before your next flight. You can get a massage, go for a swim and enjoy one of the best airport meals of your life. So whether you are on a short stop-over, or have several days to explore, Singapore is a world class destination with plenty to offer the hungry adventurer!
Save Money on Hotels in Singapore
We often find that booking.com offers the best hotel deals, especially in Europe, but often in North America and Asia as well. We appreciate that they include all all fees in their prices, unlike some other websites.
Families and groups of friends especially will find the best value booking apartment rental. These can also be found on booking.com. Book apartments with consistently great reviews for the best experience.
More of our Articles on Singapore
Interesting and Funny Singapore Pictures
Leave a comment below if you have a question or comment on travel in Singapore!
Disclosure: This article contains affiliate links. We receive a small commission when you book or sign up through these links and it costs you nothing extra. When it suits you, please use them!