France is the world's most visited country, drawing over 90 million travelers in 2018. Great beach destinations and UNESCO World Heritage Sites are abundant in the south of France. Stunning natural landscapes also include dramatic gorges, lavender fields and rolling vineyards. We asked a select group of travel bloggers to share tips for visiting some of their favorite destinations. Several are currently based in the south of France. A huge thanks to them for the wonderful submissions that are sure to inspire future vacations!
Annecy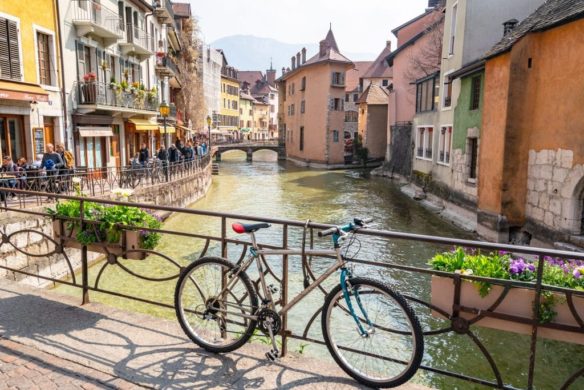 With its charming canals, beautiful lake, and storybook-worthy architecture, Annecy creates the perfect setting for a getaway in the south of France!

Nestled just south of Switzerland and near the Alps, Annecy is a far cry from the lavender fields of the Valensole Plateau or the glitz of the French Riviera – in fact, when exploring the town, it's hard to believe that you're just a few hours from the classic southern France destinations!

When in Annecy, be sure to stroll along the shores of Lake Annecy (often touted as the cleanest lake in Europe!), check out the beautiful Palais de l'Isle and the towering Chateau d'Annecy, and meander through the streets of Vieille Ville.
Annecy's lovely outdoor markets roll into town three days a week, and shopping at them is easily one of the best things to do in Annecy! Tuesday, Friday, and Sunday mornings are the best times to be out and about in Annecy: vendors crowd the streets and even the bridges over the canals hawking wares, including plenty of local food.
When you sit down for dinner, be sure to sample plenty of local cheese: fondue is popular here, as is raclette. Don't leave without trying a tartiflette: this local dish comprised of potatoes, bacon, onions, and local reblochon cheese is a complete delight (and also incredibly filling).
Contributed by Kate Storm from Our Escape Clause.
Lavender Fields of Provence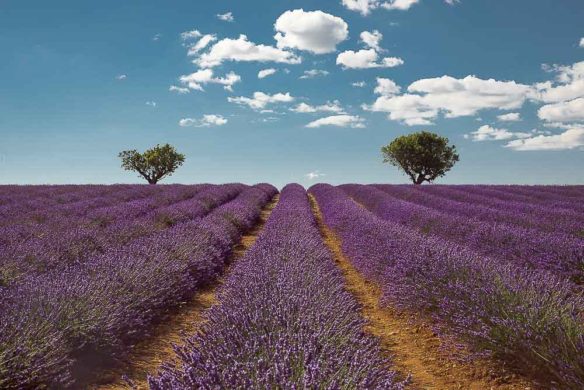 There are few images as synonymous with Provence than that of the flowering lavender fields. From late June lavender farms throughout the region start to flower, and the effect is mesmerizing. From the Luberon right up to the Drôme Provençale you will find purple fields to frolic in. But the most popular are those around the Valensole plateau. It's here you'll find the iconic fields interrupted only by crumbling stone buildings and neighboring sunflower fields. Combine your drive through the Valensole plateau with a trip to the Verdon Gorge, and stop in Sainte-Croix-du-Verdon for lunch overlooking the grand turquoise lake.
Alternatively, if you're looking for a more laid-back vibe, amazing cycle routes, or you're visiting later in the season, head to the Sault plateau. Lavender is harvested later there, leaving you additional time to enjoy the heady scent as you tour the region. You'll find incredible fields to photograph, and you can pop into the lavender distillery at Aroma'Plantes to learn all about the precious crop. Stay at La Bastide des Bourguets to experience a gorgeous B&B set right among some of the most beautiful fields in the area. You can fill up on lavender goodies from their very own farm shop as well.
By Nadine Maffre at Le Long Weekend.
Nice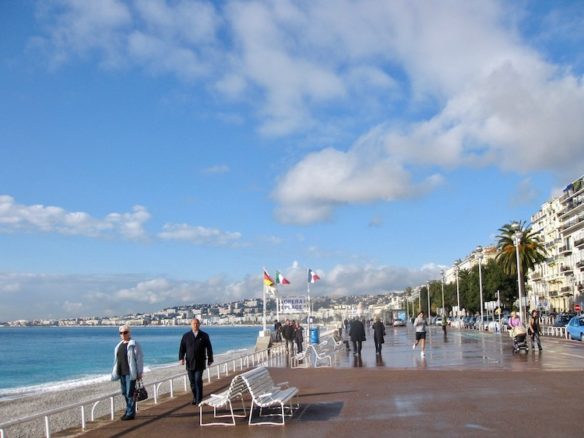 Nice, France, has it all. It's a fabulous destination in itself, but it also makes a great base for exploring the South of France. Its beachside location appeals to sun seekers, grand hotels such as the famous Hotel Negresco to luxury travelers, artistic heritage to culture seekers and its ice cream parlors to … just about everyone.
While the beach in Nice is pebbly, it doesn't stop visitors from flocking to the beach clubs that line the Baie des Anges, the Bay of Angels. This horseshoe-shaped bay defines Nice and is bordered by the Promenade des Anglais, a wide avenue that sweeps gracefully along the seaside. It's ideal for strolling, cycling and people watching. The beach clubs can be expensive, but there are a good number of public beaches that are open to anyone.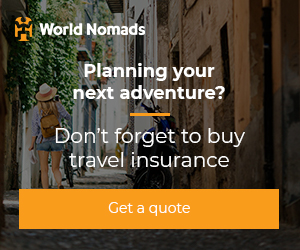 Nice has long been an artist's haven. For sightseeing, the Matisse Museum is located in the Cimiez neighborhood, a fashionable area where the artist once lived. On Avenue Docteur Ménard another top museum is located, the Musée Marc Chagall, which contains an impressive series of Chagall's Biblical Message artworks. For contemporary art, the Museum of Modern and Contemporary Art is the best place to go.
It's the light, the mild climate and the relaxed way of life that drew so many artists over the years, and the city holds the same appeal for visitors today.
By Carol Perehudoff of Wandering Carol.
Albi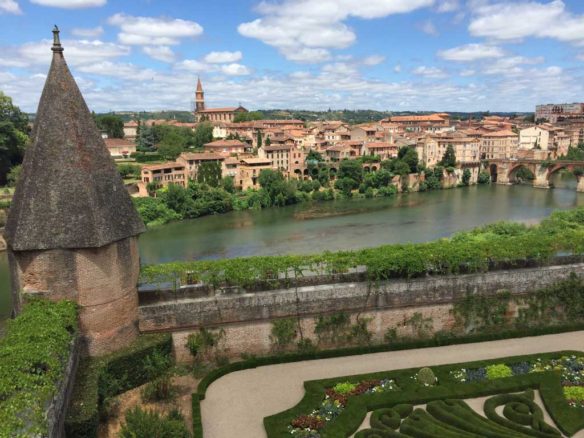 One of the most beautiful places I have visited in the South of France is Albi.  This lovely city in the Tarn department, is just 80 kilometers from Toulouse, making it an ideal day trip if you don't have time to stay longer.
A walk around Albi's Old Town is a real-life history lesson with the magnificent Ste-Cecile Cathedral dating back to the 13th century.  The UNESCO World Heritage listed building has a 78-meter tall bell tower which can be seen from all over the city as well as a stunning interior.
Nearby, the Berbie Palace, another 13th-century construction, is home to the Tourist Office, the Toulouse-Lautrec Museum and the magnificent palace gardens. The Palace Gardens are modeled after the gardens at Versailles and overlook the River Tarn.
Many of the buildings in Albi are built with red-hued stone. This includes Pont Vieux (Old Bridge), the eight-arched bridge which crosses the Tarn. The bridge is over 1000 years old, dating back to 1040 AD.
From the Old Town, walk across the bridge and follow the Pont Vue signs for great views of the bridge, Cathedral and the Berbie Palace.
If you're feeling peckish, head back over the bridge and straight to Albi's covered market for a tempting array of local produce. The market is located on Rue Emile Grand and open daily (except Mondays) from 7 am to 2 pm.
Whether you're visiting Albi on a day trip or are staying longer, I'm sure you'll be charmed by the city's beauty just as I was.
By Carolyn Schonafinger at Holidays to Europe.
St Paul de Vence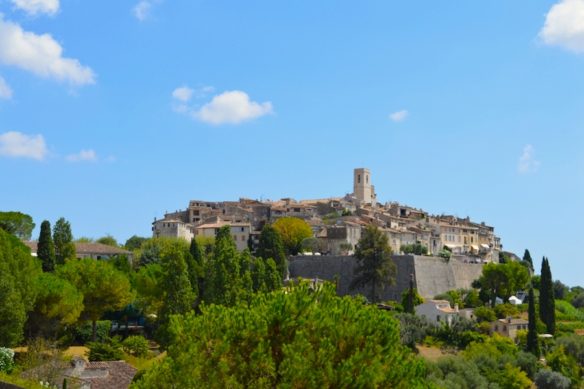 The south of France is graced with many charming, perched villages. None are more beautiful and romantic than St Paul de Vence. 
This medieval village, encased in tall ramparts, is more than 1000 years old. It's 16 miles from Nice or an hour's bus ride, and as you are arriving, you see St Paul perched like a bejeweled crown on top of a mountain. 
Inside, there are quaint, narrow streets filled with shops and boutiques selling affordable and expensive art – whether paintings, sculptures, clothing or jewelry. St. Paul de Vence is now a well-known artist's village that used to be home to the famous painter, Marc Chagall, and frequented by Picasso, Matisse and Miro. 
Splurge on a stay at the 5* Colombe d'Or Hotel nestled in the heart of the village. It started as a simple inn in the 1920's with 3 rooms. The owner didn't hide his love of art, and soon St. Paul became an artist's enclave attracting creative types from all over the world. 
In the '40s, artists and philosophers used the Colombe d'Or's terrace as a meeting place, which is now part of their high-acclaimed restaurant. There are many, now famous, paintings on the walls of the restaurant as the owner traded meals and stays at the inn for artwork. The inn now has a dozen rooms and several suites.
Otherwise, go have a bite to eat at Café de la Place, just at the start of the ramparts. It's a great place for a Plat du Jour as you admire the locals playing 'Bocce' ball. 
By Maureen at Life on the Mediterranean. Read her article on what to do on a weekend in Nice, France.
Cannes
Cannes is one of the major destinations along the French Riviera, and it has especially become famous thanks to its International Film Festival where celebrities from all over the world gather each year.

But Cannes has more than a film festival to offer its visitors. There is a great mix of luxurious restaurants, the marina, shops along with quaint alleys and historical buildings. The old town is lovely to stroll around with cobblestone streets and colorful houses. The clocktower is a famous landmark, and from there you also get a nice view over the city and marina from above.

Hotel Splendid Cannes is a great hotel if you want a nice place to stay in a great location. Its walking distance to all the restaurants and shops as well as the glamorous marina. The rooms are modern and the price per night is just around 80 Euro, which is quite cheap to be in central Cannes.

La Môme and Riviera Beach Restaurant Plage Privée are two nice restaurants that I can recommend. Le Roof is another central restaurant with a good selection. Later in the night during the summer months, visitors can also enjoy various clubs and bars in town.
By Alex Waltner at Swedish Nomad.
Moliets et Maa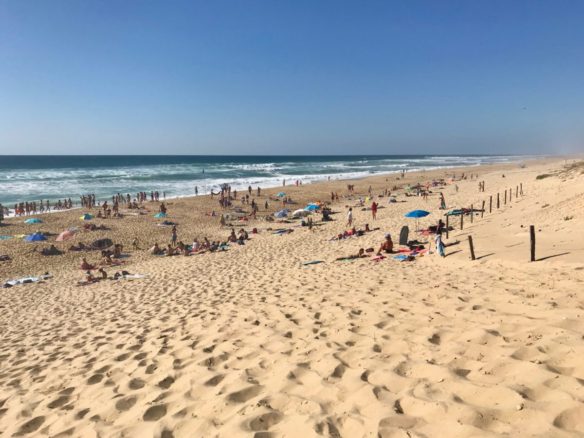 Moliets et Maa is the perfect location for an adventure holiday in the south of France. With a number of beautiful sandy beaches and miles of forest, its best explored via bike. Fat bikes can be hired to travel over the sand dunes.
A short drive down the coast is famed surf spot Hossegor, definitely worth a day trip, but you'll find great surf in Moliets et Maa too. It's a good place to learn, with a number of surf schools and camps. There are plenty of things to do in Moliets et Maa, including horse riding on the beach, high ropes, quad biking and paintballing at the Adrenalin Park and Stand up Paddleboarding.
Each Tuesday evening during July and August is Moliets-et-Maa Folklore Festival. An evening of traditional games, dancing and local food and wine.
We stayed at Villas la Clairière aux Chevreuils – a complex of beautiful villas with pools, surrounded by woodland. It's a really relaxing spot with easy access to the beaches and the main village of Moliets et Maa.
There are a number of beachside eateries, but my recommendation is to stock up on great French wine and cheese and enjoy the tranquillity of your poolside villa each evening.
By Hayley Lewis from A Lovely Planet.
St Tropez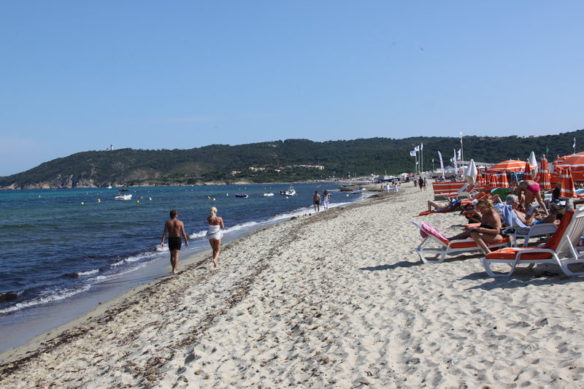 St Tropez is the perfect mix of glamour and beaches in the south of France. This fishing hamlet-turned-exotic playground of the rich and famous is known to almost everyone and yet few tourists make the journey to St Tropez on the French Riviera. There's one group of travelers you'll see a lot of. That's right – honeymooners! After all, who doesn't want to live like royalty for a few days, especially during the first few days of their marriage?
If you're lucky and rich, make sure you stay near the Old City port. The region has access to everything in close proximity. If not, look for a resort in nearby Ramatuelle. I stayed at Hotel Dei Marres in Ramatuelle and would recommend it for couples who like to stay in quiet properties. Know that public transport is limited in this region.
Once you explore the port side of town, make your way to the actual beachside that's about 8-10 kilometers from St Tropez. The beach stretches for five kilometers and is divided into several parts. Must-visit beaches include Nikki Beach, Pampelonne Beach and the most famous one, Tahiti Beach. Tahiti Beach was popularised by Brigitte Bardot in And God Created Woman. That movie was the catalyst for St Tropez's status as a glamorous destination.
By Priyanko Sarkar at Constant Traveller.
Cassis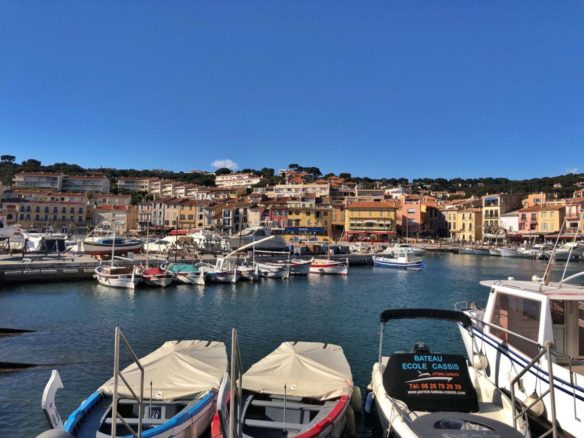 The little town of Cassis is a quaint and picturesque village in Provence, located only a few miles from Marseille. Cassis is perfect to explore on a day trip when visiting Provence. Just keep in mind that there is limited parking in the town (and the spots fill up very early in the summer!).
One of my favorite things to do in Cassis is to hang out by the port and walk along the waterfront, which is lined with a myriad of colorful houses. It is the perfect spot to sit outside for a meal "en terrasse". If you are a seafood lover, do not miss the Bouillabaisse from Chez Gilbert which was voted one of the best in France. Then, grab a delicious lavender ice cream and take a leisurely stroll through the paved streets of the city center. The old town is so picturesque you will want to take out your camera at every corner.
Finally, Cassis is the perfect starting point to explore the Calanques National Park. The Calanques are natural inlets surrounded by rugged and rocky cliffs, which create many coves drenched in turquoise water along the coastline. You can explore the gorgeous Calanques by boat and take a cruise from Quai Saint-Pierre, or you can hike in the National Park. There are three Calanques you can access from Cassis: Port Miou is the easiest hike and can easily be explored with young kids. Port Pin is a short moderate hike, with a bit rocky and uneven terrain. Calanque d'En-Vau is probably the most gorgeous but it is a more strenuous hike.
By Julie Laundis of wanderingsunsets.
The Camargue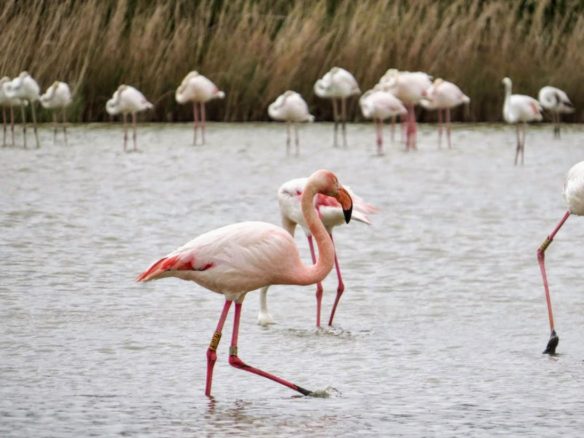 The Camargue is nestled between Languedoc-Roussillon and Provence in a quiet corner of the South of France. If you are into birdwatching, the Camargue is a can't miss stop on a South of France itinerary. When visiting the Camargue, stay in Montpellier or Nîmes. Both are about an hour away by car and make a great home base from which to explore.
We visited The Camargue in May which is an ideal time to see thousands of wild pink flamingos. The Camargue Ornithological Park (Parc Ornithologique de Pont de Gau in French) is flamingo central and also features other bird species like herons, night herons, and egrets. The Camargue Ornithological Park is situated on a small central lake. Trees around the lake are covered with large nests in the Spring. Parc Ornithologique de Pont de Gau features a loop trail around the park and over the course of a few hours, you'll be mesmerized by greater pink flamingos gathering in groups and strutting their stuff. The Camargue flamingos don't seem to fear people and in many cases, we watched them from 3 meters away or less (10 feet).
Saintes Maries de la Mer is the nearest town to Parc Ornithologique de Pont de Gau.  Even if you visit in Spring, bring a jacket as it can get quite blustery along the sea. En route, you may find the Camargue's famous white stallions. Shop for local specialties like Esprit de Camargue jam and then duck into a quiet bar for a glass of Languedoc wine before heading back to your home base in the South of France.
By Jennifer Petoff from Sidewalk Safari.
Gorges du Verdon
Gorges du Verdon is my favorite place in the south of France. It is considered one of Europe's most beautiful canyons. The best way to visit it is to add it to your Provence itinerary. It is not possible to see all of it unless you plan a road trip.
If you travel from the south, your first stop in the Gorges du Verdon is going to be Castellane, where you can take a hike up to Notre Dame du Roc. It is also a famous stop if you want to go rafting or kayaking in the Canyon Gorges. Pass by the cute village of Rougon and drive through route des Crêtes where you will have breathtaking views over the canyon!
Drive further to St Croix Lake – a beautiful turquoise lake in the middle of the canyon gorges. Rent a pedalo so that you can enjoy most of your time there. Don't forget your bikini! Consider camping in the area.
Last but not least, you will arrive at Moustier Sainte Marie, one of the most beautiful villages in France. It is nestled in the rocks. You can take a hike to Notre Dame de Beauvoir or have a drink in one of the many bars and restaurants in town. Plan to arrive early as seats fill up quick!
By Amandine Hach at Les Berlinettes.
Montpellier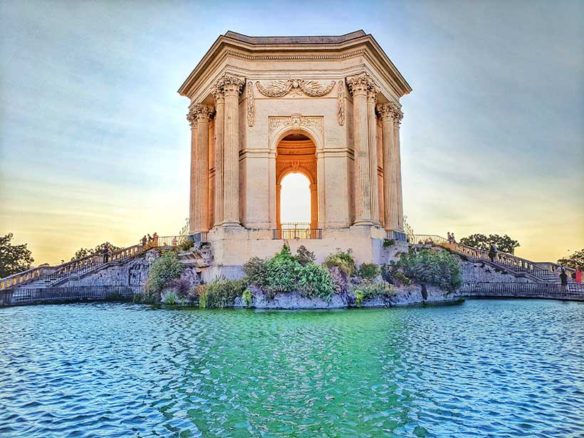 Montpellier is my favorite city in the south of France. In 2017,  I lived in Montpellier for a year and the city still holds a special place in my heart. It's the third largest city on the Mediterranean coast after Nice and Marseilles. I believe it is the best of the three.
Montpellier offers the perfect mix of nature and city. From the Pic st Loup mountain to the Mediterranean beaches, Montpellier has your trip covered. The best thing about visiting Montpellier is that you can have an action-packed exploring holiday, a city break or a luxury beach resort stay. It's all about what you want from your trip.
The city is my favorite place to be in Montpellier. It's a young student town, filled with vibrancy and vitality. In the center, at the Place de la Comedie, you can watch various street artists perform dances, magic acts, band performances and more. It's a lively place surrounded by bars and restaurants.
Another of my favorite city spots is the Parc du Peyrou. Here, you can watch the beautiful sunset with a picnic and enjoy the relaxed atmosphere. Sometimes you'll find tourists taking photos of the beautiful water tower. Other times you'll see kids playing football, but mostly you'll find the students of Montpellier relaxing here with an acoustic guitar or a book.
Explore the museums, admire the street art and enjoy the amazing atmosphere.
By Breanne Fleat at Brie-Anne.
Collioure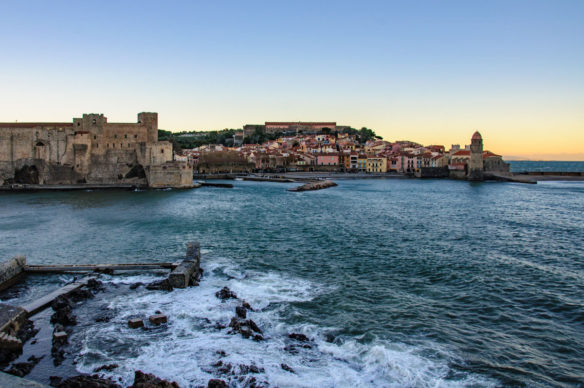 One of the most picturesque destinations in the south of France is the charming village of Collioure. It's situated on the coast only a few kilometers from the Spanish border. Experience a fusion of the Mediterranean when you travel to Collioure and stand in front of Antonio Machado's tomb. He was a Spanish poet who escaped the Francoist terror and died there. 
Collioure offers different experiences depending on the season. Winter days are typically quiet. Summer weekends are busy with tourists from both the French and Spanish side of the border. They go to enjoy the special atmosphere and the cultural patrimony of Collioure.
Highlights include the beautiful hilltop fortress of Château Royal de Collioure, held by several European royal families throughout its history and the lovely Notre-Dame-des-Anges Church. Get lost among the narrow cobbled streets of Moré, a neighborhood that was once a fisherman's village. Don't miss out on trying a local favorite, anchovies in one of many cozy restaurants. 
By Gábor Kovács of Surfing the Planet. 
Aix en Provence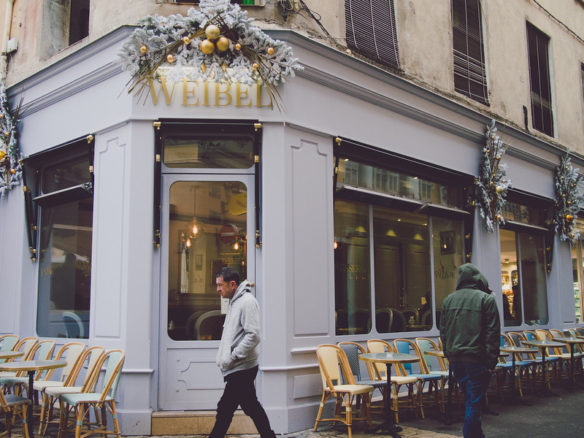 Aix en Provence is a town in southern France meant for splurging. Whether it is shopping in many of the luxury boutiques, trying to local liquor or eating at traditional food like pistou – which has become fashionable again because it is vegan and gluten-free.
If you're a foodie, and how could you not be in France, the best place to start is at the Place Richelme, a morning market that begins at 8am. It's a great spot for local food as well as honey and preserves to take home as souvenirs.
Next, move onto baked goods. In France, it's a bit different as a bakery and a pastry shop are different. If you're looking for savory then look for a boulangerie, but for sweets, you want to hit the patisseries.  In Aix en Provence the most popular patisseries are the classic lavender Maison Weibel and the modern minimalist Maison Riederer. They are only a few doors down from each other which means you can try them both.
To move onto something savory, Lavarenne is a busy boulangerie with fantastic breads and savory snacks like pissaladière and quiche.
But you absolutely cannot leave Aix and Provence without trying the iconic calissons. They are almond sweets with a simple icing but are so complex to make. The most famous are the Calissons du Roy René, where you can try many different flavors. You can also see them being prepared if you go at the right time.
By Ayngelina Brogan of Bacon is Magic.
Nimes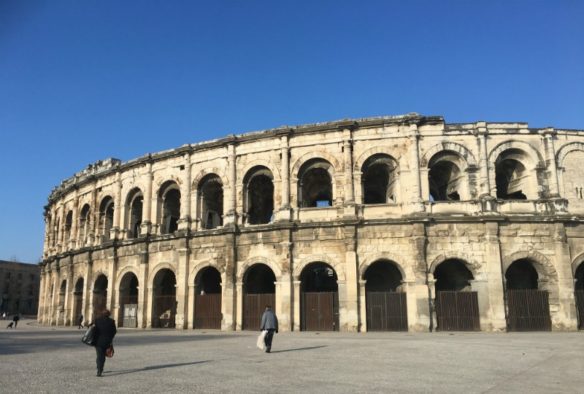 The Romans founded the Mediterranean city of Nimes. It is located on the Via Domitia, a road built in 118 BC to connect Spain with Italy. The city was originally designed to be a retirement place for legionnaires who served Julius Caesar. Today it is the capital of the Gard department, but there is still Roman influence everywhere in this very Italian part of France.
There are plenty of things to do in Nîmes and I recommend first heading to the lovely square (Esplanade Charles-de-Gaulle) in the center. You will come face to face with the colossal Nimes Arena. Constructed from massive blocks of limestone, it's still largely intact. It's possible to visit the inside and even walk around the top of the structure, if you are brave. There also is a great little Gladiator display which was gruesome enough for our kids to enjoy.
Other highlights for our family were La Maison Carrée, a breath-taking Roman temple with incredible stone carving. It's believed to be the best-preserved outside of Rome. Climb to the top of the remains of the Tour Magne for a great view of the city. Walk around the gorgeous 18th century Jardins de la Fontaine with its peaceful shady corners and calming water. Built around the ruins of the old Roman baths, the park also incorporates the ruins of the temple of Diana.
By Bucket List France.
Pont du Gard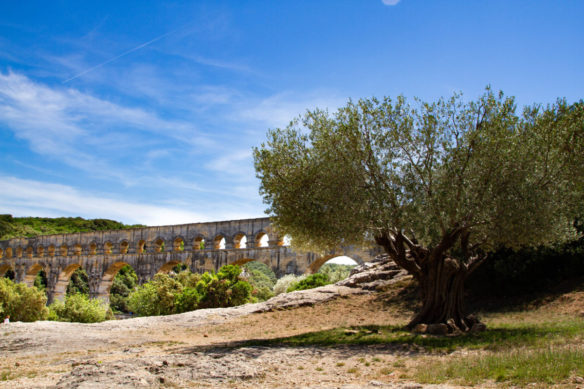 The Pont du Gard, upon face value is just a large aqueduct. That may not sound exciting, but it surprises visitors. We loved it so much, we went back a second time and cannot wait to return.
Inscribed on the UNESCO World Heritage list as due to its historical importance, this monstrosity of a water mover has been around since the Romans built it in 50AD. It's purpose was to move water into the city of Nimes. Pont du Gard later became a toll station when that purpose concluded.
Today people come from all over to enjoy the Pont du Gard. A fantastic museum recounts the technology and architectural details of the aquaduct, with an entire area set up for children ages 6-12 to try their hand at moving water. There is also a cinema that shows the history through film.
Learn about aqueducts, then take a hike or swim under the stone arches. The Pont du Gard is a whole day of fun and discovery. Don't miss it on your trip to southern France.
By Corinne Vail of Reflections Enroute.
Les Calanques National Park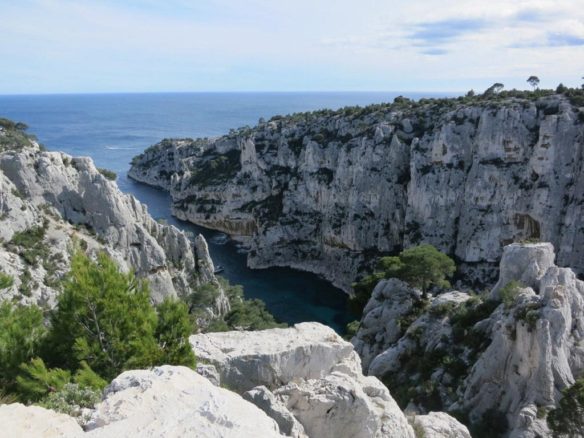 If you travel to France don't miss the beautiful Calanques of Marseille – Cassis. The Calanques National Park is a coastal park located in the South of France, between Marseille and the picturesque village of Cassis. The National Park nomination comprises the terrestrial part of limestone cliffs and puddings and of course the maritime part, with its creeks, islets, and seabed.
Les Calanques National Park is a great place for hiking, with many beautiful marked paths mostly parallel to the sea. Sometimes hikers can visit the creeks to bath in secluded beaches reachable only by catamarans. The hikes usually ends at the beautiful village of Cassis, where it is great to sit along the marina for a well-deserved drink.
There are many ways to visit The Calanques National Park. Marked hiking paths are a popular way to enjoy it. Hiking Les Calanques is not difficult but it is usually long hikes under the hot sun of the South of France. The Mistral wind which blows in this area can be strong. Another (easy-going) way to visit Les Calanques is by catamaran or sailboat on a day cruise. Day tours usually leave from Marseille or Cassis, and they often include lunch.
By Elisa from France Bucket List.
Les Baux-de-Provence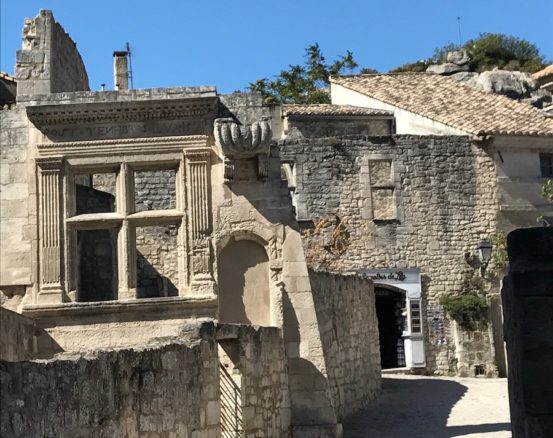 Les Baux-de-Provence is a must-see in the south of France! Recognized as one of the most beautiful villages in France, this unique walled fortress sits high atop a rocky outcrop. Les Baux were a powerful family directly descended from one of the three magi who attended the birth of Christ.
Wind your way up the steep cobblestone streets into the heart of the village. There you can enjoy a rousing comedic demonstration of the trebuchet—used in medieval siege warfare—to imagine what previous conflicts looked like. Choose from several atmospheric restaurants tucked deep within the stone wall to sample a Provence-style crepe or salad. (For the latter, think French sausage, Camembert cheese on toast points, tomato, and spinach rillette. Yum!)
After lunch, head directly into the former quarry below the village for La Carrière des Lumières. It is a thrilling multi-media light show that projects famous art onto the quarry walls set to a wide range of music…everything from ACDC to Vivaldi. You'll feel as if you're standing inside Van Gogh's Starry Night…or paintings of whichever artist they're featuring during your visit. Afterwards, emerge onto the stone terrace for a relaxing afternoon coffee or glass of rosé.
By Christina Román at Explore Now or Never.
Bordeaux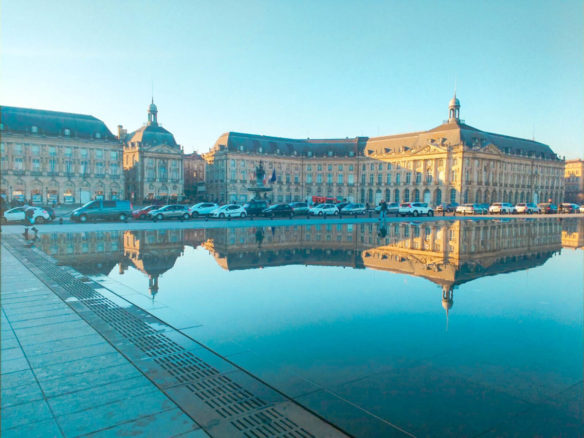 For me, Bordeaux is the most beautiful city I have visited in France. With its beautiful buildings, this city in the south of France is very special. It is hardly surprising that Bordeaux's old town has been part of the UNESCO World Heritage since 2007.
My absolute favorite place in Bordeaux is the Miroir d'Eau. This is the largest water mirror in the world. It is located opposite to the Place de la Bourse and reflects its buildings. The Place de la Bourse is considered the landmark of the city.
Probably the most beautiful district of Bordeaux is Saint-Pierre. There you will find many old and historic buildings. It is a great area to visit small bars and sip delicious Bordeaux wine that has made the city so famous. There you will also find the impressive Porte Cailhau, which is 35 meters in height.
Consider a boat trip on the river Garonne, which flows through Bordeaux. This also allows you to see the surrounding vineyards, which are of great importance to the city's economy.
By Vicki Viaja at vickiviaja.
Arles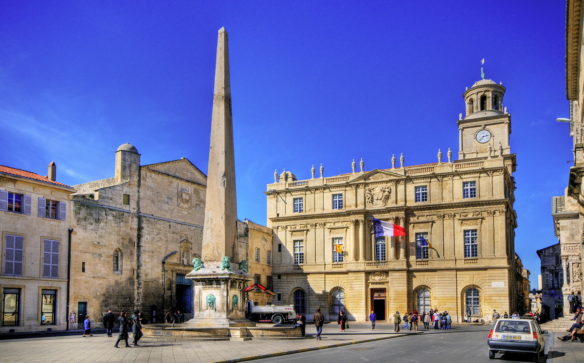 Arles is a small ancient Roman city that lies on the edge of the Provence. Two significant things about it are the Roman amphitheater and the painter, Vincent Van Gogh. Van Gogh once lived in Arles and created some of the most well-known paintings there. Known motifs were the Le Café de nuit and the Langlois Bridge at Arles, south of Arles. The tiny old city of Arles can feel a little like walking through one of Van Gogh's paintings yourself.
The Arles Amphitheater is the heart of the old town and you shouldn't miss it. Start a self-guided walking tour by passing the old city walls and the old city gate. Follow the narrow road that leads directly to the Roman amphitheater. It was built around 90 AD and even back then drew crowds numbering 21,000 visitors. That's impressive, right? Even today, it still serves as a bullfighting arena. Sit down at one of the cozy restaurants close to the arena and have some French dishes like scallops with a cold glass of local white wine. Old Town Arles is the perfect place to end the day in style.
By Clemens Sehi at Travelers Archive.
Saint Emilion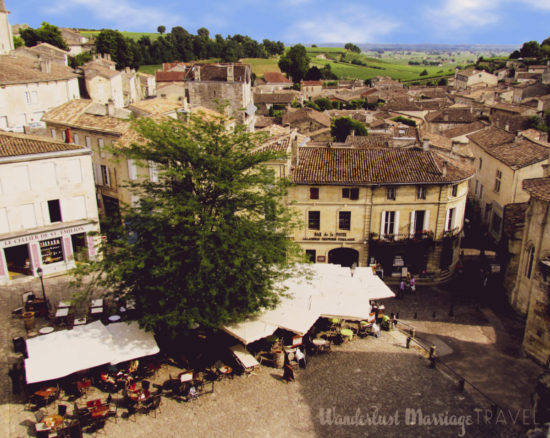 Saint Emilion is a UNESCO World Heritage Site town in the Nouvelle Aquitaine region of southwest France – one of four regions constituting the south of France. The Romans planted vineyards in this region in the 2nd century. Today Saint Emilion is one of the four principle red wine regions of Bordeaux – along with Medoc, Graves and Pomerol.
Saint Emilion is just 35 km from Bordeaux. The TGV train takes around 40 minutes each way if you don't want to drive. If you arrive at Gare de Saint Émilion, enjoy the lovely 1 km walk alongside vineyards into the center of town.
Saint Emilion is home to picturesque Romanesque churches and quaint alleys to explore. There's wonderful opportunities to dine al fresco in the warmer months. Check reviews and grab a table anywhere that looks good. Magret de canard (duck breast) is a favorite dish in the region to enjoy.
May and September are ideal months to visit to avoid the heat and crowds. Consider renting bicycles to tour the vineyards surrounding Saint Emilion. Or just enjoy the beautiful views from town over world-class wine. Consider a stay at the beautiful Château Hôtel Grand Barrail, just outside of Saint Emilion.
By Alex Kallimanis here at Wanderlust Marriage Travel.
South of France Recap
The south of France is packed with wonderful destinations to enjoy. So it can be hard to decide which places to visit. Hopefully this list helps you narrow down your options. Thanks again to all the great travel bloggers who contributed! Feel free to share comments and questions on the south of France below! And here are some additional vacation ideas in the region, including ritzy Monaco.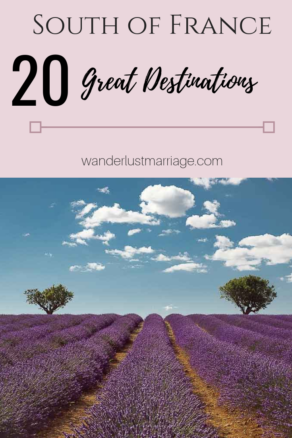 Disclosure: This article contains some affiliate links. We receive a small commission when you book or sign up through these links and it costs you nothing extra.