You'd be hard pressed to enter any wine shop in the world and not find a selection from Bordeaux. Wine production in the Bordeaux region accounts for 14.5 billion euro ($20 billion USD) of revenue for the region annually. That's more than the entire GDP of many countries! Saint Emilion is a UNESCO World Heritage Sites and also makes for an excellent day trip from Bordeaux. Here are tips for arriving from Bordeaux and what you can expect to experience!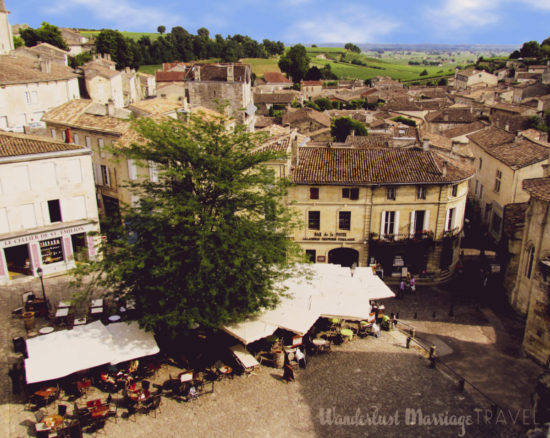 Saint Emilion Tours from Bordeaux
Full Day Trip to Saint Emilion
Spend a day enjoying French wine in the Saint-Emilion and Pomerol wine region. Departing from Bordeaux, visit two chateaux to taste the region's famous wines and wander the streets of beautiful Saint-Emilion, a UNESCO World Heritage Site. The tour includes a full-day trip to the St Emilion wine region from Bordeaux and costs $157.74.
Half Day Trip to Saint Emilion
Spend a half-day in the charming medieval town of Saint-Emilion on a  trip from Bordeaux. Explore the best of this UNESCO-listed village, including a wine tasting at a grand cru wine estate, a walk along the historic city walls, and visits to unique artist galleries and studios. Enjoy some free time in Saint-Emilion, too. The Saint Emilion half day tour from Bordeaux tour costs $97.07.
Train from Bordeaux to Saint Emilion
If you don't rent a car it's not a problem. It's a 35km train ride from  Gare St. Jean train station in Bordeaux to Gare de Saint Émilion. The journey takes about 40 minutes each way and costs around 20 euro ($25 USD) round trip. The train ride is comfortable and you'll be privy to some excellent views of vineyards and chateaus, especially as you get closer to Saint Emilion.
Be Sure to Validate Your TGV Ticket
Be certain to validate each leg of your journey as French TGV train tickets are valid for 2 months and must be stamped from one of the yellow ticket machines on the station platform. We were actually unaware of this and when the train conductor came to check tickets she made us aware and cut us a huge break by not fining us. It's lucky we didn't get a conductor who was having a bad day, otherwise, we would have received a hefty fine. If you forget to validate your train ticket it is your responsibility to seek out a train conductor and inform them, don't let them come to you first.
Arriving at Gare de Saint Emilion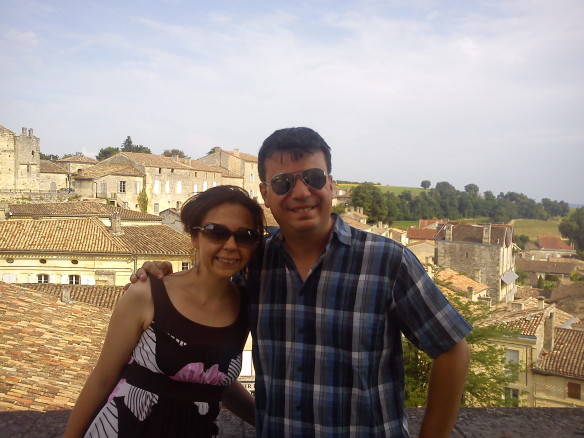 Once you arrive at Saint Emilion's small train station, you'll need to walk about 1km past picturesque vineyards into town. Saint Emilion is one of France's most beautiful towns. It's a UNESCO World Heritage Site, due to how well preserved the exteriors of the old buildings are. The interiors are a different story, housing an abundance of chic wine shops, trendy restaurants, sweet shops and gift shops. Saint Emilion is very touristy, but somehow still feels authentic. After a few hours strolling through this magnificent town, Bell and I both fell in love with it. It is one of our favorite European towns.
Rent a Bicycle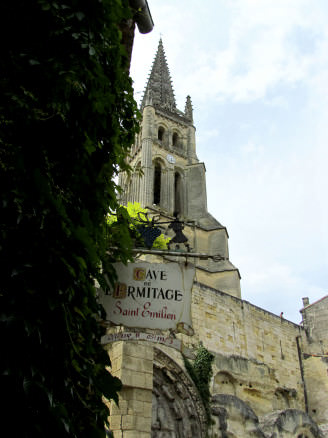 We had planned to rent a bicycle and cycle through the lush vineyards of the region to several of the towns neighboring chateaus. But with July temperatures that day reaching 35 degrees Celsius (95 Fahrenheit), we chose not to labor and possibly argue for the rest of the day and scrapped that plan. Along with lower prices, fall and spring are better times to visit this region because you're less likely to be bogged down with heat and can partake in more activities. Scorching temperatures also mean you probably won't be in the mood to drink what Bordeaux is most famous for- red wine. Though fortunately the Bordeaux area also produces enjoyable white wines which Bell doubly appreciated as she's unfortunately allergic to the tannins in red wine.
Stay Hydrated in Summer
The wine overflows in Saint Emilion, but amazingly not bottled water in shops. We had to pass through several shops before finally being able to purchase some cold water. Be sure to have some water if you arrive by train as there wasn't anyplace to buy it near the train station. To cool off we also enjoyed some wonderful sorbet from one of several ice cream vendors. If you like tart flavors, we highly recommend getting a scoop of passion fruit as it was pretty much the best sorbet we've ever eaten.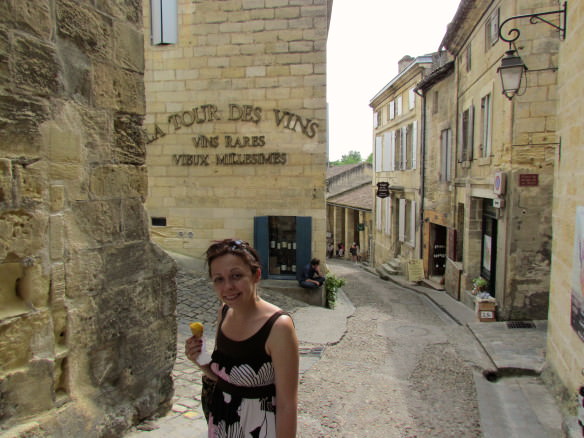 Wear Good Walking Shoes in Saint Emilion
Saint Emilion has a rather steep climb on tricky cobblestone streets so be sure to wear good walking shoes! When you reach the top of town you'll be rewarding with a stunning panoramic view of nearby wineries and the town below. It's a view you will never forget and one of the many scenic things in life where the pictures don't do it justice.
For just 6.50 euro ($8.50 USD) you can take a short tram ride around some wineries and the tours lasts around 30 minutes. This is especially a good idea if members of your party aren't able or willing to rent bicycles.
Dining in Saint Emilion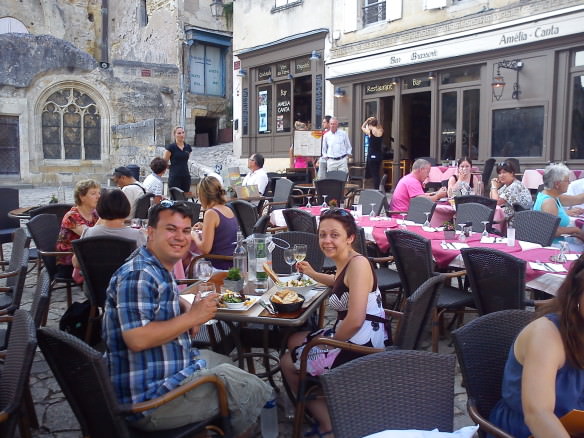 We highly recommend having wine and dinner in the main square as it's one of the most beautiful settings we've ever dined in. And the prices are fantastic considering you could pay the same money to eat pub food elsewhere. Find a restaurant in a stunning setting in the square with a charming view of the Monolithic Church of St. Emilion. There's a few other neighboring restaurants in the square, so have a look at the menus to see which canard (duck) dish you'd like to indulge in. For vegetarians, there is unfortunately no soy foie gras options.
Eating here reminded us of the opening of The Way, about hiking the Camino de Santiago, which begins in France. Saint Emilion is a great day trip from Bordeaux!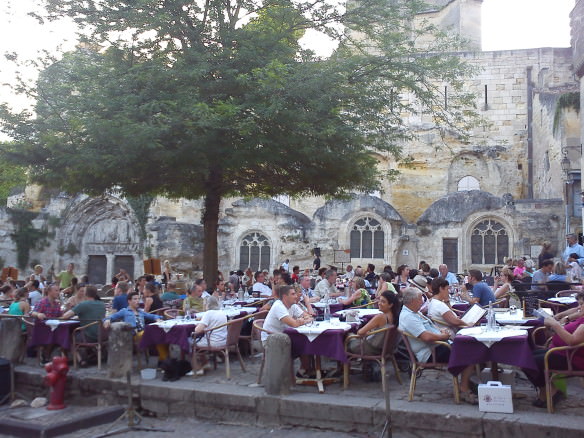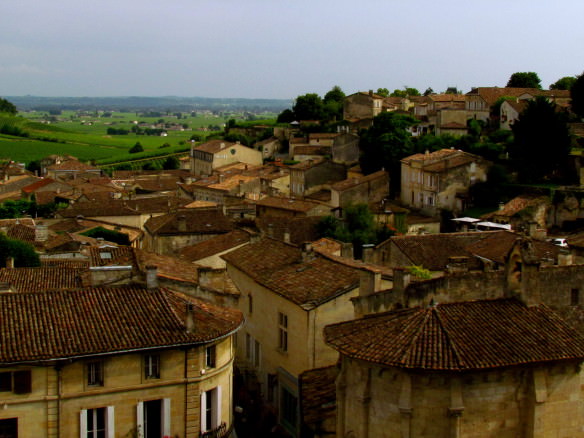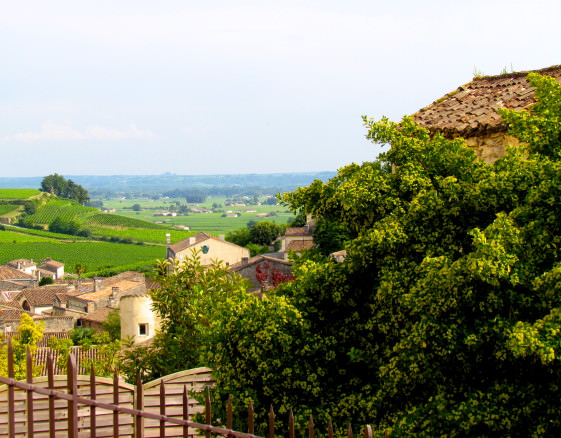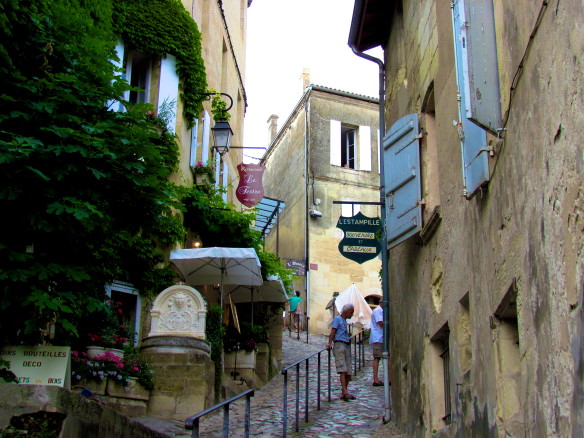 Saint Emilion Hotels
Consider booking a hotel or bed and breakfast in advance that offers free cancellation. That way if your plans change, you can cancel without penalty!
Château Hôtel Grand Barrail offers a wonderful 5-star luxury stay just outside Saint Emilion. The 19th-century Château has an outdoor swimming pool, spa center, free Wi-Fi and soundproofed accommodation. All guest rooms at the Grand Barrail Chateau are equipped with air conditioning and a flat-screen TV with satellite channels. Some rooms also feature sweeping views of the surrounding vineyards. The Grand Barrail Chateau Spa features a gastronomic restaurant that serves regional cuisine. Situated along the Dordogne River, the property is 1.9 miles from Saint-Emilion.
Château de Môle is a wonderful place for couples to stay just outside Saint Emilion. Located in Puisseguin and surrounded by vineyards, Château de Môle offers elegant rooms with LCD TVs, free Wi-Fi and a meeting room. With wooden floor and furnishing, each air-conditioned room has a minibar, safe and private bathroom with bathrobes and luxury toiletries. Some rooms feature a spa bath and sauna or facilities for guests with reduced mobility. A continental breakfast is offered every morning. Accessible via Libourne Train Station, Château de Môle is 6.2 miles from Saint-Emilion and 31.1 miles from Bordeaux city centre. Wine tasting can also be enjoyed right on site!
Bordeaux Hotels
Hôtel Le Palais Gallien offers a wonderful 5-star luxury stay in Bordeaux, complete with concierge and ticket service. The property features fine dining, a seasonal outdoor swimming pool, bar and garden. Their 24-hour front desk can also assist with airport transfers and room service. Free WiFi can be found throughout the property. Popular points of interest near the hotel include Esplanade des Quinconces, Grand Théâtre de Bordeaux and CAPC Musee d'Art Contemporain.
L'Hôtel Particulier is located just 350 feet from Saint-André Cathedral in Bordeaux. The property offers free WiFi and is ideally located to discover the highlights of Bordeaux. Each room at this comfortable guest house is air conditioned and comes with a flat-screen TV. Certain rooms have a balcony or patio and feature a comfortable seating area. All rooms are equipped with a private bathroom. Concierge service is available at the property. On-site bike hire is also available.
The Ibis Bordeaux Centre – Gare Saint Jean, is a great option for budget travelers. It's conveniently located 1,000 feet from Saint Jean Train Station and a 10-minute tram ride from the city center. The property offers a bar and free WiFi in the hotel rooms. A nice buffet breakfast composed of sweet and savory dishes such as eggs, fruit salad, yogurts and juices can be purchased for an additional cost. It's no frills, but comfortable enough for an enjoyable visit to Bordeaux.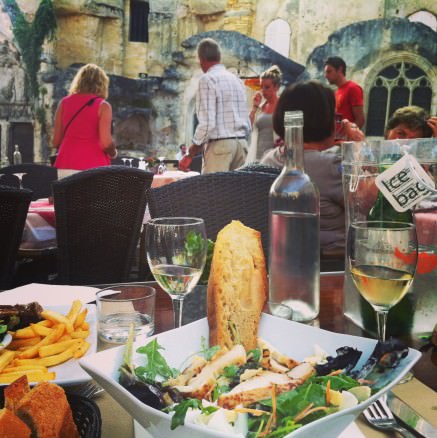 Have questions about travel to France or elsewhere? You can leave a comment below or email me at [email protected] and I can assist you! 
Disclosure: This article contains affiliate links. We receive a small commission when you book or sign up through these links and it costs you nothing extra. When it suits you, please use them, as it helps us help you!