Since the end of the Cold War, Eastern Europe has opened its doors to growing numbers of tourists. While Bucharest is not nearly as beautiful as Prague, it rivals its nightlife and culinary scene. Is Bucharest, Romania worth visiting? It's part of the European Union, so many nationalities don't need a visa – a huge plus for visiting Bucharest! Here are some highlights of visiting Bucharest to help you decide whether or not to travel there.
The Palace of the Parliament in Bucharest is the World's Biggest Parliament Building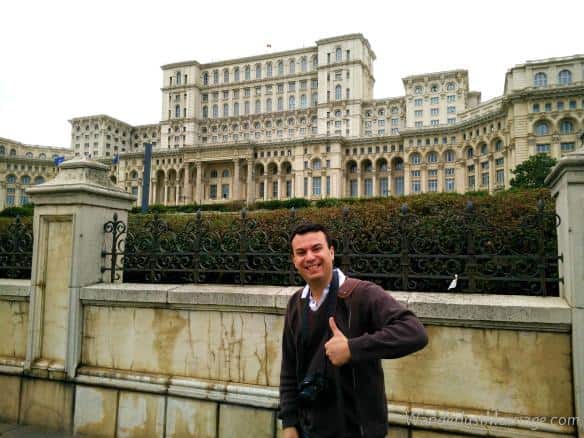 The Palace of the Parliament (Palatul Parlamentului) in Bucharest is the world's largest parliament building. Otherwise known as  The People's Palace, it measures a staggering 3.7 million square feet (340,000 square meters) and is the second largest administrative building in the world, only surpassed by the Pentagon in the United States. Communist dictator Nicolae Ceausescu commissioned the People's Palace and construction began in 1980. A team of 700 architects worked to create an impressive monstrosity that epitomizes greed and power.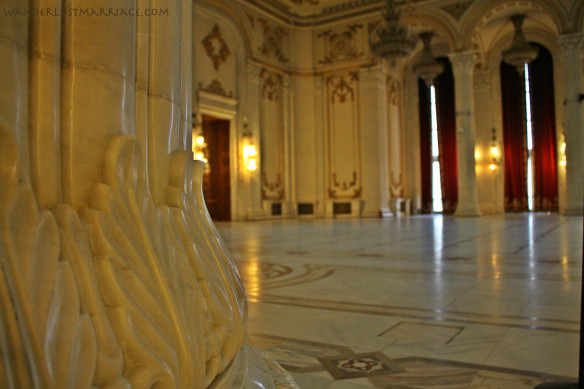 What Does the Interior of the Romanian Parliament in Bucharest Look Like?
While the exterior of the People's Palace looks somewhat like a classical Greek revival building on steroids, the building's interior is where the excessive opulence really shines. The Palatul Parlamentului contains 1,100 rooms and is loaded with thick marble columns, staircases & crystal chandeliers. There's so many lights in the Romanian parliament that most of the ornate chandeliers aren't even turned on during tours, otherwise the electricity bill would be too high.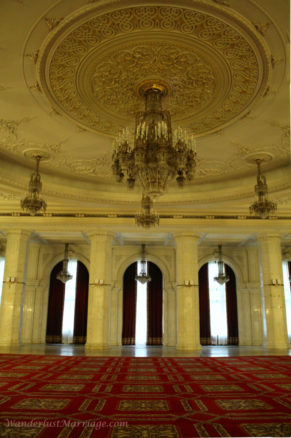 Plan Your visit to Palace of Parliament on their website. Be sure to bring your passport as it's required for a tour!
Bucharest Old Town: Places to Go
There's a lot to love about the oldest part of Bucharest. Historic buildings house great restaurants, pubs and shops, and by night, this area becomes one of the liveliest in all of Europe. Bucharest is becoming a hot spot for bachelor parties, but it's also good fun for a group of friends or couples who want to enjoy nightlife.
Care cu Bere
We especially enjoyed the festive atmosphere at Caru cu Bere (The Beer Cart), which is an opulent 135 year old restaurant. Oktoberfest is an aptly named fun place to enjoy Romanian and even neighboring Moldavian beers.
Bordello's
The atmosphere at Bordello's is couples friendly risqué. It's basically a Romanian version of Coyote Ugly. This is just scratching the surface. Walk around Bucharest's old town and there's a cool hangout to suit most tastes.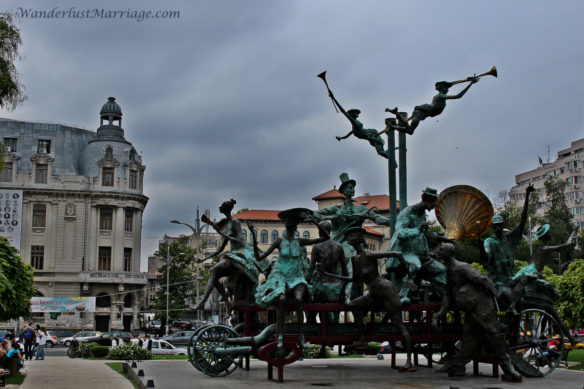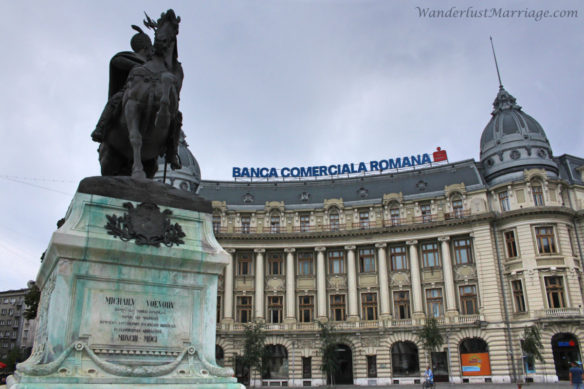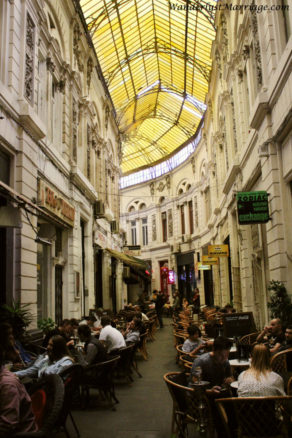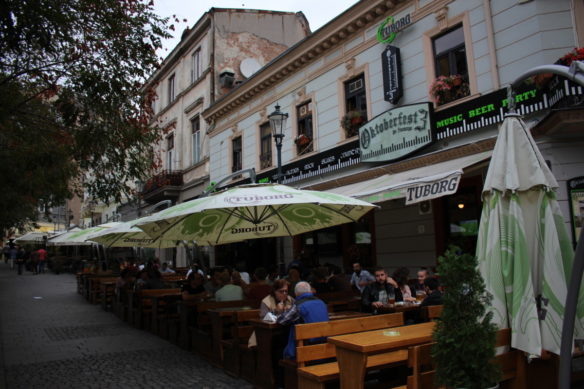 What is the Food in Bucharest Like?
Romanian food is hearty and flavorful. A couple Romanian dishes competed for the best meal of a trip that also included France and Belgium. Try a beef stew called Tocana de Vita with Mamaliga (polenta with cheese) at Hanu Lui Manuc in the old town of Bucharest. The stew marinates for 12 hours, and rivals the best stew you'll encounter anywhere in the world.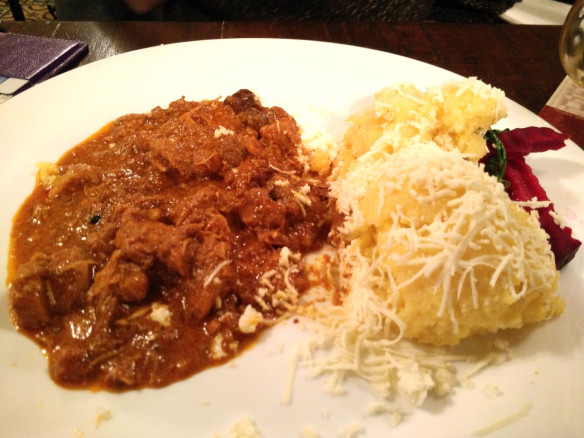 Are Romanian Desserts Good?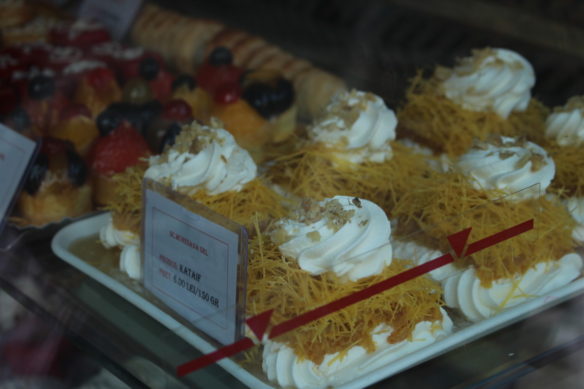 We also loved some of the Romanian desserts. We found wonderfully fresh and delicious pastries from a couple middle eastern patisseries, and some of the Romanian patisseries were also very good. Sweet pretzels (covrigi) are one of the most common Romanian desserts, with honey and walnut and chocolate being two of the most prevalent flavors.
Is Bucharest Good for Vegetarians to Visit?
Vegetarian travelers often complain that Romanian food is too meaty. While this is generally the case, most restaurants in Bucharest and Brasov, Transylvania have nice salad choices on their menus. To balance our meals, we often shared a hearty meat dish and a salad main, often comparable to a Greek salad. This is a good idea for couples trying to stay relatively healthy while traveling around Romania. While Bucharest isn't the best destination for vegetarians, there are suitable options.
Best Hotels in Bucharest
Consider booking hotels in advance with free cancellation, especially during peak travel times. Booking offers free cancellation on many rooms, which is more flexible than many Airbnb listings.
Epoque is a stylishly and elegantly decorated boutique hotel with spacious and air-conditioned rooms, as well as free on-site parking and free WiFi in all areas. It is centrally located near the Cismigiu Central Park, away from Bucharest's noisy boulevards. Designed in a Neo-Romanian architectural style, some rooms have a french balcony and views of the garden. All guest room have a well-lit work desk as well as a comfortable living area fitted with a plush sofa. All suites have 2 flat-screen TVs.
Guests at the Epoque enjoy free access to a spa centre with a Finnish sauna, a wet sauna, a hot tub, an indoor pool and a fitness centre. Massages can also be booked. Guests can taste the refined French Haute Cuisine with a contemporary touch in L'atelier – l'art culinaire restaurant.
JW Marriott Bucharest Grand Hotel offers elegance and comfort with 402 deluxe rooms, 6 restaurants, a convention centre, health club and spa, shopping gallery and the Grand Casino. Rooms and suites of JW Marriott Bucharest Grand Hotel are fitted with flat-screen TVs with cable and satellite channels, including HBO and CNN. Bathrobes, slippers and free toiletries come standard. Free WiFi is offered in public areas. This is the perfect place to stay in you're redeeming Marriott Bonvoy points.
We stayed at the Europa Royale Bucharest. The location is great and it's comfortable for Bucharest. It's at the edge of the old town, walking distance to many bars and clubs at night. You can also easily walk to many of the cities attractions during the day.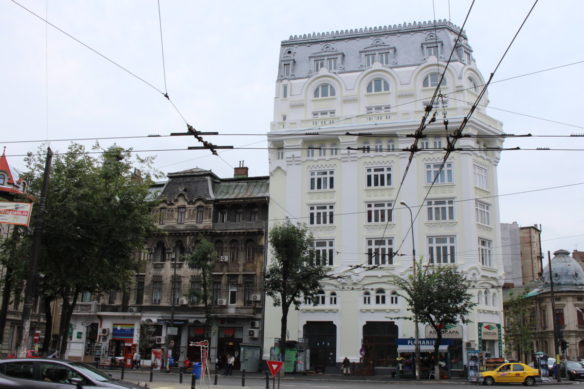 Travel From Bucharest to Transylvania By Train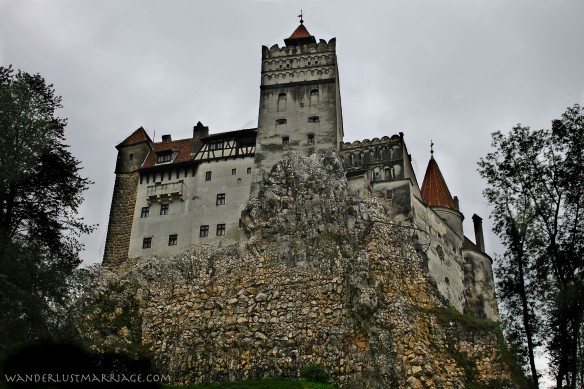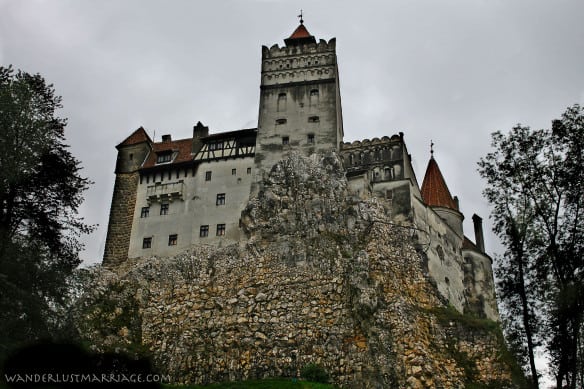 Bucharest, Romania is also worth visiting because you can catch a train to Transylvania. Transylvania is home to picturesque towns and unique castles, a major highlight of visiting Bucharest. Here are some of the best castles in Transylvania to visit.
Bran Castle
Bran Castle features elegant furniture, spooky stairways and great views of Bran below. The courtyard is also lovely and the castle is filled with centuries of varying history. Bran Castle is also associated with the story of Dracula.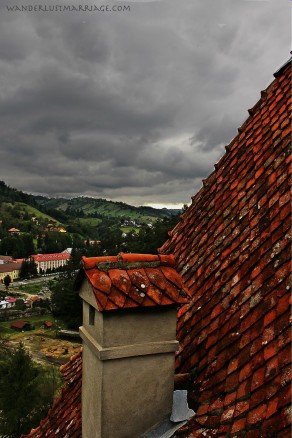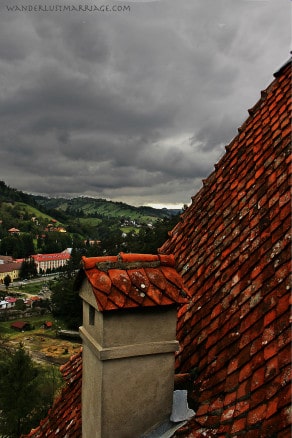 The legend of Dracula stems from the work of Irish writer Bram Stoker. Stoker never actually visited Transylvania, but based on his readings, images, and creativity, he penned a brilliant tale of a menacing vampire who feasted from atop Bran Castle. The character of Dracula was inspired by Vlad the Impaler (Vlad Tepes), who ruthlessly ruled areas of Transylvania during the mid 1400's.
Hungarian King, Louis the Great, commisioned the construction of Bran Castle in 1388. Doubling as a fortress, it was meant to assist Transylvania in defending itself from Ottoman expansion. Vlad the Impaler arrived in Bran in 1459 to attack nearby Brasov, killing hundreds of Saxons and burning its suburbs. The history of Vlad's occupancy of Bran Castle is ambiguous, but he supposedly was a prisoner there for two months.
Peles Castle
Peles Castle is one of the most opulent in Europe. It's a Neo-Renaissance castle in the Carpathian Mountains, near Sinaia, in Prahova County. It was built between 1873 and 1914 and rests on an existing medieval route linking Transylvania and Wallachia.
You can tour both Bran Castle and Peles Castle on a day tour from Bucharest starting at $90.15 per person.
Brasov
The Transylvanian town of Brasov is a fantastic place to spend a few days. We enjoyed strolling through pretty, centuries old streets and unwinding over delicious food and drinks. The food at Sergiana was especially delicious and so filling that every seating comes with a complimentary side of fried pork! Brasov is a 2 and 1/2 hour train ride from Bucharest and makes for an excellent base to do day trips to nearby Bran Castle and Peles Castle. Read our article Where to Stay in Transylvania? Brasov.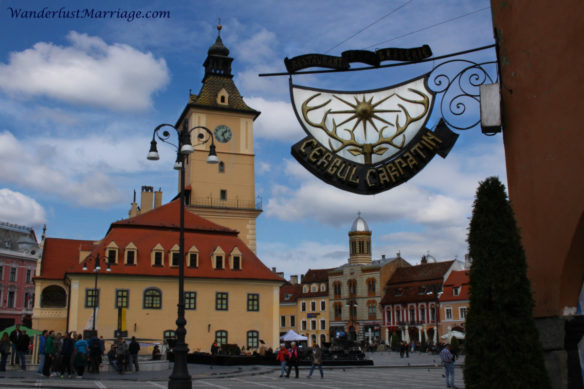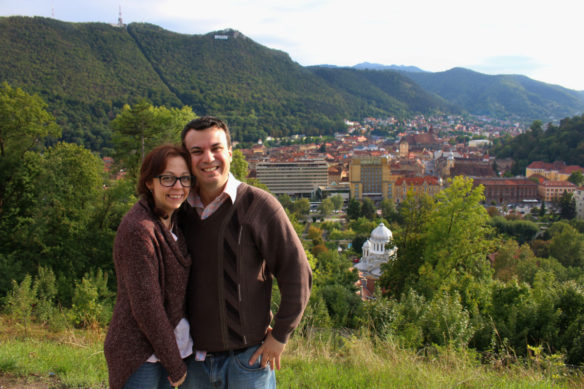 Since Romania is part of the European Union it's easy for most international travellers to fly into the country without worrying about a visa. It's also not that difficult to travel around Romania independently just speaking English, as over 50% of Romanians speak at least moderate English. Read about 5 myths busted by a visit to Romania.
Traveling to Romania? Leave a comment or you can email me at [email protected] and I can assist you! 
This article contains some affiliate links. We receive a small commission when you book or sign up through certain links and it costs you nothing extra. When it suits you, please use them!