There's nothing wrong with a traditional wedding. Many people prefer the standard walk down the aisle, followed by a reception and some dancing. But tying the knot is such a special occasion that it warrants some creative ideas for the bridal party and their guests. Here are 11 unique ideas for an unforgettable wedding that are ideal for destination ceremonies. So if you're doing that beach wedding in Thailand, this covers you!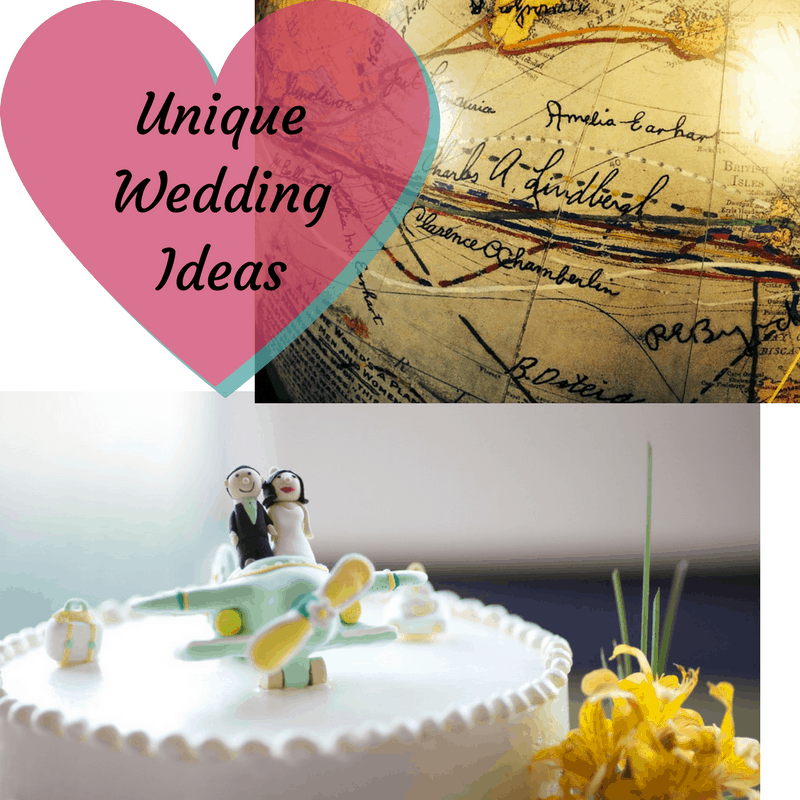 Circular Seating Arrangement
Instead of the typical straight-row seating, why not form a donut-shaped seating pattern with you and your partner right in the center? This is great for outdoor weddings or weddings that don't take place at the typical chapel. Of course, immediate family members and close friends will still be seated at the front, with more casual guests seated in the outer edges of the circle.
Have Guests Sign a Globe
If you're going to travel to several countries for your honeymoon, then invest in a globe. It doesn't matter if it's a contemporary or vintage model, but it should preferably be a higher quality model than a standard plastic one. Instead of having guests sign and write their well wishes in a guestbook, have them sign the globe. This makes for a wonderful keepsake, not to mention a nice bedroom decoration.
Come Up with a Wedding Hashtag
Create a hashtag for your wedding. Have guests use the hashtag whenever submitting a tweet related to your wedding. Also, do the same for all wedding pics taken and submitted on Instagram. This way, guests can see all the photos and related tweets by entering the hashtag.
Keep the hashtag simple. It should include the name of the bride and groom followed by the year and/or the word "wedding." An example would be: #Mike&Jill2017 or #Mike&JillWedding.
Travel-Related Favors
Chocolates are a tad too typical. How about including some kind of travel-related favor? This opens a whole new gateway of ideas. Some examples include:
old-style customized compasses
bottle openers in the shape of an airplane
miniature crystal globes
reusable luggage tags
You can also include travel-related toys for the little ones in attendance. This can be miniature toy airplane or a child's introduction book of the world.
Create a Comical Brochure Guide
To add a bit of humor, create a humorous brochure that is handed out to guests as they check in. The brochure can be on a number of subjects related to your wedding. A few ideas may include the following:
A Guide on Staying Awake at Matt and Jill's Wedding
Cliff Notes on Matt and Jill's Courtship
Dummy's Guide on What to Say and not to Say When Toasting to Matt and Jill
The brochure should be written in a witty and lighthearted matter. This is a great way to show that you don't take yourself too seriously even on the most important day of your life.
Dress-up as Aviators
As part of a bigger travel theme, consider ditching the traditional tux and gown. Instead, have the groom dress as a commercial airline pilot and the bride a flight attendant. The pastor can also take part and dress in a vintage 1930's pilot suit complete with aviator hat and goggles. The altar can even be surrounded by luggage as props or include a giant map of the world plastered on the wall.
Wedding Vows
The bride and groom may choose to write their own vows, which they will read to one another at the altar. Instead of taking the time to write something new, how about reading to each other old love letters from way back in the day when you two were dating? This will bring back old memories when you and your partner were in the puppy love phase of the relationship. For guests that don't know you and your partner that well, this will give them an idea of your relationship from dating to marriage.
Unconventional Wedding Songs
There is no need for traditional slow-tempo love tunes or even classical music for a wedding song. If you and your partner are both into Cold Play, Metallica, or Rob Zombie, or some other heavy metal rock band, then go ahead and blast that genre of music as you walk down the aisle. The same goes for the dance. Consider playing more heavy metal and even forming a mosh pit for the bride and groom.
Skip the Bouquet Toss
The bouquet toss is a fun moment, but it also puts the single ladies on the spot. Here's another creative way: give the bouquet to a guest couple that has been married the longest and have them impart some words of wisdom or keys to a lasting marriage. You may very well end up handing the bouquet to your parents or in-laws, or an older guest couple reaching their fourth or fifth decade of marriage.
Groom's Cake
A groom's cake is a relatively new wedding trend and served alongside the traditional wedding cake. Unlike the wedding cake, which is often said to be for the bride and decorated in light colors, the groom cake offers far more room for creativity. Essentially, it can be whatever the groom wants. It can be the opposite of the wedding cake and include mostly dark-colored frosting.
In place of a groom cake or even any cake for that matter, you can just ditch the whole concept and have a FIY (frost-it-yourself) table where guests can create their own dessert using an assortment of sweet confections.
Make Pets a Part of the Guest List
Another trend is for the bride and groom to bring their pets along. It would be pretty cute, after all, to include your dachshund or miniature pug in the wedding festivities and dressed in a doggie tux. Alternatively, you can contact an animal shelter and coordinate to have several dogs and cats brought to the ceremony. Let the guests play with them, which could very well end up in an adoption. This is a nice way of helping animals find a home while providing some entertainment value for the guests.
Katie from www.orlajames.com agreed "I think this point is great, especially the animal shelter idea! Those dogs don't get enough attention and to have people fussing over them all day and potentially adopt them would be lovely."
Obviously, you'll remember your wedding day for the rest of your life. However, you want the guests to have the same positive experience. By adding some sort of unique element, you'll give guests a reason to look back with awe.
This is a guest article written by Dan McCarthy. Mr. McCarthy is an Event Manager at Ultimate Experience, with 5 years of event project management under his belt. He has worked on many successful events, and currently shares his knowledge by writing on his company's blog. Follow him on Twitter @DanCarthy2
And if you're looking to arrange wedding travel, contact Alex Kallimanis at 1-857-919-9327 or email me at [email protected]