There are loads of budget airfare carriers in Europe and the trend continues to grow- Easyjet, Wizzair, Jet2, Aer Lingus,  and Norwegian to name just a few. And of course the largest and the pioneer of discount flying in Europe, Ryanair. These airlines will usually give you a much better deal than old school national carriers because service is a la carte and in some aspects, non existent. But you get what you pay for. Here are 5 money saving tips on flying discount airlines, especially Ryanair.
1) Read Discount Airlines Rules and Follow Them
Ryanair is the worst at penalizing their customers for not following their rules. It's part of their business model and the extra revenue they generate here helps subsidize tickets for people who do follow orders. Be sure to check-in and print your boarding pass ahead of time. If you rock up to the airport without your boarding pass pre-printed, they will charge you up to €60 ($80 USD!) to check-in. That's as stiff as Hugh Hefner 30 years ago, especially since that might be more than your actual ticket price! Not only will they never bend the rules for you, Ryanair CEO Michael O'Leary may even publicly say you are stupid on top of it.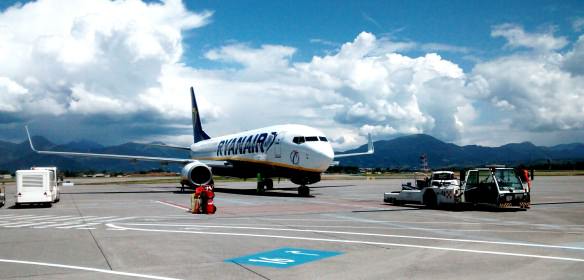 2) Weigh Your Bags Before Going to the Airport
Ryanair charges more than most discount airlines to check baggage. Are Lingus, for example, charges just €15 each way for up to 20 kg. Ryanair charges €15-25 each way (depending on their mood) for only 15kg and €25-35 each way for 20 kg. That's a huge markup on baggage, but Ryanair's fares are usually cheaper than just about everyone else. If you are going away for a week, you can probably get by with 15kg. In fact, it's easier to travel when you are traveling lighter anyways. Lugging heavy bags around trains, buses, subways and cobbled European streets is no fun. Put everything you need in a large backpack or a light weight medium sized rolling suitcase that doesn't weigh more than 15kg. In fact, there have even been week-long trips where Bell and I split 15kg in a large backpack. Not easy, but definitely doable.
3) One Carry on Bag
Discount airlines might allow you to have a carry on item plus your duty free purchases and your purse. Read the specific airlines rules. They will give you the opportunity to try and stuff everything in one bag, so long as it remains within their allotted carry on dimensions and does not exceed 10 kg in weight. If you cannot comply, you will be forced to fork out cash then and there, leave the item behind, or you will be denied boarding. You are however allowed to carry on 1 jacket or coat along with your carry on bag. So here's a bonus tip: You can hold your duty free bag under your jacket or coat. I've successfully done this a few times. As long as it's not obvious they will not inspect your coat before boarding the aircraft.
4) Consider Not Checking a Bag on Weekend Trips
If you are only going away for 2-3 days and are a savvy packer, you should be able to get away with not spending €30-70 on checked baggage. Some people might say, but what about my special shampoo? I can't take liquids, gels or aerosols on the plane. You can take liquids in small clear plastic containers, within a zip lock bag. So you can transfer just enough of that shampoo accordingly. I also always include a small tooth paste in my zip lock which has never been confiscated. Even if you have to re-purchase 1-2 items that costs €10 when you arrive and throw it away 2 days later, that's a savings of €20-60.
5)Be Flexible with Dates and Destinations
It's not always possible but if you're flexible, check different dates of the year and if you're looking for somewhere sunny to go, there are loads of beautiful places you've literally never even heard of, scattered all over Europe. So try not to get your heart set on any one place. Chances are you will find something equally beautiful than your optimal choice, that is far cheaper to get to during the time that suits you.
For additional information on flying discount airlines and the best websites to book through, read this post by Rick Steves, European travel expert.