Located just a 15 minute train ride from Brussels International Airport, Leuven is a quintessential Flemish university town that isn't overrun with tourists and bureaucrats. While Brugge is slightly prettier than Leuven, and its abundance of chocolate shops are delicious, it's further from Brussels if you need to commute back and forth.
We love Brussels, but some people find the city to be too big and bustling. While hotels can be reasonably priced on weekends, weeknights in Brussels can be pricey when there's major events taking place.
So if you need to be in Brussels and hotels are too expensive during your stay, Leuven makes for an easy 20 minute commute. Trains between Leuven and Brussels are frequent, running every 30 minutes. It's also a great way to experience a non-touristy smaller Belgium town.
Consider a Stay in Leuven Instead of Brussels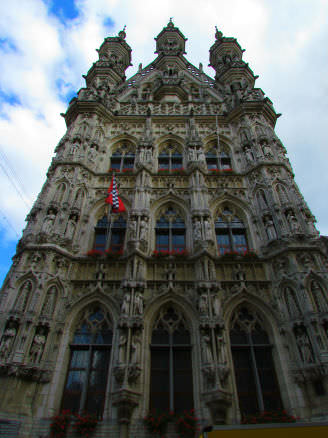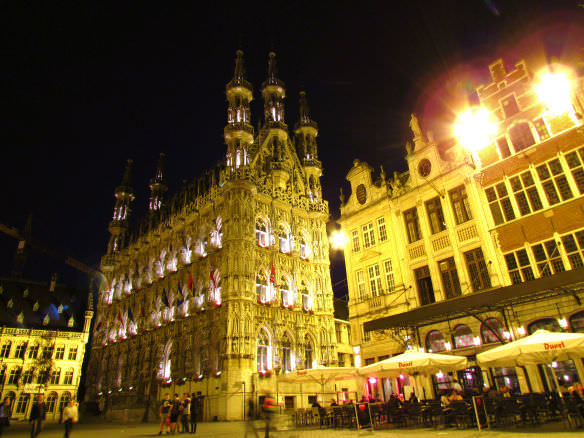 Consider Staying in Leuven When Brussels Hotels are Heavily Booked
On our recent 12 day trip to the Netherlands and Belgian, which saw us spending more time in the Netherlands for work reasons, we flew back to Boston out of Brussels Airport and had just a short time in Belgium on the return. We had previously spent time in Brussels, Antwerp, Ghent and Brugge, which are all fantastic. We then discovered that Leuven offers both beauty and convenience because of its close proximity to Brussels Airport.

We stayed at Huize Rafael which was pretty average. We neither recommend it nor do we disapprove of that guest house. The Monday night we arrived in Leuven was actually very busy because university was just starting and there was a big festival taking place. In our case, we didn't stay in Leuven because it was cheaper than Brussels. It just suited our plans of experiencing a smaller Belgian town close to Brussels Airport.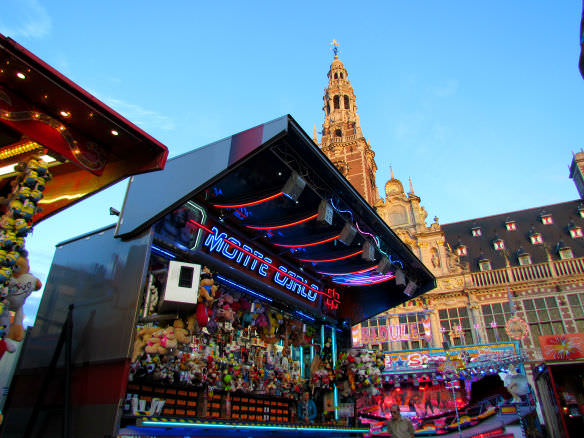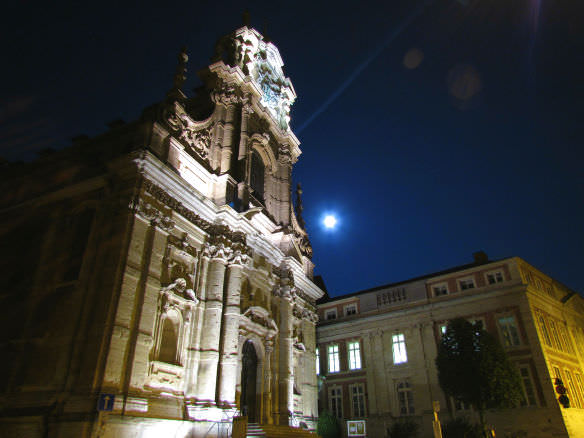 Leuven Cafes and Beer Halls
Cafe Leffe
In Leuven we ate delicious and reasonably priced pasta in the main square, covered with loads of quality Belgian cheese. We also ate tasty dishes cooked in beer at Cafe Leffe. The abbey style beer themed restaurant is affiliated with the largest brewery in the world, Anheuser Busch-Inbev.
We recommend their pork cheeks over the beef stew. Both dishes were tasty, but we thought the beer sauce in the beef was a little too sweet. We found the beer sauce in the pork to be more balanced and flavorful. It was a Tuesday night when we ate at Leffe, but it was still surprisingly quiet as there were just a few other tables occupied in the large restaurant. Perhaps too many people were hung over from the previous night's festivities!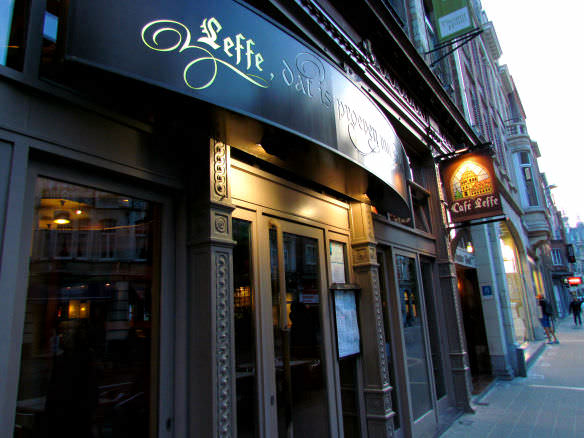 We were a little worried Cafe Leffe would only have Anheuser Busch-Inbev products but to our surprise they had extensive alternatives including a large Trappist beer selection (monk made beer), with great offerings like Westmalle Tripel, Achel and Orval. We typically don't eat at chain restaurants, but Cafe Leffe turned out to be a worthwhile exception. You can also find Cafe Leffe in Brussels and many towns around Belgium. Incidentally, Anheuser Busch-Inbev is headquartered in Leuven and now accounts for a whopping 25% of the world's beer production!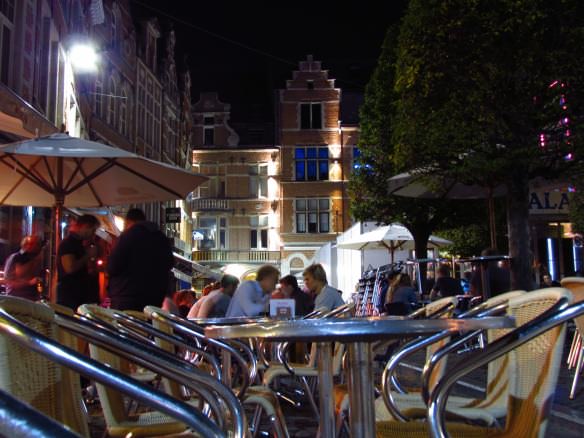 Renting Bicycles in Leuven
We also rented bicycles from the train station, which is a great deal. It's lovely to cycle through town and a bit safer than cycling through Brussels because it's smaller and less congested. It was also quicker to bike into the countryside and enjoy peaceful forests, streams and wheat fields. From Leuven, It's only about 9 miles (15km) to the border of Wallonia, which is the southern French speaking area of Belgium, making this a doable trip for anybody who's in moderate shape. We didn't plan ahead to do this, but we wish we had!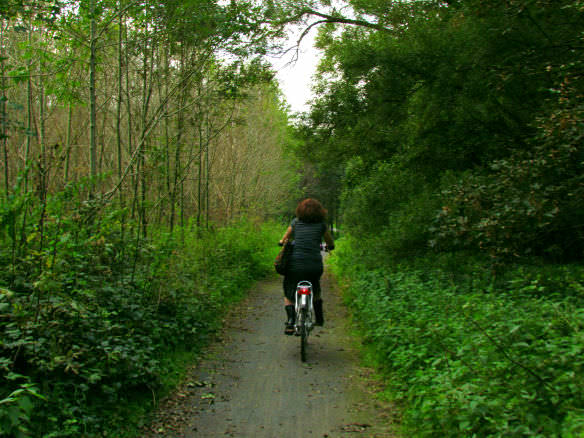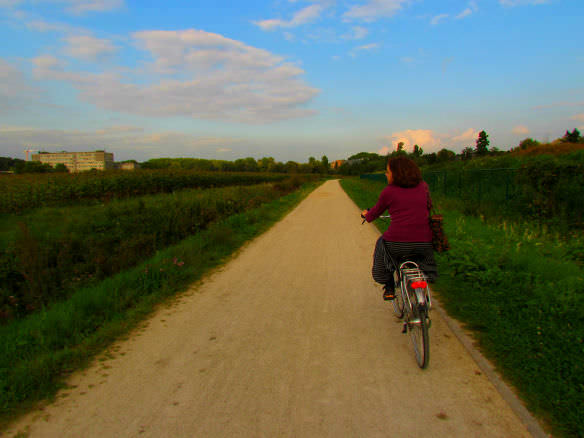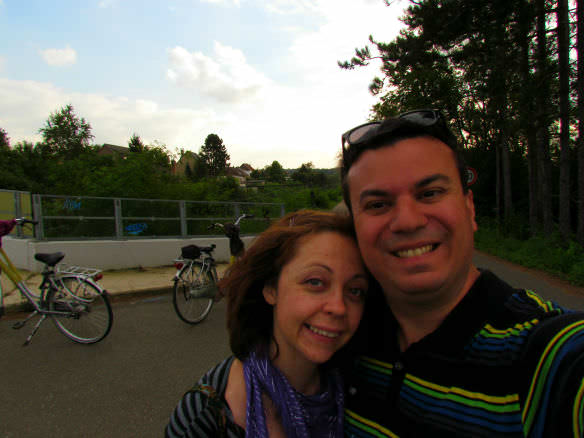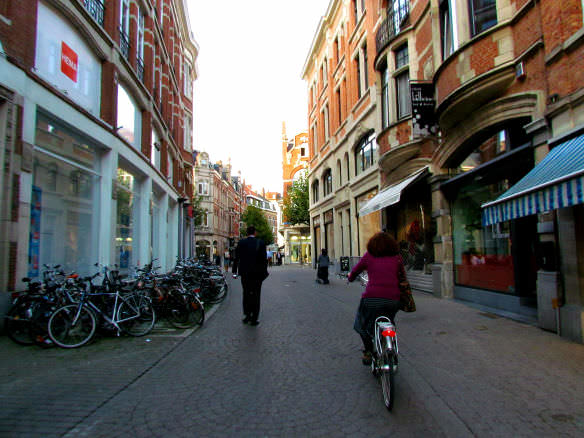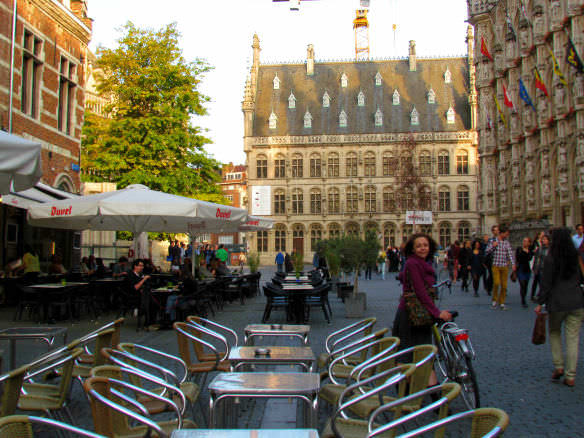 More on Belgium
Aside from Leuven, Antwerp also makes for a great alternative stay to Brussels. It's just 30 minutes by train, with a very frequent schedule. It's also really close to Brussels airport. Antwerp is a beautiful town with lots to do. Antwerp is a larger city than Leuven, but still smaller than Brussels. Read our article on Romantic Day Trips from Brussels for more ideas on where to go in Belgium!