By Alex Kallimanis: I grew up wanting to travel the world. And living at home during my university years helped me achieve that dream during semester breaks in college. When I was 19 I scored a great deal on a roundtrip ticket from Orlando to Paris in the spring of 1998. Like many Americans, I was drawn to Paris for my first overseas trip. The Eiffel Tower, Louvre, Palace of Versailles and the famed French cafe terraces and bakeries all seemed romantic. My first time in Paris was eye-opening, and so vastly different for a teenager who worked at Disney World in high school (outside lots of tourists in both places). Apologies in advance for the poor quality photos from 20 years ago!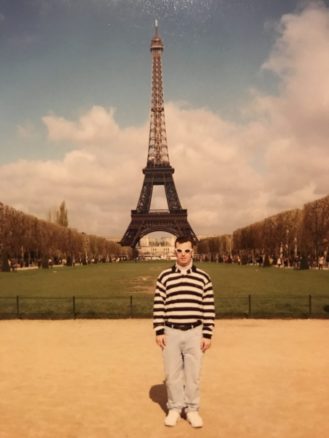 I grew up a fan of the Tour de France and Audrey Hepburn, two strong selling points for the country (Hepburn was actually born in Belgium, but loved France in the movie Sabrina). For my first trip to Europe as an adult solo, I was both excited and nervous before and during the trip. I should have stayed in a hostel (which would have connected me to other travelers), but $67 a night landed me a room at the Bel-Air hotel, which sounded wonderful. In reality, it was pretty dumpy. I quickly learned that the hotel had no resemblance to the Bel-Air from the Fresh Prince TV show and you can't judge a hotel by its name.
Paris Language Tip Still Applicable Today: Learn some basics in French
When I first arrived in Paris I didn't even know how to properly leave the airport for the city. I said to a random airport employee on a cart "Excuse me, do you speak English?" He replied with "Do you speak French?" I was surprised by his attitude but quickly learned that greeting with bonjour and then asking parlez vous anglais (do you speak English?) went a long way with getting locals to be friendlier and more helpful.
What Did I learn My First Time in Paris?
Growing up in Orlando, there was no metro. Riding the Paris metro was a first and a learning experience. I purchased a multi-day metro pass but didn't realize it was only good for the central zones. So heading out to the airport was not covered on my ticket. When the conductor came by he told me my ticket wasn't valid and I needed to pay a hefty fine. I argued it to no avail. He said if I didn't pay the fine I needed to hand over my passport. That was plenty of incentive to pay the fine.
Tip on Riding the Paris metro still applicable 20 years later:
Make sure your metro ticket covers the zone you're traveling to.
The Louvre
The Louvre is the biggest art museum in the world and draws over 8 million visitors a year, making it the world's most visited museum. I was awestruck by this massive museum and spent around 5 hours there during my first visit to Paris. The pieces I vividly remember 20 years later are the famous statues of Nike and Venus de Milo, along with the Mona Lisa. It's exciting to see the Mona Lisa but also disappointing that it's an extremely small painting that always has a huge crowd milling around it.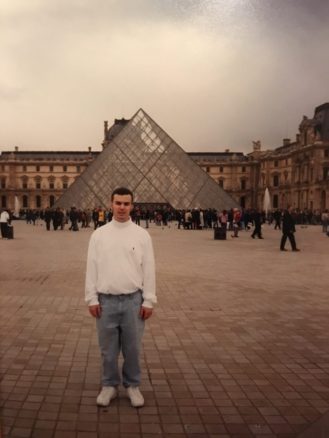 Parisian Fashion Tip Still Applicable 20 Years Later
Wearing white tennis shoes generally signals that you're American in Western Europe. Avoid wearing white tennis shoes if you do not want to loudly proclaim this to everyone walking past you. Even though I wore a turtle neck, the white sneakers, along with a silly ensemble and non-existent French didn't fool anyone.
The Palace of Versailles
Louis XIV commissioned for the magnificently opulent Palace of Versailles to be built in 1682. It's also where Marie Antoinette supposedly said "let them eat cake" in reference to bread and food shortages shortly before the French Revolution led to the assassination of her and her husband, King Louis XVI in 1789. That marked the end of the French monarchy to this day. The gardens of Versailles are exquisite and the rooms are incredibly lavish. The impressive Hall of Mirrors at the Palace of Versailles is the famed room where the peace treaty that ended World War I was signed in 1919.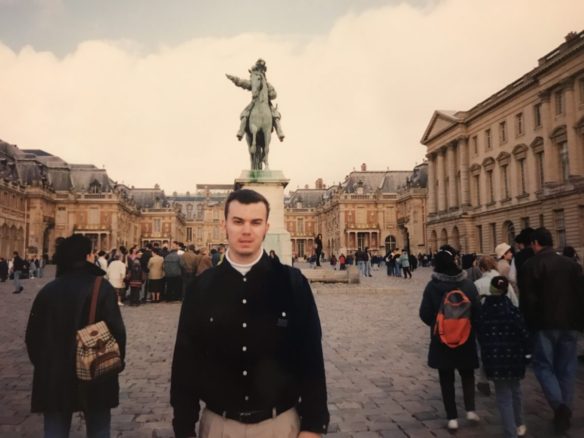 Paris Attractions Tip Still Relevant 20 Years Later
Travel outside the busy summer and holiday season to avoid massive crowds and lines at the Louvre, Palace of Versailles, Eiffel Tower and other famous Paris attractions. You'll also save money on plane tickets and hotels. The weather might not be as good, but you'll have a bigger budget to enjoy so much delicious French food!
Paris Accommodation Tips Relevant for Today
Hotel de la Brettonerie is a historic hotel located in the central Marais district of Paris. Rooms are well appointed in traditional Parian decor. Delicious breakfasts are served in their charming wine cellar.
Check hotel reviews carefully, but be wary of fake reviews. Sometimes it's good to just read the bad reviews of hotels to gauge whether they have some major problems or just the occasional issues and some jerk guests. Here are some ways to decipher good and bad TripAdvisor reviews.
Travel in 1998 was before the days of websites like Trip Advisor and Yelp, with communities of people reviewing hotels and restaurants. It was also before the days of prevalent cell phones and GPS. Travel was much harder 20 years ago compared to today. Then again, I can't complain because travel was significantly tougher during the days of Thomas Jefferson and the Marquee de Lafayette.
Luxury Paris Hotels
The Four Seasons George V Paris is among the very best for a luxury stay. Many of the palatial rooms and suites, have private terraces overlooking Paris. Just steps from the Champs-Elysées, on the Georges V Avenue, Four Seasons Hotel George V features top-of-the-line spa treatments, Michelin-awarded dining and signature lavish flower displays imagined by Jeff Leatham.
Budget/Mid Range Hotels
For those that enjoy consistency in a budget hotel, a couple of reputable European chains that are great options are CitizenM Paris Gare de Lyon and MotelOne Paris-Porte Doree. CitizenM is a modern hotel that features mood lighting in the rooms that can be adjusted via a tablet device. MotelOne is a good budget option though their location near the zoological park means they're not located near the bulk of Paris' most famous attractions.
The Ibis hotel chain originated in Paris and they have 60 hotels in the city. Ibis Paris Bastille Faubourg St. Antoine is one of the best rated Ibis' in Paris with a central location. Montmartre is the red light district area of Paris (home to Moulin Rouge) and a lot of nightlife, so the Ibis Paris Montmartre would be a good budget choice for party-goers.
Dining on the Eiffel Tower: First Time in Paris
Paris is the kind of city to splurge a little. Even my 19-year-old self did this when I made a booking to eat on the Eiffel Tower. There's several restaurants on the Eiffel Tower and they get more exclusive and more expensive the higher you go. I chose to eat at the restaurant on the first level, which is now 58 Tour Eiffel. I enjoyed escargot and rabbit, which was perfectly Parisian and I felt so fancy. For a romantic lunch or dinner on the Eiffel Tower, check out the restaurants of the Eiffel Tower website for options and to make an online booking.
Paris Attractions, Tours and Shows
Fat Tires Paris Night Bike Tour is one of the best tours I've ever taken. There's no better way to learn about the city's storied history than biking by it's attractions, led by a knowledgable and entertaining guide. The evening is capped on drinking wine on a river cruise, passing the Eiffel Tower!
Another romantic idea for couples is a Parisian dinner cruise down the Seine River, which starts at $127.30 US per person.
Families might consider visiting Disneyland Paris. Disneyland Paris Multi Day Tickets start at $152.54 US (2 day park hopper tickets).
Then there's the Moulin Rouge Show Paris, the most famous cabaret in the world. A lot of women enjoy this show too. Tickets start at $123.54 and include half a bottle of champagne.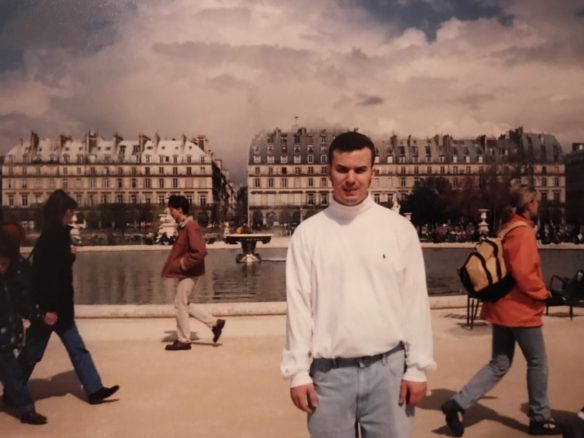 Other Areas of France That We Love
It's been awhile since I've visited Paris and I've been meaning to return. But the draw of experiencing new places has so far won over. A few years ago I visited Lille by Thalys train Brussels instead of Paris. I wrote the article: Lille, France: A Great Day Trip from Brussels.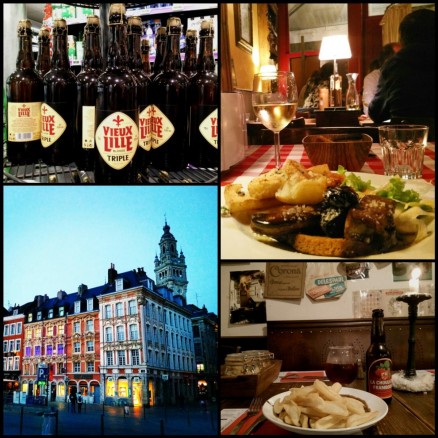 Southern France is stunning to vacation and Bordeaux offers better value compared to Paris. The squares of Bordeaux are phenomenal to dine al fresco, over wonderful food and good prices. I wrote the article Bordeaux in Summer: An Awesome Holiday Idea. and 5 Must Eat Meals in Bordeaux. No European nation spends more than the French per capita on food.
Saint Emilion, surrounded by French vineyards, is one of my favorite villages. Read my article Day Trip from Bordeaux- Saint Emilion in Wine Country. Nearby, just south of the beach town of Archachon is Europe's biggest sand dune, Dune du Pilat.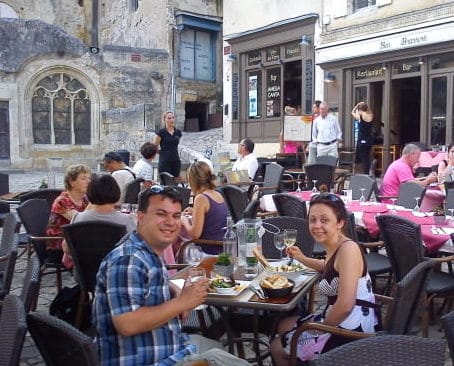 There's a wealth to see in France and my first time in Paris 20 years ago inspired me to return several times to experience more. I still haven't visited the WWII battlefields of Normandy, Champagne region, French Alps, Nice and Cognac. A good friend is about to move to southern France, a great reason to plan another trip there!
Also, Paris makes our list of top 10 cities in the world to love and hate!
For questions about planning a European trip, email [email protected] and I can assist!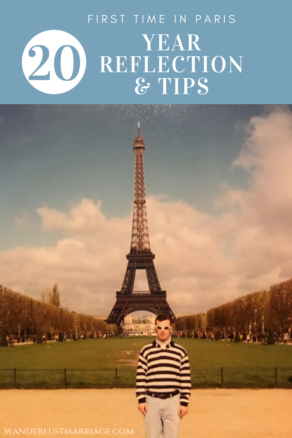 Disclosure: This post contains some affiliate links that we receive a small commission from when you use, but costs you nothing extra. Thanks for using them!