Planning to tie the knot and looking for an amazing honeymoon destination? The spectacular Sabah province in exotic Borneo is one of only two islands in the world where you can view orangutans in the wild. Sumatra, Indonesia is the other. Sabah is also the sole natural habitat of one of the world's most unique looking monkeys, the red nosed and big bellied proboscis monkey. Romance blossoms in Borneo, featuring the world's largest flower, the rafflesia. It also has one of Southeast Asia's tallest mountains, Mount Kinabalu. Sprinkle in lush tropical rain forests and beautiful beaches and you have all the ingredients for a romantic and adventurous Borneo honeymoon.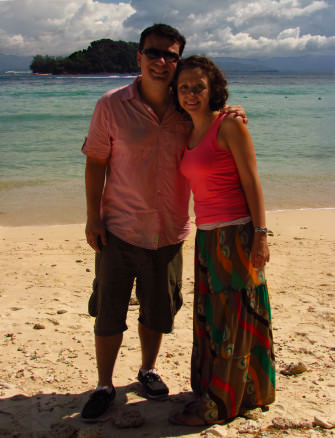 Getting to Sabah, Borneo
Borneo is easier to reach than many people think. From Malaysia's capital, Kuala Lumpur, Air Asia, Malindo Air and Malaysian Airlines all have frequent daily flights to several towns on the island. Malaysian Borneo is divided into two provinces, Sarawak and Sabah. While exotic wildlife can be found in both, Sabah's infrastructure is better suited for most peoples honeymoon's compared to Sarawak or the Indonesian part of Borneo. Sabah's capital of Kota Kinabalu has two airports. There are direct flights between Australia, Indonesia, China, Japan, Thailand and Hong Kong, among other areas in the region.
Sutera Harbour Resort in Kota Kinabalu
Kota Kinabalu is the capital of Sabah. It's a good place to kickoff the relaxing side of your adventurous Borneo honeymoon. The 5 star Sutera Harbour Resort, conveniently located just outside the hustle and bustle of town, provides world class luxury and stunning views of nearby islands across the sea. The resort features multiple swimming pools, spas, a marina, 27 holes of championship golf, many dining options and attention to detail that makes you feel special.
Our deluxe room in the Pacific Harbour Hotel, of the Sutera Harbour Resort, had an amazing view overlooking the sea. We were greeted with a charming card welcoming us to the Sutera Harbour Resort. A beautiful fruit basket and delicious chocolate truffles added a loving touch. Our deluxe room was elegantly styled with a luxurious king-sized bed. The spacious bathroom is fitted with a separate large shower and bathtub.
We loved that wooden shutters could be opened next to the bathtub that allowed you to continue viewing the sea while soaking in the tub. The Sutera Harbour Resort also features suite options, and you can choose rooms that either overlooks the sea or the golf course and surrounding mountains. It's simply a gorgeous place to spend several days of your special once in a lifetime trip.
Filipino Night Market in Kota Kinabalu
Kota Kinabalu is a busy town of about 450,000 people. It offers the opportunity to sample local delicacies and get a feel for East Malaysian city life. We enjoyed one of the most delicious seafood dinners we've ever eaten at the Filipino Night Market. So we highly recommend it for your adventurous Borneo honeymoon.
The Filipino Night Market has many open-air establishments grilling fresh seafood. But choose where you eat carefully. We chose one of the nicer places, with white tablecloths, albeit still very casual and great value. We selected a whole snapper fish and took the recommendation that it be cooked in typical Sabah style. The snapper was grilled inside a banana leaf with sweet and sour sauce. It's now impossible to go back to jarred sweet and sour sauce. We've eaten a lot of great food in our life, and we both think this is one of the top 5 most delicious meals we've eaten.
Manukan Island
A great day trip from Kota Kinabalu is to island hop around the Tunku Abdul Rahman Marine National Park. We only visited the largest of the national park's islands, Manukan Island, which is still only a few square kilometres. Manukan has lovely beaches to relax and offers a great chance to get your snorkel on. It's possible even in low tourist season, when many other snorkeling opportunities shut down due to the rainy season. While we did not stay at the Manukan Island Resort, the establishment is run by Sutera Harbour Resort. Manukan Island offers beautiful romantic views of the mainland of Borneo.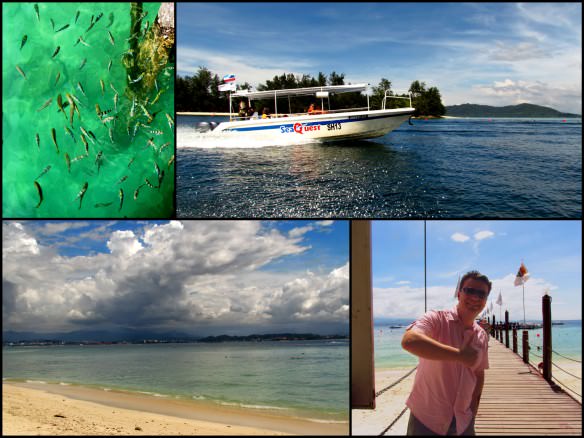 North Borneo Railway
Many exotic day trips can be taken from Kota Kinabalu, like visiting Mt. Kinabalu, where you can also get up close to the world's largest flower, the rafflesia. If you're interested in an even more adventurous Borneo honeymoon, you can also climb Mt. Kinabalu over a 1 day or 2 day hike. While we did not climb the mountain, our friends at Notes of Nomads ventured on the full 2 day climb to the summit and have documented it wonderfully.
A more relaxing day trip to consider is the North Borneo Railway. The journey takes place aboard a fully restored British Vulcan steam train dating over a hundred years. The luxurious setting, includes a lovely lunch on board. It's a fantastic way to view Borneo's countryside, as well as villages.
Borneo Eco Tours
From Kota Kinabalu you can catch a quick 50 minute flight to the other side of Sabah to the province's second largest town, Sandakan. From here Borneo Eco Tours offers an amazing option for your adventurous Borneo honeymoon. You'll hop aboard a high-speed boat from Sandakan that will whisk you down the Kinabatangan River on your way to the multi-award winning Sukau Rainforest Lodge. Along the way you'll view groups of indigenous proboscis monkeys swinging through the trees and crocodiles lounging on the river banks.

We were extremely lucky that our guide received word that a herd of endangered pygmy elephants were in the area. The driver docked the boat on the river bank. Our small group of six people disembarked to view these beautiful animals on foot. We got as close as 50 meters away from the herd which was amazing.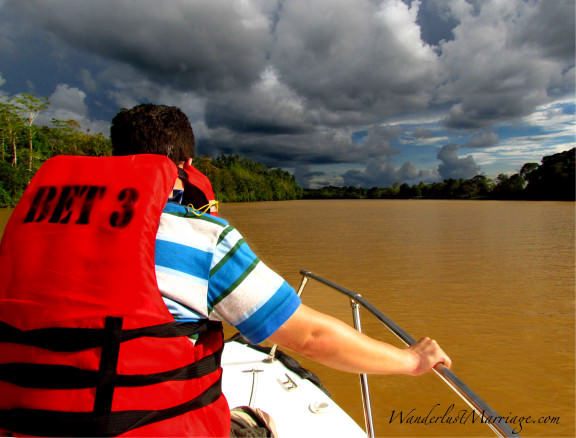 Sukau Rainforest Lodge on the Kinabatangan River
Upon arrival at the Sukau Rainforest Lodge, our boat was greeted by several smiling and waving staff on the dock. We all then received a Malaysian favorite, delicious fresh lime juice, in a beautifully ornate clay jug. As a teenager, I worked at the Magic Kingdom at Disney World. The Sukau Rainforest Lodge reminded me of a miniature version of the Polynesian Resort, a Disney property I always admired. Sukau has 20 gorgeous eco-friendly rooms, many named after famous people who have stayed there.
We were thrilled to be staying two rooms down from where the most famous wildlife commentator in the world previously stayed, Sir. David Attenborough of the BBC. Our elegant and spacious room was lovingly designed in Polynesian style, with a jungle view and included beautifully handcrafted adornments.
An Amazing Variety of Exotic Wildlife
The area of the Kinabatangan River, where the Sukau Rainforest Lodge is located, is one of the best areas in Borneo to view exotic wildlife in its natural habitat. Many small boat jungle cruises are offered and on ours we saw more proboscis and macaque monkeys, crocodiles and snakes. You also have the opportunity to see orangutans in the wild. But as our time at the lodge was short, we unfortunately didn't see one.
We'd also recommend taking the night cruise. We saw unique owls, rare birds, snakes in the trees and baby crocodiles hovering in the water. Meals are included in the packages, and the food is phenomenal. You can dine in traditional Malaysian sarongs (provided in the room) on a deck perched along the Kinabatangan River. The lamb rendang, a traditional Malaysian dish, was one of the top three meals we ate during our three week trip to Malaysia.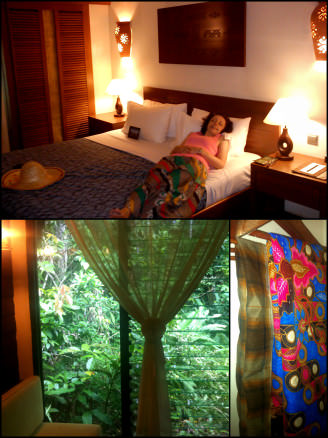 Sandakan
Sandakan is the second largest town in the province of Sabah. We highly recommend staying at the Four Points by Sheraton. It has a rooftop infinity pool and wonderful views of the sea, town and surroundings mountains!
Sepilok Orangutan Rehabilitation Centre
Sandakan is a great base to visit the Sepilok Orangutan Rehabilitation Centre. This is an excellent place to watch these wonderful and endangered great apes in their natural habitat. There are two feeding times each day, at 10am and 3pm. This is when previously abandoned orangutans and hungry macaque monkeys will swing by to chow down on bananas and vegetables.
Sandakan Memorial Park
For a moving history lesson, visit the Sandakan Memorial Park. The Japanese occupied Borneo during WWII. Around 2345 Australian and British POWs were forced by work under harsh conditions by Japanese soldiers.
A series of death marches took place as Allied forced closed in, forcing the Japanese to relocate labor camps. Of the approximately 2345 POWs in the original Sandakan camp, only 6 survived.
English Tea House and Restaurant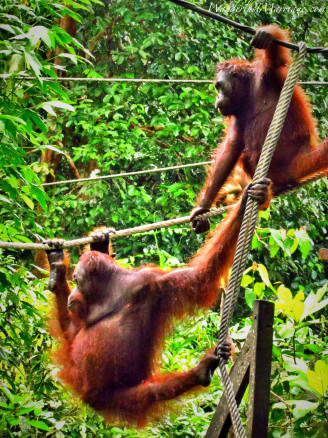 There is also a proboscis monkey sanctuary in the area that is worthwhile for a visit. In Sandakan be sure to visit the Fisherman's village of Sim Sim. View houses on stilts above the sea and eat fresh seafood for great prices. We also recommend the English Tea House and Restaurant, which has lovely gardens and a view of the town and the sea.
10 Day Sabah Honeymoon Itinerary
(prices valid date of publication) 5 nights in Kota Kinabalu at the Sutera Harbour Resort (prices starting at $850USD for 5 nights) – half day on the North Borneo Railway ($88USD, per person) – and/or 1 day all inclusive climb on Mt. Kinabalu ($168USD, per person) – 1 day snorkelling at the Tunku Abdul Rahman Marine National Park (from $15 for boat ride and entrance into national park) – 1 day exploring Kota Kinabalu with dinner at the Filipino Night Market (fresh seafood dinner for two- $25, with non-alcoholic drinks) – Take an afternoon flight to Sandakan (from $25 USD per person, including 1 bag)
3 nights at the Sukau Rainforest Lodge (from $770USD per person) – Itinerary is part of the package and includes tours and transfers, accommodation and meals as specified, entrance fees and English speaking guide. 2 nights in Sandakan at the Four Points by Sheraton (from $140 USD) – Afternoon feeding at Sepilok Orangutan Rehabilitation Center (entrance $13USD per person, including camera fee) – Dinner and drinks at the English Tea house watching the sunset over the sea (around $60USD for dinner for 2, with a few cocktails)
Borneo Honeymoon Recap
A Borneo honeymoon offers an adventurous and luxurious experience. The island is the world's third largest and is home to three countries. Malaysia, Indonesia and the small country of Brunei comprise Borneo. Savor the experience and have a wonderful time with your loved one in this tropical paradise!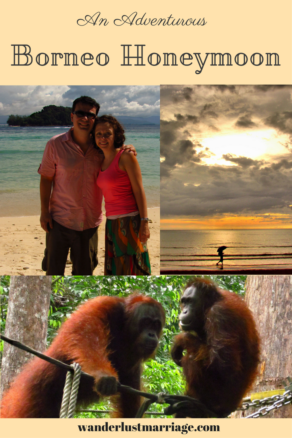 Disclosure: We were guests of Sabah Tourism, Borneo Eco Tours, Sukau Rainforest Lodge and Sutera Harbour Resort and thank them for their assistance in putting together this amazing honeymoon itinerary. All opinions and photos are our own. Also, this article contains some affiliate links.