The Great Market Hall in Budapest, Hungary is an amazing place to enjoy all sorts of Hungarian treats and do some gift shopping for family and friends. We were amazed by the huge bushels of chili peppers, sausages, pastries and trinkets galore.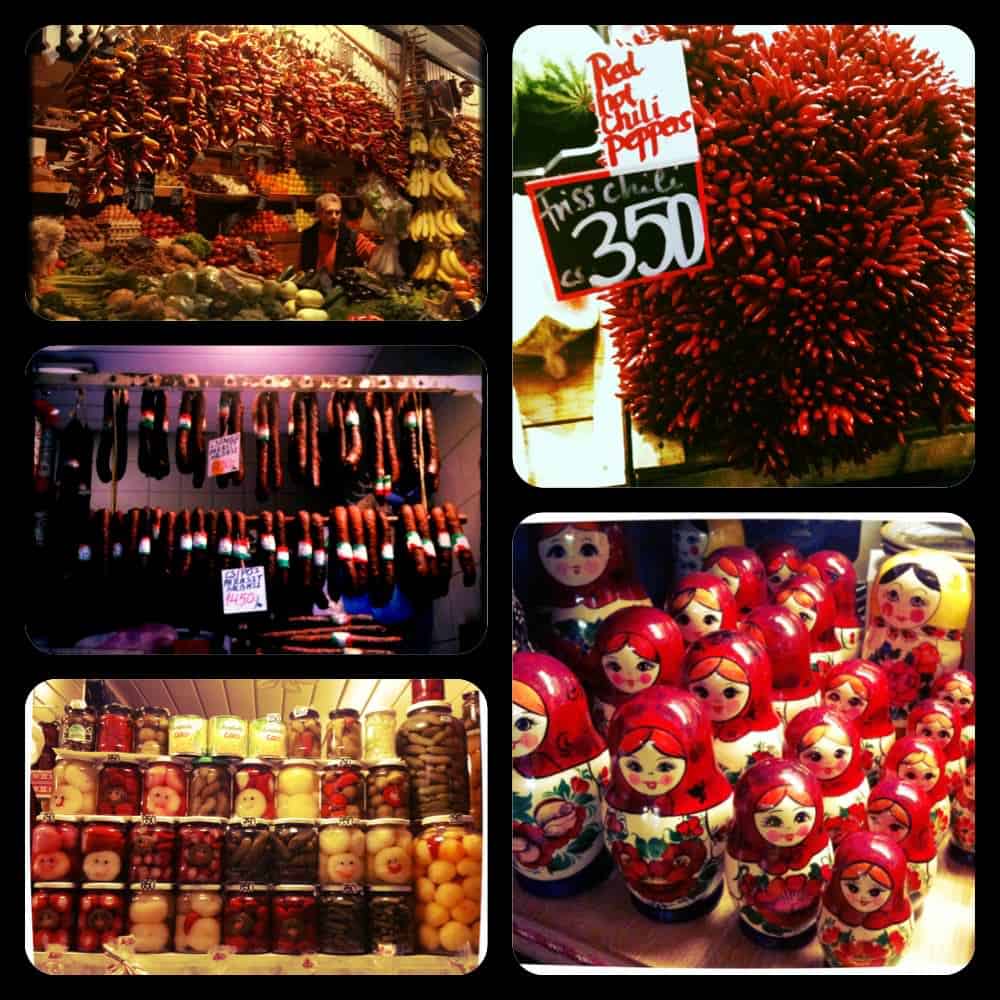 While fresh chili may not be so practical to take home, varieties of chili paste can be purchased in a tube. We bought the extra large tube! Also, since we were traveling back to Ireland, we also picked up various sausages (no problem flying from EU country to EU country). Ok, our suitcase upon returning to Ireland was a little funky smelling, but it has been well worth it. We bought both hot and mild sausages and nibbled on them during our stay, and are continuing to enjoy inexpensive quality stuff upon returning home. It's great to be able to bring a little bit of your trip home in the way of food.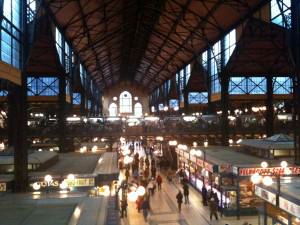 Paprika (crushed chilli or bell pepper) is the dominant spice in Hungarian cuisine and it's everywhere in the Great Market. Hungarians douse their goulash and many other tasty dishes with a range of sweet to spicy paprika. Stock up here with some excellent gift assortments!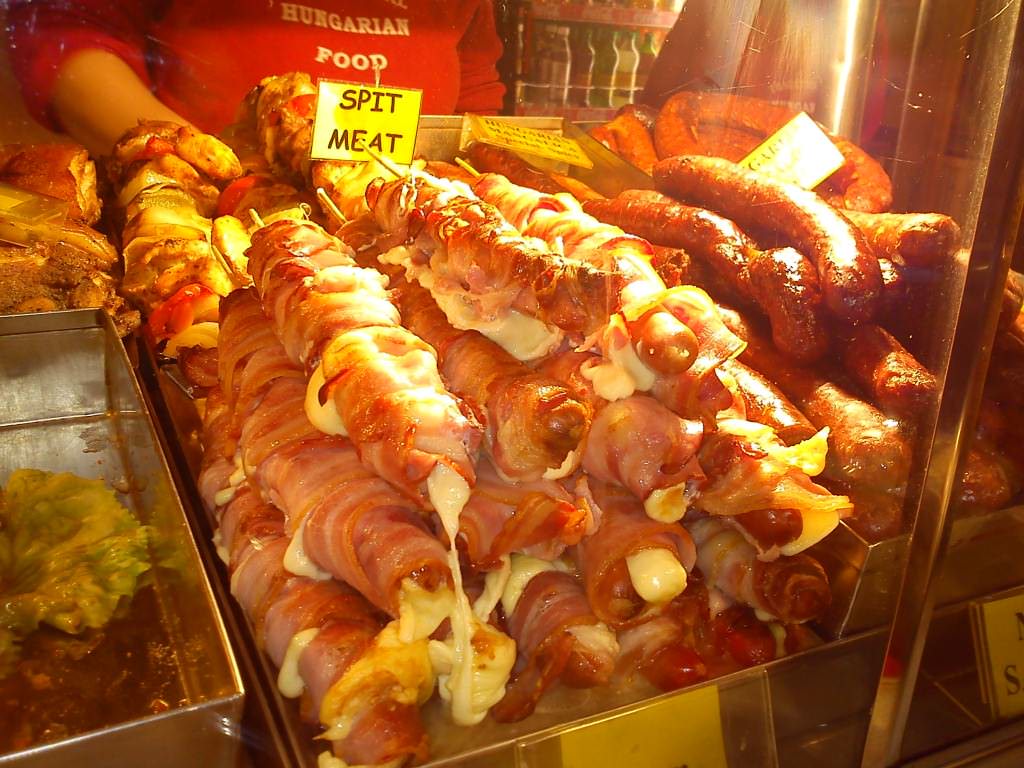 The upstairs of the Great Market Hall is filled with trinkets and Hungarian fast food stalls. We were very disappointed we were too full to try the heart attack on a spit pictured above. Bacon that just oozes out cheese, what could possibly taste better? The market also featured some incredibly fantastic looking crepes and more substantial meals, like baked goose legs. We noticed goose meat is very popular in Hungary, and frankly it's so delicious that we don't understand why goose isn't more prevalent elsewhere. It blows turkey legs out of the water taste wise.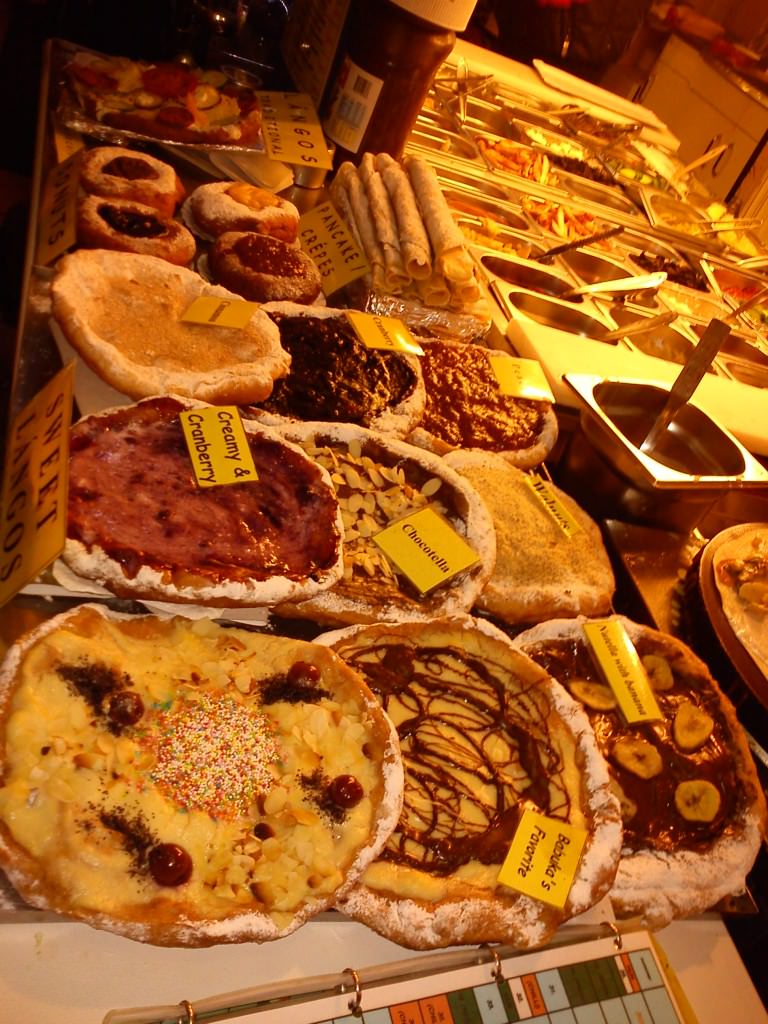 You can shop for just about anyone at this massive market that will make your head spin after 90 minutes here. The upstairs has pretty much every popular souvenir covered and goes the extra mile to make sure you feel a bit weirded out at times (see t-shirt below). It's an absolute must in Budapest, please don't buy
anything
on touristy Vaci Street before swinging by the
Great Market Hall
.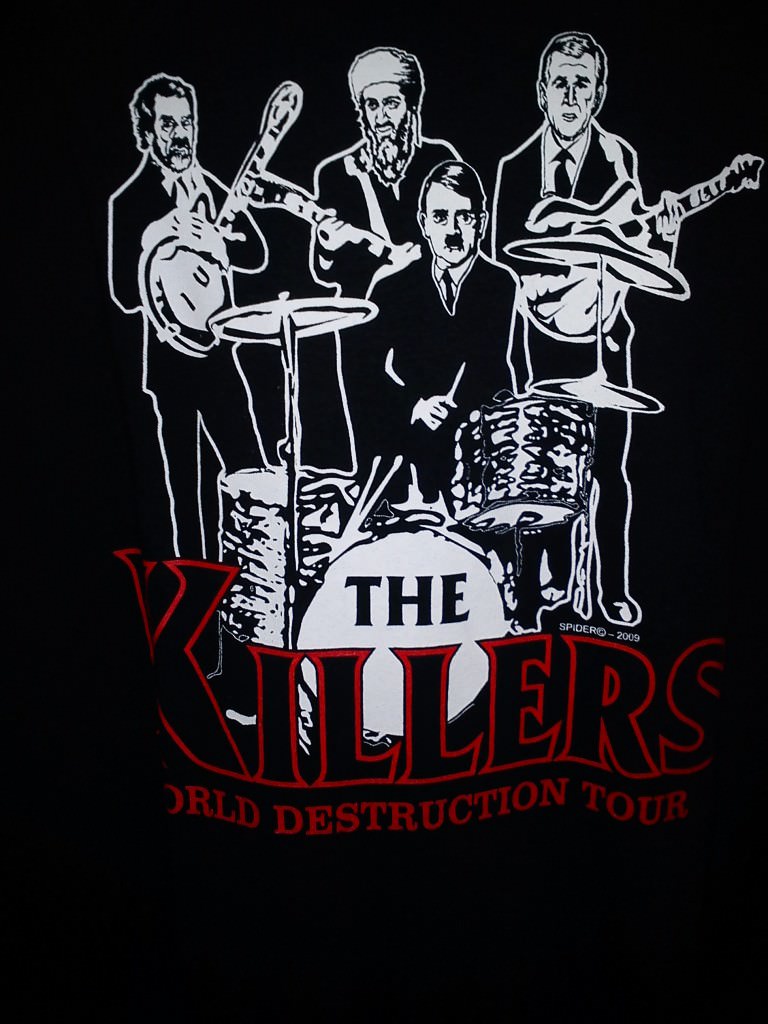 Address: 1093 Budapest, Vámház körút 1-3., Hungary
Hours: Mon 6am – 5pm, Tue-Fri 6am – 6pm, Sat 6am – 3pm