Many Swiss people are very wealthy- money from their famous banks, watches, chocolates and cuckoo clocks really adds up. So some have lots of cash to burn on opulent things. The Caviar House in Zurich Airport is a prime example of high end ways to separate people from their money.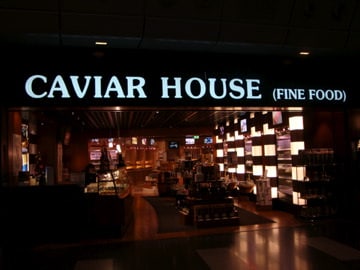 A few steps outside security will put you head on with one of the most overly indulgent stores you will ever come across-
Caviar House.
There are two locations in Zurich airport, just 3 minutes walk from each other.
How Much Does Caviar At Zurich Airport Cost?
Care to spend over $1,000 on a tin can that resembles a container of chewing tobacco? Caviar House has you covered with 250 grams (about half a pound) of black fish eggs for the bargain basement price of just €937. Leave some on the shelves for the others! Luckily if you live in the European Union, Caviar House will deliver…in a golden parachute?
Caviar House
The Caviar House is not for every visitor to Zurich Airport however. It is located in the main concourse, where you have to clear security to get back to the gates. So basically, if you can't afford to really be in Switzerland, don't bother. I had flown in from Greece just to change planes, and had to clear Swiss security before the next flight. As Napoleon Dynamite would say…lucky! This doesn't happen when you fly in from the Netherlands. Are the Swiss just trying to rub salt in the wounds here?
During my inquisitive and perplexed visit to Caviar House, I happened to notice a bottle of French wine in a wicker basket. It was casually displayed by the entrance, priced on sale at around a thousand bucks, written in red marker on a placard. Classy! And is that all? I will just take one on my way out, as a parting gift, thanks.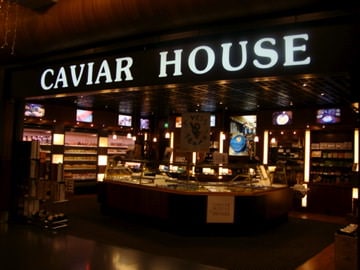 Now, how else can you lavishly part with money like Richard Pryor in 
Brewster's Millions
or Ann Romney on a typical Tuesday?
Zurich Airport
also features Gucci and Mont Blanc stores, among other top end retailers. Relationship on the rocks? Why not fly home to Flint, Michigan with the finest Chinese made hand bag, deliciously expensive bottle of champagne, and gift wrap it all with a poetic note written with your new diamond studded pen…oh, and don't forget the fancy fish eggs. Hopefully they won't smell from the plane ride.