Borneo is perhaps most famous for being home to the gentle, majestic and endangered orangutan, but the world's 3rd largest island is filled with a wealth of other wonders. As we began researching what we wanted to experience on our recent trip to Borneo, we realised it is home to some rather peculiar animals. Because palm oil farming has lead to the destruction of a significant portion of Borneo's rainforest, the islands animal habitats have shrunk and driven many towards the trees along the river banks. A cruise down the Kinabatangan River in the Sabah province will guarantee that you see many of the exotic animals of Borneo!
Our 
Borneo Eco Tour
 began by being picked up in a speed boat from the town of Sandakan, the 2nd largest town in Malaysian Borneo's Sabah province, which is well connected to mainland Malaysia via 
Air Asia
 and 
Malaysia Airlines.
We were whisked off with 4 other Australians for a captivating 2 hour boat ride where we witnessed the exotic animals of Borneo in an up close and personal manner, on our way to the award winning 
Sukau Rainforest Lodge
, where famous BBC wildlife commentator, Sir. David Attenborough has previously stayed.
After a short while on the boat, our guide received word that a herd of endangered pygmy elephants were gathered on a dirt path near the river bank. So our driver docked the boat and our group of 6 disembarked to get within 50 meters of the beautiful creatures pictured above. Our imaginations had previously led us to believe these were going to be tiny elephants, but adult pygmy elephants are still rather large creatures! They are part of the Asian elephant family, which are known to be smaller than African elephants, and are on average only slightly smaller than other Asian elephants, but do carry their own unique DNA.
This is unfortunately the only good photo of the elephants we were able to capture before one of our boat mates scared them off into the jungle. He'd had a few beers on the boat and his flip flop got stuck in the mud, causing a bit of a stir that the pygmy elephants didn't care to be near. It was still amazing to be so close to them on foot, even for just a minute, and we were still able to view them for a while in the distance before getting back on the boat.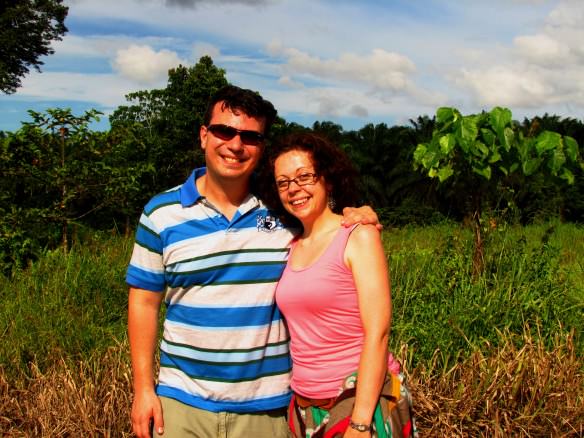 Crocodiles are not as cute as monkeys, especially since they sometimes eat them, but there is still something fascinating about these big guys. Reptiles provide a glimpse back into pre-historic times, and who doesn't love dinosaurs fossils? T-rex certainly wasn't a cuddly fella either, but people are excited by the idea of the days when he roamed the Earth. Given that crocodiles have survived millions of years makes them pretty cool to view up close in the wild, but probably not on foot! We stopped and viewed several crocs soaking up the sun while remaining on the boat.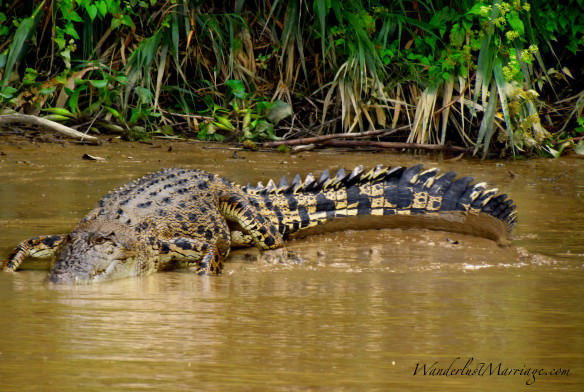 Before researching our trip, we didn't know anything about one of the most exotic animals of Borneo, the incredibly strange looking proboscis monkey, who is entirely native to Borneo and also sadly endangered. As our boat approached a herd of red-nosed proboscis monkeys swinging in the trees near the river bank, we began to feel even more of a sense that we were in a truly distant land. Proboscis monkeys always live in tribes, and the tribe we had the pleasure of leisurely viewing was all female, led by one dominant male. The big-bellied guy below was the head honcho of the tribe, who seemed to take pleasure in flaunting all his
assets
.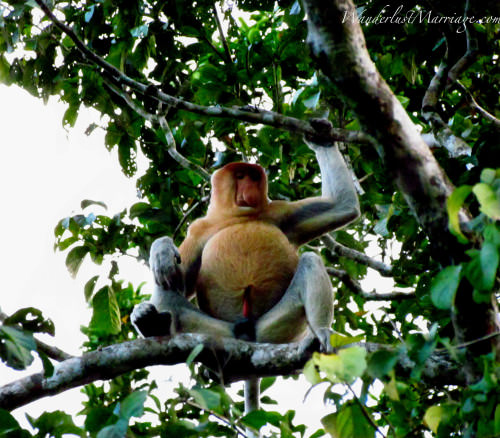 While we saw a few tribes of proboscis and macaque monkeys in the wild, we unfortunately didn't see an orang-utan on our way to the Sukau Rainforest Lodge. Unlike these monkeys, Adult orang-utans live solo and build a new nest every evening in the trees, to sleep and avoid the predators that lurk below. But there are also smaller predators in the trees and our guide showed us several poisonous snakes who also pose a threat. They don't say "it's a jungle out there" for nothing.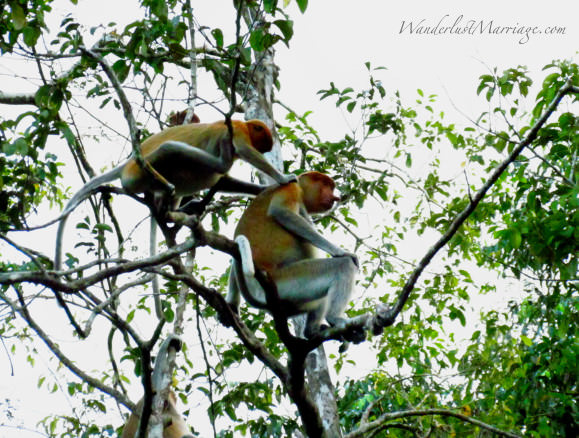 Our boat mates did a separate early morning cruise and did see an orang-utan in the wild, unfortunately this cruise was not included in our short package and no space was available. We were able to book the night cruise last minute and saw some beautiful owls and our guide even found baby crocodiles floating atop the water as he zipped his flashlight around the river banks under a gorgeously clear starlit night. Being city people, a jungle cruise in search of exotic Borneo animals in complete darkness alternated between uniquely serene and an adrenaline rush.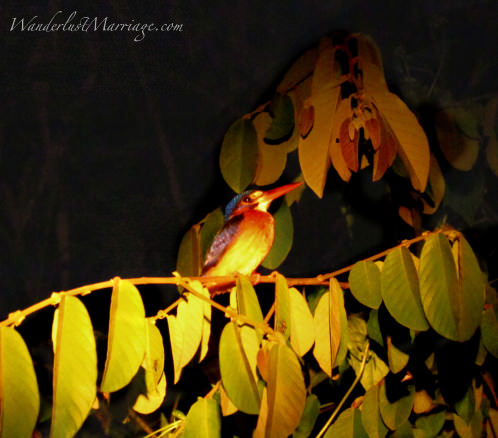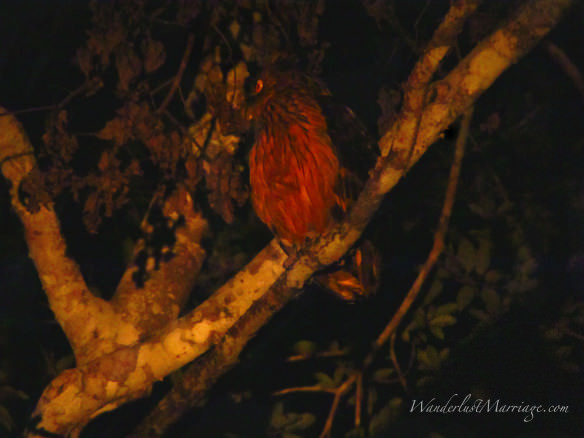 The 20 room Sukau Rainforest Lodge is truly an amazing place that we'll be highlighting in a future post. In conjunction with Borneo Eco Tours, many incredible packages are available, that could even be suitable for an
adventurous Borneo honeymoon
.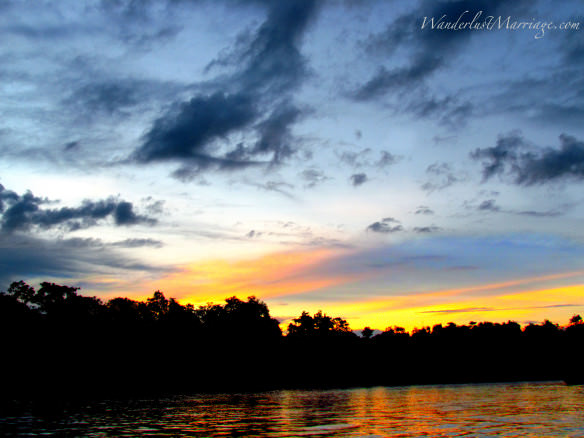 We'd like to thank the amazing staff of Borneo Eco Tours and the Sukau Rainforest Lodge for providing us with one of the absolute greatest days we've ever experienced in our travels.