As former residents of Amsterdam, we're used to the notion of "tolerated" marijuana in "coffee shops." But on our recent visit to Vancouver, we were surprised to encounter a similar setup. More US states have recreational and medical marijuana, so I was curious to examine what the cannabis laws in British Columbia were like. For journalistic purposes, I decided to explore this phenomenon a little further!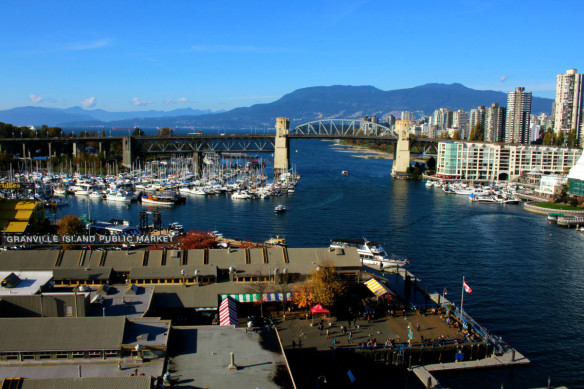 Vancouver Cannabis Dispensaries
The Green Panda cannabis dispensary, in downtown Vancouver, was a short walk from where we were staying on beautiful Coal Harbor, which I stumbled upon by chance while strolling for a lunch spot. Appropriately, a delicious Belgium Waffle shop operates right next to Green Panda and a Dutch pancake shop sits just a couple businesses down. Upon entering, I was greeted with the aroma of fresh marijuana and a friendly shop assistant behind the counter.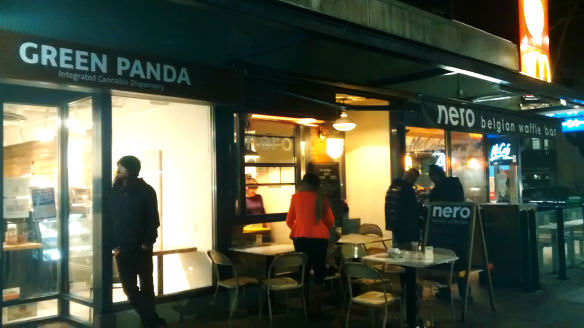 "So how does this work? Do I need a prescription for marijuana?" I asked. "No. All you need is proof that you take medication for anxiety or a number of other conditions from either a doctor or a holistic healer" said the chipper assistant. She then handed me a form with a long list of conditions ranging from cancer treatment to insomnia and migraines. It became immediately clear that the setup was pretty grey. "Does the note or medication bottle need to be from a Canadian doctor?" I asked. "No, proof from an American doctor works too" she replied.
Investigating Marijuana Laws in Vancouver at Green Panda Dispensary
I spoke with the assistant at Green Panda for about 10 minutes and she informed me that they just opened in July, 2014 and that dispensaries had been in operation in Vancouver since 2010. "We have a heroine problem in this city and in order to protect users from contracting hepatitis or HIV there are clinics that teach users how to inject cleanly. The clinics basically set up everything but the injections. So cannabis dispensaries are small potatoes as long as we operate respectably, meaning you need to have a chronic condition that marijuana can treat- you show photo ID and we provide you with a membership card."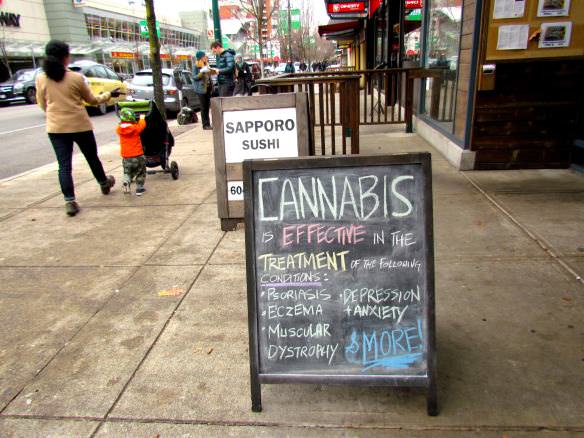 "New Amsterdam" or "Vansterdam"
Along with a wide variety of fresh indica and sativa buds, Green Panda offered an assortment of edible baked goods like cupcakes and profiteroles. Since the visit was for research purposes only (and I didn't have a doctors note), I walked out empty handed. As I explored more of Vancouver, I also randomly encountered the New Amsterdam Cafe, in the historic Gastown district. I didn't go inside, but unlike the Green Panda dispensary, there were tables for people to smoke their weed, most of which were occupied.
With dozens of marijuana dispensaries, Vancouver has indeed become a "New Amsterdam," or "Vansterdam," as some like to call it. As the Vancouver Sun reported in September, in Mike Hager's 'undercover investigation', he had no problem scoring cannabis for little medical reason (which I'm sure was strictly in the name of good journalism).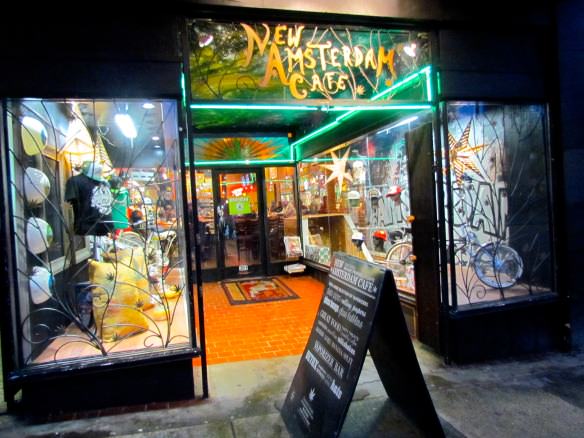 If you're visiting Vancouver and have virtually any medical condition (say foot pain from wearing high heals), check out the dispensaries. Prices are very reasonable. The shop offers different daily specials. On the Thursdays I visited, it was a free gram with a larger purchase. It was interesting to see marijuana sales run on a North American business model. The concept of buy 1 get 1 free and bonus grams is not a thing in Dutch coffee shops.
Following my trip to Vancouver, I caught the train to Seattle. The comfortable train ride only takes 4 hours. It's a great idea to combine Vancouver and Seattle on the same trip. You don't need a car when exploring these two cities. I enjoyed covering excellent Seattle cafes, asides from the original Starbucks.
Update: Recreational Marijuana is Legal in Canada!
Recreational marijuana is now legal in Vancouver and throughout Canada. Check out online marijuana dispensaries. We recently visited Toronto and were surprised to find a shop selling recreational marijuana! Recreational marijuana is legal in more and more US states too. Maybe one day soon it will be federally legal in the United States also, but we're not there yet.
Vancouver Hotels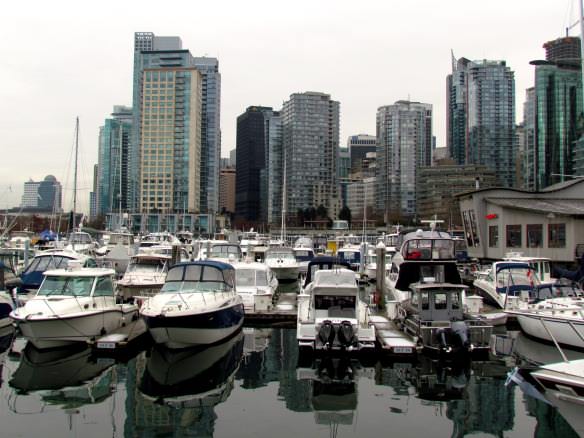 We absolutely loved our stay at the Westin Bayshore Vancouver. The views of picturesque Stanley Park are fantastic, so request rooms facing Stanley Park! You'll love it – especially if you're also investigating marijuana laws!
The Fairmont Hotel Vancouver offers old world luxury charm in Vancouver. Their breakfast buffet is also fantastic. We preferred our stay at the Westin Bayshore, but also enjoyed the Fairmont.
Families and groups of friends will likely find the best value booking short term apartment rentals. You can also book these through sites like booking.com!
Disclaimer: This post contains affiliate links. If you make a booking from these links we receive a commission and it costs you nothing extra. When possible please use them as it helps us help you with your travels!