A couple weeks ago I got my first tattoo. I'd been pondering getting inked for a few years, but had been nervous to take the plunge. When I was younger, my frequent rebuttal to my mum's dislike of my old piercings (I was once had my tongue and eyebrow pierced) had been that I could always remove them, but if I'd gotten a tattoo it was essentially forever. So I wanted to be sure about what I was putting on my body, and it took me years to finally decide on the perfect travel tattoo for me.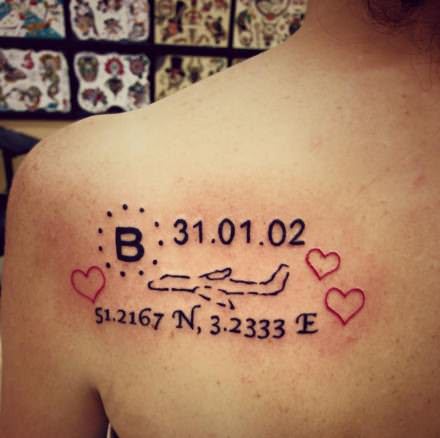 Travel Tattoo for a 10 Year Wedding Anniversary
This year Alex and I celebrated our 10 year wedding anniversary, so I thought it would be really meaningful to get a Belgium passport stamp with the date of when we met, along with the longitude and latitude of where we met in Brugge. I put something together and started researching where to get it done. If you are thinking to get a tattoo, look at reviews carefully. I researched a few tattoo places near by us in Boston and narrowed by decision to two places. Both had been on best tattoo parlors in Boston lists, and with respect to the art work and cleanliness of both places, both places received nearly identically good reviews. So how could I differentiate which was best for my travel tattoo?
Check Reviews Carefully Before Choosing a Tattoo Parlor
Always look at the 1 star reviews pertaining to anything, because they can provide indicators on whether there's a systemic problem with an establishment. At one place, several people seemed far less happy with the service, finding the artists to be rude. I wanted to feel comfortable with the person who was permanently marking me! So I ultimately chose Regeneration Tattoo as reviews consistently said the staff were great, in addition to the quality art work.
Choose the Size of Your Tattoo Carefully
So armed with this information, we attempted to walk-in to Regeneration Tattoo, but it was too late in the day and they couldn't fit me in. I was also warned that the text was too small on the stamp and that it would need to be a sizable amount larger than a passport stamp because the ink spreads a little over time. This means that the text may eventually blur together if it's not inked big enough. So I went home and did further research on text tattoos. If you are thinking about adding text to your tattoo this is a good read.
Returning to the Tattoo Parlor After the Initial Sketch and Planning
I returned to Regeneration a week later, understanding I wasn't going to get a small stamp and was content with receiving a bigger tattoo than I originally planned. Upon talking more with the receptionist, Jennifer, we decided to pick the elements from the passport stamp that I liked best and she rearranged the design in photoshop. When getting your first tattoo, you should be open to suggestions on what will and won't work. After we re-designed the stamp in photoshop, I scheduled an appointment for another week later. If you make an appointment with a tattoo artist, Expect to put a deposit down, which is $80 at Regeneration. This goes toward the final cost of your tattoo and you can re-schedule with 48 hours notice.
Getting a Quality Ink from a Reputable Tattoo Artist
Edwin Marquez was the artist who inked my first tattoo, and I highly recommend him for those in the Boston area. He took what Jennifer and I had worked on the week before and pulled it all together, and when he asked if this was my first tattoo, to which I said yes, he enthusiastically said "great, let's get started!" He was quiet, which was perfect for me, because when I get nervous I don't have a lot to say. He periodically checked in with me, and as I was fine, we kept going.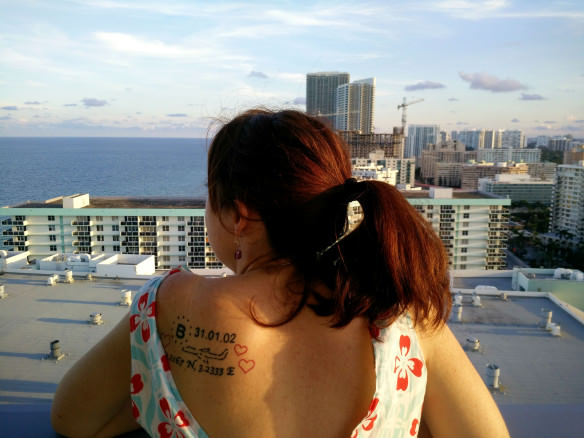 Afterward he finished my travel tattoo, he explained tattoo aftercare to me, which is a huge part of getting inked. Make sure you follow the instructions carefully! I did peel a little and it was slightly itchy, all which are normal signs of healing. Be sure to read up on aftercare and
Buzz Feed
 has a list of what to expect when getting inked.
What Will Your Family Think of Your Tattoo?
Because my mum reads our blog, I did tell her about the tattoo in advance. She just said "that's different," but that I am a grown up and can make these decisions for myself and as long as I was happy that is what matters. It was a good response from her, so thanks mum! I am happy, Alex is my best friend and husband of over 10 years, and I love our life together…on most days! He unfortunately could not be with me while I was getting inked as he had to travel to Florida for an urgent family matter.
The photos in this post are from a recent work trip to Hollywood Florida, where I met up with Alex after his time in Orlando. Our rendezvous at Miami International Airport was his first time seeing the tattoo and he was really touched by it. He's now pondering a travel tattoo of his own, which would also be his first ever tattoo.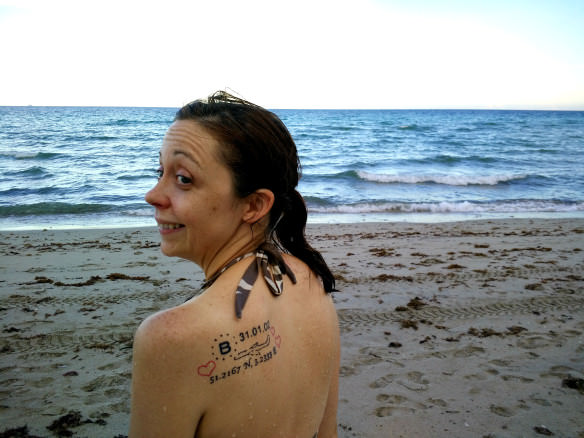 Do you have a travel tattoo or have questions about getting one? Let us know about it!