We recently spent nearly a week in beautiful Chapel Hill, North Carolina, home to the oldest public university in the country, UNC-Chapel Hill. It opened in 1795 and has grown to particularly excel in medicine, law and athletics. It consistently has one of the best college basketball teams in the country too (Michael Jordan played there from 1981-1984).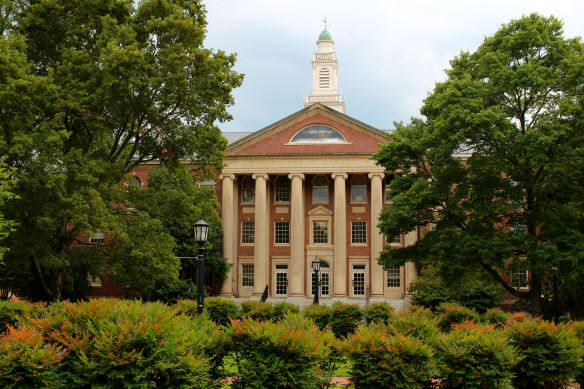 Where to stay in Chapel Hill, North Carolina?
During our visit we stayed at the Carolina Inn, right across the street from the UNC campus, which is owned by UNC-Chapel Hill. The hotel was established in 1924 because back then there wasn't comfortable accommodation in the area to house visiting professors and returning alumni. We were really impressed with the beauty and history of the hotel.
In hallways and even in our room there were pictures of notable alumni and informative history regarding the school's programs. The hotel doubles as a museum and tribute to the storied history of UNC-Chapel Hill. There is no better place to stay in town for convenience, comfort and history.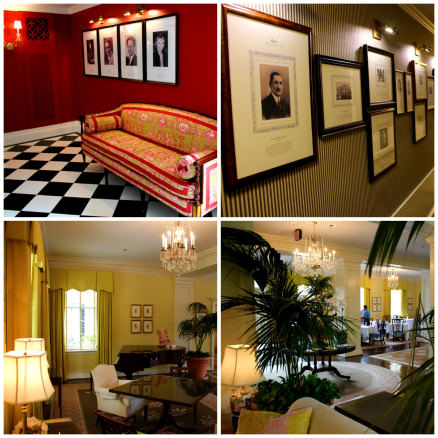 UNC-Chapel Hill Architecture
The symbol of UNC-Chapel Hill, and its most famous landmark is the Old Well. The Old Well is a small neoclassical rotunda supported by Doric columns. The current structure was built in 1897 and its conception was inspired by the Temple of Love, in the gardens of the Palace of Versailles, just outside Paris.
In the past, the Old Well was the sole source of drinking water on campus. It still draws large crowds to drink from the water fountain inside. Campus tradition is that drinking from the fountain on the first day of classes brings students either straight A's or good luck!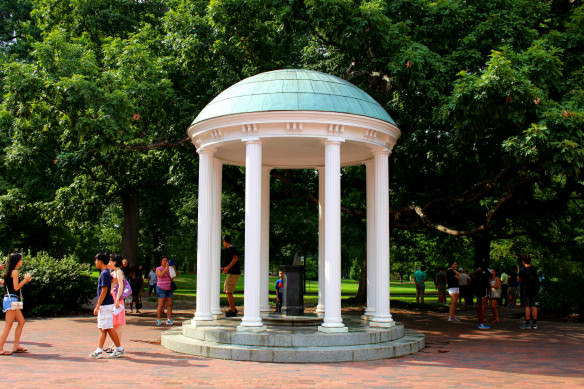 Another famous landmark at UNC-Chapel Hill is the Morehead-Patterson Bell Tower. The bell tower rings on the hour, each hour of the day. The tower was funded with the support of two notable alumni, John Motley Morehead III and Rufus Lenoir Patterson II. It was dedicated to them on Thanksgiving Day, 1931.
The Morehead-Patterson Bell Tower is closed to the public. It opens each May solely for graduating seniors to climb the tower and celebrate leaving school with a beautiful view of campus. Even if you can't climb the tower, its impressive to admire during a stroll around the UNC-Chapel Hill campus.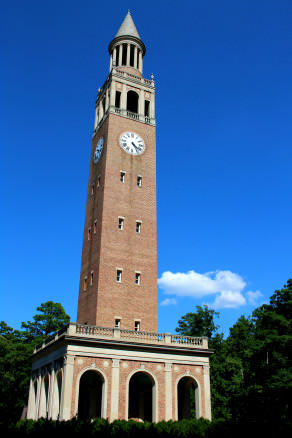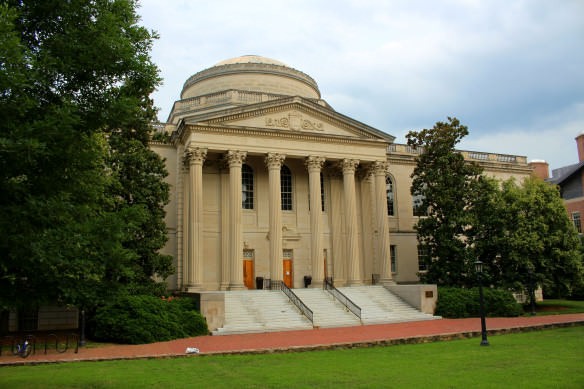 UNC-Chapel Hill Athletics
Kenan Memorial Stadium
Kenan Memorial Stadium is the home of the UNC football team, the Tar Heels. Keenan Memorial Stadium dates to 1927 and holds approximately 63,000 spectators. The gates to the stadium were open during our visit and everyone has free access to stroll the venue. Several people were utilizing the stadium stairs during their jog, which is a great idea on a nice day!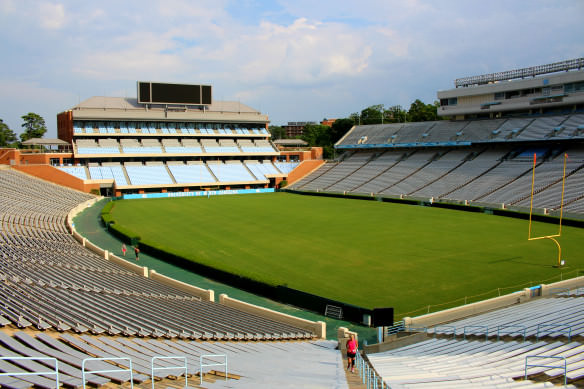 Carolina Basketball Museum
The Carolina Basketball Museum is a memorable stop for sports fans, featuring memorabilia from one of the countries most successful athletics programs. All five Tar Heel national championship trophies and rings are on display, along with much more.
There's a great quote by Michael Jordan, who sunk the winning shot in the 1982 championship win over Georgetown, saying "I don't know where I'd be if I didn't make that shot." I found that an astounding comment from the sports world's first ever billionaire.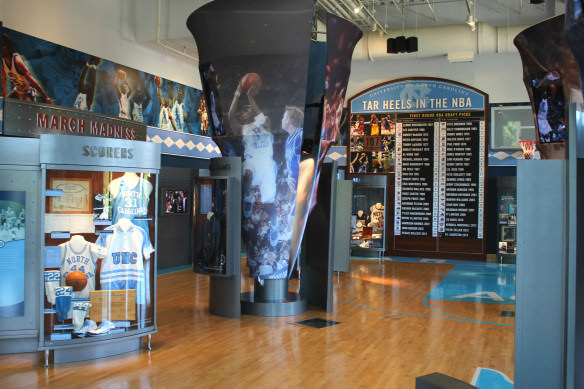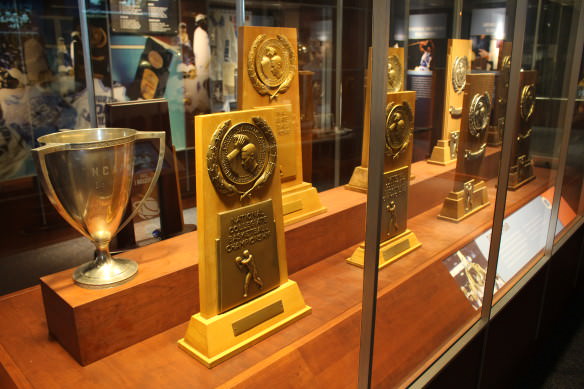 Dean Smith Aquatic Center
I even stumbled across the UNC Aquatic Center, which is right next door to the Dean Smith Center, which was hosting a junior swimming tournament on a late July Friday afternoon. There was a great crowd filled with enthusiasm, so I couldn't help randomly sticking around for a few of the heats.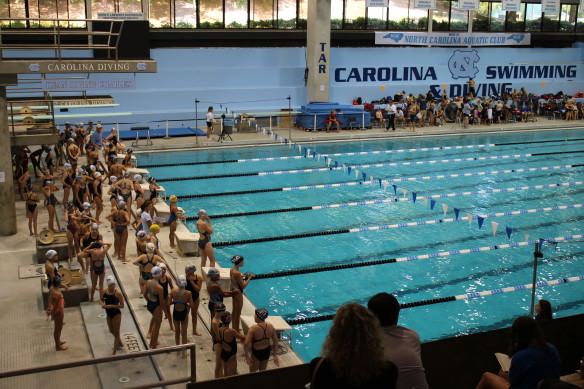 Where to Eat and Drink in Chapel Hill
Mediterranean Deli
The first meal we ate in Chapel Hill was an excellent one at Mediterranean Deli. We could have eaten there all week and not gotten tired of the food. There are so many delicious options. We barely scratched the surface despite ordering several small portions to share over a few meals.
Fresh sardines are really difficult to find so we couldn't pass up some delicious spicy ones. The large stuffed bell pepper with a generous portion of flank steak was delicious and an absolute bargain! A word of warning to indecisive people like me, with so many awesome dishes to choose from, you could spend more timing looking and thinking about your order than you will enjoying it!
Mediterranean Deli now has three locations in UNC-Chapel Hill.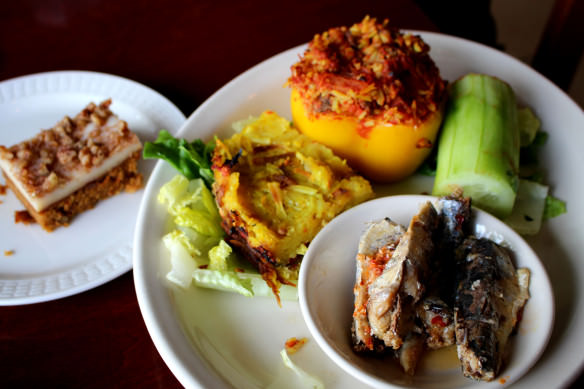 Top of the Hill
We ventured to Top of the Hill, which is both a brewery and distillery. They have a nice roof top deck offering a decent (though somewhat obstructed) view of Chapel Hill. Their whisky and coke braised beef was excellent, and strangely, far better than their beer and spirits. We tried their lager, porter and a gin based cocktail, all of which were unfortunately underwhelming.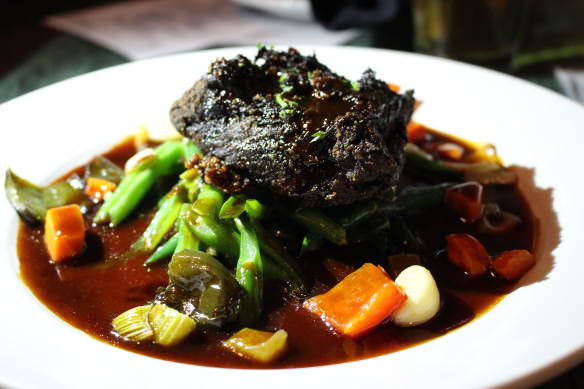 Carolina Brewery
A better choice for brew pub beers in Chapel Hill is Carolina Brewery, but their food doesn't stack up to their beers. If you're a fan of brewpubs, you should eat at Top of The Hill and save space for better brews at Carolina Brewery.
Time Out
Several people told us that it would be a travesty if we left Chapel Hill and didn't try a famous Chicken N' Cheddar Biscuit from Time Out. The sandwich once featured as "Best Sandwich in America" on Adam Richman's 'Man vs. Food.' We wouldn't go quite that far in praise, but it's certainly a delicious sandwich.
As we normally don't eat that unhealthy, we split one of the signature sandwiches and moved elsewhere to split another meal over drinks. Bell and I have come to like this idea as we get to try more dishes in more venues. It helps us provide better recommendations to readers.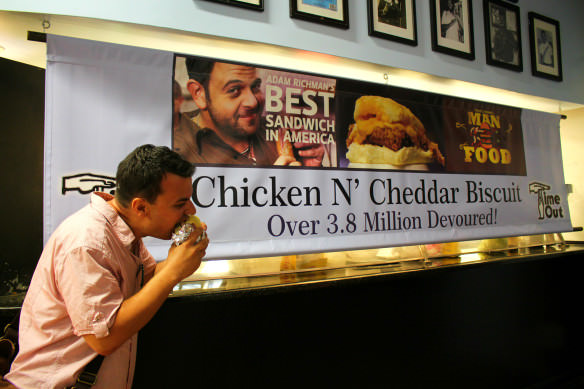 Beer Study
One of the best bottle shops we've ever come across has the perfect name for a university town- Beer Study! While this is an unofficial minor of many college students, Beer Study offers an excellent selection from around the United States and the entire world.
There's always several rotating beers on draft, and those price includes being able to drink on the premises. And for any of the bottles, you can pay a small corkage to enjoy it either inside or on the picnic tables outside.
Owner JD Schlick opened Beer Study 3 years ago and when I informed him that I was running an upcoming tour, with a heavy focus on beer, around Belgium and the Netherlands, he took a close look at my itinerary, asked how much, and graciously tweeted my tour to his followers. My tour included some of the most unique Amsterdam pubs.
Beer Study has a second location in nearby Durham as well. So fear not Duke students, you can also unofficially minor in beer studies too!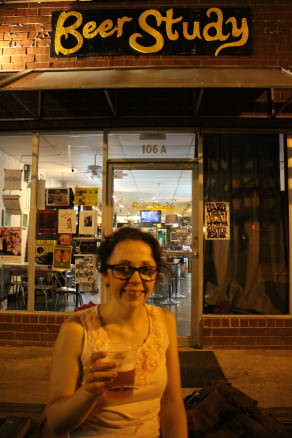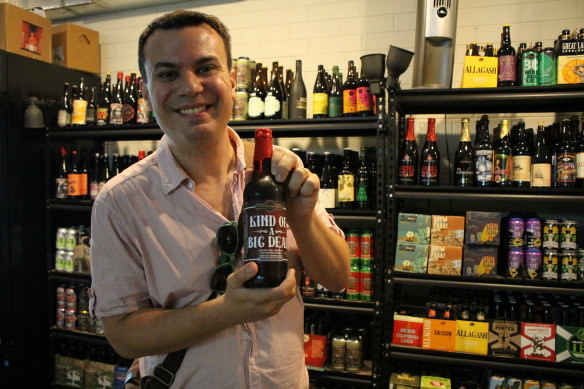 Ackland Art Museum
The Ackland Art Museum is a gem of a stop on the campus of UNC-Chapel Hill for art lovers, and wonderful that it's free even to the general public. The museum has a staggering collection of 17,000 artifacts, with only a portion on display. They have lots covered, from Renaissance paintings, classical sculptures, Japanese art, American art and more.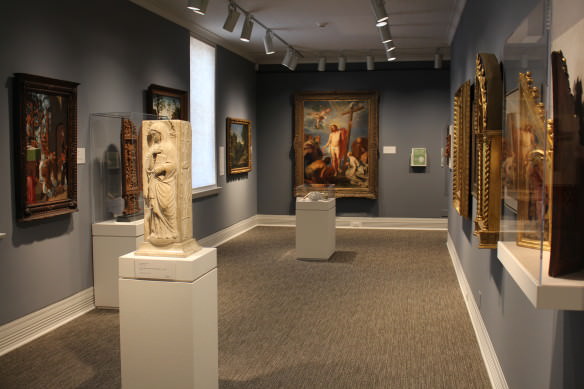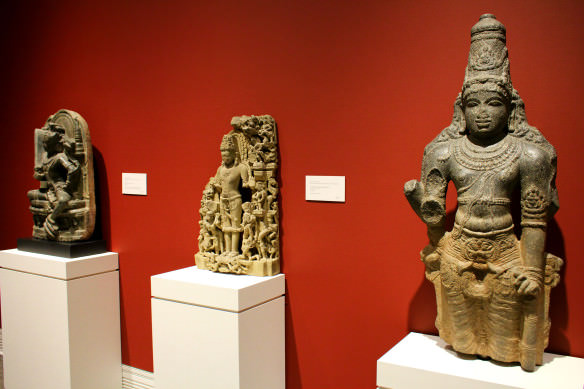 During the warmer months, the Carolina Inn hosts an event called 'Fridays on the Front Porch.' It's held every Friday from April though October starting at 5pm. Guests and the community are invited to sip, savor and socialize over refreshing southern cocktails, soft drinks, food and live music. We mingled a little and even met this adorable hedgehog!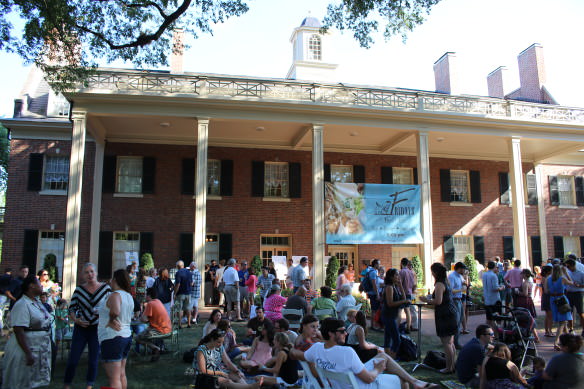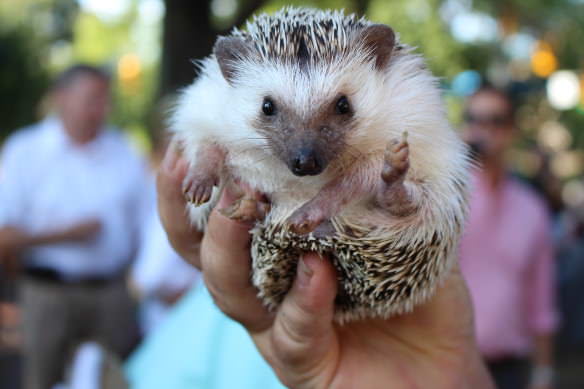 UNC-Chapel Hill Recap
A few years ago, after Bell finished her PhD in Amsterdam, we had an opportunity to relocate to Chapel Hill. But Bell had never previously visited and I hadn't been since a family road trip 20 years prior, so it wasn't something we could seriously consider. We wound up moving to Dublin instead because we had previously fallen in love with the wit and warmth of the Irish people. This time we fell in love with the charm of Chapel Hill, and would seriously consider a move there if an opportunity presented itself!
While we spent 5 days in Chapel Hill and have suggested our favorite spots, there's a lot more to this lovely town than what's included in this post. We heard great things about the Morehead Planetarium and Science Center and regret missing out on it. But this and much more gives us something to look forward to when we return someday. That's always a good thought when you leave a place that left a positive impression.