Alex and I met traveling over a decade ago, ouch! And travel has dominated our lives and will always be an important part of who we are. As you can see from our posts we've been lucky to have the opportunity to explore this beautiful planet, and getting engaged on the Island of Koh Phangan was perhaps our most memorable travel adventure.
This was nearly 9 years ago now, and even though we haven't had a chance to get back to Thailand since then, which is unfortunate, as the island of Koh Phangan is gorgeous. We doubt it's beauty has changed during this time.
Koh Phangan Full Moon Party
While Koh Phangan is famous infamous for its full moon parties, there is far more to the island. Alex and I did attend the Full Moon Party, which is a wild experience. But it isn't for everyone. It wasn't here that Alex proposed, thankfully! After the Full Moon Party we stayed in a bungalow on a more isolated part of the island in the north west on the Haad Chao Pao Beach.
Pirate Bar on the Beach
One afternoon we were walking along the beach and noticed signs for a Pirate Bar, and we decided to check it out later that evening. Upon arriving we found a DJ situated in the cliffs above the beach, and beautiful candle lit concrete platforms that hovered over the waves. The beach was the dance floor and it was beautiful. Alex and I took two cushions on one of these platforms and ordered a couple of drinks.
Wedding Proposal
As we were still catching up on two and half years of separation we chatted away over our drinks, until Alex took my hand and told me that he was so happy to be here with me, he loved me and was wondering if I would marry him. Despite only being reunited for about a week I said yes!
Engagement Celebration
To celebrate getting engaged on the Island of Koh Phangan, Thailand, we found a coconut that had fallen to the beach and cracked it open on a stone. It took a few hard hits to crack through its shell. I tasted it and ran straight to the ocean to wash my mouth out. It turns out it isn't so wise to drink from coconuts that have fallen from the trees as they are probably rotten! Thankfully, it was not a sign of how things were to turn out.
Ultimately, we did not have a beach wedding in Thailand. We got married in Melbourne, Australia. Then had a 1 year wedding anniversary party in Florida.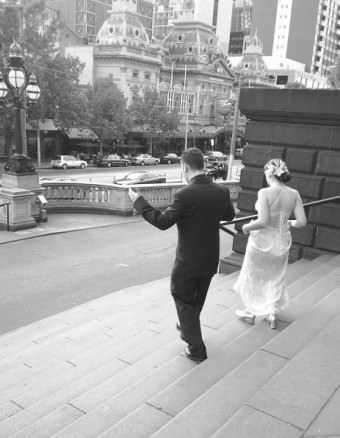 Today Alex and I are celebrating our 8th wedding anniversary in Dubai. Stories to come! We've shared great times, and hard times, and I wouldn't change any of it because the good times mean the world to me, and the hard times have taught us to be patient with each other. They have ultimately brought us closer together. I look forward to all the anniversaries we will share together in the future and our continuing crazy adventures. You can read more of our story in the Wanderlust Marriage About page!