Chicago feels more like New York than any other American destination. It's the USA's third largest city and pairs an impressive skyline with a diverse culinary scene. On warm days, the city's beaches on Lake Michigan give the city a Miami vibe. If you visit Chicago for a weekend, downtown has plenty to offer, but venture outside the center to discover cool neighborhoods like Greektown, Little Italy and Hyde Park. Here's several great things to do in Chicago, inspired by our recent summer trip there.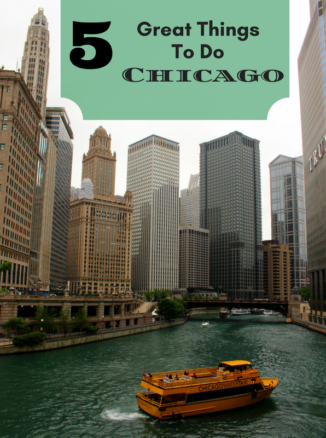 Signature Lounge on the 96th Floor of the John Hancock Center
The John Hancock Center is the second tallest in the city after the Willis Tower (formerly Sears Tower). But the Willis Tower is further from Lake Michigan and doesn't have quite as good a view. Head up to the Signature Lounge on the 96th floor of the John Hancock Center for a drink and nibbles just before sunset. It costs $23 for the 360 Chicago observation deck fee, but it's free to go up to the restaurant or lounge. We couldn't make it up before sunset, but wish we had done that. We still really enjoyed the wonderful views of downtown Chicago at night.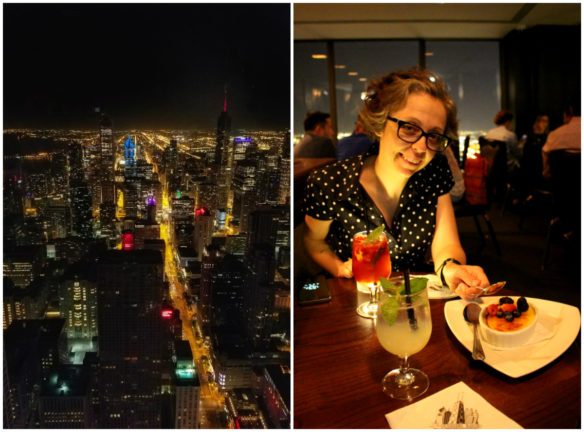 Chicago Architecture River Cruise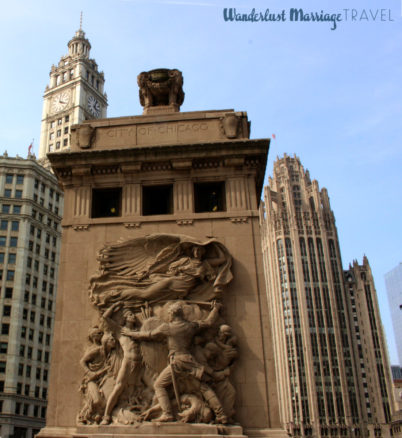 Ask people one of the highlights of a visit to Chicago and many will say "The Chicago Architecture River Cruise." The river cruise passes by more than 40 distinct buildings including the John Hancock Center, Wrigley Building, Aon Center, Willis Tower (formerly Sears Tower) and the IBM Building. The tours are guided by an architecture expert, who recounts two major events that shaped the architectural history of Chicago. One is the invention of balloon-frame construction, which revolutionized how homes were built. There is also the dramatic story of the Great Fire of 1871. Chicago rose from the ashes to become an iconic destination for modern American architecture.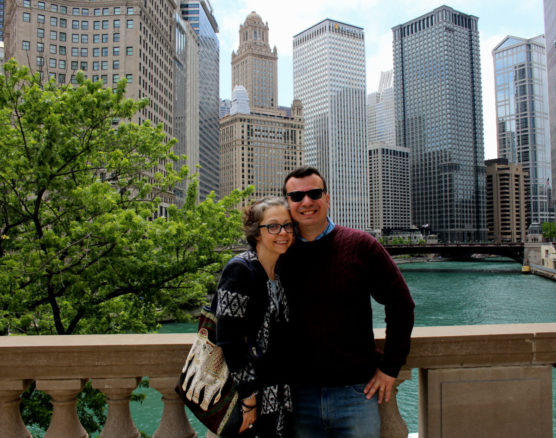 Millenium Park and the Cloud Gate Sculpture
Chicago's Cloud Gate sculpture (aka "the Bean") in Millennium Park is one of many highlights of the city. The Cloud Gate Sculpture was completed in 2006 and is made of 168 stainless steel plates welded together. This is the most instagramable landmark in the city. A photo tip here is to capture the reflection of the city's skyline within the Cloud Gate Sculpture. There are a lot of festivals in summer so check the Millennium Park calendar of events.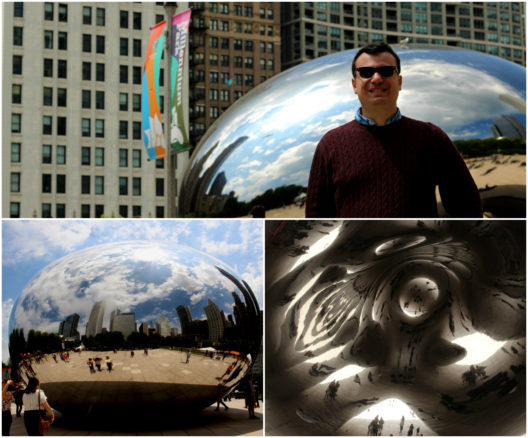 The Beaches of Lake Michigan: Great Things to Do in Chicago
Chicago is a favorite American city of many. Head down to beaches like North Avenue Beach, Lane Beach and Ohio Beach on a nice day and you'll see why. You're quickly transported from thinking you could be in New York to a Miami type vibe. For a drink or meal on the beach visit The Dock at Montrose Beach.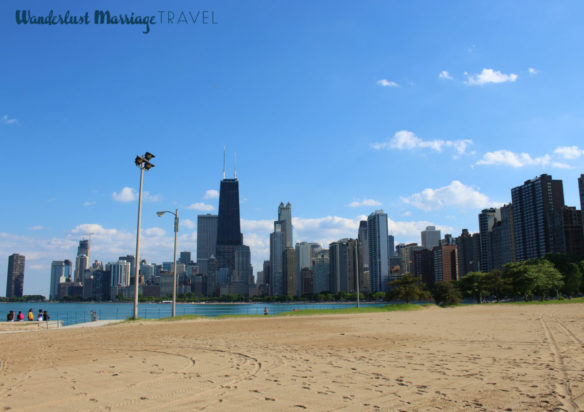 Visit a Chicago Neighborhood Outside Downtown
During our trip to Chicago we visited a few areas outside downtown. We went to a house party in Hyde Park, near the University of Chicago, which is a lovely neighborhood. Anybody who says "don't go to the south side of Chicago" should also mention that Hyde Park is a fantastic area and it's where the Chicago Museum of Science and Industry is located.
We often try and visit the Greek districts in cities and Chicago has one of the best in the country around Halsted Street. We enjoyed a delicious dinner at Greek Islands restaurant and highly recommend it for visitors who appreciate good Greek food. Famous half Greek comedian Tiny Fey recommends the roast chicken over fries at the Athenian Room in TV interviews. I took her up on that recommendation, and it is as delicious as she says it is. Yes, how do those fries stay crispy as they swim in chicken gravy!?
Little Italy in Chicago isn't as big and bustling as Boston's or Philadelphia's. But for Italian American food enthusiasts, there are some gems. The roast beef sandwich at Conte di Savoia is one of the best I've eaten. Just ask for oil and vinegar on the sandwich instead of mayonnaise. Good sandwiches don't need cheap condiments.
Great Chicago Hotels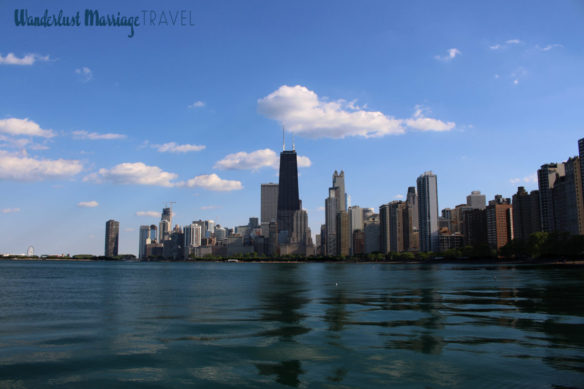 Great hotels in Chicago can be sold out well in advance during busy periods. Consider booking a quality hotel as soon as you know your dates of travel, especially when there is a free cancellation policy.
The Palmer House Hilton is one of the most beautiful and historic hotels in Chicago. It's been continuously running since 1873, making it one of the oldest hotels in the United States. The lobby is extremely grand and feels like you've stepped inside the finest hotel in Paris or London. Located in Chicago's theater and financial district, the Palmer House Hilton is just a block away from Millennium Park and the Art Institute of Chicago. There's multiple on-site dining options, a modern business center and spa services.
The Drake is another beautiful and historic hotel featuring great views of Lake Michigan. It's right on the Magnificent Mile next to the John Hancock Center (360 Observatory). The hotel is a 3-minute walk from Oak Street Beach and 1 mile from Navy Pier. The hotel was built in 1920 and all of its elegantly designed guest rooms feature deluxe bedding and marble bathrooms.
We stayed at the Chicago Marriott Downtown Magnificent Mile during our recent stay in June, 2018. The hotel has a fantastic location as it's on the Magnificent Mile and a couple of blocks from the Chicago River's lovely Riverwalk. Rooms are comfortable and we had an excellent view from our room, as we were able to see a sliver of Lake Michigan between other skyscrapers.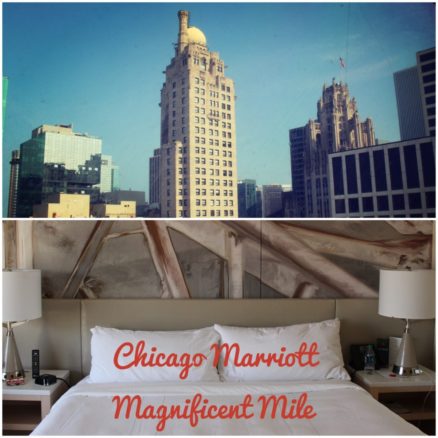 Chicago Deep Dish Pizza
I can see some of your eyes roll (not really, or maybe ;)). Perhaps you think Chicago deep dish pizza is overrated, but it's a thing, and some people are quite passionate about where to eat it. Two of the most popular places to enjoy this Sicilian influenced pie are Lou Mahlnati's and Gino's East.
To the chagrin of some on Instagram, we enjoyed Chicago deep dish pizza at Pizzeria Due. Pizzeria Due is the sister restaurant of Pizzeria Uno, where Chicago deep dish pizza was created by Ike Sewell in 1943. Perhaps Pizzeria Due doesn't have the very best Chicago style pizza in the city, but it's good. They were also the only area pizzeria to list a gluten-free pie on their menu. Bell has a gluten allergy and that was the best gluten-free pizza we've ever eaten.
Consider a Visit to Milwaukee
There's so much to enjoy in Chicago. When the weather is good it's great to grab a drink on the Chicago River. And the city is packed with world-class museums like the Art Institute of Chicago. You could easily spend a week in Chicago and not be bored.
But for those that have visited Chicago before or have an extended period of time in the area, take a short Amtrak train up to Milwaukee. Read our article Great Things to Do in Milwaukee, which was a collaboration with the Visit Milwaukee tourism board. Highlights of visiting Milwaukee include the Harley Davidson Museum, historic breweries like Pabst and the world class Milwaukee Art Museum pictured below.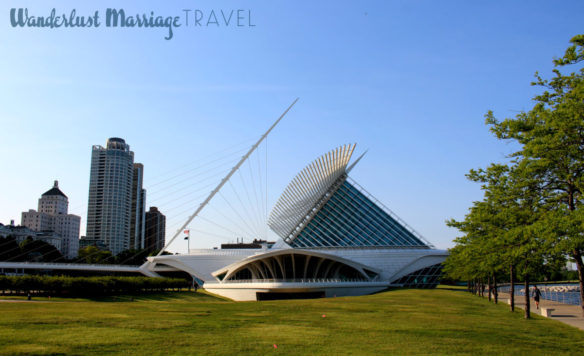 This list of Great Things to Do in Chicago just scratches the surface and is meant to provide some inspiration for visiting the area. Share your Windy City tips or questions in the comments!
Disclosure: This article contains some affiliate links. We receive a small commission when you book through certain links, and it costs you nothing extra. Thanks for using them!