Opa and yammas – cheers! The sites, sounds and delicious flavors make Mediterranean cuisine a favorite of many. I'm of Greek descent and have made many trips to Greece. We also live in Tarpon Springs, Florida, home to the largest percentage of Greek Americans in the USA. We love eating delicious Greek food during our travels domestically and abroad. Here are some of our favorite Greek restaurants around the United States from the many we have dined at!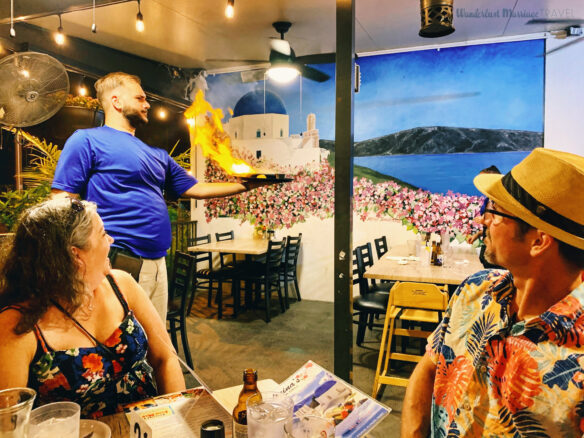 Taverna Kyclades – Astoria, New York City
New York foodies know that Taverna Kyclades is one of the best seafood restaurants in the NYC area. So it deserves to be mentioned among great Greek restaurants in the USA. Their specialty is expertly preparing char-grilled seafood the Mediterranean way. Go for a delicious serving of kalimari, octopus or the fish of the day prepared with a generous topping of extra virgin olive oil, lemon, oregano and spices.
Taverna Kyclades gets busy and they don't take reservations. Expect to wait for a table. However, like a proper Greek restaurant, they care about filoxenia – the Greek word for hospitality. So they offer patrons free glasses of wine while they wait for a table! If you want to try a unique wine, go for retsina, a traditional Greek white wine featuring a hint of pine flavor. It is the best Greek restaurant in Astoria, which is home to a size-able Greek minority.
Greek Islands – Chicago, Illinois
Chicago has one of the largest populations of Greek Americans, so picking one great Greek restaurant in Chicago is a tough choice. Chicago is where saganaki, flaming Greek halloumi cheese originated in the 1960s. It is now a popular appetizer at Greek restaurants around the United States. Having delicious gooey cheese flambeed table side always brings a smile to people's faces!
Greek Islands is one of the top restaurants in the Windy City for a lovely white table cloth dining experience. So it also makes for a fun date night. Go for a dish like Mediterranean style salmon baked with julienned carrots, zucchini, red peppers, yellow peppers in an olive oil lemon herb sauce. Or try their broiled lamb chops served with Greek-style rice, potatoes or briami.
If Greek Islands is busy, nearby Athena in Chicago's Greektown is another excellent choice. Also, the kalamata chicken at Athenian Room in Chicago is reliably excellent. Comedian Tina Fey, who is Greek, raved about the dish to David Letterman who also loved it. Kalamata chicken is a half rotisserie chicken atop crispy fries swimming in jus. Both comedians marveled at how the fries stay so crispy in the jus, and when I ate there I wondered the exact same thing!
Stellas – Charleston, South Carolina
Stella's is a fun Greek restaurant to dine at. They serve up Greek dishes with a southern twist. Try their grilled octopus, which is perfectly cooked with lemon, olive oil and spices. Or go for a traditional baked dish like moussaka or pastitsio, basically Greek-style lasagna. To drink, try a Greek wine or a local craft beer on draft. It pairs well with the fun atmosphere, especially on Friday and Saturday nights.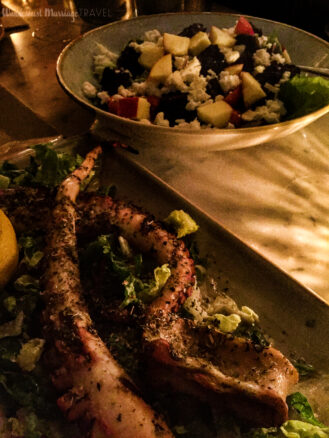 We enjoyed Stella's so much we even returned for brunch. The crab omelet had a generous portion of crab meat, accompanied by a side of roasted Greek-style potatoes. Their winding bar is stylishly designed and a great place to grab a drink! Stella's is actually one of two locations and the original is located in Richmond, Virginia.
Zaytina – Washington, DC
Famous chef José Andrés' popular downtown Washington, DC restaurant offers Eastern Mediterranean small plates & regional wines. Zaytina is Mediterranean rather than specifically Greek, and they offer a wide variety of Greek and Turkish dishes. Swing by for their mezze ora, Monday-Friday happy hour from 4pm-6pm, with great specials like $7 Greek wines from the southern Peloponnese region.
Start with an Avgelemono soup – a traditional Greek chicken noodle served with lemon, vegetables and krithariki pasta. Go for an appetizer like tzatziki, a traditional Greek yogurt dip with dill and cucumbers, served with pita bread. Round out your meal with a seafood dish like Octopus Santorini – grilled Mediterranean octopus, marinated onions, capers and yellow split pea puree.
Yianni's – Tarpon Springs, Florida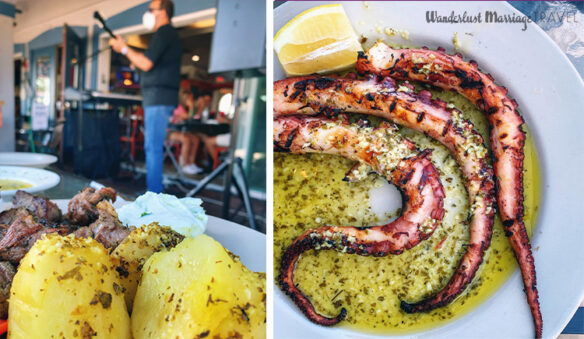 Visitors to Tarpon Springs, Florida are spoiled for choice when it comes to Greek restaurants. Around 25% of the 30,000 residents of the "Sponge Capital of the World" are of Greek descent, the largest percentage in the country. Yianni's is a great choice for dishes like delicious char-grilled octopus expertly prepared with extra virgin olive oil, spices and lemon. Their lamb dishes and souvlakis are also fantastic. They typically feature live music on weekends including local Greek musicians like Demetrios.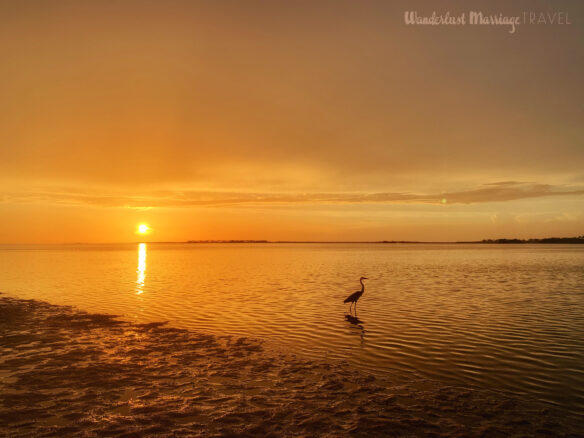 We recently bought a house in beautiful Tarpon Springs and now call it home. A seaside town packed with wonderful Greek restaurants and bakeries, it is a unique destination to visit. Read about great tips for visiting Tarpon Springs, Florida in our article!
Planning a Trip to Greece?
We've assisted many travelers with planning amazing trips to Greece! From couples getaways to family adventures, we've received so much great feedback from travelers. I've even organized family trips to Greece. I'm a dual Greek citizen and have been visiting family there for over two decades as an adult. Many thanks to them for the wonderful filoxenia over the years! Feel free to reach out with any questions you have on travel to the Greek Islands, Athens and mainland, or Greek food. You may also want to read our article on How to Spend the Perfect Week in Greece! Yiasou (to your health)!