The European lifestyle is distinctly different from the United States. The pace of everything from business to dining is typically more relaxed. Going on vacation usually means not checking email at all – which is shocking to many Americans. I'm fortunate to have both USA and Greek (European Union) citizenship. I've enjoyed dividing my time between the continents over the years and generally prefer the European way of life. If you're looking to buy property in Greece to establish European Union residency, this article breaks down some advantages and disadvantages of various destinations around the country!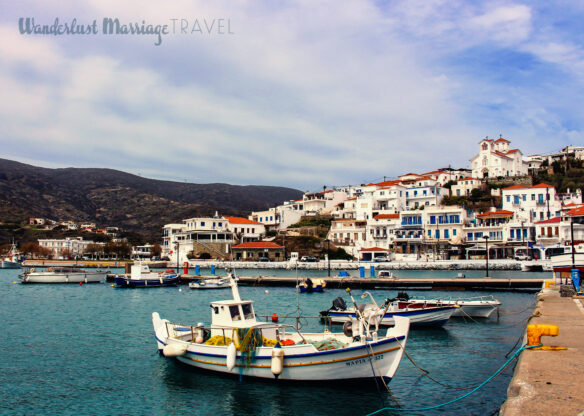 Why buy property in Greece?
Greece is one of the most beautiful countries in the world. Athens is the oldest European capital, offering fantastic dining, shopping and archeological sites alongside thousands of years of history. You can easily visit a variety of Athenian beaches like Faliro and Glyfada, even by tram. Athens' ports of Piraeus and Rafina easily connect you to an incredible variety of amazing Greek islands.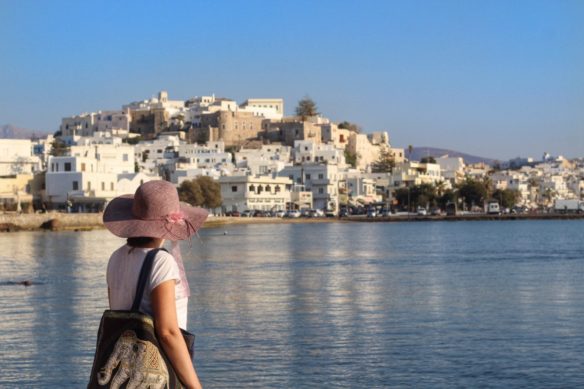 Greek hospitality is famous for being among the world's best. It's common to receive not only a free dessert with dinner but sometimes a free alcoholic drink too! How often do you get that when you go out for dinner where you live? Greeks can be some of the warmest people you'll meet. They often do a masterful job of making you feel happy and inducing a feeling of belonging.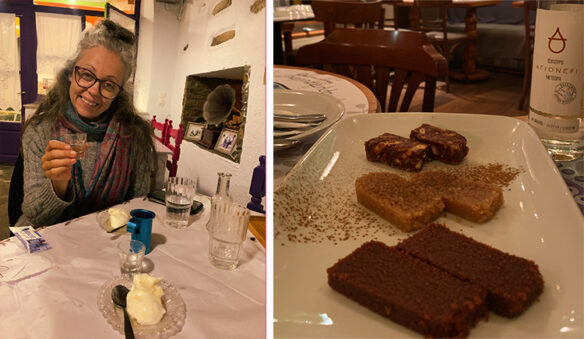 In an age of increasing digital connectivity, some places are losing touch with a personal connection. Greece is well connected digitally, so wifi is ubiquitous. But the country strikes a more harmonious balance between reality and the virtual world. There are also fantastic thermal Greek spas around the country, ideal for wellness. In short, Greece is good for the body and soul.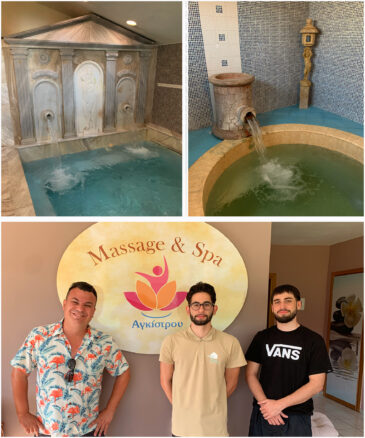 Digital Nomad Visa
Along with being the cradle of western civilization, Greece has its eye on the future. Greece is opening its doors to potential residents with programs like Digital Nomad Visas. Technology has reshaped the workplace, and Greece offers a platform to remote workers looking to live abroad.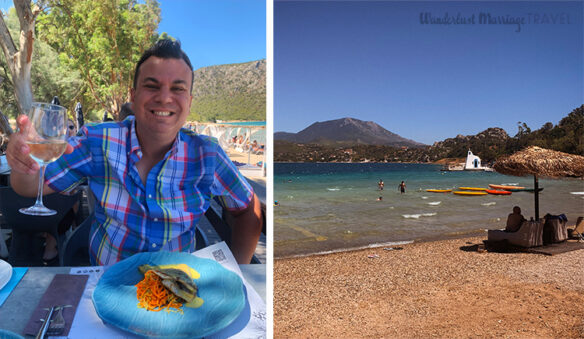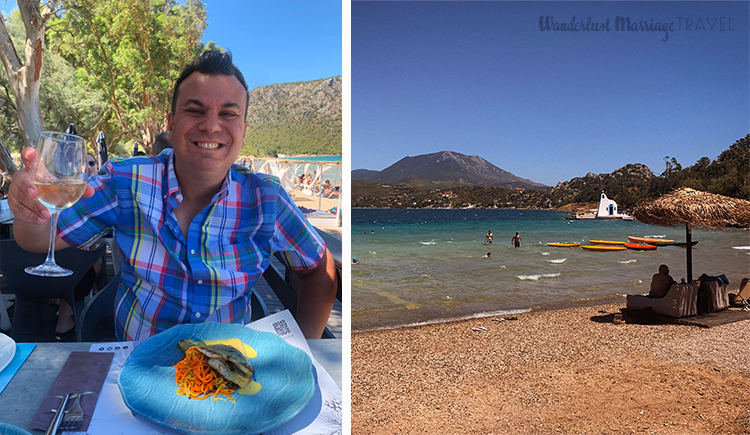 Advantages of Buying Property in Greece
Many European countries have pathways to residency through buying property. One advantage of buying property in Greece compared to many other European countries is that the minimum amount to invest is less. In Greece, a €200,000 ($213,000 USD) property can help you establish Greek residency. In many countries, the minimum property investment for eventual residency is significantly higher.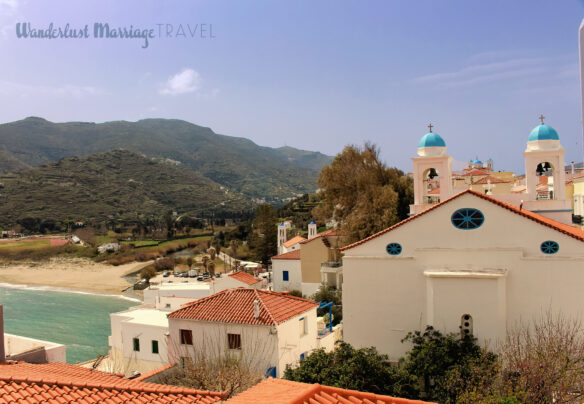 After 5 years of Greek residency, you can apply for Greek citizenship. And being a Greek citizen means you're a citizen of the European Union. You're then free to work and live throughout the 28 European Union member states. This is more freedom than even British citizens have since Brexit triggered their exit from the EU.
Things to Consider When Buying Property in Greece
Are you looking for a home or apartment? Maybe you're looking to run a business like a hotel. Depending on your budget and circumstances, it's all a possibility. And it might be a great investment in your future lifestyle.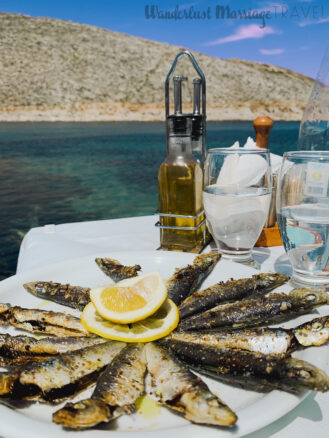 There are a variety of online companies to search for properties in Greece. So it's a good idea to have a look before arriving in Greece. Then you can set up appointments to look at properties with an agent.
Where in Greece Should You Invest?
This is a great question and it depends on your preferences and circumstances. There are a lot of places in Greece that are still a good investment. Like many places, property values in Greece have generally gone up in recent years. Due to inflation and foreign investment, it's projected that property values in Greece will continue to rise in the coming years.
Buying in Athens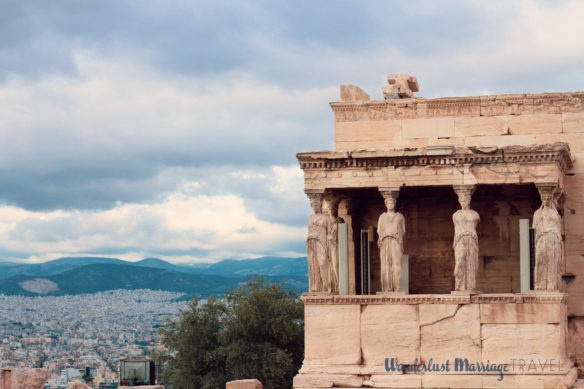 Recently in central Athens, boutique apartment hotels have been popping up like wildfires. Pre-pandemic, tourism in Greece was skyrocketing to record numbers of well over 30 million visitors in 2019. Athens is a popular city to visit, especially from April to October. So an apartment in an Athens neighborhood like Psiri, Koukaki or Kolonaki (depending on your budget), can be a great place to live part-time as well as rent on Airbnb during peek season.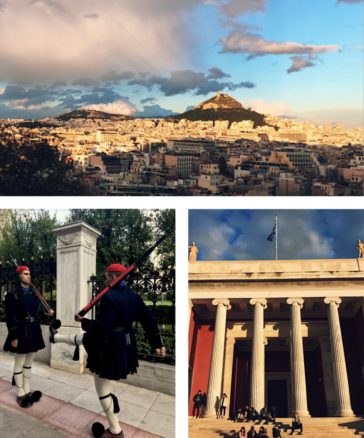 Psiri
Check out this listing for Athenian Lofts. We recently stayed at this stylish boutique apartment in the Psiri district of Athens. It's one of my favorite neighborhoods in the city because it's close to the Acropolis as well as great restaurants, hopping bars and lively tavenrs. In short, this is where many visitors who want to experience the authentic side of Athens want to stay.
Kolonaki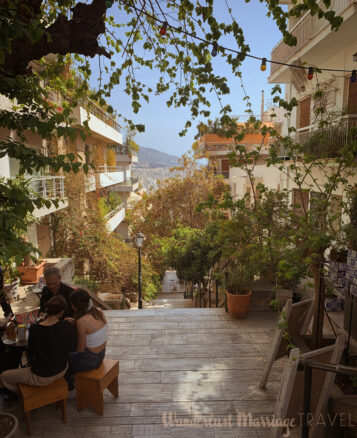 Kolonaki is the wealthiest area in central Athens. It's home to some of the most expensive properties in the city. Luxury travelers appreciate renting apartments in Kolonaki. The area is home to many trendy restaurants and bars, including a variety of international cuisines like Japanese, Spanish and Italian. Kolonaki is a short walk, taxi or metro ride to just about anywhere you want to go in Athens. It's one of our favorite neighborhoods to rent an apartment when we visit Athens.
Athens Seaside Towns: Faliro, Glyfada, Voula
You can also look to buy property along the Aegean Sea in the Athens area. The seaside towns of Faliro, Glyfada and Voula are great options. The ports of Piraeus and Rafina offer some budget options close to the sea, with the added bonus of being able to easily travel to the Greek islands.
Purchasing property in a seaside town near Athens offers a great lifestyle. These beachside towns have great beaches with hip cafes and excellent restaurants. Their close proximity to Athens means it's a short commute to many jobs, with many international companies located in the Greek capital also.
Koukaki
Koukaki is another good Athens neighborhood to invest in. It's a short walk to the Acropolis so there are already a variety of Airbnb's and hotel options. The neighborhood also has an authentic dining scene because locals outnumber tourists. Koukaki is a quieter neighborhood compared to vibrant Psiri. It's also close to the majority of highlights in Athens.
Greek Islands
Greece has 227 inhabited islands. I've visited over 20 of them – and a couple of things they all have in common are beauty and delicious food. Visitors are spoiled for choice, so personal preference should determine which island is best for you to stay for awhile and possibly invest in.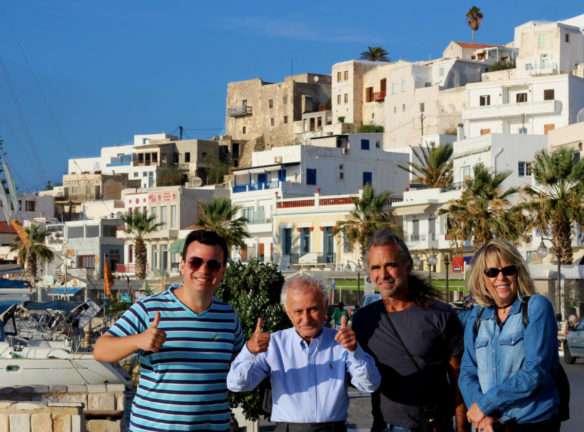 Cyclades
The Cyclades islands might be the most iconic in Greece, especially for Americans. Santorini offers picture-perfect postcard beauty that's often featured in travel advertising in the USA. Mykonos is a top party destination in Greece, and is typically the other island Americans visit when they travel to Greece. While property in Santorini and Mykonos can be a good investment for some, they are the two most expensive islands in Greece.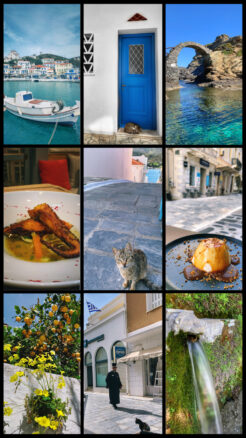 If you're looking for a better deal, consider nearby Cyclades islands like Andros, Tinos and Naxos. They're beautiful, authentic, and not as expensive as overly touristic islands like Santorini and Myknonos. Properties on these islands can make an ideal home or investment that can be a pathway to European citizenship.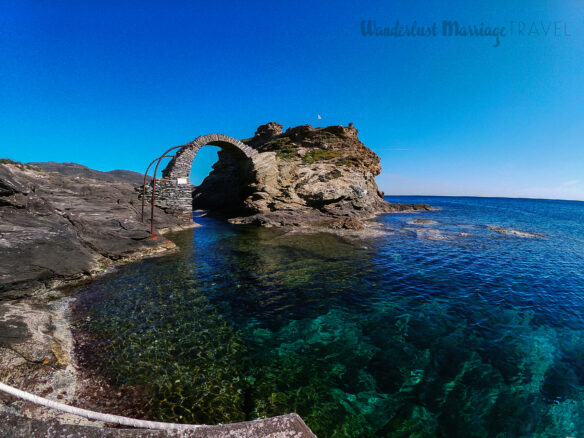 Santorini
Santorini is the most iconic island in Greece, drawing huge throngs of visitors. It's also one of the most expensive destinations to visit and buy property. But depending on your budget, it could be a good investment. And while Greece has a wealth of beautiful destinations, Santorini is among the most epic places. But that doesn't necessarily mean it's one of the best places in Greece to live.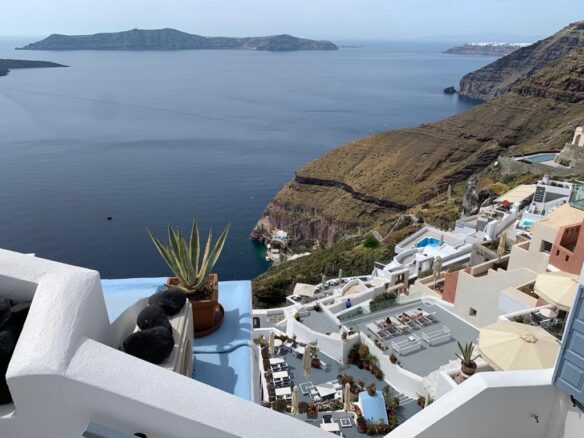 It's important to understand that tourism to Santorini is very seasonal. In summer, the island struggles with over-tourism because cruise ships bring thousands of daily visitors. That means the island's roads and towns are extremely congested. But in winter, Santorini draws very few visitors because the weather is cold and there are far fewer flights and ships arriving. So most of the hotels shutter their doors for 5-6 months of the year. Some Santorini hotel owners take extended trips to warmer destinations like Thailand in winter.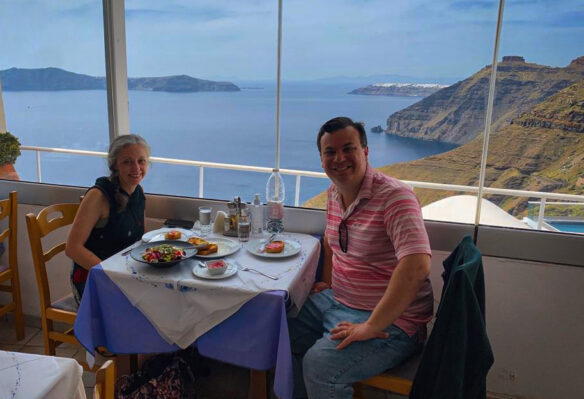 Santorini offers an enticing business prospect. Work hard for 6 months of the year, and potentially take 6 months off. Or run businesses in multiple locations. We know someone who operates a hotel and restaurant in Santorini in summer. In winter, he and his family run a shop in Tarpon Springs, Florida, where we live. Winter is the busy season in Florida coastal destinations like Tarpon Springs.
Mykonos
Mykonos is one of the summer party capitals of Greece, making it the Ibiza of the country. World-famous DJ's perform drawing affluent young visitors from around the world, including many Americans. Its iconic narrow pedestrian laneways and "Little Venice" also make it a draw for honeymooners. Mykonos is also one of Greece's most expensive destinations to visit or purchase real estate.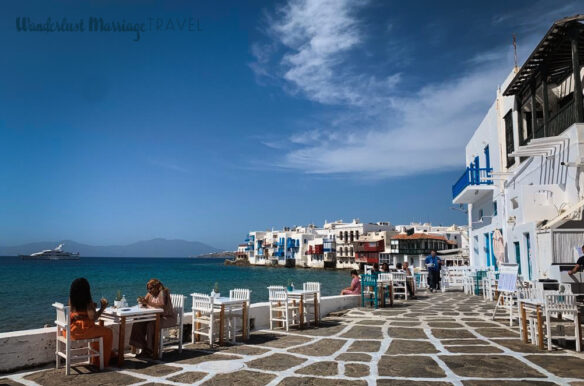 Mykonos, like Santorini, and many destinations in Greece, is a seasonal destination. Like Santorini, Mykonos has become too expensive for many Greeks during their summer vacations. In winter, hardly anyone visits Mykonos and most restaurants and hotels are closed. So Mykonos offers great seasonal business opportunities for short term apartment rentals, hotels, restaurants and shops.
Crete
Crete is the largest island in Greece. It's dotted with sandy beaches, high mountains, historic towns, wineries and some of the best food in Greece. Crete is one of the most popular islands for American, British, German, Dutch and Scandinavian tourists.
If you're looking to live somewhere in Greece part-time, and set it up as an apartment rental the rest of the time, Crete is a good option. During the warmer months, there are direct flights from around Europe into Heraklion Airport and Chania.
Chania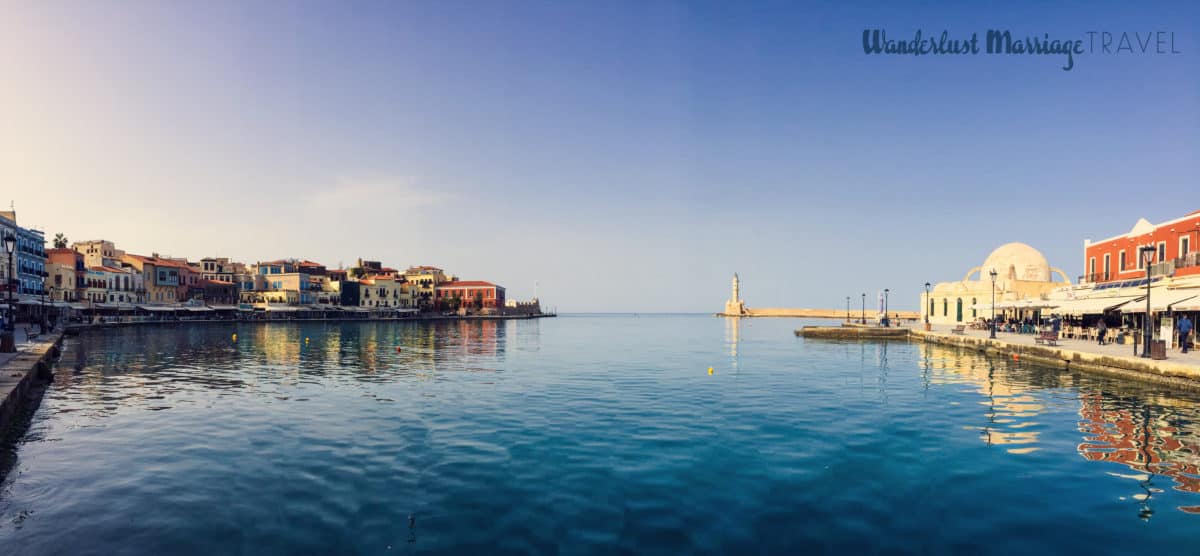 Chania is the second largest town in Crete. The Venetian and Ottoman-influenced seaside town is often considered the most beautiful town in Crete. It's also considered one of the gastronomic centers of Greece, with a huge variety of great restaurants alongside its colorful marina. The town is also home to a hopping nightlife, with plenty of good bars to choose from. Chania is one of Bell and I's favorite destinations in all of Greece!
Heraklion
Heraklion is the largest town in Crete and the 4th biggest city in Greece after Athens, Thessaloniki and Patras. The Heraklion area offers historic sites, sandy beaches and rolling vineyards in the mountains. It's a good place to experience Crete's rich culinary scene while drinking raki over live music.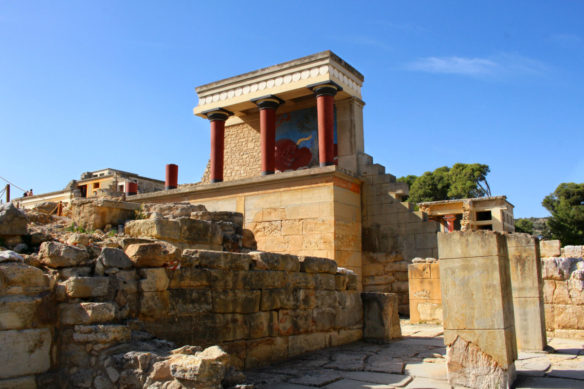 Heraklion is home to the famous Palace of Knossos, where the Minoans established Europe's oldest advanced civilization. The Minoans developed indoor plumbing around 3,000 years ago!
The Heraklion area offers a wide variety of properties, from luxury resorts to budget accommodations. September and October are two of the best months to spend in the region. September is less busy with tourists and the water is still warm to swim. In October, after the grape harvest, is when local distilling of raki takes place- offering a festive vibe in villages.
Seaside Vacation Towns in Crete
Elounda, near Agios Nicholas, is a charming fishing village that offers a good variety of luxury accommodations, including resorts with infinity pools. Near Heraklion, Hersonissos is a popular beach town for tourists along the Mediterranean/Aegean Sea. Nearby Malia is packed with nightclubs, and is popular with budget travelers, particularly from the United Kingdom.
Golden Home Real Estate Agency Crete
Golden Home Real Estate Agency Crete is one of the Greek agencies that can help you buy property in Greece. This is also where my cousin, Maria Kallimani, and her husband Myron, both work as real estate agents. They're based in Heraklion, Crete and specialize in the surrounding area.
Many of their property listings are ideally suited for vacation homes or business investments. They're parents to two adorable children, and are wonderful people who are especially knowledgeable about buying property in Crete.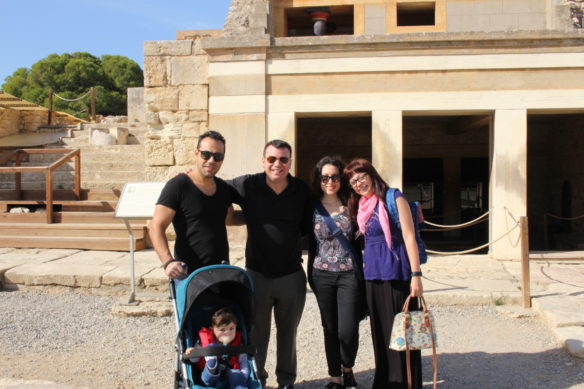 We've visited my relatives in Crete a few times over the past six years. Crete is high on our radar for where Bell and I would like to purchase a second home in the next few years. If you're interested in buying property in Crete you can email Maria Kallimani at [email protected] and she or Myron can assist you!
Dodecanese Islands
The Dodecanese Islands offer a combination of sun-kissed paradise and rich history. Many of them are very close to Turkey, and you can see the mountains of Greece's neighbor from scenic beachside restaurants and tavernas.
Rhodes
Rhodes is the most visited of the Dodecanese Islands. It offers a captivating mix of beautiful beaches and incredible historic sites like the Palace of the Grandmaster of the Knights of Rhodes and Lindos Acropolis. It was also the former site of the Colossus of Rhodes, one of the 7 ancient wonders of the world.
During the warmer months, throngs of Scandinavians, Germans, British, Irish and many other Europeans fly directly to Rhodes for a fantastic vacation. It makes the island a melting pot of visitors, especially Europeans.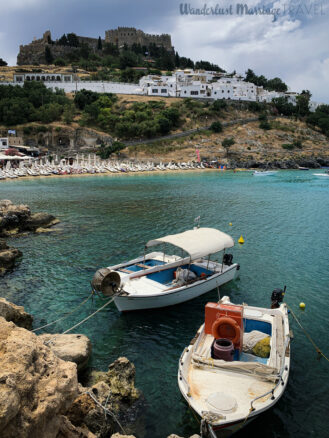 Rhodes is one of Greece's best islands for resort vacations. It also features one of Greece's best-preserved old towns in Rhodes Town. Being one of Greece's best islands for nightlife, and nearby island hopping, there is a lot to do in and around Rhodes.
Nearby Symi, just an hour by ferry from Rhodes, is one of the most beautiful islands in Greece. You can also catch a short ferry to Chalki, which is also a popular day trip from Rhodes. You can even visit Turkey for the day as Marmaris is just an hour ferry. There is a wealth to explore and enjoy around the Dodecanese islands.
One downside of Rhodes is that because it is so touristy with international visitors, it generally isn't the best destination in Greece for foodies. The tourism sector dominates Rhodes compared to an island like Naxos, which strikes a nice balance between tourism and local agriculture.
Ionian Islands
Ionian islands like Corfu, Lefkada and Kefalonia generally have more forests than most Cyclades islands. Corfu (Kerkyra), previously colonized by the Venetians, has many beautiful properties. It is one of the most popular Greek islands for tourists and also one of the most expensive islands in Greece. Properties in Corfu can be a great investment for short-term rentals, especially during the busy summer season.
Gulf of Corinth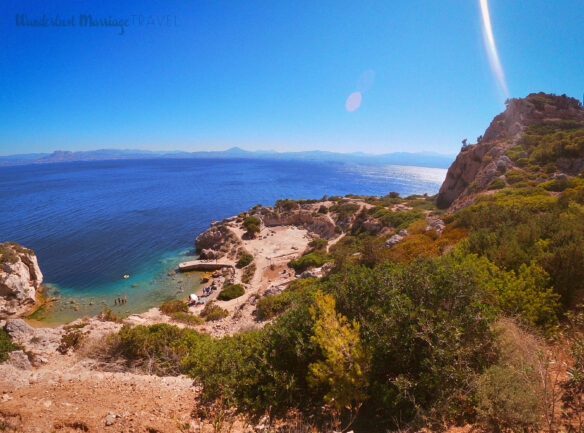 Loutraki
Loutraki is a beautiful vacation destination just 81km (50 miles) west of Athens. Its natural spring water is popular throughout southern Greece. Built atop natural thermal springs, it's an ideal vacation destination to relax and rejuvenate your mind and body.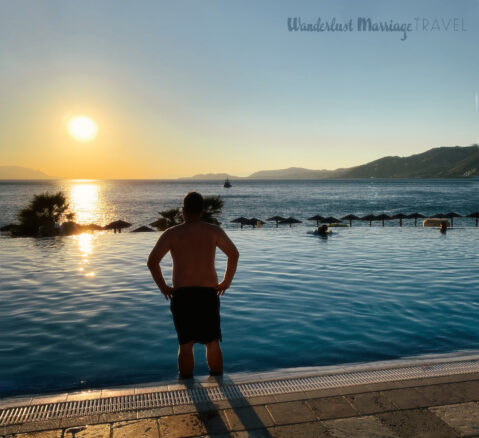 Loutraki is located in the same spot as the ancient commune of Thermae. 3,000 years ago the ancient Greeks bathed in the thermal waters to heal and rejuvenate. Subsequent years saw the Romans and Byzantines doing the same. Eventually, the concept of thermal baths spread across Europe, making European historic thermal towns a designated Cultural Route of the Council of Europe.
Peloponnese
The Peloponnese is filled with popular vacation destinations. Nafplion was previously a Venetian settlement and is one of the most popular towns in Greece for tourists. The seaside town of Kalamata, famous for its olives, is also dotted with charming villas. The port of Patras is the third biggest city in Greece after Athens and Thessaloniki.
The port of Patras is the third biggest city in Greece after Athens and Thessaloniki. The seaside town of Corinth is only 2 hours from Athens and offers a variety of investment opportunities.
Korinthos
Korinthos can make for an attractive seaside investment. It's just 8km from the seaside town of Loutraki, popular for its thermal springs and resorts like the beautiful 5-star Club Hotel Casino Loutraki.
Corinth (Korinthos) was one of the most powerful city-states in ancient Greece. The Archeological Museum of Ancient Corinth is fantastic for learning more about ancient Greek life. Impressive landmarks like the Apollo Temple, dating to 550 BC, stand triumphantly today.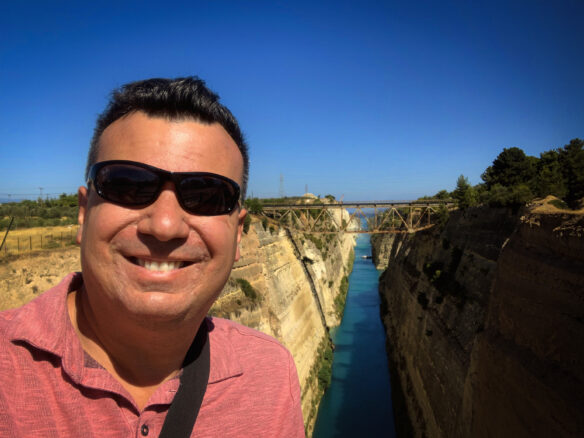 Built between 1881 -1893, the Corinth Canal is one of the most impressive man-made structures. It connects the Aegean Sea and Ionian Sea, saving ships 700km of additional sailing around the Peloponnese.
Korinthos has played a significant role in Greece for over 2,500 years, and it offers some great investment opportunities.
Katakolo (Near Olympia)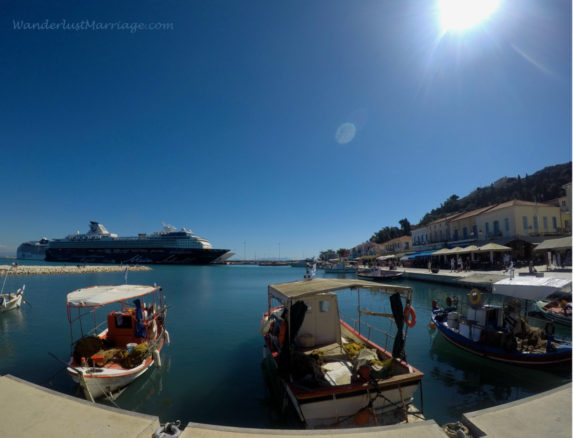 Katakolo is a bustling beach town and popular cruise ship port. It's close to the archeological site of Olympia, where the ancient Olympics were founded in 776 BC. The nearby town of Pyrgos is where my father was born. This region offers fantastic local products including fantastic honey and olive oil. Properties here can offer good value for vacation or retirement homes, as well as business opportunities.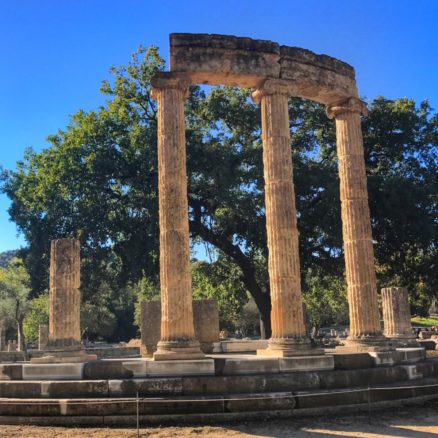 Northern Greece
Northern Greece is packed with beauty from the Aegean Sea to the mountains. Popular vacation spots include Halkidiki and Kavala. It's also home to Mount Olympus – the tallest mountain in Greece with an elevation of 2,917 m (9,570 ft).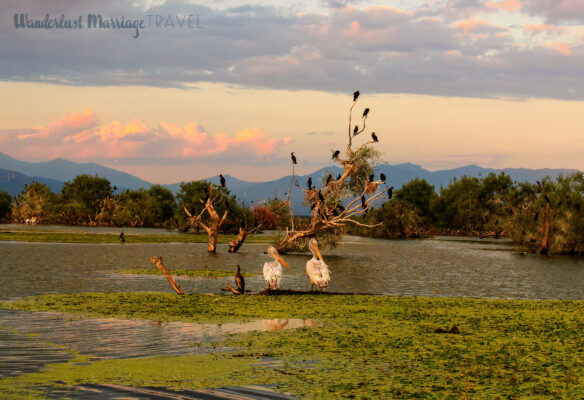 Winters are cold in northern Greece. But if you enjoy experiencing all four seasons, with nearby skiing in winter, the region can be ideal.
Summers in northern Greece, like the rest of Greece, are generally hot, with ample opportunities for enjoying beaches and seaside life. Mountain destinations like Almopia and Agistro offer cooler temperatures and are among the great Greek spa towns.
Thessaloniki
Thessaloniki is the second largest Greek city after Athens. The port city is nestled along the Thermaic Gulf of the Aegean Sea. It was an important metropolis during the Roman period and the wealthiest city of the Byzantine Empire. Residents of Thessaloniki are also proud of their Greek Macedonian heritage.
If you're looking for a city lifestyle in a destination that's not as sprawling as Athens, Thessaloniki could be a good fit. It is also not as touristy or expensive as Athens. For example, a stylish men's haircut in Athens costs around €20, whereas I recently received a nice haircut in a stylish Thessaloniki salon for €10.
Halkidiki
Around a 90-minute drive from Thessaloniki, Halkidiki is the most popular vacation destination in northern Greece. It's known for its jutting peninsulas, featuring Mediterranean forests alongside sandy beaches in sheltered bays. Kassandra is the westernmost peninsula and the most developed for tourism.
Kassandra offers modern resorts, excellent seaside restaurants like Takis Fish Tavern in Fourka and hopping nightclubs. The thermal spa of Agia Paraskevi (Halkidiki Spa) in Loutra is ideal for wellness, with great views overlooking the Aegean Sea. The Greek word loutra means bath in English.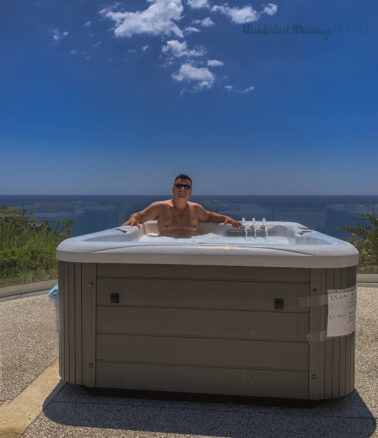 Stageira is a famous archeological site in Halkidiki, as it was the birthplace of Aristotle. Olynthus is another popular site known for its well-preserved mosaic tile floors.
Kavala
Kavala is the principal seaport of eastern Macedonia and a strikingly beautiful destination. Its Acropolis offers sweeping views of the Bay of Kavala and the nearby island of Thasos. Golden Beach is among the great beaches in and around Kavala. The Aqueduct of Kavala, otherwise known as Kamares dates to the 16th century and is one of Greece's best preserved aqueducts.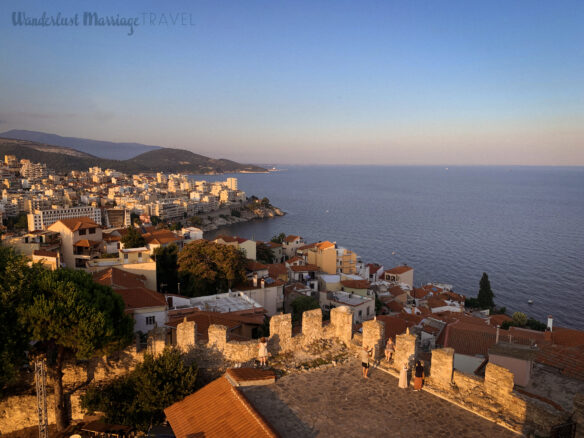 Kavala is an important economic center in northern Greece, centering around commerce, tourism, fishing and oil-related activities. It was known as Neapolis during ancient times, and has been called Kavala since the Ottoman period. Situated on the Egnatia motorway, Kavala is a 1.5 hour drive to Thessaloniki and a forty-minute drive to the towns of Drama and Xanthi.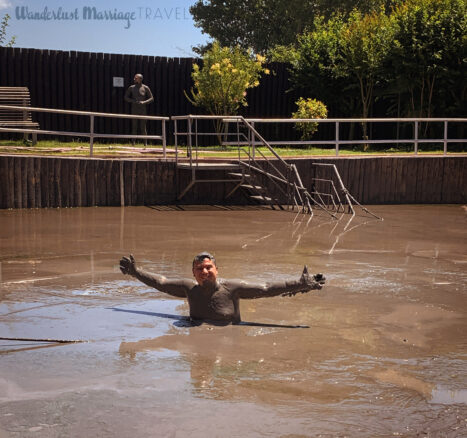 The Krinides Mud Baths in Kavala is a great facility adjacent to a beautiful sunflower field. It offers a unique experience so be ready to get muddy! Mud therapy can provide relief for skin conditions like eczema. It can also assist in alleviating certain injuries while providing therapeutic wellness.
Bottom Line on Greek Property to Establish European Residency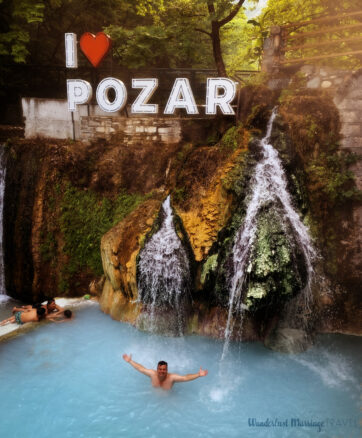 Greece is packed with great destinations to invest in. You can spend months trying to quickly see the highlights of Greece, and you won't see everything. Even if you visit 20 fantastic islands, you still missed over 200 lovely inhabited islands! If you've made several trips to Greece or researched the country in-depth, you know what I mean. People can spend a lifetime exploring Greece, as many Greeks themselves enjoy.
There can be challenges to living abroad. But the most rewarding things in life typically include complexities. If you have the opportunity and desire to live abroad, it's a fantastic life experience!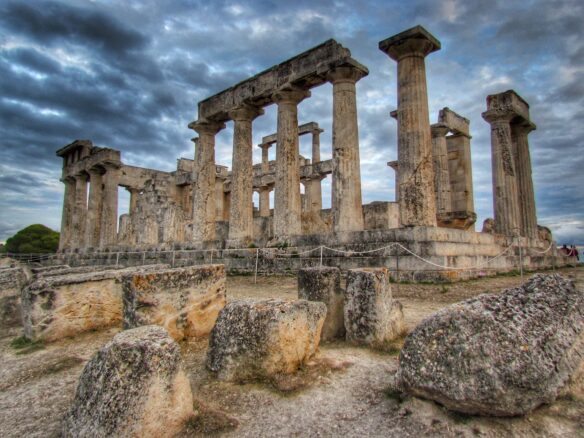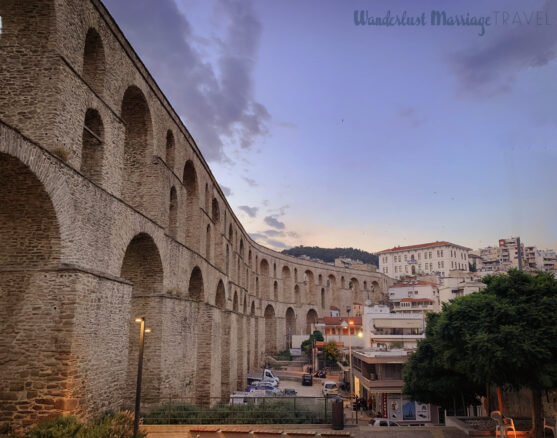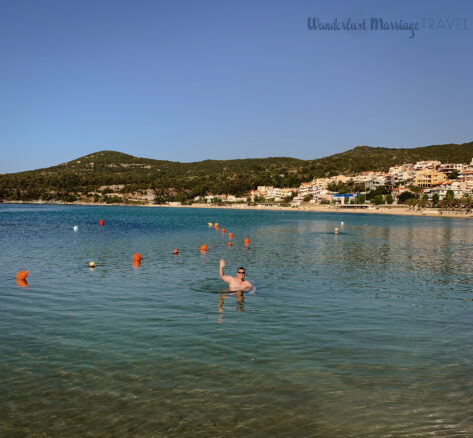 Have questions on buying Greek property or traveling in Greece? You can email me at [email protected] and I'll get back to you as soon as I can!