By Alex Kallimanis: Berlin is a fascinating city packed with history, culture and a raucous night life. It's also really large and if you only have one free day to explore you're going to want to maximize it. Bell recently visited Berlin for a conference and was short on time to sightsee. We've both visited Berlin on previous occasions, where we've had additional time to explore the city and compile this list for how to spend one day in Berlin. Of course more time is better, but since many visit Berlin for work, some are short on free time.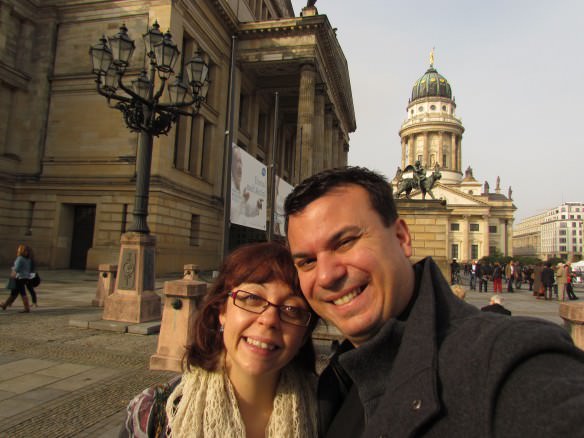 1) Don't Spend too Much Time at Checkpoint Charlie, or Skip It
Some might say Checkpoint Charlie is a must visit attraction with one day in Berlin. It was the main checkpoint between former East and West Berlin, but it is a tacky tourist attraction now. During our last visit to Berlin, I spent time with Charlie Kedmenec of MyDestination Berlin and he told me "Checkpoint Charlie is probably my least favorite attraction in Berlin," that says a lot because he knows Berlin well and his name is even Charlie. His issue with Checkpoint Charlie is that it is massively overrun with tourist buses, it's tacky and there's better alternatives to experiencing Berlin's dark history in terms of Nazi rule and the Cold War aftermath.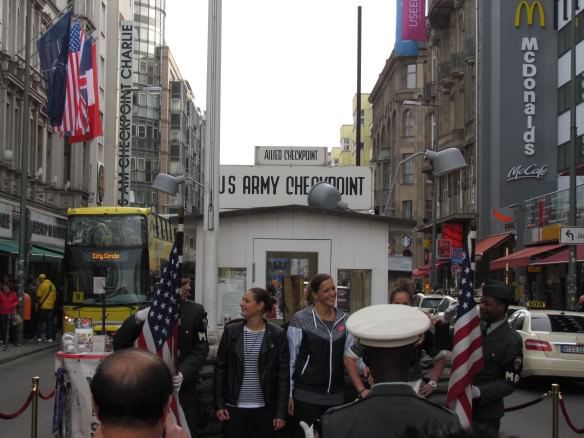 2) Visit the Topography of Terror – One Hour
Instead of Checkpoint Charlie, if you do one historical thing in Berlin, you should visit the Topography of Terror. This is a great modern exhibition (and it's free, unlike the indoor exhibition of Checkpoint Charlie which costs €12.50). If you spend an hour at the Topography of Terror, you'll gain a better understanding of how the Nazis came to power and the extent of the terror they inflicted on so many people, including the political dissidents within Germany. Spend around an hour here.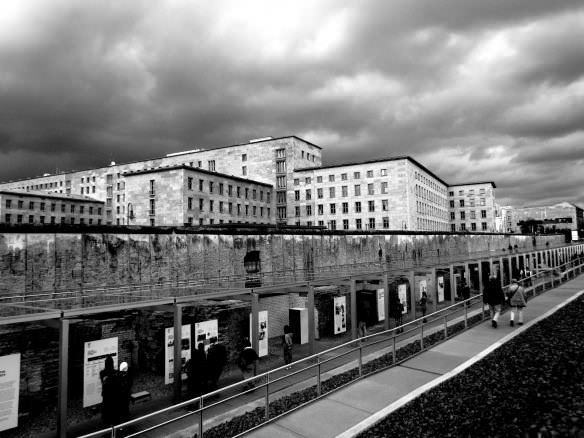 3 Bonus Reasons you Should Visit the Topography of Terror:
1) One of the few remaining sections of the Berlin Wall lies dramatically in front of the exhibition.
2) Just beyond this is the former Luftwaffe, headquarters of the Nazi Air Force, which amazingly was never bombed. It's the current headquarters of the German Finance Ministry.
3) The exhibition is housed atop the old SS headquarters and when you tour the grounds you can see many old prison cells underground. This gives an appropriately creepy feeling to Nazi history.
If you visit this area on an overcast day, like I did, you'll really feel an emotional connection with this unfortunate time in German history. This is a must if you only have one day in Berlin. It's close by to Checkpoint Charlie, so you can quickly swing by there to take a few selfies with the replica border check point too. #DoItForTheGram (or don't)
3) Visit a Beer Hall
Germany prides itself on centuries old purity laws in regards to brewing beer. While Berliner lagers and pilsners aren't Germany's finest, they certainly taste far superior to a Budweiser. But more than the beer, is the lively ambiance of Berlin's beer halls and pubs. Berlin's nightclubs are famous too, but I'm no authority there.
If you're in the mood for a lively and vast beer hall, with lots of outdoor seating during the warmer months, you can't go wrong with Hofbrau Berlin. If you're looking for a totally unique experience that combines German beer and the stock market, head to The Berliner Republik. The Berliner Republik sells its beer based on supply and demand and has several TV's showing a live beer exchange. If a beer is particularly popular at the moment, prices will be higher. If a beer isn't selling as well, prices will drop. We enjoyed the concept and lively atmosphere of this pub so much we visited on two nights during Bell's conference. The food was good too, speaking of which…
4) Enjoy Delicious Sausage and Potato Dumplings
When sitting down for lunch or dinner, enjoy a schnitzel, pork knuckle, or roast pork with potato dumplings (choose whichever one comes with potato dumplings because they're usually excellent in Berlin). A sausage from a mobile street vendor that's carrying his grill is super handy for a quick lunch and unique to Berlin. We haven't seen this anywhere else we've visited. They're not the greatest Berlin sausages, but it's fast if you only have one day in Berlin and don't want to waste time sitting in a restaurant for lunch.
Aside from The Berliner Republik, we also recommend eating at Mutter Hoppe, where you sit among antiques, like old sewing machines, which is kitsch but fun. It's also close to the Fernsehturm, Berlin's TV Tower at Alexanderplatz, which is well worth seeing and snapping a few photos. The massive TV tower was built by the East Germans between 1965 and 1969 as a symbol of national pride. It stands at 1,198 feet (365 meters) and is still the tallest building in Berlin.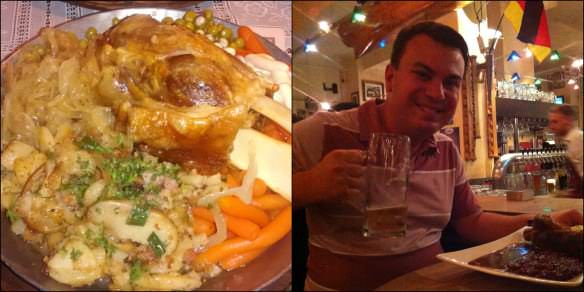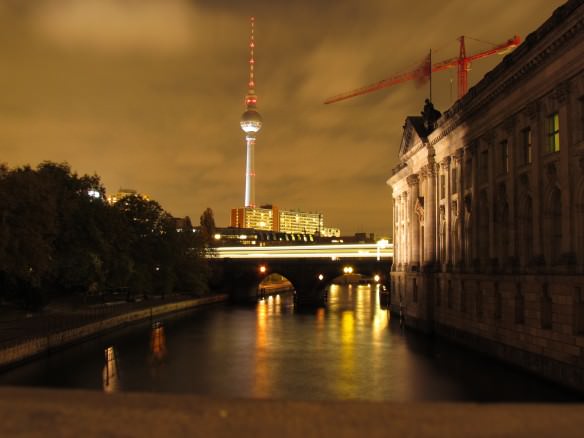 5) Brandenburg Gate and Reichstag – 30 Minutes for Photos 
While the Brandenburg Gate is touristy, it doesn't take long to see and it makes for a quintessential Berlin selfie to share on social media and perhaps frame at home. This photo will scream I was in Berlin! The Brandenburg Gate is a beautiful example of 18th century neoclassical architecture that dates back to the Prussian days of King Frederick William II. The Brandenburg Gate previously divided the Soviet and British sectors of Berlin and has been the site of many historic speeches. It was the backdrop of Ronald Reagan's 1987 speech where he famously said "Mr. Gorbachev, tear down this wall!" President Obama has also given speeches with the Brandenburg Gate as his backdrop.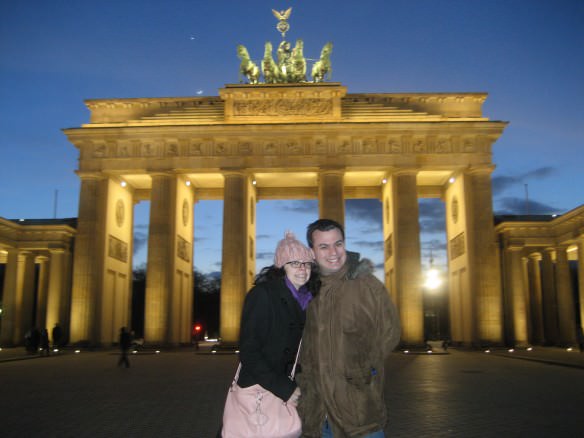 The Brandenburg gate is also close to the Reichstag, home of the German parliament (the Bundestag). On a previous visit to Berlin we toured the rooftop of the Reichstag, which is definitely worthwhile. This is free, but if you only have one day in Berlin it might not be worth it because you'll have to queue for perhaps an hour. But the panoramic views of the city and massive glass dome, where you can gaze down into the German parliament's chamber are great.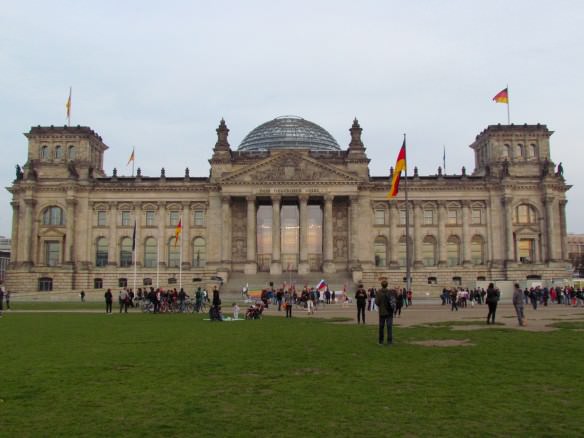 6) Walk Around Museum Island and Visit the Pergamon Museum – 1-2 Hours
This is a great walk along the Spree River and offers great views of the TV Tower and Berliner Dom, a beautiful cathedral that is a must visit. Pergamon Museum is the most visited art museum in Germany, and a major highlight of Berlin's Museum Island. It has a fantastic collection of Middle Eastern and Islamic Art. Consider visiting for an hour to see highlights like the Market Gate of Miletus, a Roman Gate that dates back to 120AD. Read this guide to Berlin's Pergamon Museum to see highlights. You may want to take a pass if you only have one day in Berlin, because museums like the Metropolitan Museum of Art in New York, British Museum in London and Louvre in Paris also have excellent collections of classical art.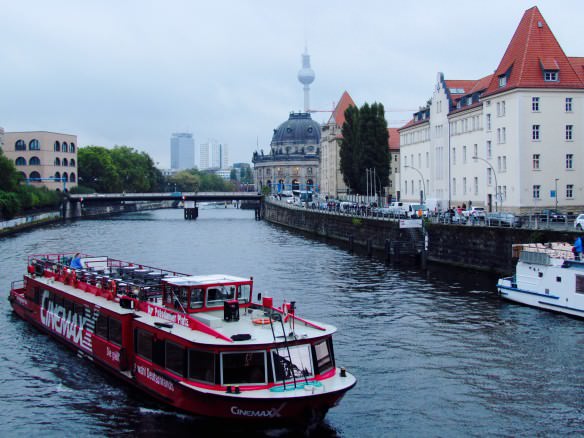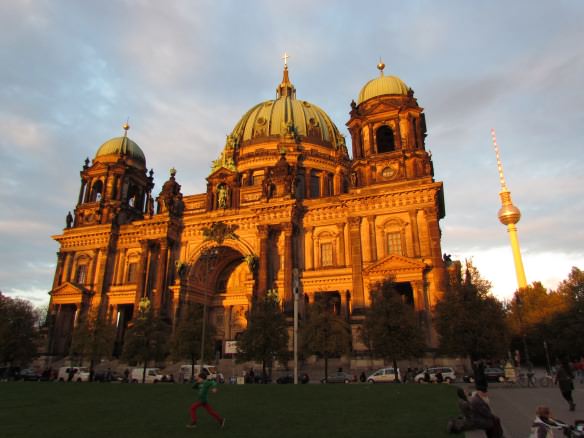 7) East Side Gallery – 1 Hour
This section of what's left of the Berlin Wall stretches 1.3km (just under a mile) and is covered with over 100 colorful murals by artists from around the world. The murals are an eclectic mix of political statements, Bohemian art and a celebration of life, peace and unity. Be sure to see the East Side Gallery, even if you only have one day in Berlin.
What's listed here is plenty to keep you occupied if you only have one day in Berlin, and it packs a good bang for your buck so you can leave satisfied that you got the most from your short visit to Germany's capital.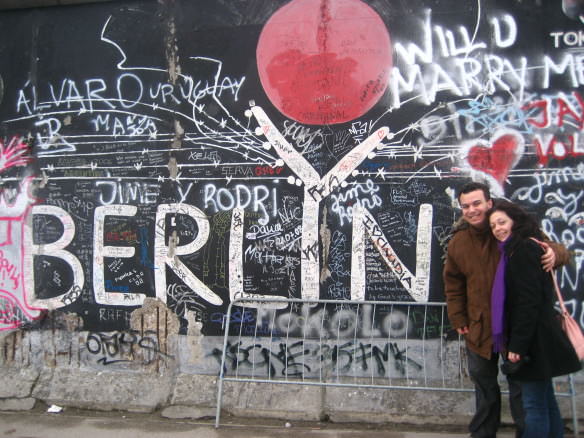 Berlin Hotels
Consider booking a quality hotel with free cancellation as soon as you know your dates of travel. Then if plans change, you can cancel without penalty.
On our previous visit we stayed at the 4 star Maritim Hotel Berlin, which is centrally located near Tiergarten Park and just a 7 minute walk from Potsdamer Platz. Rooms at the Maritim Hotel Berlin are elegantly furnished and feature a marble bathroom. The property also has an indoor pool, sauna, steam room and modern fitness center. This is an ideal stay in the heart of Berlin for business and luxury travelers.
On a previous visit to Berlin we stayed at Lindemann's, which is an excellent choice for mid-range travelers. It's located in Berlin's Schöneberg district, a 4 minute S Bahn train ride to Potsdamer Platz. All rooms and suites at Lindemann's have a stylish design, extra-long beds and a flat screen TV with satellite channels. Guests can relax while enjoying drinks in the trendy lobby bar.
Have questions or comments on how to spend one day in Berlin? Leave a comment below! 
Disclosure: This article contains some affiliate links. We receive a small commission when you book or sign up through these links and it costs you nothing extra. Thanks for using them!