Travel is a luxury. Picking up and jetting off to an exotic location is a privilege, even if you're on a budget. There are times in life when you will find yourself on lockdown for a pandemic, caring for a sick family member or be in a tight financial spot. However, with a little imagination and planning, armchair travel can whisk you away to experience a new culture. And best of all, there are no hiccups like delayed flights because you'll be in the comfort of your living room. For example, Italy travel virtually!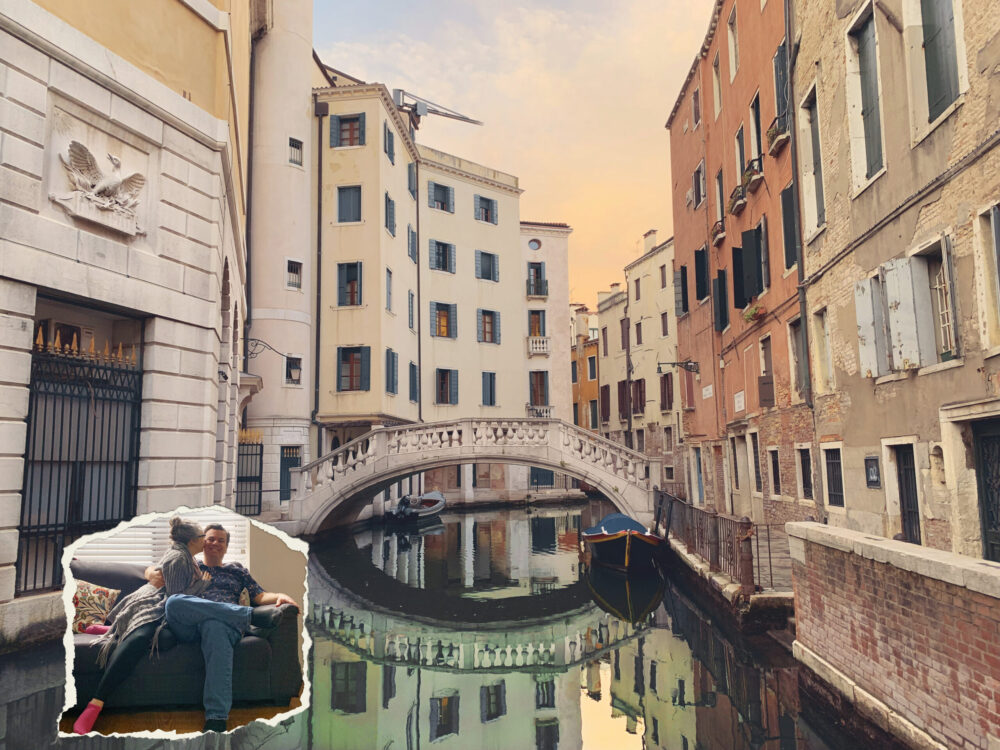 As we are writing this, we were meant to be exploring Italy and celebrating our 15 year wedding anniversary. Instead, we're self-quarantining in our apartment in the Washington, DC area thanks to coronavirus. We decided that we could still celebrate our milestone anniversary later in the year (maybe?) and in the meantime, we'd bring Italy to us. Below we outline our itinerary and resources for armchair Italy travel!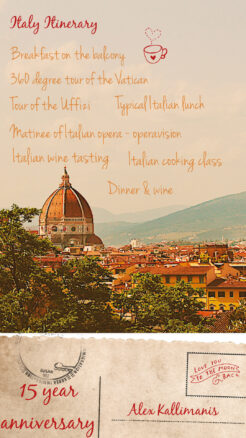 Armchair Italy Travel – Breakfast and Virtual Museum Tour
We kicked our day off with a simple pension style breakfast of eggs, toast, fruit and coffee. A good breakfast is important before exploring famous Italian museums! We first visited the Vatican Museum, located in Vatican City, Rome. On their website, they offer 360-degree exploration of the Vatican. We jumped right into the colorful frescoes Michelangelo painted in the stunning Sistine Chapel.
You can navigate your view up the walls and zoom in on the ceiling to walk through the scenes of the Old Testament that sprawl across the roof. Pros – no crowd and no rush! The Khan Academy has a guide to the roof to learn more about the paintings of Michelangelo. We spent the next hour moving through the different rooms, gazing at amazing paintings and discussing our favorites.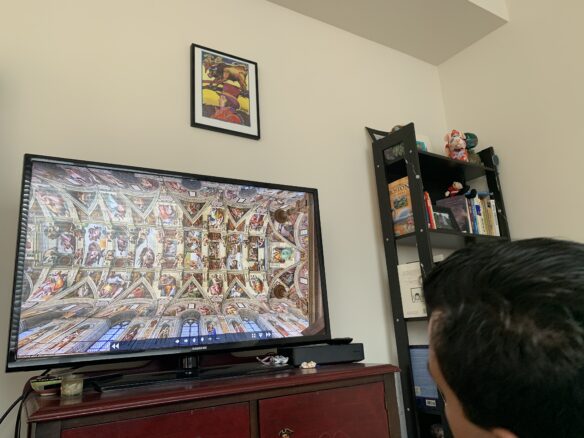 We next jetted across the internet to Florence to explore the amazing Uffizi Gallery. This gallery is home to the Birth of Venus by Botticelli. Online, they have a series of beautifully curated exhibits to explore and learn more about the works. For example, there is an exhibit for those interested in Italy's poet and writer Dante. Clicking through, you will learn about his role in Italian society and the paintings his most infamous work, the Divine Comedy inspired.
Lunchtime – Order Takeout from an Italian Restaurant
As we did this during the coronavirus pandemic we ordered Italian food from a local Italian restaurant for home delivery. But you could also pop out to a local Italian cafe to enjoy something delicious (when there is not a pandemic). We ordered Calzones, Tuscan Salad and cannelloni for dessert! While we would have loved to be sitting out in a piazza, literally anywhere in Italy, we made do on our balcony. While the people watching was not as inspiring as a Sicilian balcony, we had wonderful company!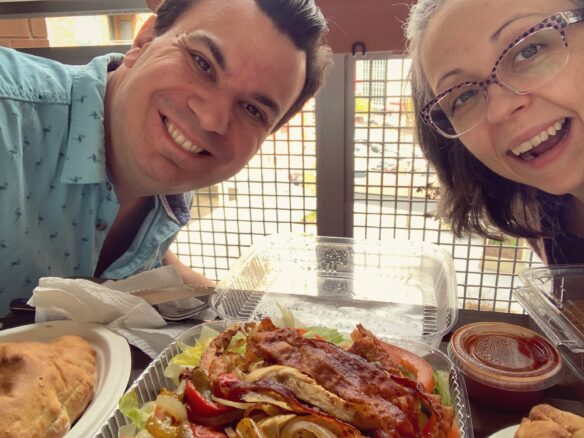 Armchair Italy Travel: Watch an Opera
We ate too much at lunch, and so our afternoon consisted of taking in an opera. Operavision during the pandemic has a number of beautiful operas available for streaming. We opted for a comedic opera, the Marriage of Figaro, which is essentially a romantic comedy set to beautiful music and song. In this opera, follow the love story of Susanna and Figaro who are set to be married and the infidelity of the count, to who Susanna is a servant. The music was composed by Mozart, some of which is likely to be familiar and the lyrics by Da Ponte. It helps to have the backstory open so you can follow along with the four acts.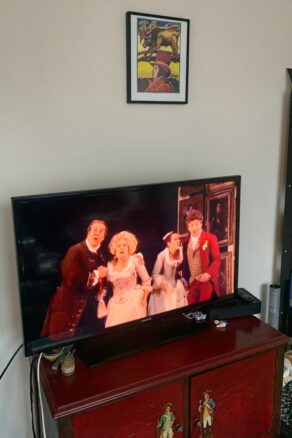 Cook an Italian Dinner
After the opera, we enjoyed a glass of Italian prosecco before preparing an Italian dinner. It conjured images of great food tours in Modena and Venice that we've taken in the past. We decided several nights earlier to have a go at an eggplant parmesan recipe, which we found on Bon Appetit. Alex made the sauce while I sliced and breaded the eggplant. While the recipe calls to cook the sauce for 2.5 hours we opted for a quicker version as it had gotten a little late! Dinner paired great with a glass of Chianti.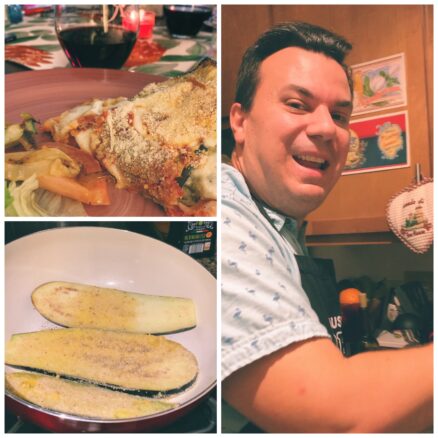 Armchair Italy Travel Conclusion
In the end, we had a fun day sharing some of what makes Italy special: the art, music, food and wine. And we did so without leaving our apartment. This actually isn't our first wedding anniversary mishap. On our 10th anniversary we actually found ourselves dining at a Smokey Bones in the suburbs of Pittsburg thanks to winging road trip plans. You can read more about that misadventure here! But perhaps misfortune on these milestone anniversaries is our weird good luck for many more happy years ahead!
Stay safe and well! And feel free to share any additional armchair travel tips in the comments!