By Alex Kallimanis: Florence was the birthplace of the Renaissance. Magnificent examples of Italian Gothic architecture were erected with the financial assistance of powerful Florentine families like the Medici's. When you visit Florence today you can see why artists like Michelangelo were inspired by the city. Wander through the art-lined streets and take in the beautiful vistas and you'll be inspired too. Here's some tips for enjoying the best things to do in Florence.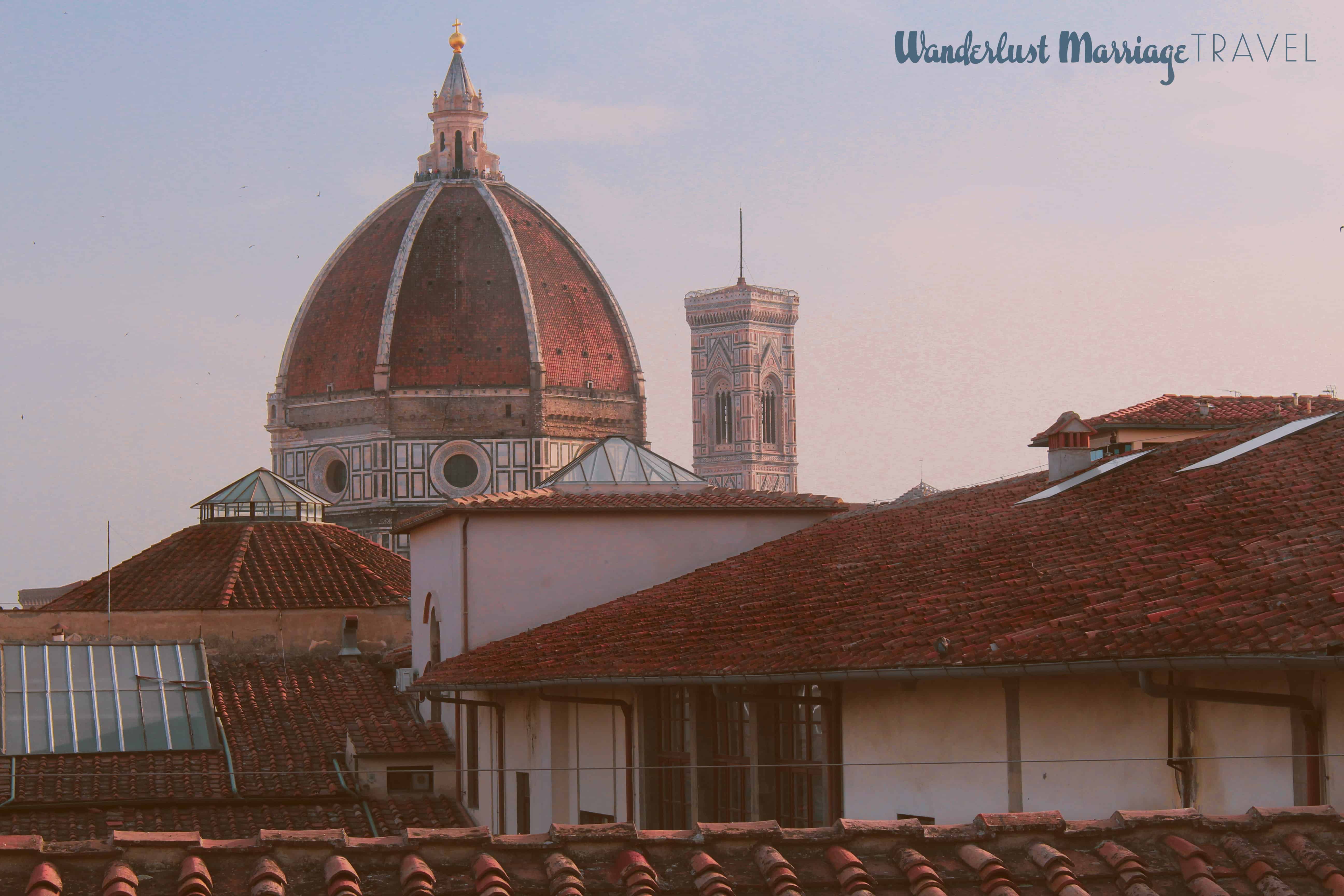 Accademia Gallery
The Accademia was previously an art school. Today it's a museum that houses what's commonly considered as the most perfect sculpture in the world – the statue of David by Michelangelo. David is a magnificent work, equal to gazing at a perfectly chiseled athlete. You can even see the veins protruding from his arms.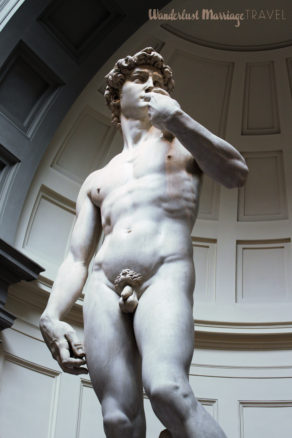 Michelangelo was a perfectionist and honed his craft by performing autopsies on human bodies. What's also captivating are his lesser-known sculptures that are housed in the same room. These works are as flawed as all of us become in our later years – and it's a stark reminder that no matter our intelligence or wealth – our fate is the same in the end.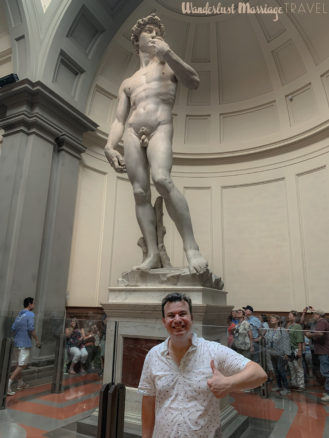 I visited the Accamedia on the David and Aperitivo Walks Tour. Ivana is a lovely guide to Florence who shares great insight into the life of Michelangelo and the city. A perk of taking this tour is that you get to skip the line to the Accamedia. That's fantastic because the line is usually very long, especially in summer. And seeing David is a must thing to do in Florence.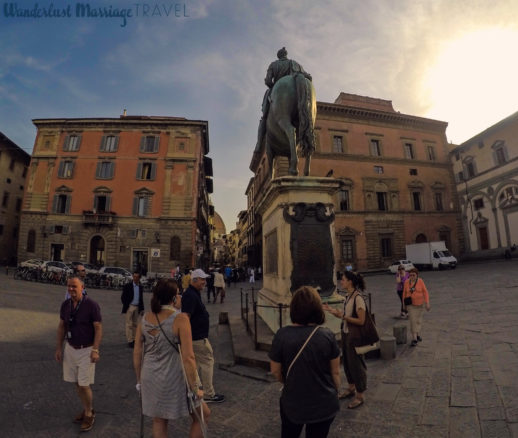 Uffizi Gallery
The Ufizzi is one of the world's greatest art galleries. Housed in a building from the 1560's, the museum is home to masterpieces of art and sculpture from the Middle Ages to the Renaissance. The museum showcases timeless pieces by artists like Michelangelo, Leonardo, Botticello and Carravagio.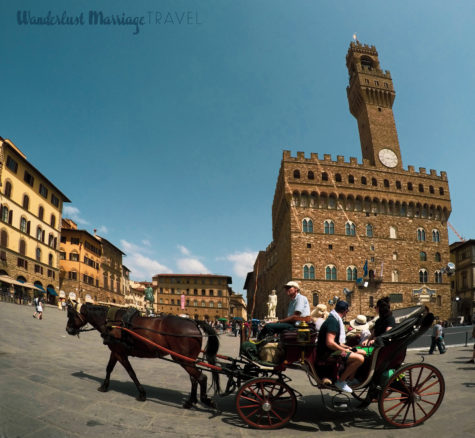 One of the major highlights and a favorite painting of mine is Birth of Venus by Botticelli, depicting the birth of the beautiful goddess and painted in the late 1400s. The Uffizi Gallery is another of the must things to do in Florence. But as it is one of the world's most popular galleries, plan ahead before visiting in summer. You can book a Walks tour to skip the line or make a timed reservation on the gallery's website.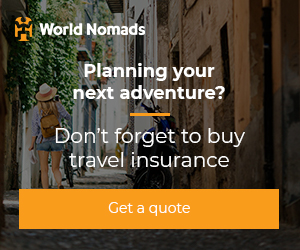 Duomo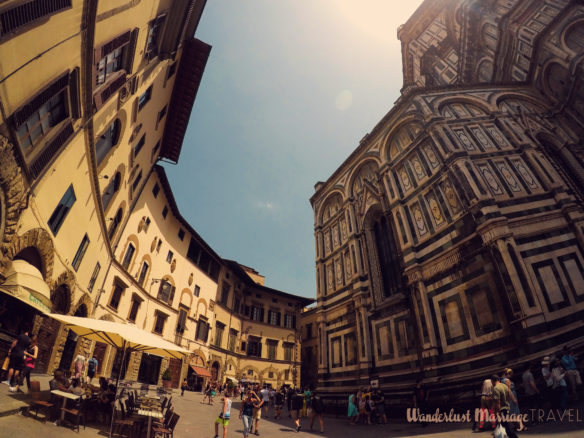 The Cathedral of Santa Maria del Fiore is an exquisite example of Gothic Italian architecture. Construction of the Cathedral began in 1296 and it took 140 years to complete. The famed brick dome was designed by famous architect Filippo Brunelleschi in 1436. It remains the largest brick dome ever constructed. If you want to climb to the top of the dome it's 463 steps and a timed reservation is required. You can also include a trip to the top on a Walks Tour and learn more about the history of the Duomo and Florence.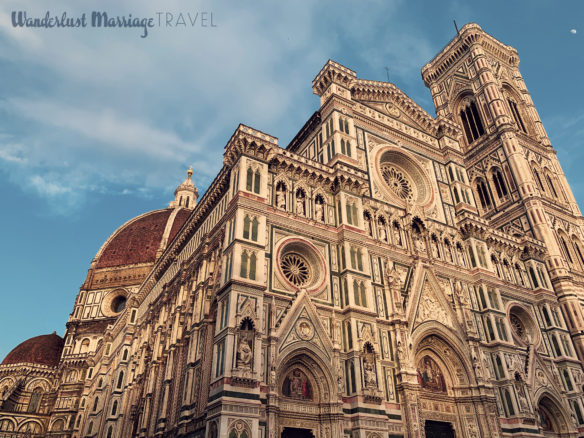 The cathedral complex includes the Baptistery and Giotto's Campanile, located in Piazza del Duomo. The three buildings are a UNESCO World Heritage Site and a major tourist attraction in Tuscany. Lines can wrap around the cathedral. If you want to avoid waiting for over an hour go before the Cathedral opens at 10am. Entrance to the Duomo is free but you can't book a free timed slot to visit. By making a timed reservation or booking a tour, you can skip the line. Alternatively, attend a service on Sunday and enjoy watching the beautifully dressed Italians and the wonderful acoustics of the cathedral.
Ponte Vecchio Bridge
The Ponte Vecchio Bridge is the oldest bridge in Florence. Its history dates to 966 but it was re-built in 1345 following a flood. The stone bridge is famous for its shops, and there have been shops on the Ponte Vecchio since the 13th century. Originally, there were all kinds of shops including butchers and fishmongers on the Ponte Vecchio. But as that caused a foul smell, in 1593 Ferdinand I, who was Holy Roman Emporer decreed that only jewelers and goldsmiths be allowed to have shops on the Ponte Vecchio.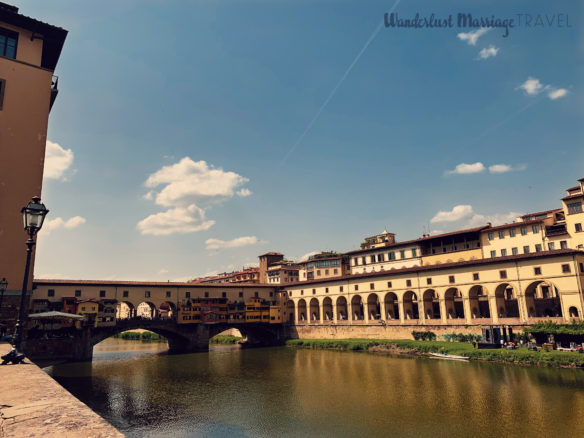 The Ponte Vecchio is one of the iconic landmarks of Florence. It was the only bridge in Florence that Germans did not destroy during World War II. Instead, they destroyed medieval buildings on each side of the Ponte Vecchio to block access to it. Today it's a romantic spot to take photos and one of the best things to do in Florence.
Basilica of Santa Croce
The Basilica of Santa Croce (Basilica of the Holy cross) dates to 1296. The Neo-Gothic Franciscan church has beautiful frescos painted by Giotto. It also houses the tombs of the artist Michelangelo, the scientist Galileo and politician Machiavelli. As Galileo was tried by the Roman Inquisition for charges of heresy, the Pope prevented his burial at the Basilica of Santa Croce, and he was not allowed a Christian burial at this church until 95 years after his death, in 1737. There is also a memorial to Dante, who was exiled from Florence and is buried in Ravenna, famous for its Byzantine art. The Basilica of Santa Croce is a must thing to do in Florence and admission only costs 8 euro.
Best Places in Florence for Photos
Florence has a majestic cityscape. One of the best places to capture the view of over Florence is from Piazza Michelangelo. From there you can see the whole city including multiple bridges and the famous Ponte Veccio.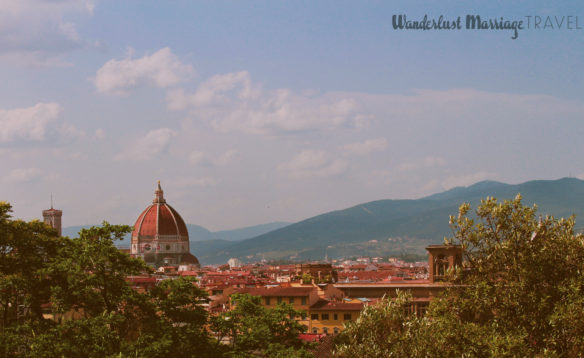 The Boboli Gardens is another great spot offering captivating views overlooking Florence. These are two of the best places to get your Instagram photos, making them must things to do in Florence.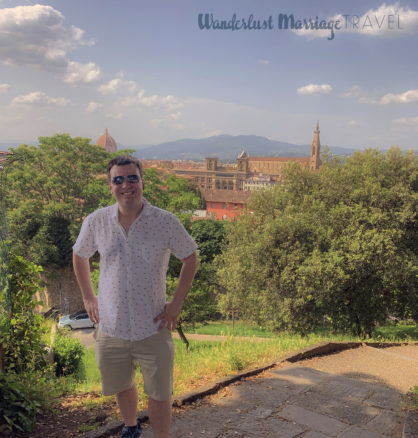 Where to Stay in Florence?
The center of Florence is small and you can walk from one end to the other in less than 30 minutes. This means that most places to stay in Florence, from luxury to budget, offers a good location. On my most recent trip to Florence, I traveled there by high-speed train from Bologna (just 35 minutes each way!). But here are a couple of good options for places to stay in Florence:
San Firenze Suites overlooks historic Piazza San Firenze, just 350 feet from the Uffizi Gallery. The Duomo is a 10-minute walk and the Ponte Vecchio Bridge is within a 5-minute walk. Some suites include a four-poster bed & views of the city center. The spa includes a hot tub, sauna, Turkish bath and chromotherapy showers and can be accessed for an additional charge. Free Wi-Fi and an LCD TV with satellite channels are available in all suites.
More on Northern Italy
If you're heading to Venice, read my previous article on Venice, Italy Tips to get fantastic bang for buck. Especially in summer, you can save big money on Venice hotels by staying in nearby Mestre.
Emilia Romagna is famous for its culinary scene as it is home to authentic Parmigiano-Regianno cheese, balsamic vinegar, prosciutto, truffles and is the birthplace of bolognese sauce and mortadella (bologna). If you're searching for a fantastic food tour experience, Italian Days Modena Food Tour is packed with delicious food, history and fun.
Travel by train in Northern Italy from Florence to Venice, Verona, Bologna, Rimini, Rome, Lake Como and More
Traveling around Italy by train is fast and comfortable on the popular routes. For example, the journey from Florence to Venice only takes around 2 hours on the high speed train. The fastest train from Florence to Rome only takes 1 hour and 20 minutes! Rail travel in Italy is also a much better experience than Amtrak in the United States.
San Marino is also a fantastic destination to visit, which is around a 3 hour drive from Florence. You can also catch the high speed train to Bologna, transfer to a train to the lovely seaside resort town of Rimini, then take a 40 bus ride to San Marino. San Marino is one of the world's smallest and oldest independent republics, surrounded by the Emilia Romagna region of Italy.
If you're traveling to Lake Como, stay in Lecco over Bellagio or Varenna if you want to save money. During the warmer months, you can easily travel by ferry between the gorgeous towns along Lake Como. There is also train service between Lecco and Varenna. Italy is certainly one of the most romantic destinations to visit.
Fly to Italy Very Cheap
We cycle through travel rewards credit cards to save thousands on travel expenses. I signed up to a Barclays Aviator Card (which gave me 60,000 AA miles with one purchase). Then only paid $147 roundtrip for my flight to Italy instead of over $1,000. I also used Chase points and Marriott Bonvoy points to score free hotel nights around Italy.
Read our previous article on travel rewards cards hacking tips to learn more. We also cover lots of ways to save thousands on travel in this article on travel tips. Save thousands of dollars, while traveling in style!
Leave a comment below or email me at [email protected] if you have questions on planning a trip to Italy or rewards card hacking tips.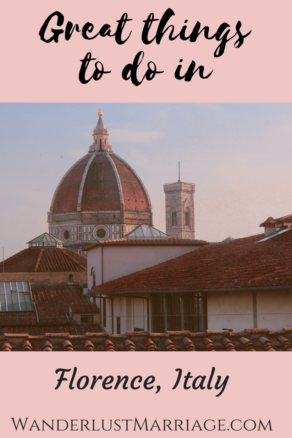 Disclosure: Walks of Italy hosted me on their David and Aperitivo Tour. Also, this article contains some affiliate links.