UPDATE: in 2014 this celebration moved to became King's day and is now celebrated on the 27th of April, we have not made it to celebrate King's day, but the traditions decribed below are still occuring, just on a slightly different day!
Every year on April 30th, Queen's Day (Koninginnedag), all across the Netherlands, the nation becomes a massive sea of orange to celebrate the House of Orange. As Bell and I lived in Amsterdam for a few years, we celebrated this day on a few occasions and it's a blow out great time. We've done St. Patrick's Day in Dublin, and frankly, Queen's Day far surpasses it in terms of sheer partying and enthusiasm. So what to expect on Queen's Day?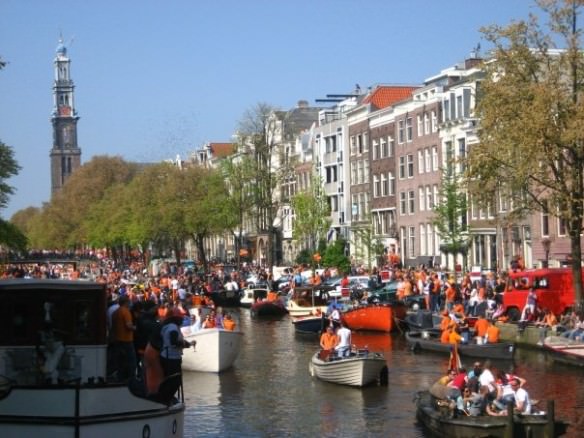 While the day is meant to celebrate Queen Beatrix's birthday, it actually falls on her mother's birthday, the old Queen Juliana. Queen Beatrix's birthday is January 31st, far too cold for a good party.
While it is technically a celebration of the monarchy, the Dutch use the day as an excuse to just have a great time. On a typical Queen's Day, the monarchy chooses a random Dutch town to have a parade. Tragically in 2009, in the town of Apeldoorn, a frustrated and crazy man drove his car through the crowd in an attempt to take out the Queen's carriage, killing 7 people and injuring an additional 10.  We lived there at the time and while many other Dutch towns cancelled subsequent celebrations, the party did not skip a beat by people on the street in Amsterdam. So short of a terrorist strike on the canals, nothing will dampen the party there.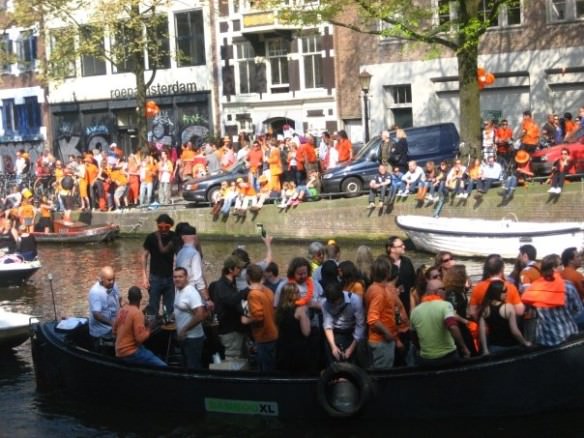 But 2013 will be an extra special Queen's Day because Queen Beatrix is relinquishing her throne and passing it down to the Prince of Orange, Willem-Alexander, who will then become King. His wife, Princess Maxima, will become the new Queen. This will be the first time the monarchy has changed hands since 1980.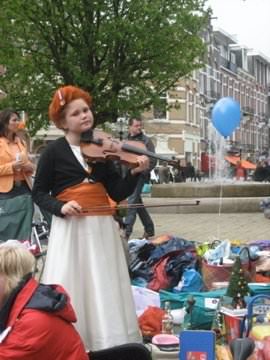 Queen's Day is always jam packed with excitement, but expect an especially crazy ambiance this year. It will be especially hard to get in and out of the city. If you want to see the new King become inaugurated at the Royal Palace in Dam square at 10am, you'll likely have to arrive very early (and you might still be nursing a hangover from the night before, as Queen's Night, Koninginnenacht, April 29th, is also a big party in Amsterdam and The Hague). Unless you are very keen, it might be better to watch the festivities on the big screen that will be set up in Museumplein. We watched the Netherlands vs. Spain with a sea of 100,000 people cloaked in orange for the 2010 World Cup Final and we can guarantee it will be a good party, and better for those who are more claustrophobic, like yours truly. You should still wear a heavy beer coat to make the crowd more tolerable!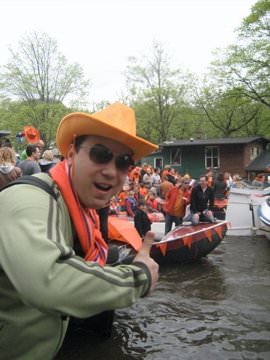 The party is a great day for both young and old. It's also worth venturing out to the nearby Dutch suburbs to check out the nation wide flea market put on by children and families, all dressed in orange. All kinds of things can be purchased and there is food galore. A few years back Bell purchased a children's bike for 10 euros. It's a great day to shop in the morning…then get hammered on the canals.
If you haven't booked a hotel yet and are on a tight budget, don't bother in Amsterdam. At the time of this writing there are still some beds left, but all at extortionate prices. A much better option would be to stay in a nearby town like Leiden, just a 30 minute train ride from Amsterdam. A quick  hotel search on Booking.com shows good rooms can still be had April 29th-May 1st for under €90 ($117 USD) per night, a couple hundred less than you will currently pay for a hostel bed in Amsterdam. The densely populated Netherlands is very well connected by an efficient and frequently running train network so many additional cities like Utrecht, Eindhoven, The Hague and Rotterdam would all be better options for accommodation at this point.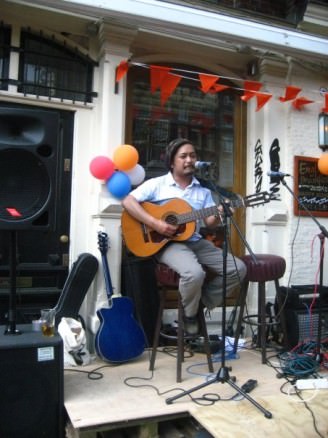 Beginning in 2014, Queen's Day will become King's Day (Koningsdag) and will be celebrated on newly crowned King Willem-Alexander's birthday, April 27th. But since that day will fall on a Sunday, the first King's Day will take place 1 day earlier on April 26th, 2014. Perhaps Bell and I will have to make the short trip over for the new celebration.