After living in Europe for over 6 years, we recently relocated to historic Boston. While we're very fortunate to live in yet another vibrant city, we once again found ourselves in a tough rental market. There are a staggering 46 universities in Boston. So along with good professional jobs, student loans drive up the prices of rentals in this town. Here's how we found our Boston apartment in the Allston area, near Boston University. The two biggest tips we can give is to walk into multiple rental agencies and stay patient to get most of what you want! Here's more tips for renting an apartment in Boston.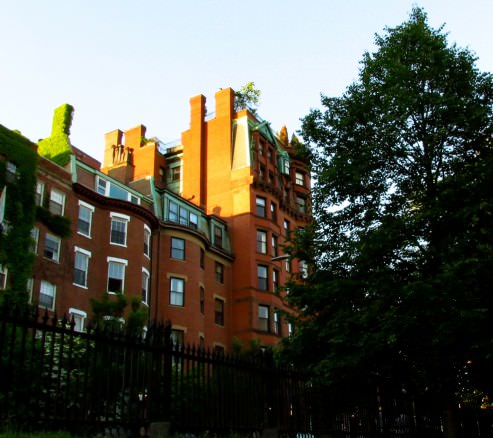 Boston Neighborhoods
The Allston/Brighton area, located on the Green T train line, is young, loaded with cool bars and restaurants and conveniently located to experience all the great things Boston has to offer. Our apartment has a view of the tram and in under 20 minutes we can be at historic Fenway Park and in under 30 minutes be walking around the Boston Common park downtown.
Allston and Brighton are cheaper than areas like downtown Boston, Fenway, Cambridge and nearby Brookline, which has more young families than students. The downside to Allston is that it can be noisy, which we're starting to experience. A big plus, aside from cheaper rent, is that we're saving additional money by not needing a car.
We briefly considered living in the suburban Newton area since Bell's office is located there and we thought we could get better value for our money. But since we don't have children we found the area too far out and apartments weren't any better value than in Allston or Brighton. Areas like Dorchester get a bad reputation but we can't personally comment as we didn't look there. Somerville was recommended to us by a friend originally from Boston but we chose not to look in this area due to it's proximity from Bell's office.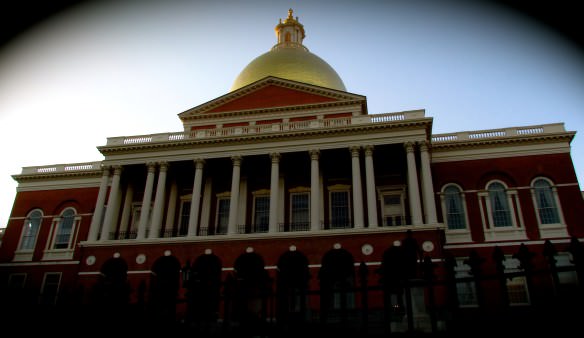 Boston Rental Agency Fees
You can check Craiglist for listings on renting an apartment in Boston and maybe you'll have some luck, but you'll have to sort through some agency listings anyway. We emailed a couple owners off Craiglist about their listings, and gave our number and never heard back.
It's common to see agencies advertise low fee and no fee apartments. But obviously someone needs to pay the fee for the service of showing you apartments. The fee will either be paid by the landlord, you, or split in some form, sometimes down the middle between landlord and tenant. Who pays the fee is stated beforehand. If you see an apartment where you're meant to pay the fee you can try and negotiate this. We found agents willing to discount the fee or landlords willing to meet half way on the fee, when they previously listed the apartment at a fee.
Ultimately, at the apartment we chose, the company who owns the 10 apartment building (Fineberg), paid the entire fee. You only pay a fee if you choose an apartment and sign a lease. But it's very important not to choose an apartment which you were shown by two different agents. If that happens and the other agent finds out, you could legally be required to pay the other agent an entire month's rent!
Real Estate Agencies in Boston
Boardwalk Properties
The Allston and Brighton areas are loaded with rental agencies. Some street blocks have multiple agencies. We were practically right off the plane and lost in front of Boardwalk Properties when we were invited inside by one of their agents. This is a young, busy agency and strangely customers aren't allowed inside the office, like at every other agency we visited.
While we won't name names, the agent we dealt with wasted our time by not showing us enough apartments in our price range, waited a couple days and then began showing us apartments above the maximum price range we initially stated. It's fine to show some properties above the max price stated, but we had better experiences with other agencies.
Uptown Realty
We tweeted about looking for an apartment in Boston and Steve Sapontzis, owner of Uptown Realty reached out, offering to show us places. Steve is a laid back, friendly and well travelled guy. He didn't pressure us at all to make a decision and showed us several apartments that we seriously considered. When we choose none of them, his colleague Kareem showed us a few apartments where the landlord paid the fee. Kareem was also a no pressure solid guy. We ultimately chose an apartment with a different agency, but we'd definitely recommend viewing apartments with Uptown Realty as we would have been happy doing business with them.
Keller Wiliams
In the Newtown area I walked into Keller Williams and dealt with a rather pushy agent. She tried to nudge us into buying, saying that renting was a waste of money. "I own a million dollar house, and I only pay $2,200 per month for my mortgage" she told me. She showed me listings on her computer, but everything she showed me was above our price range. Some of which were houses, which we weren't interested in seeing. "There's not much" she said. She emailed me her listing and suffice to say we never got back in contact with her.
Realty Lords (Update: Permanently Closed)
We ultimately found our no fee apartment at a good price through Sungmin Choi of Realty Lords.We just walked into the office and didn't tell the agent about this website.He met us the following day and showed us around 7 apartments.
Ultimately, we chose the apartment we did for the view (not pictured below). We also appreciated the convenience of living on Commonwealth Avenue, on the B public transport line. Most importantly, the price was at low end of our price range at $1,595 per month. There was also no security deposit (just first and last month's rent). The downside was that we had to wait around 10 days for the apartment to be vacant. The building is around 100 years old, with minimal updates over the years. But in our price range there was no way we were getting everything we wanted.
Prices and Expectations
We were reluctantly willing to pay as much as $1,900 per month, including heat and water (commonly included in Boston apartments). But we weren't shown any apartments we were fully sold on by any agents at that price. If you're not willing to pay a premium, you'll have to sacrifice some amenities or go further outside town. City apartments decked out with modern amenities and natural light are not easy to come by in the $1,800-$1,900 per month price range! You can find a modern apartment in this price range if you're willing to live in the basement, pay an agent fee, or plan well in advance.
Rental Tips Abroad
It was quite the move from Dublin to Boston. Given that we've also lived together in Amsterdam, Melbourne, Australia and Tampa, Florida, we've previously written general apartment rental tips on these places and more. We've published guest contributions from other great travel bloggers residing in countries like Italy, Germany, Spain and the United Kingdom. Bell's mother, who is a property manager in Melbourne, has also shared great rental tips.
Have additional tips or questions regarding renting an apartment in Boston? Feel free to share them in the comments section below!