By Alex Kallimanis: We've been living in Washington, DC for the past year and a half, which has given us the opportunity to cover a lot of the area. While DC isn't typically thought of as a romantic getaway destination, the city hosts many weddings and honeymoons. Here are some of the most romantic things to do in Washington, DC, some of which aren't very well known.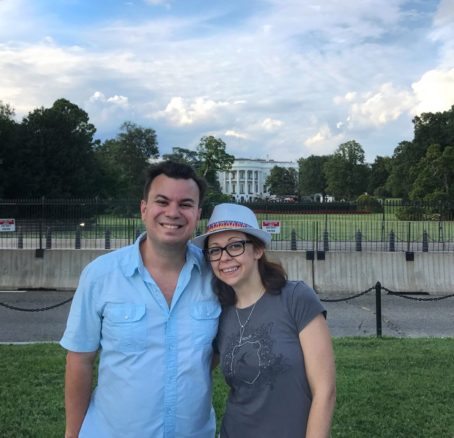 Washington, DC Restaurants We Love
Washington, DC has a fantastic and diverse culinary scene. With so many embassies and diplomats, there are some gems for romantic dinners. Of course, it all depends what you're looking for, as romantic to some is boring for others.
Bistro Cacao is our favorite restaurant for a romantic dinner out in DC. This intimate French restaurant, not far from the US Capitol building, features elegant red drapes covering the booths. They serve authentic French dishes like magret de canard (duck breast from plumped ducks). Chez Billy Sud in Georgetown and Le Diplomate are two other popular French restaurants we've enjoyed. Bistro Cacao is the most romantic of the bunch, and Le Diplomate has the most lively ambiance.
Old Ebbit Grill is DC's longest-running restaurant, featuring beautiful paintings depicting the country's founding. Nearby, The Hamilton DC, run by the same owners, offers a similar experience but with even better service and food (Old Ebbit is always extremely busy). Both elegant restaurants also have a fun vibe so we We love taking guests to them.
There's a lot of great ethnic restaurants in DC suitable for date night. The Georgian restaurant, Supra DC, serves excellent and interesting dishes, like an assortment of delicious khachapuris. Khachapuris are stuffed breads, ranging from vegetarian to spicy pork and beef filling.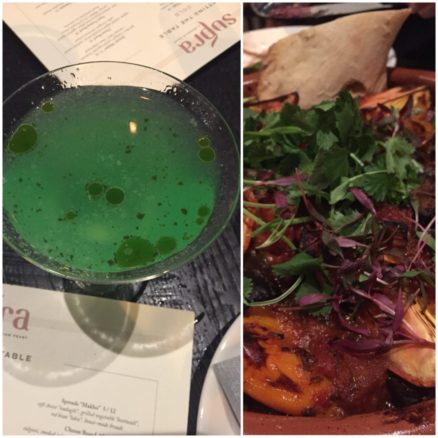 Agora offers delicious Turkish, Lebanese and Greek dishes in an intimate environment that's not pretentious. All the small plates we have eaten there have been excellent. Their kadaifi dessert is one of the best I've ever eaten, and being of Greek descent, that's saying a lot. It is our favorite Mediterranean restaurant in Washington, DC. Flavorful dishes like Karniyarik- fried baby eggplant, ground New York Strip & lamb, Pine Nuts, Garlic Yogurt dot their delicious menu of small plates.
Rooftop Bars
The POV Rooftop Bar, atop the W Hotel is great for a date night, or to hang out with friends. This bar features an excellent view overlooking the White House and Washington Monument. Tables are reserved for those eating, but you don't need a reservation to go up and enjoy a drink. It's especially picturesque just before sunset.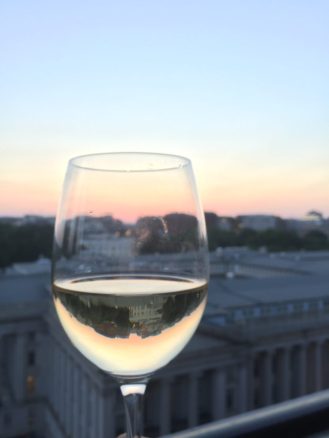 Crimson-DC, in Chinatown, atop the Pod DC Hotel, offers a more casual setting and cheaper prices than the POV Rooftop Bar. Below you can see the archway to Chinatown and off in the distance you can see the Washington Monument. The Pod DC also has a whisky bar in the basement.
Picnic at the Former US Capitol Columns at the National Arboretum
The US National Arboretum is a fantastic place that many who have visited Washington, DC multiple times aren't even aware of. A major highlight is the 22 Corinthian columns were formerly part of the US Capitol Building's East Portico from 1828-1958, before the US government replaced the sandstone columns with marble ones. The Department of Agriculture arranged the old columns in the Arboretum in 1984. Abraham Lincoln, among many others, was inaugurated president in front of those columns. We enjoyed a fantastic picnic there, with very few fellow visitors. Another great time to visit the US National Arboretum is in spring for the Azalea Blossom.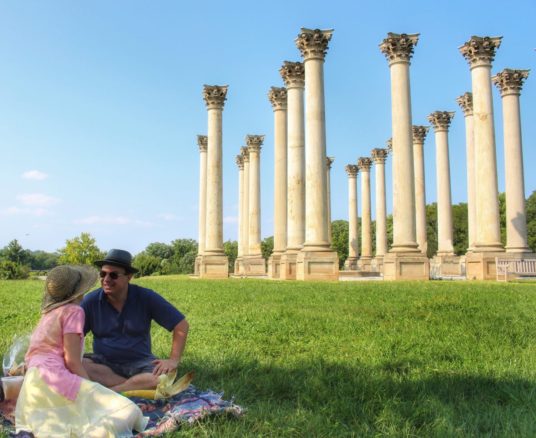 Rent Bikes and Cycle the National Mall, Tidal Basin, Potomac River or Rock Creek National Park
Capital Bikeshare and Lime bikes are two big bike sharing companies in Washington, DC. Capital Bike share costs $8 to start and there are no further charges as long as you return the bike to a station within 30 minutes. Lime offers an even better deal and the rental bikes are station-less, which is an amazing concept. With Lime, rentals cost just $1 for each 30 minutes and you can leave the bike pretty much anywhere you want. Capital Bikeshare has the most bikes along the National Mall as there are several stations. If you're a couple, capital bike share works well to cycle the National Mall. To find bikes, just download the app on your phone and search the area and payments are made through the app or you can pay at the station.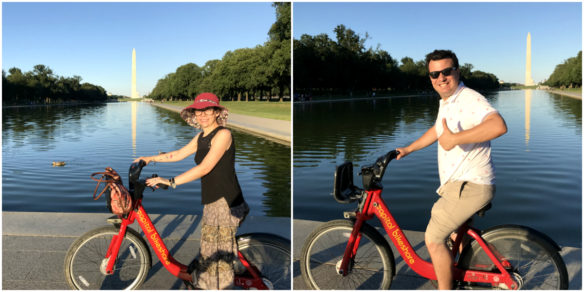 We recently rented bikes and cycled across Washington, DC through Rock Creek Park. Rock Creek Park extends 6 miles from Georgetown through Northwest DC. It's really peaceful and relaxing to cycle along the paths and creeks. The Tidal Basin is another excellent area for a bike ride. Along the Tidal Basin, you'll find the Jefferson Memorial, Martin Luther King, Jr Memorial and Franklin D. Roosevelt Memorial. Grab some deliciously prepared seafood from the Seafood Market for a picnic. It's the oldest seafood market in the country.
Read our article 10 Great Tips for Visiting Washington, DC for our advice that covers museums and other area attractions. We've also written tips on How to Enjoy Washington, DC for Free.
A Fun and Quirky Night in DC
Check out the calendar of events at the Arts Club Of Washington. This beautiful art gallery is the former home of President James Monroe and often showcases great shows. We recently watched a great performance by Washington Magic that included a great buffet dinner and drinks for $65. David Morey and Savino Recine put on an excellent show. The show we saw featured fantastic magic and historical anecdotes by former CIA Director John McLaughlin.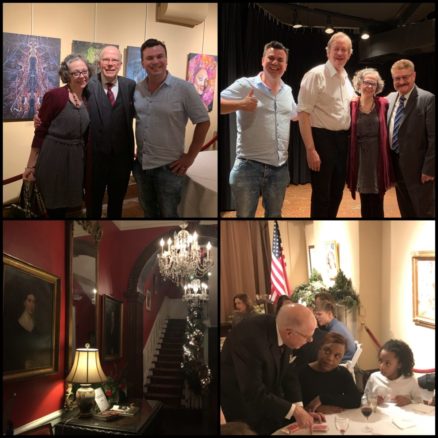 Washington, DC Hotels for a Couples Getaway
Before we moved to Washington, DC we visited several times for work, and have stayed in several good hotels. There's a lot of business conducted Monday-Friday in DC, so visitors can find weekend rates that are sometimes 300% less than during the week! So Washington, DC can make for a nice romantic weekend getaway at a significant discount.
Sofitel Lafayette Square is a great luxury stay near the White House, often with much cheaper weekend rates. Located 1,300 feet from the White House in Washington, D.C., this historic hotel features an on-site restaurant and lounge. Offering French comfort food, Opaline Bar and Brasserie is located on site.
One of our favorite DC stays has been at the Hilton Washington, D.C. Capitol Hill. Located in the center of Washington, D.C, the hotel is within 2,800 feet of the United States Capitol Building and Union Station. Some rooms have views of the US Capitol, so it's worth requesting them!
The Washington Hilton, features an outdoor courtyard and has views of the capital skyline. This Washington, D.C. hotel is just 1.6 miles from the White House. The District Line Restaurant at the Hilton serves handmade cocktails and local American specialties. A large buffet breakfast is served daily. It's near DuPont Circle and Adams Morgan, neighborhoods that are home to some of DC's best restaurants and hippest bars. The Washington Hilton hosts the annual Washington Correspondent's Dinner and is another favorite stay of ours.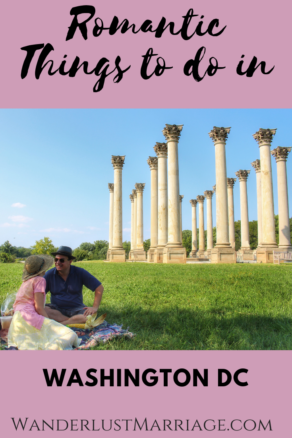 There's a lot of romantic things to do in Washington, DC and the surrounding area, and this list just scratches the surface. If you need additional tips for a visit to Washington, DC drop me a line at [email protected] or leave a comment. Happy travels!
Disclosure: This post contains some affiliate links. If you book through these links we receive a small commission that helps maintain our site and costs you nothing extra.