By Alex Kallimanis: Zanzibar, aka Spice Island, is lined with picturesque beaches and offers a vibrant fusion of cultures. The island was colonized by the Portuguese, Arabs and English and tragically was the center of the East African slave trade in the 1800's.  While the predominant religion is Islam, large Hindu and Christian minorities also reside on the island. Impressive architecture reflects Arab, Indian and African influences. This article covers how to spend one week in Zanzibar.
We recently divided 12 days in Tanzania between Zanzibar and the mainland. Teenagers somersaulting in rapid succession each evening into the Indian Ocean is one memory we'll never forget. Great tours we enjoyed include Prison Island, a spice farm and viewing red colobus monkeys at Jozani National Park.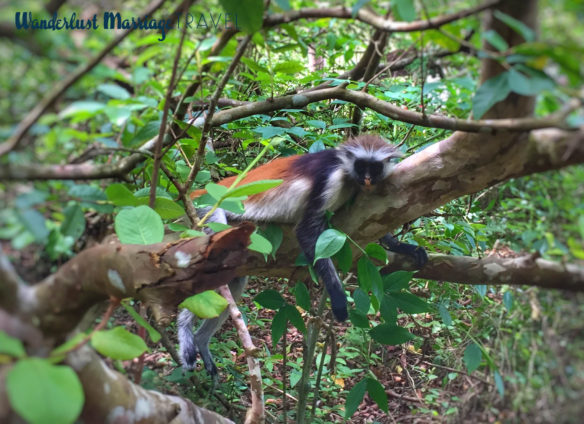 Reasons for Visiting Zanzibar
I won a ticket on Turkish Airlines to any of their 52 destinations in Africa. Ultimately, we chose Tanzania because it's a great country for a safari, and also because of Zanzibar. Anywhere that has a vibrant mix of cultures is usually a great place to eat (Malaysia is another example). Zanzibar is home to many spice farms and its culinary scene has an international influence. Bell was then able to cash in Chase reward points for her ticket, so we only paid taxes for our airfares.
If you're also planning a safari in Tanzania, read about our experience on safari in our previous article. We saw a lot on just a 3-day safari! So it's not necessary to spend a week on safari, unless you really want to.
Tourist Visa for Tanzania
Another reason we chose to visit Tanzania was that we could pay for the tourist visas on arrival. This is with USA and Australian passports, respectively. The cost for US citizens is $100 USD and automatically grants multiple entries within 90 days. That's good if you decide to hop over to Kenya and return to Tanzania. The cost is $50 USD for Australian citizens which is good for a single entry within 90 days.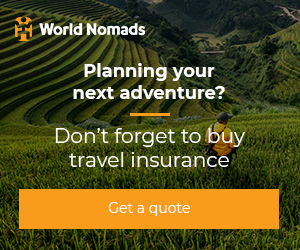 Check the Tanzania Embassy website for information on tourist visas. Some nationalities don't need a tourist visa for Tanzania, however, for most nationalities the cost is $50 USD. Previously, you were only able to pay for the Tanzanian visa with cash. This has recently changed and we were asked to pay with a credit card when we arrived at Zanzibar Airport.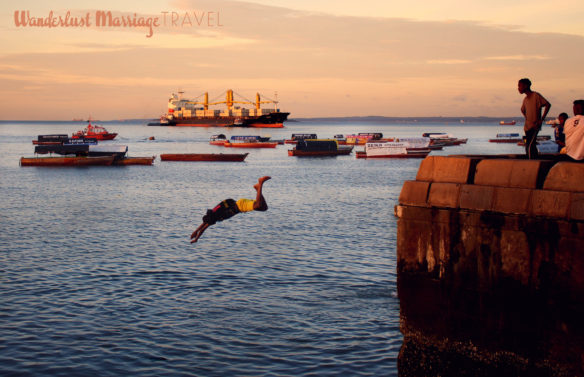 Where to Stay in Zanzibar City (Stone Town)
Tembo House Hotel
We spent three days overlooking the Indian Ocean in Zanzibar City at the 4 star Tembo House Hotel in the historic center (Stone Town). The downside of flying Turkish Airlines into Zanzibar is that the flight arrives in the middle of the night.
We emailed Tembo House Hotel in advance and arranged an airport transfer, though did not pay for a room that night. When we arrived we found our ride and the staff set us up in an upstairs common area. We were able to enjoy watching the sunrise over the Indian Ocean from their terrace.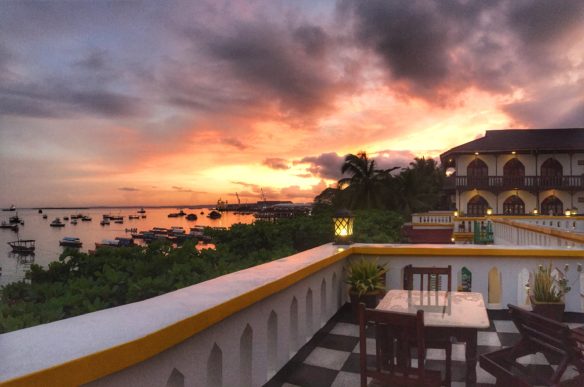 We also had a beautiful view of the ocean from the balcony in our room. The hotel is a relaxing and picturesque oasis in a bustling little town. Wifi is available in the rooms, which also have air conditioning units. While this is a dry hotel, it's right next door to the Livingstone Beach Bar that features nightly happy hours and awesome live music.
Buffet breakfasts are included at Tembo House and feature a wide range of popular western choices like made to order omelets but also include more local favorites such as curry and noodle dishes. They even serve spice coffee. Breakfast pairs wonderfully with the amazing oceanside view. Combined with the Arabic architecture, you really feel like you're staying in paradise. Yet Stone Town is right outside their front door!
A couple of other great choices in Zanzibar City are Zanzibar Serena Hotel and the Doubletree by Hilton Zanzibar. Both hotels have seaside locations and are conveniently located in the heart of town. It's nice to be walking distance to cafes, restaurants and attractions in Stone Town.
Prison Island (Changuu Island)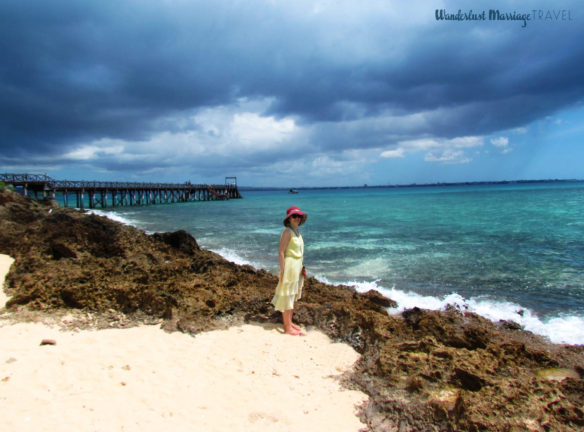 Changuu Island is a tiny island 5.6km off the coast of Zanzibar City. In 1860 a prison was built to house rebellious slaves, hence the name Prison Island. Shortly after the prison was built, the East African slave trade was formally abolished. So for a time, the island served as a place to quarantine yellow fever patients.
Today Prison Island can be reached on a small boat, which can easily be organized by your hotel when you arrive. Asides from being extremely beautiful, Prison Island is home to a well maintained Tortoise Sanctuary. It's worthwhile to pay a little extra for a licensed guide when you arrive as you'll learn more about the island. They are also happy to snap pictures of you around the island!
Giant Aldabra Tortoises of Changuu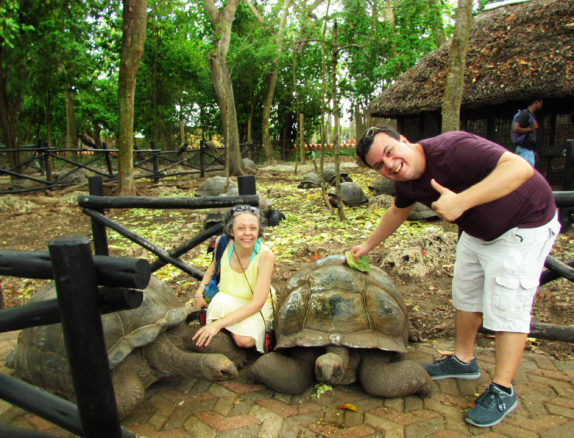 In 1919 the British governor of Seychelles gifted four Aldabra Giant Tortoises from the island of Aldabra. The Giant Tortoises have been well looked after over the years, as there are now over 80 of them. The oldest tortoise is nearly 200 years old, and our guide informed us that he still does "Bunga Bunga",  if you get the drift! Don't dare do something silly like sit on a tortoise for a photo as you'll be subject to a hefty fine and even possible prison time. You're free to pet them and feed them cabbage leaves though!

Stone Town (Zanzibar City)
Centuries of history await visitors in Stone Town. Spend some time strolling the narrow alleys during the day. Many small shops sell African crafts. If you go inside, expect a little pressure to buy from shop keepers. Be sure to negotiate on their asking prices.
Arab Fort (Ngome Kongwe)
The Arab Fort dates back to the 17th century. Inside there's a market where you can pick up handcrafted items and souvenirs. Be sure to bargain here too as you can get a much better deal than the initial asking price – just remember to be fair as well as an extra dollar goes a long way for that store owner.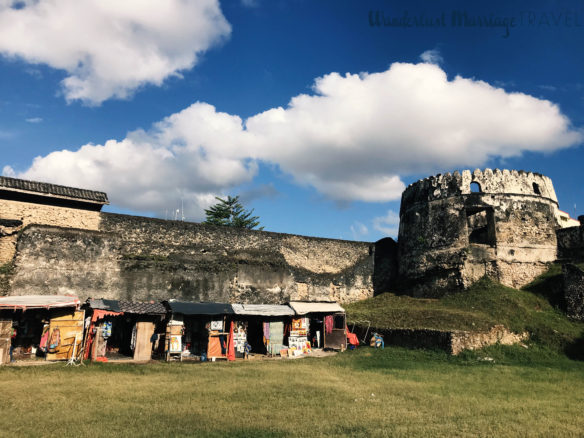 Old Slave Market and Christ Church Cathedral
Visiting the Old Slave Market is a must in Zanzibar City. Stone Town was the base of the East African Slave Trade. One of the last open slave markets was held here until slavery was formally abolished in 1873. The museum has a lot of information on the subject in English. One of the most powerful monuments you can see is housed there. It depicts slaves with original chains that were used on actual slaves in the 1800s.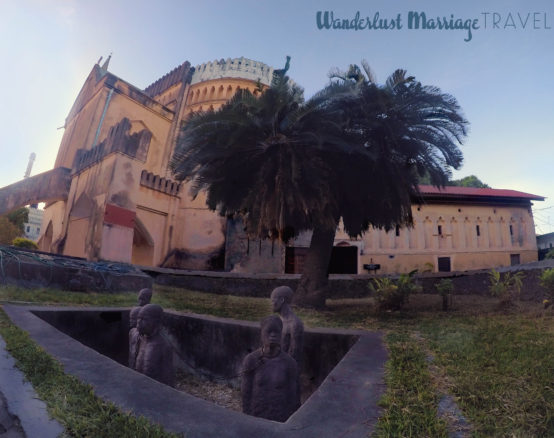 While on the grounds, visitors should also go inside Christ Church Cathedral. Completed in 1879, it is one of the most prominent examples of early Christian architecture in East Africa. It belongs to the Anglican Church of Tanzania. Just in front of the alter a small round piece of marble marks the spot of the main slave whipping post.
Night Market at Forodhani Gardens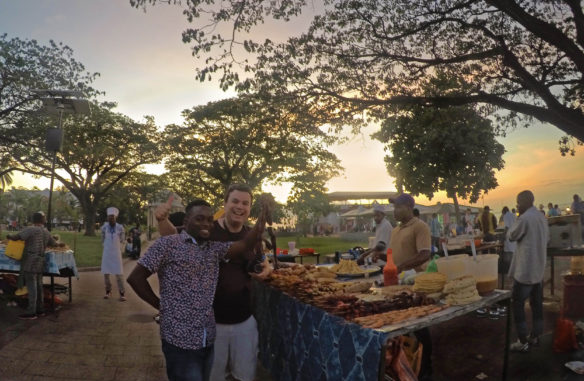 It's worth at least having a look at the Zanzibar Night Market. Several of the vendors will really try and push their seafood, but if you don't want it, just politely decline and move along. It was tempting to try some seafood, but we were eating more conservatively ahead of our safari. However, we made an exception for what ended up being one of the most delicious things we ate during our trip, which was the Zanzibar pizza. It's basically like a made to order savory crepe filled with ground beef, freshly fried egg, vegetables and spices.
Freddie Mercury House
The lead singer of Queen was born in Stone Town. His childhood home is right in the center of town. It is currently privately owned and not open to the public. But it's one of the most popular places in town for photos by the front door.
Where to Eat and Drink in Stone Town (Zanzibar City)
Zanzibar Coffee House
Tanzania is a major coffee producer and Zanzibar has a number of great coffee shops. We recommend lunch and coffee at Zanzibar Coffee House. If you enjoy spices, be sure to try their spice coffee, a local favorite. They also serve a range of dishes from French toast to sandwich wraps.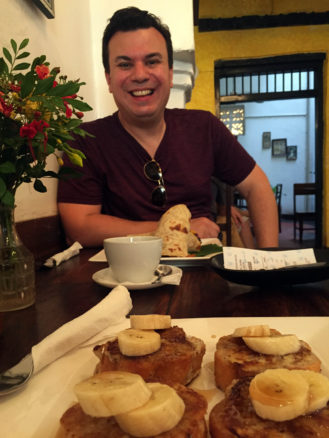 Maru Maru Hotel
Maru Maru Hotel has a great restaurant on their rooftop. We recommend going for lunch as you can enjoy a great view of Zanzibar City and the Indian Ocean. Adjacent to the restaurant is a rooftop pool. Former US President Clinton's daughter Chelsea has stayed there, and you can see a photo of her with staff displayed in their stairway.
Livingstone Beach Bar
Go to Livingstone for happy hour or for their live music. They also have a kitchen which is just OK. Plan to eat elsewhere and go for a drink or two to enjoy the vibrant beats of Africa.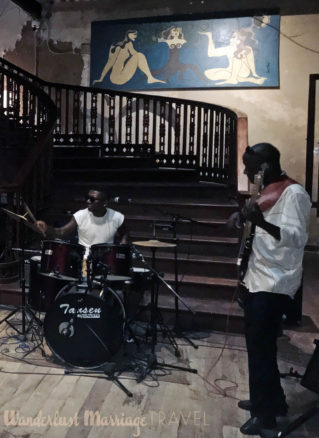 Spice Farm Tour
We booked our spice farm tour directly through the front desk at our hotel. Given that Zanzibar is a major exporter of spices, especially cloves, this is a quintessential tour to take.
We enjoyed inhaling fragrant spices like cinnamon and nutmeg right off the trees. We also tried a Zanzibar apple for the first time, which is a pinkish white color. Its flavor is like a cross between an apple and a pear.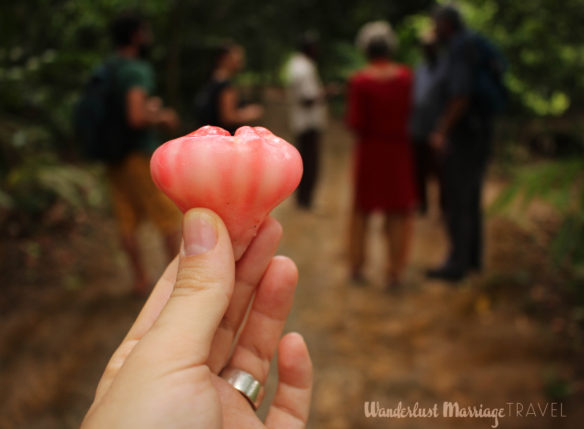 The spice tour also offers the opportunity to see more of Zanzibar village life. Following the tour, we visited a couple of stalls in very small villages. Visitors have the opportunity to purchase oils made from the spices for prices significantly lower than shops back home. We bought several spice packets including tandoori and pilau. Pilau is a popular local spice blend that we highly recommend purchasing to take home.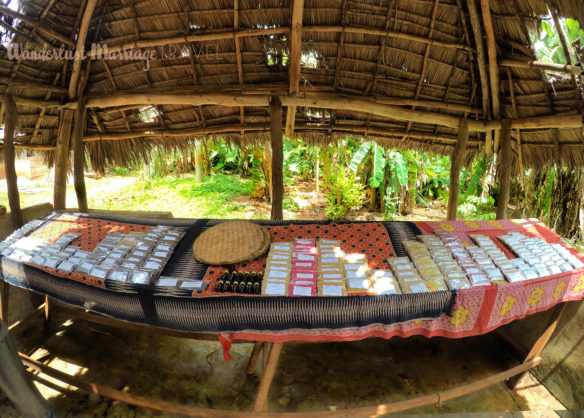 Getting From Stone Town to the East Coast of Zanzibar
It takes around an hour in a taxi to reach most destinations on the east coast from Zanzibar City. It is on the east coast that you'll find the famed white sand beaches with turquoise water. Expect to encounter several security checkpoints on your during across the island, where local officials are checking registration papers. For this reason, we don't recommend renting a car or motorbike in Zanzibar as visitors have been known to encounter some issues with the local police. Some German tourists at our hotel had some problems regarding licenses when they rented motorbikes. We didn't have any issues in the back seat of taxis that were arranged through our hotels.
East Coast of Zanzibar
Paje Beach to Bwejuu Beach
With its beautiful beaches, the east coast of Zanzibar is all about relaxing. There are several popular destinations on the east coast. Staying somewhere like Paje Beach is a great choice if you want to be very close to a variety of restaurants, cafes and bars. We decided to stay 6 km north of Paje, with a quiet view of Bwejuu Beach at Bellevue Guesthouse.
We arranged a taxi through the guest house to take us to Paje Beach. Mr. Kahawa in Paje Beach has a lovely beachside terrace perfect for lunch and coffee. Both the meatball masala with rice and seafood cakes with salad are great choices. Lap up the ambiance of paradise there.
After lunch, we walked 6km along the beach back to our accommodation in Bwejuu Beach. There are many beach bars, restaurants and accommodation options between Paje and Bwejuu. You may even encounter a herd of cows on the beach as we did!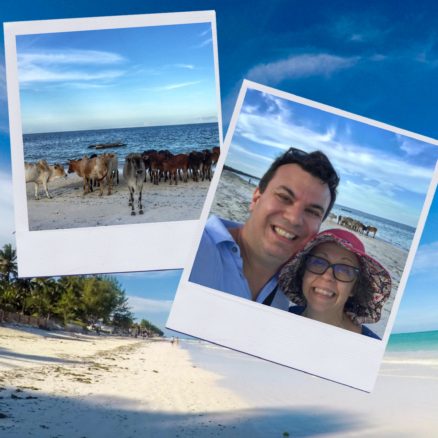 The tide on the east coast recedes quite some way, which some find disappointing. However, you can walk out at low tide and enjoy discovering the sea life in the shallow waters and rock pools. We were lucky enough to watch a beautiful moray eel swimming around in the shallow waters!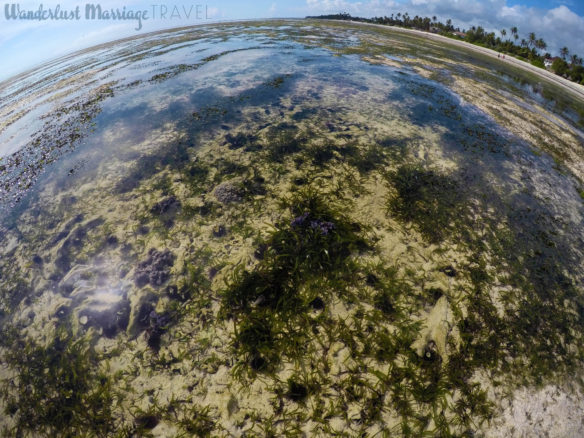 Zanzibar Tours: Red Colobus Monkeys at Jozani – Chwaka Bay National Park
Jozani -Chwaka Bay is the only national park on Zanzibar. You can take an afternoon tour to see red colobus monkeys. We organized this tour through our hotel when we arrived.
It is cute and entertaining to watch the red colobus monkeys swinging in the trees. They're used to visitors and you get pretty close to them during this tour. Like all wildlife in national parks – please don't feed them.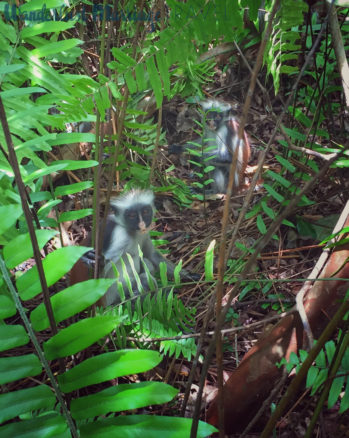 We also recommend wearing proper footwear (or at least not flipflops) on this tour as there are a lot of fire ants, which seemed to enjoy biting Bell. So watch where you step as well! Jozani Forest is also home to the lethal green mamba snake. We were glad we did not see one of those.
Staying on the East Coast of Zanzibar
Bellevue Guesthouse
We spent three days on the beautiful white sand beaches off the east coast at Bellevue Guesthouse. Bellevue is a lovely establishment on Bwejuu Beach, owned by a Dutch family from Amsterdam. The property features different bungalows, some with views of the sea. We organized a taxi pick up with them in advance. So they had one of their preferred taxi drivers pick us up from Tembo House and take us across the island for $40 US.
Deluxe Suite/Honeymoon Suite
We stayed in the Deluxe Suite/Honeymoon Suite at Bellevue. It features lovely African decor in the room. We also enjoyed the private swing on the balcony, with a beautiful ocean view. The room has a king-size bed and a single bed, both with mosquito nets. There is a spacious en-suite bathroom with a shower and a western-style toilet. The suite has a ceiling fan, standing fan and a room safe. Note: there is no air conditioning and it can be warm at night depending on what you are accustomed to.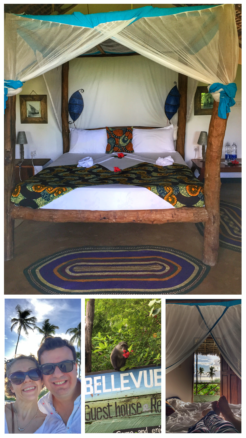 Bellevue Guesthouse Kitchen
Bellevue Guesthouse takes their kitchen seriously. I loved the seafood feast Bell organized as part of my 40th birthday celebration. The seafood feast included a generous helping of crab, lobster, 4 king prawns, 2 tuna steaks and delicious sides. For the equivalent of around $45 US, that's so much cheaper than the cost in most places. Just let the staff know 24 hours in advance if you want to order this. Highly recommended for a special occasion or just a romantic dinner.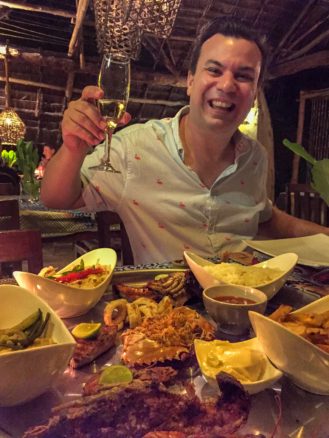 The kitchen prepares Flemish style fried potatoes similar to the best Vlaamse frites you'll eat in Holland or Belgium. The outdoor dining terrace also offers a great opportunity to meet guests from around the world. On our last night after dinner, several of us pushed our tables together to chat over beer and wine. There were guests from the United Kingdom, Germany, Russia the United States and Australia.
Bellevue Guesthouse Pool
We also loved the pool that overlooked the forest down to the beach. One evening we were swimming in the pool and looked up to see monkeys swinging from the trees. That was a first for us, and really added to the exotic experience.
Local Food to Eat in Zanzibar
Pilau Rice
Pilau is a very popular spice mix in Zanzibar. It is a mix of cumin, cinnamon, black pepper, cloves, cardamom and garlic. Pilau rice is commonly found on Zanzibar menus and it's a must to try. We have also enjoyed using the pilau spice packet we purchased in Zanzibar to cook pilau rice at home.
Ugali
Ugali is the most common staple dish in East Africa. Zanzibar restaurants commonly offer it as a side item choice. Made from maize flour, it has a texture similar to mashed potatoes crossed with polenta. It accompanies many of the well-spiced sauces in Zanzibar really well.
Octopus Curry (Mchuzi Wa Pweza)
Visitors can find this dish everywhere from luxury hotel restaurants to street stalls. The octopus is simmered in creamy coconut gravy, with spices like coriander and turmeric. We tried this dish for dinner at Tembo House and really enjoyed it.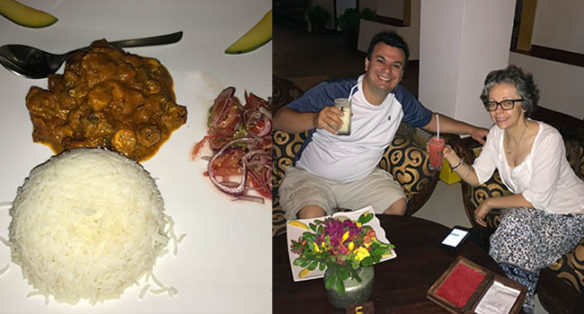 Biryani ya Zanzibar
Biryani is a popular dish around the Middle East and South Asia. Rice is prepared Zanzibar style, with a variety of spices. It typically comes with fish curry, beef or goat.
Date Nut Bread
Date Nut Bread is made with pieces of dates and walnuts. It's a tasty choice for an exotic local breakfast.
Zanzibar Pizza
Zanzibar pizza is made with a mix of egg, minced beef, mayo and vegetables. It's then wrapped in a thin dough and fried on both sides. You can find this island favorite at the Forodhani Night Market or from street vendors in Stone Town. Zanzibar pizza's only cost 4,000 Schilling, which is under $2 US dollars.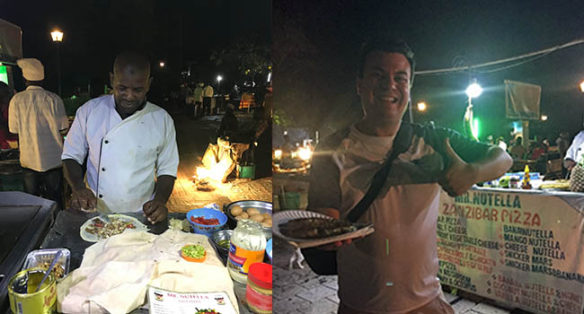 Traveling From Zanzibar to Mainland Tanzania
Several airlines connect Zanzibar with the capital of Dar Es Salaam, along with Arusha and Kilimanjaro Airports. You can also catch a ferry from Zanzibar City to Dar Es Salaam. We flew with Precision Air. They have the best ratings and costs just a bit more than the other airlines. Plan to arrive at the airport a minimum of 2 hours in advance for domestic flights. Zanzibar Airport is small but we were advised at our hotel to do so because the airport has been known to take that seriously.
We flew from Zanzibar City to Arusha on Precision Air the day before our safari with Caracal Tours & Safaris Tanzania. Using a Priority Pass, we were both able to access the lounge at Zanzibar Airport. Several credit cards offer a complimentary Priority Pass. If you need tips on travel hacking, leave a comment below or drop me an email at alex (at)wanderlustmarriage.com
What to Pack
It can rain a lot in Zanzibar, so be sure to pack a lightweight raincoat and waterproof shoes. If you are traveling with cameras and laptops you will want to pick up some desiccant packets, which are those little packets often found in new product shipments to absorb moisture that say "do not eat". Have a good waterproof bag for your equipment too.
Wifi in Zanzibar is notoriously spotty so most travelers find the best connection in cafes or hotels. Installing a VPN before your trip can help make sure that you're protected from anyone else that might be using the public network, plus it lets you keep watching any shows or movies you've been keeping up on back at home from the comfort of your own hotel room. Cheap date night? Check.
The residents of Zanzibar are primarily Muslim. While you don't have to be fully covered if you're a female traveler, consider wearing longer shirts and tops. For tips on packing specifically for safari, check out our article What to pack for a Tanzania safari.
Bring US dollars
The Tanzanian Schilling is pegged to the US dollar. Sometimes you can get a better deal paying with US dollars. Bring newer US bills if possible. 1 US dollar currently trades at around 2,300 Tanzanian Schillings.
Zanzibar Recap
Zanzibar is a wonderful destination for an adventurous romantic getaway in Africa. The beaches, spice farms, wildlife and unique cuisine offer plenty to experience during a weeklong trip. The multicultural Tanzanian island is a wonderland of holiday destinations mixed with intrepid experiences. It's an ideal gateway to dip your toes into sub-Saharan Africa before embarking on a safari on the mainland.
If you have questions about visiting Tanzania, leave a comment or email me at [email protected] and I can assist you!
Disclosure: This post contains some affiliate links, but stays mentioned were paid in full by us. We receive a small commission when you book through affiliate links, and it costs you nothing extra. Thanks for supporting the free content you've read!