Bell and I provide some helpful tips (sometimes), partly because we tell you NOT to do what we did, because we do screw up sometimes– in everything from transport, to accommodation to restaurant choices. One our best screw ups came on our recent trip to Bordeaux this summer, causing us to almost miss our flight back to Dublin. Suffice to say, almost missing your flight is stressful, and people should try and be nice to one another in these circumstances!
Double Check Public Transportation Routes
We like to stay in apartments when possible, but as there weren't so many cheap options in Bordeaux, we booked the IBIS Meriadeck as it was a good deal. Unlike many cities in Europe, Bordeaux's Mérignac Airport isn't connected via train and the only public transport options are by bus.
When we arrived we caught the bus from the airport into town and walked 10 minutes to our hotel. But upon checkout we were informed by the receptionist that we could catch the tram out front, which was more easily accessible and comfortable, for much of the journey before disembarking and then catching the bus. It was great advice, except we mucked it up!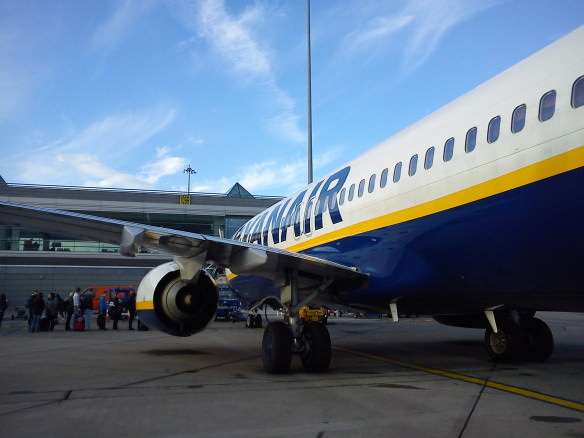 We were informed the journey was easy and we left with plenty of time for the 45 minute-1 hour journey to the airport. We boarded the nicely air conditioned tram and found seats and thought to ourselves how much better this was then being on the crammed bus, with inferior air conditioning. We were quite comfortable and content.
Going the Wrong Direction on Public Transportation can Case you to Possibly Miss Your Flight
After 25 minutes on the tram it was time to get off, and as the tram line runs in the middle of the road we both casually assumed we would catch the bus in the same direction. Incredibly, neither of us even bothered to check. And I did wonder why I saw a bus that said Mérignac Airport going in the other direction, that's weird, I thought.
So we boarded the hot bus and were glad we didn't have as far to go to get to the airport- so we thought. We sat and I wondered why I saw a sign posted saying that we were leaving the Mérignac district. But I shrugged it off as I assumed we were just temporarily leaving. The bus was going in the same direction as the tram, previously, so we must be fine. Bell and I casually chatted away…
After 20 minutes we began panicking as we noticed the buildings getting older. And our hearts really started racing when we saw the billboard for the Meriadeck shopping center up ahead. We had spent nearly an hour on public transport to end up almost where we started! We got off the bus in the shopping district and ran into the closest hotel, a Mercure.
Emergency Plan: Order a Taxi or Uber
We asked the reception to please ring a taxi and ask that they come as soon as possible as we might miss our flight. Unlike Dublin, there are hardly any taxis in Bordeaux and we were told it would take a taxi 15 minutes to arrive. Holy crap, we'd royally mucked up!
Our moods had quickly gone from calm and collected to freaking out. How did we both make this incredibly stupid mistake that could cost us hundreds of euros?!? The 15 minutes we spent waiting for the taxi felt like an eternity. When he finally arrived we told him to please hurry (not to give us yet another extended tour of Bordeaux) as we might miss our flight. He obliged by even speeding a little and when we arrived at the airport with just over an hour until our flight departed, he wished us luck. 

Bell ran to get in the Aer Lingus line while I collected our things and paid the taxi driver. To our amazement there was no line to check in, and airport security was 50 meters from the check-in desk. Also with no line. We checked in and went through security in under 10 minutes, a travel record for us. We were very lucky Bordeaux airport is so small!
Smart Phones are a Huge Help Now
Travel is easier than ever now. Use the GPS on your smart phone and follow it closely. Make sure the blue dot is heading towards the airport and not the opposite direction.
If you're heading in the wrong direction and are short on time, hop off. Order an Uber or another ride sharing service if Uber is not available in that country or area.
Always Missing a Flight Lessons
So there's 2 lessons here: 1) this is a great example of why you should plan to be at the airport early. Anything can happen, including royally screwing up, like us. 2) Always check the direction of public transport on both the sign posted at the stop, and the bus or tram itself!! We thought we were smarter than this, but we weren't. Please feel free to share a great travel misadventure that caused you to almost miss or miss your flight!