Edinburgh, Scotland is home to one of the world's most amazing castles, and an abundance of the world's finest whiskys. Scotland has a rich history of quality whisky production, with great distilleries around the country. So not surprisingly, the largest collection of whisky in the world can be found at the Scotch Whisky Experience in Edinburgh!
Scotch Whisky Experience on the Royal Mile
Conveniently located near Edinburgh Castle, the Scotch Whisky Experience is a multi-faceted whisky journey. The tour begins with a whisky barrel ride, with the ghost of a famous distiller guiding you through the process of whisky making. For anybody that ever rode the old Haunted Mansion ride at Disney World, this will remind you a little of that journey- except that this isn't about a haunted house filled with ghastly ghouls, but about the magic and history of Scotch whisky.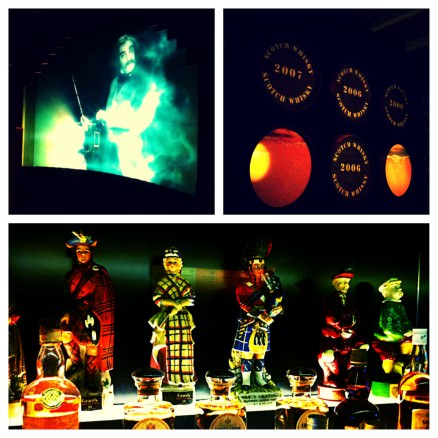 While I enjoy a good whisky on occasion, Bell never had the same appreciation. Previously, every time she tried a sip of my whisky she would cringe and grab a glass of water. She decided to go along with this tour for me, because she knows how I complain when I get dragged along to things I'd rather not do. But along with teaching both of us about whisky, Bell surprisingly managed to find an appreciation for the taste of a nice Scotch. "The reason I didn't like whisky before was because I had only tried bad whisky" she said.
Different Types of Scotch Whisky
Scotch whisky is categorized under 6 regions of Scotland- The Highlands, Lowlands, Speyside, Islay, Campbelltown and the islands. Speyside features the most distilleries and a visit there is similar to visiting a popular wine region. All have varying flavors that appeal to different tastes, especially when you factor how long they have aged in various types of casks. We enjoyed learning about the different regions and varieties of Scotch whisky. General admission to the tour (silver tour) includes two samples. You can choose the gold or platinum tour, which includes more tastings.
World's Largest Collection of Scotch Whisky
The highlight of the tour was being led into a magnificent showroom of whiskys, some dating back a hundred years. The room actually houses the largest whisky collection on record- a staggering 3,384 bottles of whisky purchased by Diageo from a Brazilian man named Claive Vidiz, who amassed his incredible collection over a period of 35 years. Upon selling his collection to Diageo in 2008, Vidiz said "It is also wonderful to see it safely back in Scotland. We have an expression in Brazil, 'the good son returns home', and in my view the collection is back with its family now." Suffice to say, we could not have asked for a more fitting place to enjoy our drinks, as we were truly in a whisky lovers paradise.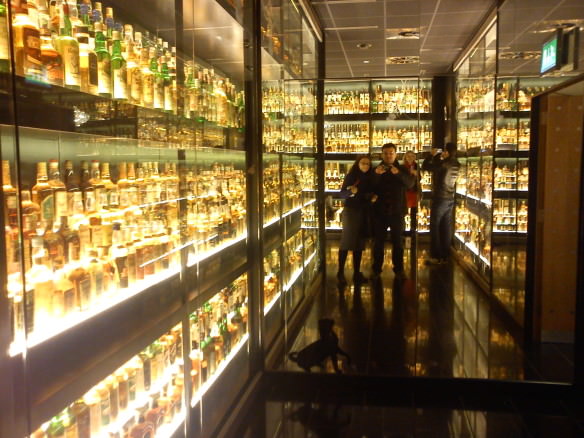 Our tour guide was absolutely lovely and not at all pretentious, making this a tour that everyone can feel comfortable on. After exiting the whiskey showcase room, we were led into the whisky bar that also featured an entire wall filled with an abundance of incredible whiskys. At this point, those that purchase the option to sample whiskys from all of Scotland's regions can go to the bar and grab a table with a wonderful view of Edinburgh outside the window.
The Scotch Whisky Experience also has a large gift shop with a big selection of whiskys and whisky related memorabilia to purchase. So you can also swing by to purchase a gift.
Amber Restaurant
The Scotch Whisky Experience has a restaurant downstairs called Amber Restaurant. Unfortunately, Bell and I were on a tight schedule and did not have the opportunity to eat at Amber. Amber Restaurant offers modern Scottish cuisine in a stylish casual-dining environment. For a special occasion, you may want to consider booking the Taste of Scotland Tour, which includes a 3-course dinner at Amber.
Scotch Whisky Experience Recap
If you visit Edinburgh, and have even a remote interest in whisky, the Scotch Whisky experience is worthwhile. There are no active distilleries in Edinburgh. So over a weekend visit, you may not have time to tour one. Bell and I were only in Edinburgh for three days, so this was perfect for us. Also, Bell did not even like whisky before this tour. Turns out, she just did not like mediocre whisky.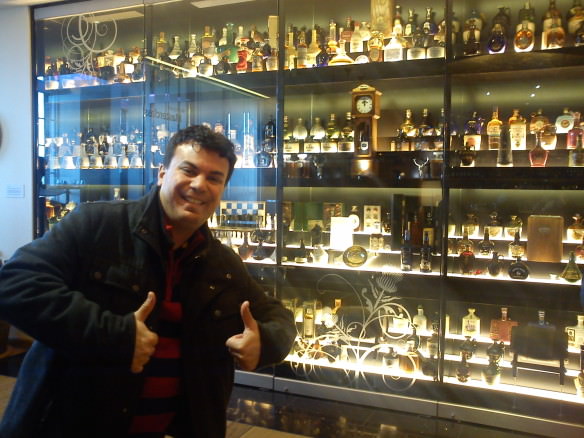 Scotch Whisky Experience
Address:
354 Castlehill, Edinburgh
Times:
First tour 10:20am, last tour 5:00pm (5:30pm Saturday and Sunday)
(Approximately 1 hour for the Silver Tour)
Cost of Silver Tour: Adult £16, Concession £14, Child (6-17years): £8,
Family (2 adults and 2 children): £39
Gold Tour: £28 for adults
Platinum Tour: £39 for adults
Taste of Scotland: £75 for adults (3 hour experience that includes a 3 course meal at Amber)
Edinburgh Places to Stay
Hotel prices in Edinburgh can vary wildly. Weekends in summer months and during holidays will be more expensive. Visit in the offseason to save money. It depends on your budget, but you'll often find the best hotel deals on booking.com. Book a room in advance with free cancellation!
Families and groups of friends, especially, will find the best value on short term apartment rentals. If you've never used Airbnb, sign up here and receive a discount off your first stay! Be sure to only book places with consistently good reviews.
More of Our Articles on Edinburgh
How Not to Climb Arthur's Seat
Haggis and Whisky Feast in Scotland
Travel to the United Kingdom Cheap
Play the credit card points game and use bonus point sign ups for free plane tickets! We frequently cycle through travel reward card bonuses, which helps to save us thousands each year on travel. Often times, the sign up bonuses are worth $600 or more – often $1,000+ when you cash in airline miles.
The best travel rewards offers frequently change throughout the year. Feel free to leave a comment below or email me at alex(@)wanderlustmarriage.com if you have any questions on visiting Edinburgh or travel hacking. 
Disclosure: VisitScotland, provided us with media passes for free attractions around Edinburgh, including the Scotch Whiskey Experience. However, this article reflects our genuine opinion and includes our photos. This article also contains some affiliate links. We receive a small commission when you book or sign up through these links and it costs you nothing extra. Thanks for using them!