By Alex Kallimanis: Last month, in our article, Travel Hacks to Save Big Money, we mentioned the Barclays AAdvantage Aviator Red World Elite Mastercard. They're currently offering 60,000 American Airlines miles for new sign-ups until April 30th, 2019. This is an especially great deal since you only have to make one purchase and the annual fee is just $95. I just booked a roundtrip flight to Italy in June that cost a total of $147 including that annual fee. We get nothing in return for plugging this particular card, but it's such great value that I want to cover this in depth.
How Long Does it Take to Get the American Airlines Bonus Miles?
Some travel rewards cards require a higher spend that you need to meet, which can take time. With the Barclays AAdvantage Aviator Mastercard, expect it to take 60+ days to get your miles after your first purchase (all that's required). It took around 60 days for the bonus miles to be deposited into my AA AAdvantage account. But it could take a little more or less time. Bell is actually still waiting on her bonus miles and we signed up the same day. Make sure to make your one purchase as soon as you receive your card if you want the miles as quickly as possible.
American Airlines Economy Main Cabin Awards Chart
Below is the American Airlines award chart for their economy cabin. Short flights within the US start at 7,500 miles (but there's economy web specials starting at 5,000 miles) each way. Longer flights within the US, Caribbean, Mexico and Central America are priced at 12,500 miles each way. Within Europe, flights start at 22,500 each way during off-peak. Flights to Asia start at 32,500 each way during the off-season.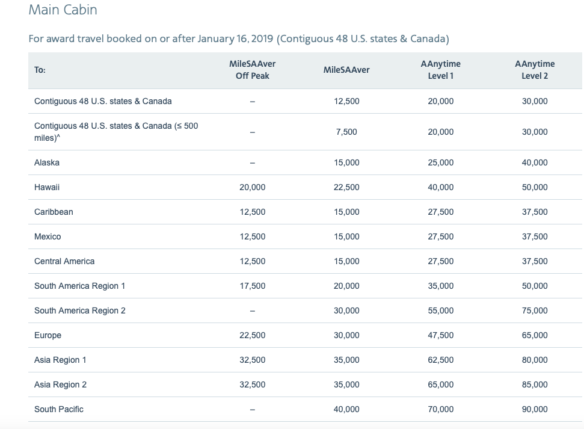 Economy Web Specials
Despite their published chart, American Airlines also offers economy web specials on many routes. With economy web specials you can score flights for as low as 5,000 miles each way. Many routes are possible for 5,000 miles each way, but most are under 500 miles. If you're flexible with dates, AA's calendar shows you which dates are cheapest to redeem miles. Here's an example showing open availability for 5,000 miles each way on flights between Washington, DC and Boston in June.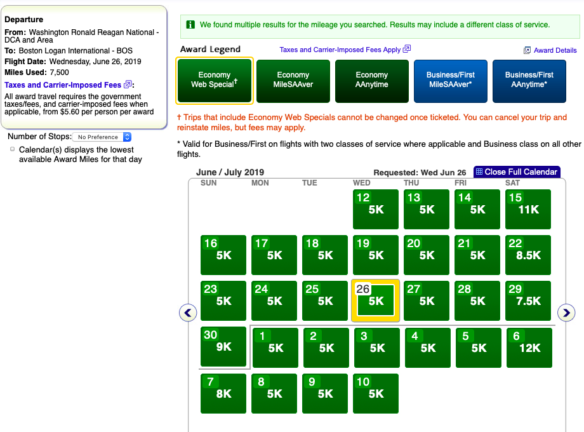 American Airlines Premium Economy Awards Chart
Premium Economy offers more legroom and complimentary beer, wine and cocktails. For 50,000 miles roundtrip, you could travel to Alaska in Premium Economy. That's an idyllic destination for outdoor enthusiasts, and you can keep 10,000 miles in the process.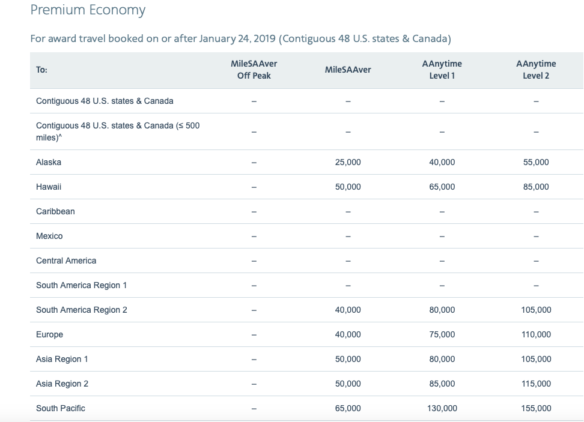 American Airlines Business/First Class Award Chart
There are actually quite a lot of options for traveling up front on American Airlines. I've previously flown Delta business class and  covered that in the past. Business class flights on short routes are listed for 15,000 miles each way within the US. For longer routes they start at 25,000 miles each way. You can fly to some destinations in the north of South America for 30,000 AA miles each way, which is a great deal. One way to Europe in business is listed at 57,500 miles.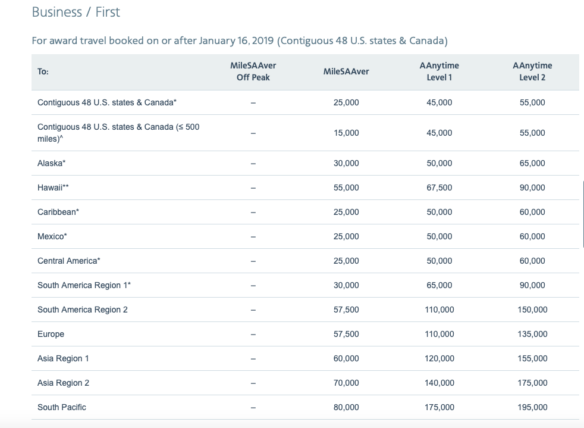 Maximizing American Airlines Miles
Key Points
Flexible leisure travelers can really look to take advantage of the 5,000 mile economy web specials.
You can potentially fly up to 6 short roundtrip flights within the US with a 60,000 mile bonus on economy web specials.
Peak Travel to Europe: 60,000 American Airlines miles roundtrip
Travel to Europe in summer is pricey, and listed at 30,000 miles each way in economy. That maxes out the 60,000 mile bonus, but worth it if you really want to do the trip because the plane tickets can be well over $1,000 otherwise.
Off-Peak Travel to Europe 45,000 Miles Roundtrip
If you really want to maximize the card bonus you can travel to Europe in the offseason for 45,000 miles roundtrip and keep 15,000 miles for another trip.
Business/First Class Travel to South America
Some destinations in South America are available for 30,000 American Airlines miles each way. That's very appealing for a trip there.
American Airlines Miles to Asia
I'm also considering an upcoming trip to Japan with miles, so I also searched for this. As their award chart states, the price is listed at 32,500 miles each way.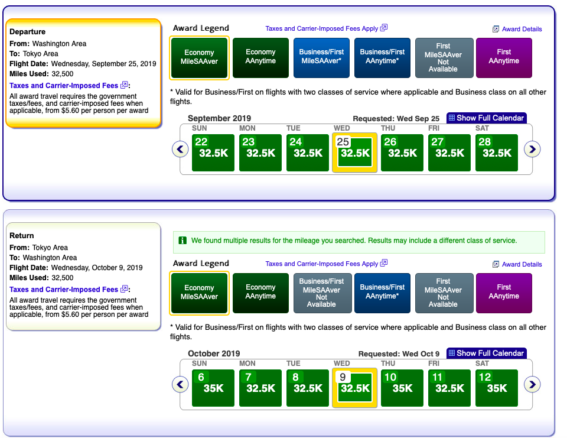 For those interested in Asia trips, you can earn the additional 5,000 miles (without even flying) by using the travel rewards card for everyday purchases.
New American Airlines routes from the US to Europe in 2019
Here are all the new routes to Europe on American Airlines: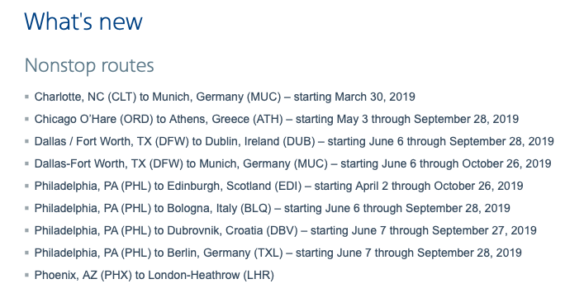 Among many, AA has new upcoming routes from Philadelphia to Dubrovnik, Croatia and Philadelphia to Bologna, Italy. I booked a flight on the upcoming AA route to Bologna (near Florence) for 60,000 miles and just $52 in taxes! Flying from DCA airport, I appreciate that you only have to make one connection each way. When paying out of pocket, it's often harder to score cheap tickets to Italy compared to France, England and the Netherlands from Washington, DC.
I also priced many routes to Europe in June with Delta miles. Delta priced higher in miles in June compared to AA. The cheapest route I found was from DCA to Amsterdam for around 64,000 miles for the dates I needed.
One World Alliance Partners
American Airlines is part of One World Alliance so it's possible to redeem AA miles on partner airlines. Here's a full list of One World Alliance partners. Keep this in mind for the best use of American Airlines miles.

Recap of 60,000 American Airlines Miles
So where can you go with 60,000 American Airlines miles? Lots of places, and for some international destinations even in business class! I'm excited to be flying into Bologna, Italy, a 35 minute high speed train ride from Florence. I'm also happy that I didn't have to pay extra for an aisle seat selection. The taxes cost $52, and with the $95 annual fee, the flight from Washington, DC to Bologna roundtrip cost a total of $147! Here's what the dates look like: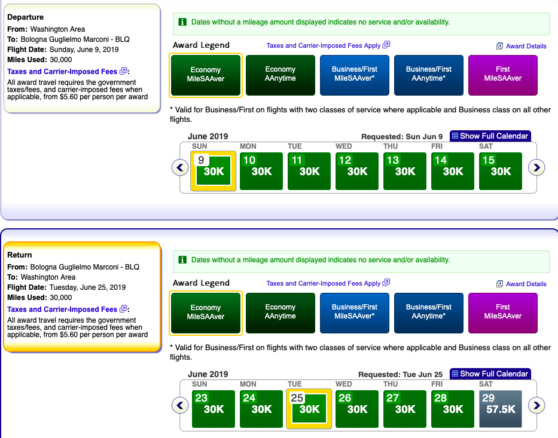 More Travel Hacking Tips
The most significant part of a credit score asides from on-time payments involves credit to debt ratio. This means you can have quite a few travel rewards cards simultaneously and your credit shouldn't be negatively affected as long as you don't carry very high balances. I'm not a financial advisor though!
Cancel certain travel rewards cards before the year ends to avoid paying the annual fee again. Often in 18-24 months you can reapply for the same card to receive a bonus again. An exception is American Express. If you received Delta bonus miles in the past for the Delta Gold Card, you're not eligible to receive the bonus in the future for that card.
Complimentary Lounge Access and Upgraded Status
The Hilton Honors American Express is an excellent travel rewards card to have. It offers up to 140,000 Hilton Honors Points that you can use towards complimentary Hilton stays.
The card comes with a complimentary Priority Pass, allowing 10 lounge visits among over 1,200 lounges worldwide. At $95, this is the lowest annual fee card that gives free lounge access. Airport lounges offer complimentary snacks, drinks and comfortable seating with outlets to charge your devices!
Another excellent perk of this card is automatic Hilton Honors gold status. Hilton gold status offers complimentary breakfasts and free room upgrades when available.
Thoughts on American Airlines
While American Airlines is not our favorite airline, their miles program offers great value. Domestically we prefer JetBlue, and internationally Asian airlines like Emirates generally provide superior customer service.
In the past AA gave us problems flying to China on the free transit visa. We hacked the Chinese visa and American Airlines check-in staff almost cost us our trip to China by initially refusing to check us in because they didn't understand the rule. But once we boarded the plane the flights were fine. The flight from Beijing to Dallas was a new Boeing 787 Dreamliner.
Where to Go with 60,000 American Airlines Miles?
Whether you want to fly domestically or internationally, there are so many options. Where would you most like to visit with 60,000 American Airlines miles? Feel free to email me at [email protected] if you have any questions on trip plans or travel hacking.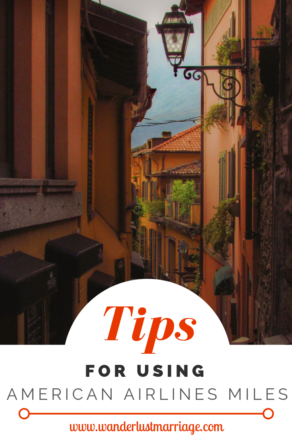 Disclosure: While this article is not in any way sponsored or endorsed by American Airlines or Barclays Bank, there are some other affiliate links in this article. Using our affiliate links helps support the valuable travel tips you read here!