Flying up front, in lye flat beds, while enjoying gourmet meals and signature drinks makes a world of difference. Are you thinking to purchase Delta One business class tickets? Or maybe you're looking to cash in points. Here is a review of flying Delta Business/First Class Overseas!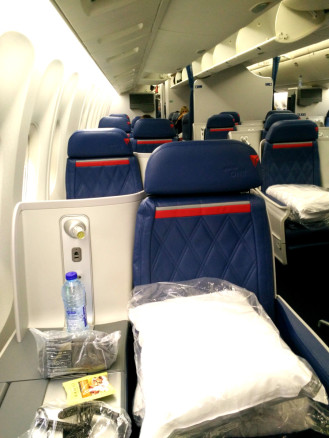 For many years, we've had a close family friend who's worked as a flight attendant for
Delta
. When we lived in Amsterdam and Bell was working on her PhD, we didn't have very much money and our friend's standby buddy passes on Delta flights helped us enormously in returning to Florida for visits. In 2008, I even used a pass to fly to Buenos Aires, Argentina as Bell had an academic research conference in Montevideo, Uruguay.
How do Delta Standby Tickets Work?
The way standby tickets work is that passengers get the best available seat on a flight if there are seats available. On average, the purchase price is about half of what you would expect to pay for a regular plane ticket, more or less. We have been stuck overnight a couple times, but we've also been fortunate to sit in Delta Business Class on TransAtlantic flights quite a few times. Some international carriers have a business class and a first class, but Delta's Business Elite is their "first class" on overseas flights.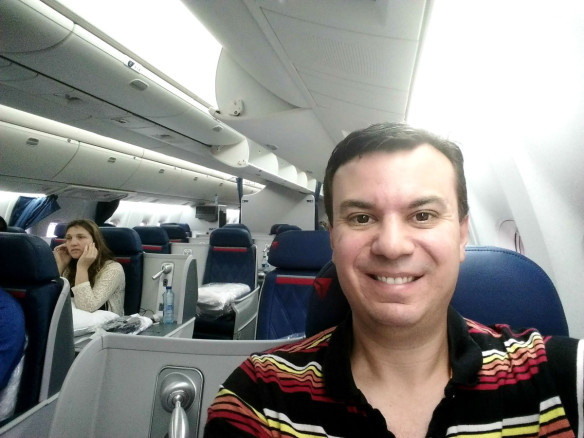 I purchased a standby ticket through our friend for our most recent trip to Europe, involving my small group tour of Belgium and the Netherlands. I had to plan to arrive several days early in the event seats would be unavailable, but it was worth it as I wanted to arrive early regardless, to get a few things in order before the tour started in Brussels. On my flight from Atlanta to Brussels, I was given a seat in
Premium Economy
, which was the best available seat. Delta's Premium Economy seats offer more leg room, free cocktails and better snacks (but the same meals as regular economy).
Getting Assigned Business Class Seats to and From Europe
On my return flight from Brussels to New York, there were a lot of Business Elite seats open, so I was assigned a seat up front. If you're considering purchasing a Delta Business Elite seat, or cashing in miles, or have a great friend who works for Delta yourself, here's what you can expect to experience: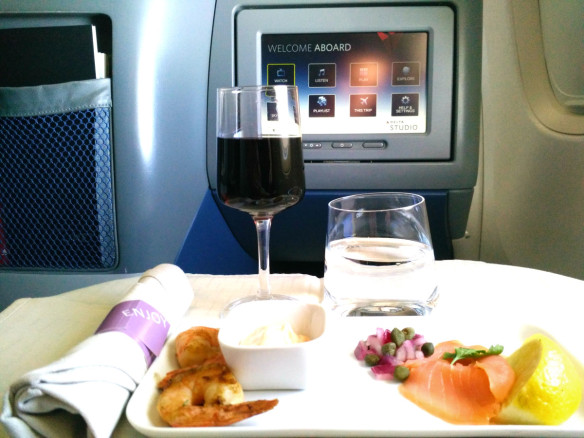 What to Expect from Delta Business Class food and drinks?
Before the flight even takes off, flight attendants offer Delta Business Elite passengers a choice of champagne (the real stuff from France) or orange juice. Previously, I always chose the champagne (security can be a headache, right?). But on this most recent trip, at 10:30am and after drinking several strong Belgian beers the night before, I thought orange juice was a better idea (which is too bad because Bell and I rarely buy champagne and it's a nice treat).
Delta Business Class Seat Configuration
Asides from great food and drinks, a major highlight of Delta Business Elite flights overseas is fully reclining flat bed seating, which has become industry standard in first class among major carriers internationally. Plane configurations differ, but on my flight from Brussels to New York, the Boeing 767 featured 36 Business Elite seats in a 1-2-1 configuration over the first 8 rows of the airplane. I was fortunate enough to receive a window seat, meaning there wasn't even anybody sitting next to me. And after being up late on my last night in Brussels, the flat bed seat came in really handy for a couple hours of shut eye (and I can rarely sleep on planes).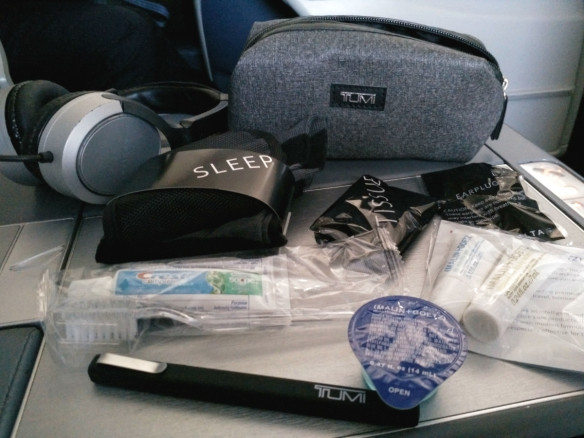 Delta Toiletries
Delta provides a stylish and practical toiletry bag with an eye mask, socks, ear plugs, tooth brush, tooth paste, mouth wash, moisturiser and more on the arm rest of their Business Elite class seats. You'll also find a comfortable pillow, blanket, quality soundproof headset, bottled water and mixed nut assortment. The flight crew on Delta Business Elite are attentive, offering to hang your coat when you sit and giving you a choice of several international newspapers like USA Today and the Wall Street Journal. Personal in-flight entertainment is the same for all Delta passengers, featuring several newer hit movies, classics, popular TV shows and games for each seat (the selection on Delta flights overseas isn't as extensive as Emirates, but it's good enough).
Dining in Delta Business Elite is quite the experience because the food, wine and cocktail options are good quality and the flight attendants lay a white table cloth on your tray table. Fine dining at 35,000 feet is pretty cool, but it definitely spoils you, and I do feel a little guilty for the people crammed in economy (which is typically us anyway). Delta Business Elite seats are typically around 4-5 times more expensive than an economy seat at regular price, so the price point is one that makes the decision out of the question for most people.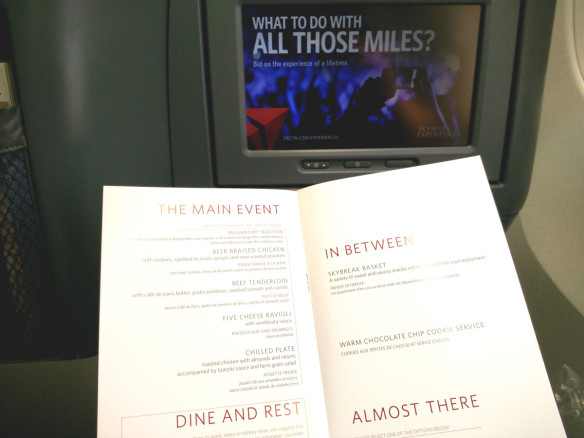 Wine Selections
After being in the air for about an hour, and with the clock striking noon, I decided that a 2006 Spanish reserve red wine was a good idea, especially since I'd ordered the filet steak for my main. Before takeoff, everyone in Delta Business Elite is handed a menu and requested to select their main course. Having flown several TransAtlantic Delta Business Elite flights, a filet steak is always an option, with the other selections varying. On my flight, the other main course options were a Belgian chef selection, beer braised chicken, five cheese ravioli and a "chilled plate", consisting of roasted chicken and salad. There's always a cold plate option, which also offers flexibility for those that want to sleep during the main meal or aren't hungry at that time, and want to eat later.
Breakdown of Meals
The starters were smoked salmon and shrimp, followed by Thai red curry soup and salad. Everything was very tasty, but the steak and potatoes au gratin were especially good and would pass muster in just about every steak restaurant below 35,000 feet. After the main course, the flight attendants came around with a dessert tray, offering a choice of a fudge sundae with lots of topping selections, or a fancy cheese assortment with mixed fruit. Unfortunately, being lactose intolerant I only took the fruit, but fresh grapes and strawberries are a nice way to wash down a delicious multi-course meal. Later in the flight, fresh baked chocolate chip cookies were served, as well as a choice of quality snacks.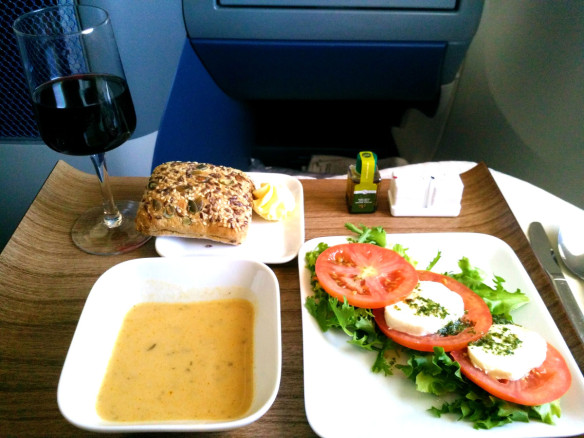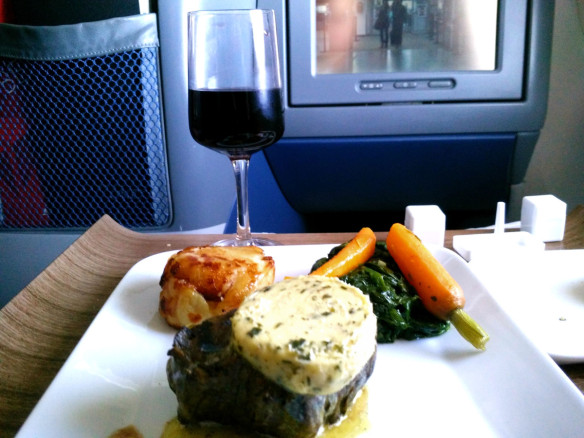 Before arriving in New York we were given a second meal option. As we gained six hours in time, after just over six hours in the air, it was technically a second lunch! The second meal is lighter and the choice was a salad or lobster rolls. I was excited about the lobster rolls because they're popular in New England. While they weren't the best, they were good enough to be served in some seafood houses and lobster shacks.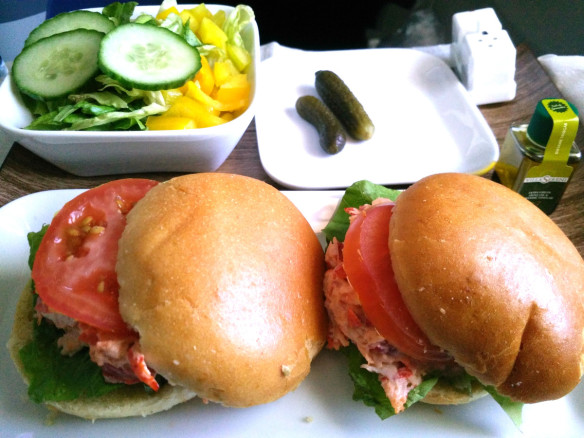 My window view of the beaches and small islands of New York state, before touching down at JFK Airport, wasn't too shabby either. The entire experience was a nice consolation for coming home after a fun and interesting few weeks between Belgium, the Netherlands, France and Romania.
The Delta Skymiles Platinum AMEX Card
The Delta SkyMiles Gold American Express Card and Delta Skymiles Platinum AMEX cards are great cards if you fly Delta – which ranks as the best US airline for customer service. The Delta Skymiles Platinum AMEX card sometimes offers up to 90,000 SkyMiles as a signup bonus! That can be enough Skymiles for a complimentary Delta One seat to South America during off-peak times!
Are Delta One Business Seats Worth the Cost?
Delta Business Elite seats are too expensive for most. If you have the money then yes. It might also be worth it for some to cash in frequent flyer miles to experience this at least once if, like us, you can't afford the normal cost, because there really aren't any other cons to note here.