One of the most popular aspects of summer for many American families is camping and adventurous road trips. During our recent trip to North Carolina, we stayed five days in Chapel Hill, across the street from the campus of America's oldest public university, the University of North Carolina, as Bell was taking a research course at the historic Carolina Inn (the best place to stay in Chapel Hill). You can read tips for Chapel Hill in our article, UNC Chapel Hill: Best Things to Do.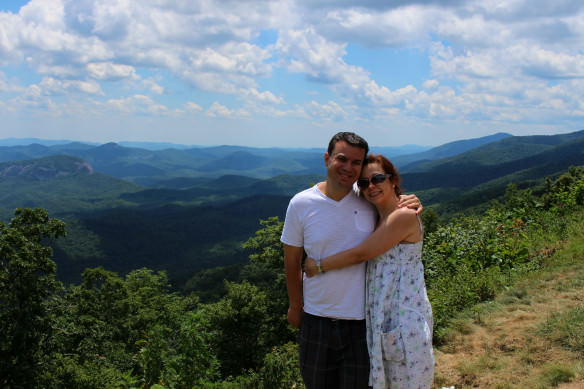 While we didn't camp, after her course, we drove west towards the brewery and foodie Mecca of the southeast, Asheville, and continued on what's been coined "America's Favorite Drive," the Blue Ridge Parkway.
Blue Ridge Parkway Distance and Highlights
The Blue Ridge Parkway weaves 469 miles from the North Carolina border with Tennessee northeast through Virginia in the Blue Ridge Mountain portion of the Appalachian Mountain chain. The stretch of the highway we drove was from Asheville, North Carolina to Tennessee, before continuing on through the Smoky Mountains to Gatlinburg and Pigeon Forge, Tennessee (a real spectacle of attractions, traffic and everything the neighboring peaceful mountains are not).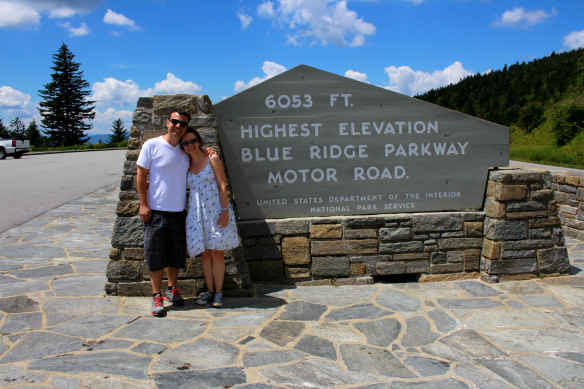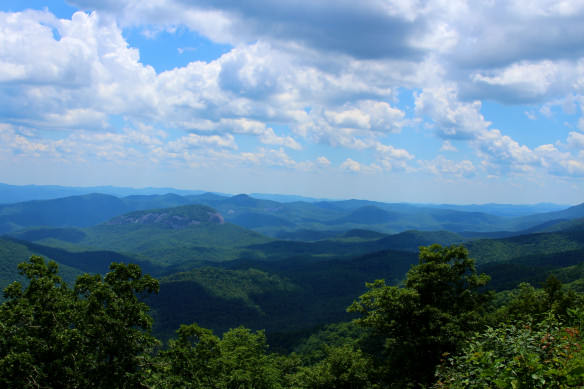 Asheville, North Carolina
Asheville is a foodie, beer and music lovers delight, and while it's a lot of fun, hotel prices in the area on summer weekends are very steep. If you're on a road trip and don't need to be in Asheville over the weekend it's best to stay somewhere else on Friday and Saturday night and visit Asheville during the week when hotel prices are usually significantly lower. If you want to visit Asheville on a summer weekend to enjoy the free music festivals and brewery hopping, try and book your hotel a little in advance because many hotels sell out! Driving from Chapel Hill west on a Friday night, we opted to stay in Winston-Salem and paid half of what we would have paid in the Asheville area, and it was worth it since we just needed a bed for the night. So we opted to only overpay for our hotel on Saturday night, so we could enjoy a fun night with friends in Asheville and the Leaf Festival, featuring a great music festival and a fun performance by Bootsy Collins' Rubber Band.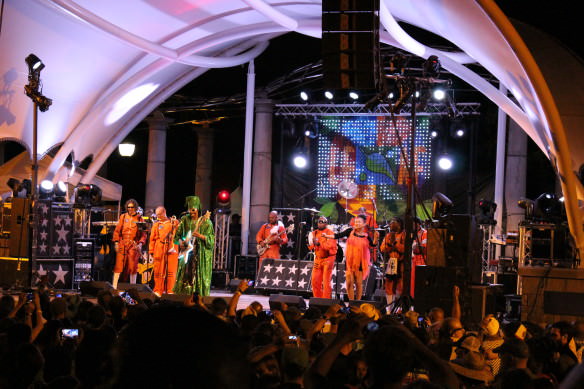 Pisgah Inn
Directly along the picturesque Blue Ridge Parkway, there's not many restaurants and accommodations (which is a good thing), but we stopped at the beautiful Pisgah Inn for lunch. Unfortunately during lunchtime in summer, wait times are long, so instead of waiting we drove off the Blue Ridge Parkway and found a grocery store to buy some food for a picnic. There's lots of parking areas that offer beautiful scenic overlooks to enjoy a picnic in a more natural setting than a bustling dining room.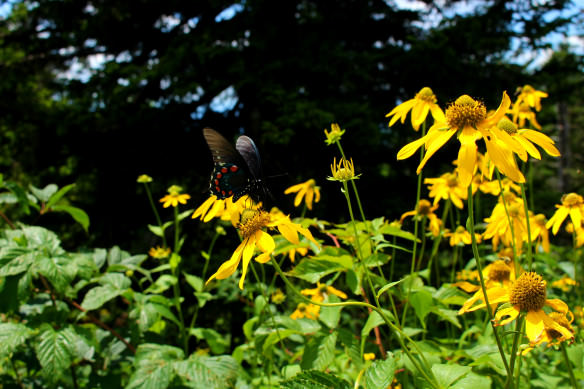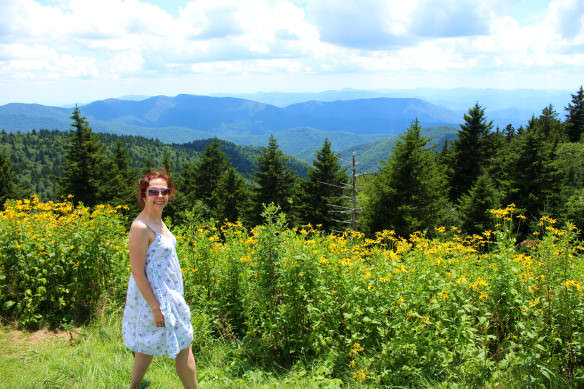 Cherokee, North Carolina
Shortly after exiting the Blue Ridge Parkway we stopped in the town of Cherokee for dessert. The Cherokee Indian reservation is bustling with vacationers in summer as there are many campgrounds, shops, eateries and Harrah's has a large casino. Bell had a hankering for ice cream and the chocolate shop we visited also sold delicious handmade chocolate for much cheaper prices than what you would pay in big cities.
The most surprising aspect of being on the Indian reservation were all the Confederate flags we saw, many of which were being sold in shops and many other flags proudly sported on peoples trucks and motorcycles. A friend from Tennessee explained that many people of Cherokee descent also identify with southern heritage, but many of the employees on the Indian reservation lease the store fronts from the Cherokee. During our visit, we saw tribal election signs posted (it's always election season in America, even on the Indian reservations).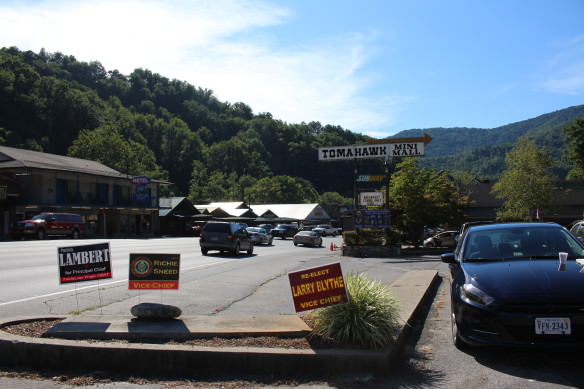 While Cherokee is interesting, it wasn't one of the highlights of our road trip from Chapel Hill to Pigeon Forge, Tennessee. What was gorgeous was just after leaving Cherokee, right before driving onto Highway 441 to cut through the Great Smoky Mountain National Park. Loads of cars were stopped, as grazing in the valley, on the footsteps of the beautiful mountains, were a huge flock of deer!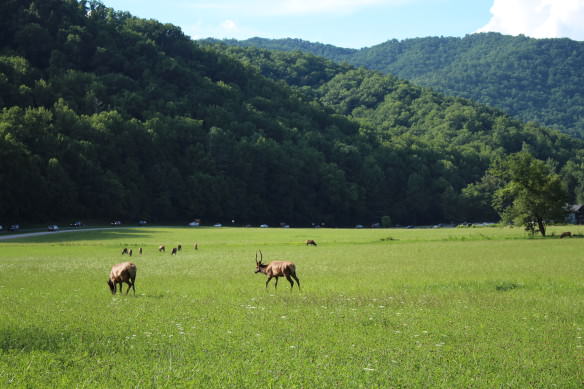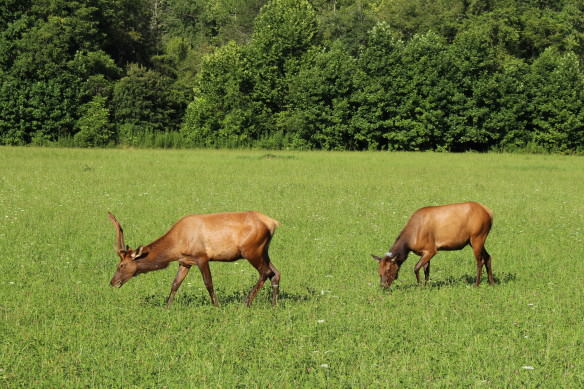 Great Smoky Mountains National Park
The 30 mile drive through the Great Smoky Mountain National Park, along Highway 441 from Cherokee to Gatlinburg, Tennessee is also an old favorite of mine. But it had been 15 years since I'd driven this route and it was Bell's first time. Aside from visiting as a kid, I'd previously driven the route in late winter, which is beautiful to see the mountains covered in snow. This was my first time seeing these beautiful mountains in summer, filled with lush trees, flowers and wildlife. We were even extremely fortunate to see a black bear walking alongside highway 441 with three of her cubs trailing her! It was absolutely majestic and I wish we could have captured a photo. This is a beautiful part of the world in all seasons, and we highly recommend it if you're doing a road trip in the southeast of the United States!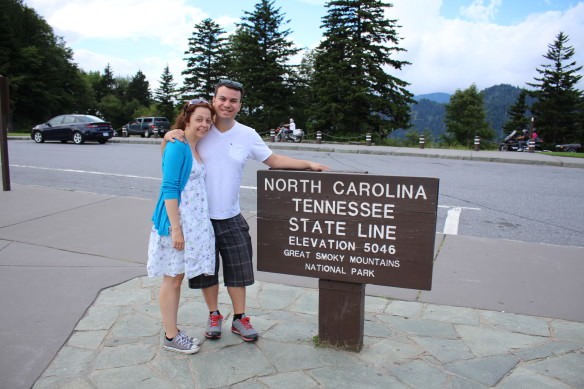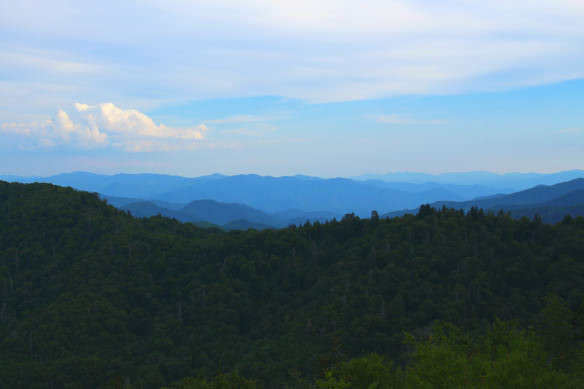 Need additional tips on road trips in the US? We're especially familiar with the east coast as we have lived in Florida, Boston and now Washington, DC. We have done wonderful road trips from Florida to Maine. Leave a comment below or email alex (@)wanderlustmarriage.com, and I'm happy to help!