Seven Springs Mountain Resort is a great all-season resort located in Champion, Pennsylvania. An ideal vacation destination for couples and families, it just over an hour southeast of Pittsburgh and about a 3.5 drive from Washington, DC. The resort offers a variety of on-site activities like skiing, golf, bowling, rock climbing, zip-lining, an alpine slide, spa and a variety of tasty dining options.
Located in southwestern Pennsylvania, the Laurel Highlands region is a relaxing vacation destination packed with outdoor recreation options, historic sites like Frank Lloyd Wright's Fallingwater, family activities and world-class resorts. Set among beautiful tree-lined mountains, the region spans 3,000 square miles of Fayette, Somerset and Westmoreland Counties. Seven Springs Mountain Resort is a destination in itself, and couples can easily spend several days without leaving the property!
Amenities and Activities at Seven Springs Mountain Resort
Ski at Seven Springs Mountain Resort
Seven Springs Mountain Resort offers a wide range of over 30 ski slopes to suite advanced, intermediate and beginner levels. For newbies like us, watch a beginners guide to skiing and snowboarding. Then be sure to practice on the bunny slopes before tackling larger hills.
You may also want to consider taking a lesson from an instructor before catching the chair lift up. It had been many years since we skied, and we certainly did our share of falling as we caught on!
Lift tickets cost $80 per day when purchased online. They're $85 for same day. 2 day lift passes cost $160 purchased online. That's a $10 savings from the $170 price in-person price. Check their website for a wide range of options.
Trillium Spa
Trillium Spa offers a sanctuary of relaxation at Seven Springs Mountain Resort. Massages are available and services range from targeted treatments to a menu of signature massages. A variety of facials and body treatments are also offered. Trillium Spa has three manicure stations and three pedicure thrones, with massage settings and a whirlpool tub for soaking your feet.
Bowling
There's a five-lane bowling alley inside Seven Springs Mountain Resort. This is an especially great option on days when the weather is not good. The cost to bowl is $10 per game and includes shoe rental. I was an avid bowler in my younger days, but my game has really slipped. Bell pulled off an upset win over me during our game there.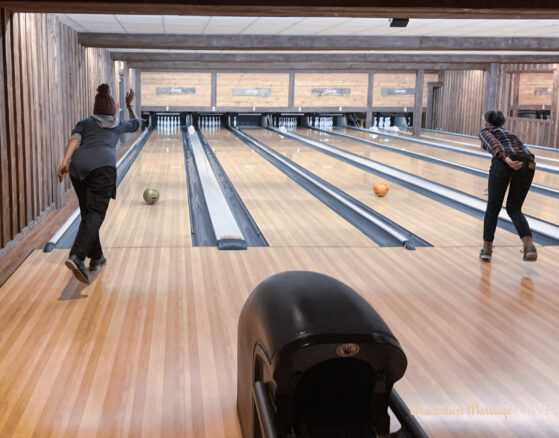 Seven Springs Golf Course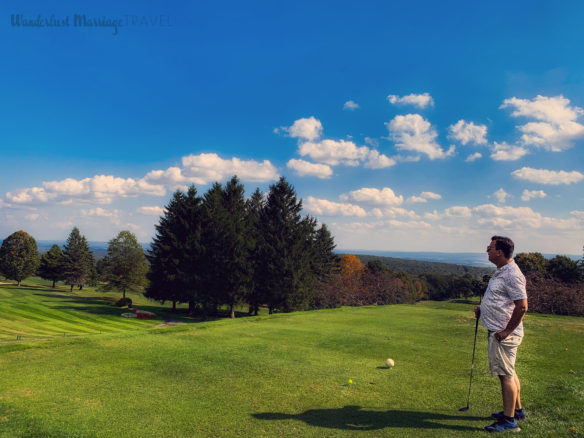 Highlands Golf Club highlights the picturesque beauty of the Laurel Highlands with mountain vistas throughout the tree-lined course. I enjoyed the sweeping views of autumn foliage while playing the course on a beautiful early October day. The hilly layout offers a challenging round for advanced players, while also being beginner friendly for those teeing off from nearer tee boxes.

Monday-Friday the greens fees for 9 holes is $48 and 18 holes costs $65. Saturday and Sunday the cost for 9 holes is $50 and $75 for 18 holes. There's a daily special after 2pm: $30 for 9 holes and $44 for 18 holes.
Seven Springs and Hidden Valley Resorts also hosts many corporate golf outings, charity golf tournaments, fundraising tournaments and other special events. Seven Springs Golf Course measures just over 6,500 yards in length.
Rooms at Seven Springs Mountain Resort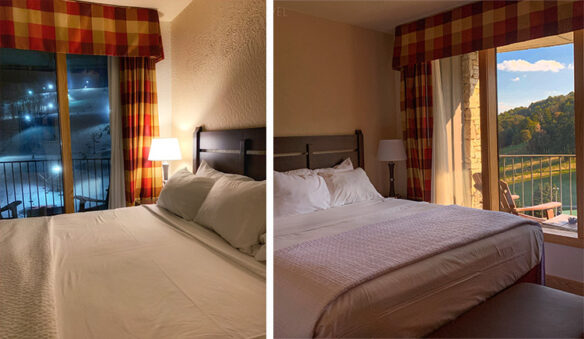 Seven Springs Mountain Resort offers spacious rooms with an adjacent sitting area that closes off. Rooms include two flat-screen TV's, one in the bedroom and one in the sitting area. The beds are very comfortable with lots of pillows to choose from. Many of the rooms have spacious balconies with lovely views of the mountains. Rooms are great for a romantic or family getaway. The tranquility of the mountain setting offers a relaxing reprieve from the stress of city life.
Dining at Seven Springs Resort
Breakfast buffet
The breakfast buffet at Seven Springs Mountain Resort is fantastic. Grab a seat by the window and enjoy a lovely view of the mountains and a tasty meal atop a white table cloth setting. There's a made to order omelet station with lots of options – ask for a little of everything for a tasty assortment of flavors.
A variety of hot options includes scrambled eggs, bacon, sausage, potatoes and warm sticky buns. The fresh-baked breads are excellent and include rustic white, multi-grain and sun-dried tomato or spinach. Pastries include a variety of donuts, muffins and other treats.
The house-made granola is divine. Other healthy options include fresh-cut fruit assortments and sliced grapefruit. There is also an oatmeal station with toppings like raisins, cranberries, brown sugar and nuts. If you are not so hungry there is also a made to order a la carte menu.
Helen's is Lovely for On-Site Fine Dining
Helen's Restaurant is located in the historic original log homestead of Seven Springs Mountain Resort, which dates to the 1920s. Their menu features organic and local ingredients, paired with a Wine Spectator Award Winning wine list.
I enjoyed their pan-roasted tenderloin with bearnaise sauce, red wine demi-glace, mashed potatoes and asparagus. Other great entrees include Sea Scallops, Lamb Lojn and Laurel Highlands Trout. Helen's is a great place for a fine dining experience in a relaxed setting.
Bavarian Lounge
The Bavarian Lounge is a rustic pub to enjoy drinks and a casual meal at Seven Springs. They have a great beer selection, including great options from nearby breweries. If you're hankering for a tasty burger, wings, chili or German-style pretzel, this is a great on-site choice.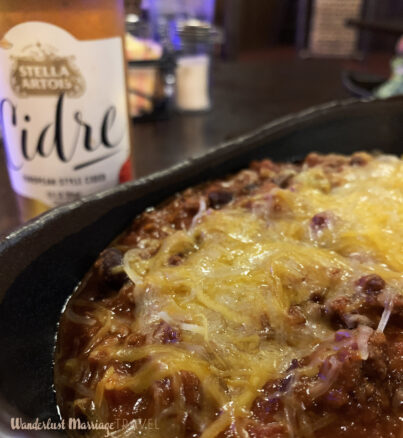 Foggy Brews
Foggy Brews is great for craft beer lovers. They offer an extensive beer menu featuring 50 taps and craft brews from all over the world. Their menu includes great options like poutine, crispy pickles, a signature Bison X Burger, traditional Ramen, fish tacos and much more. Grab a seat at their 100-foot long bar or a table and peruse vintage Seven Springs photos dating as far back as the 1950s.
Seven Ten Bistro
Seven Ten Bistro is located next to the Bowling Alley on the second floor of the Main Lodge, with a view of the lanes. It's a fun little alcove serving eclectic food with a bowling inspired menu. Items range from out-of-the-ordinary shared plates to interesting twists on salads and tasty sandwiches.
More Casual Dining Options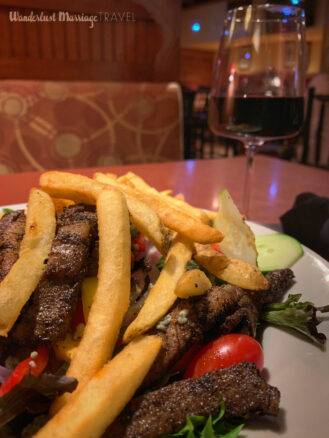 Sit down for a nice casual meal like a salmon burger or fish n' chips at Timbers. Mountain Pizza offers delicious fresh-baked New York-style pizzas, fresh hoagies and grab-and-go items. Mountain Perk has a full menu of Starbucks coffee products, along with freshly made sandwiches, bagels, pastries, homemade soups and salads.
Recap of Seven Springs Mountain Resort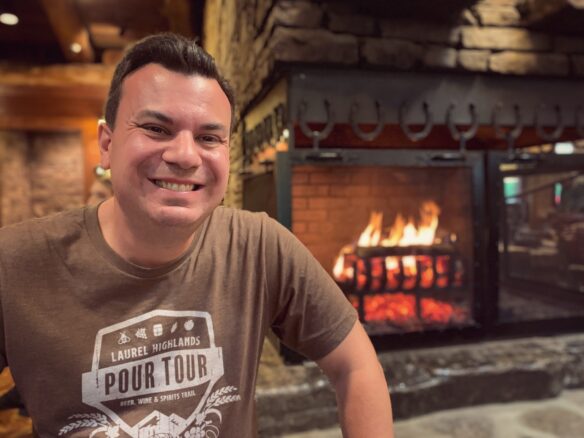 Seven Springs Mountain Resort is a great place for a relaxing and active year-round getaway among Pennsylvania destinations. If you visit during the warmer months, it's a great destination to golf. During the winter, you can ski, snowboard and partake in other activities. It's also ideal for a romantic getaway with your loved one. This is a great place to de-stress from the hustle and bustle of city life.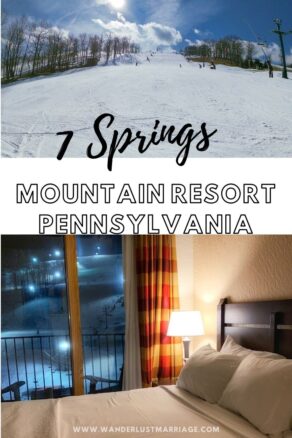 Video pin Disclosure: We were hosted by Seven Springs Mountain Resort but all photos and opinions are ours. Thanks to Katie Buchanan of Seven Springs as well as Anna Weltz from Laurel Highlands tourism for hosting us.