Sailing along one of Europe's majestic waterways elicits a feeling of luxury and relaxation. Emerald Cruises Danube Delights 8-day river cruise allows guests to explore 8 beautiful destinations without packing and unpacking suitcases, and worrying about travel logistics. A significant advantage of a small ship cruise is sleeping in a comfortable moving hotel! Guided excursions and experiences, mixed with free time is another perk of cruising. Guests choose how they spend their time in ports as well as on the ship.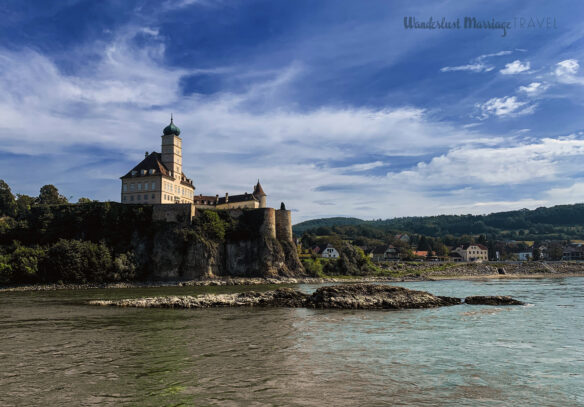 We've been on a few cruises, including a small ship cruise in Alaska, but we'd never previously taken a European river cruise. It has been on our bucket list and we're thrilled we were able to recently tick it off. Our 8-day Danube Delights river cruise began in Nuremberg, Germany and culminated in Budapest, Hungary.
We traveled through Germany, Austria, Slovakia and Hungary without having to pack and unpack our suitcases. The itinerary included the German towns of Regensburg and Passau, Austrian towns of Melk, Durnstein and Vienna, and Bratislava, Slovakia. We'd previously visited Nuremberg, Vienna, Bratislava and Budapest, but the captivating smaller towns on the itinerary were a first for us.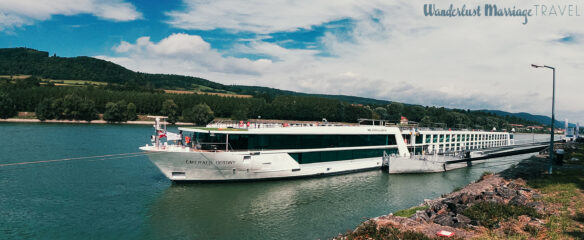 Highlights Aboard the Emerald Destiny
The wonderful staff aboard the Emerald Destiny charmed us each day. From cruise director Darren and Captain Vasiles down, they do a wonderful job of making the trip memorable for their guests. And activities director, Drazen, kept us laughing between leading guided tours to hosting nighttime entertainment, from trivia to dancing, in the lounge, each day.
We indulged in too much delicious food on the ship, so it's time to make fresh juice in the nutri-bullet now! But there were always healthy options including lots of fresh fruit and vegetables, smoked salmon and oatmeal for breakfast, and a range of delicious fish options for lunch and dinner. I enjoyed some healthy options, but I definitely indulged in a lot of delicious rich foods as well.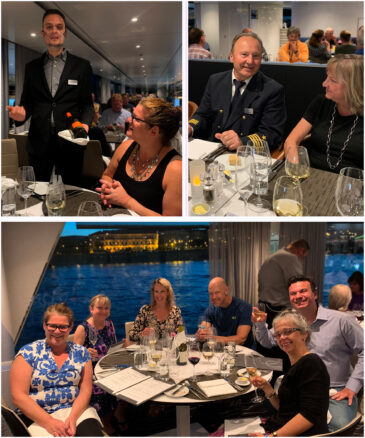 If you eat heavily, you can burn some calories by signing up for the Emerald Active excursions. A 28km guided bike ride from Melk to Durnstein, Austria is one excursion option. Bell biked between the towns, while I enjoyed the beautiful views from the sun deck of the ship. There is also a small gym aboard the ship if you want to lift weights and get some additional exercise as well as a morning yoga class. There is also a fantastic indoor infinity pool and lounge to swim and relax while taking in scenic views.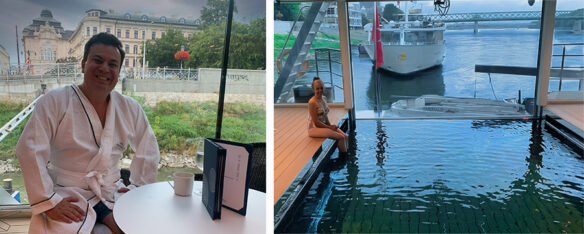 Emerald Cruises Safety Precautions during COVID-19
Given some of the horror stories from cruise ships at the beginning of the pandemic, it is fair to have concerns about cruising. To board the Emerald Destiny you are required to show proof of vaccination. Staff wear masks and guests are required to wear masks when moving around in public spaces inside the ship.
With PCR tests required to travel between most countries, we were tested for COVID-19 before boarding the ship. We were tested again before the cruise ended so we could satisfy government rules for flying home. We didn't notice anyone sick on the ship and after a beautiful 8-day cruise, no guests tested positive and we were all able to depart safely. Several senior guests remarked to us that they appreciated feeling very safe aboard the Emerald Destiny.
What's included sailing with Emerald Cruises?
Before diving into highlights of the itinerary, here's what's included when you sail with Emerald Cruises. In short, in addition to meals and taxes, the price includes gratuities, beer, wine and soft drinks with meals, and most excursions, activities and some performances. The excursions range from guided walking tours to active hikes and bike rides, as well as cultural activities like visiting a Slovakian home for cake and coffee. The price you see on their website includes: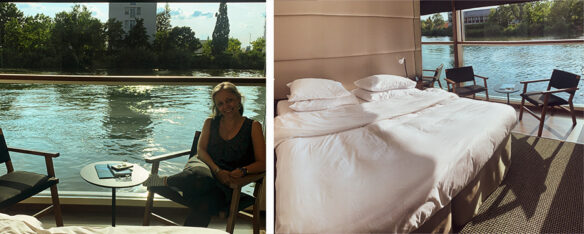 7 nights on board an Emerald Cruises Star-Ship
Airport transfers to and from the ship
The services of an Emerald Cruises Cruise Director
Port taxes and charges
All tipping and gratuities
Guided Tours
A guided tour of Regensburg
Guided tour of Passau
A guided tour to Melk Abbey
Guided hike to Durnstein Castle
Guided tour of Vienna
Walking tour of Bratislava
Guided coach tour of Budapest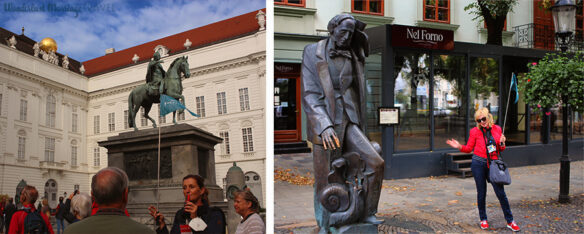 Experiences
Traditional Bavarian band on board
Home-hosted coffee and cake with a Slovakian family
Traditional Hungarian folklore show on board
Emerald Active Tours
All tours are guided
Hike to Veste Oberhaus
Bike tour along the Danube River
Hike to Dürnstein Castle
Bike tour in Bratislava
Hike to Bratislava Castle
Hike to Buda Hill
Meals
20 delicious meals including 7 Breakfasts, 6 Lunches, 7 Dinners
Including a Welcome and Farewell Reception & Dinner
Complimentary wine, beer and soft drinks served with lunch and dinner on board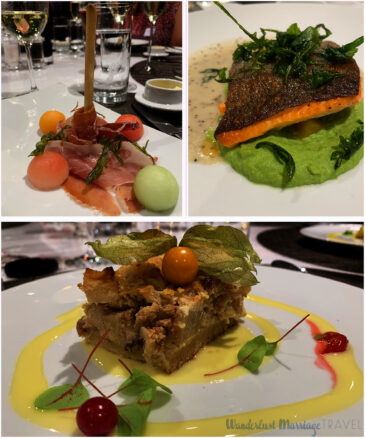 Destinations on Emerald Cruises Danube Delights River Cruise
Nuremberg, Germany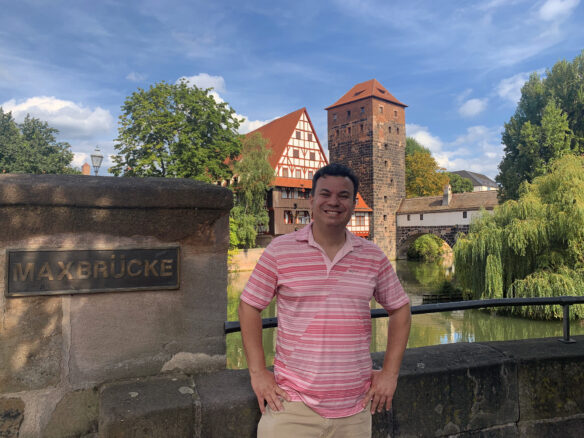 Our cruise began in beautiful Nuremberg, Germany. We flew Delta from Tampa to Amsterdam via Atlanta, and then KLM from Amsterdam to Nuremberg (all booked through the Delta website). Sometimes this cruise begins in Munich. We have longtime college friends in Nuremberg, so we arrived a couple of days early to re-visit the city and spend time with them. If you fly into the city on the day of the cruise, Emerald includes a transfer from the airport to the cruise ship.
Kaiserburg Castle
Bavaria's second-largest city has a lot to offer visitors. Highlights include Kaiserburg Castle, where Popes once crowned German kings during the Holy Roman Empire. The medieval fortified buildings atop a sandstone ridge offers wonderful views overlooking Nuremberg.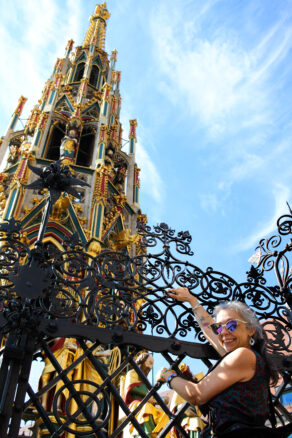 Albrecht Durer House
Another highlight is the Albrecht Durer House. Durer was one of the most important German artists during the Renaissance. Nuremberg's airport is named after him. The Albrecht Durer House offers a striking view of beautiful Tiergärtnertorplatz and Kaiserburg Castle from Durer's former studio.
Across the street, our longtime friend, Felix Oettner, owns and operates the Durer Museum shop. A charming sixteenth century building houses the gift shop. It's an interesting shop to learn more about the German Renaissance and pick up great Nuremberg souvenirs.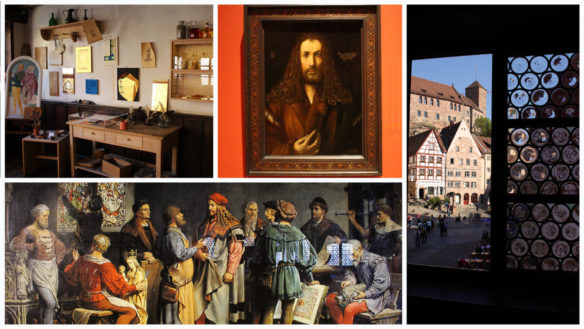 Memorium Nuremberg Trials
Nuremburg's WWII history is fascinating. It's where the Nuremberg Trials took place. Visitors can tour the courtroom at the Memorium Nuremberg Trials. It's where high-ranking Nazi officials were tried for war crimes. It's still an active courtroom too. Read our previous article on Where to go in Nuremberg, Germany for more tips!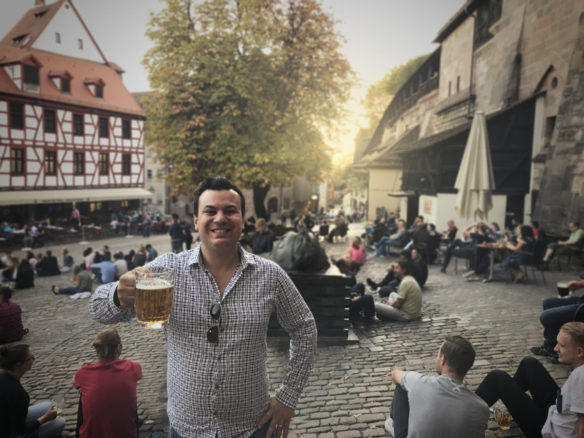 Nuremberg bratwurst
Nuremberg is also home to traditional Nuremberg bratwurst. The recipe dates over 700 years. Nuremberg's brats are some of the tastiest char-grilled pork sausages you'll ever eat. They pair well with smooth German beers governed by beer purity laws since the early 1500s. We recommend arriving a day or two before your Danube river cruise if you can, to experience some of the highlights of the city.
Sailing Through Locks
There are many locks along the Danube River. They control the flow of water to help prevent flooding. On the first night after dinner, the cruise director, Darren, invited everyone atop the sun deck of the ship to experience going through a lock over a drink. The ship dropped some 50 meters and we were even able to touch the walls of the lock. This was a surprising experience that was a first for us!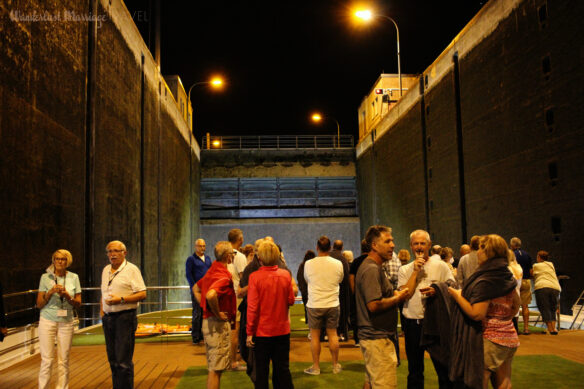 Regensburg, Germany
Regensburg, Germany is a great stop aboard Emerald Cruises Danube Delights river cruise. Its historic center is a protected UNESCO World Heritage site. The center boasts beautiful architecture, charming cafes and picturesque beer gardens. We started the morning with an included guided walking tour of Regensburg, before having free time to enjoy the city as we wished.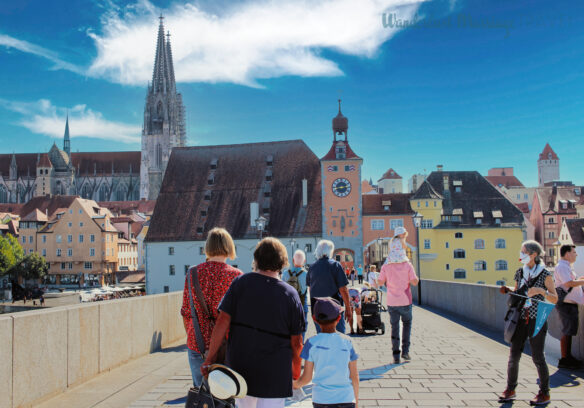 Regensburg is home to one of the world's oldest kitchens. The Historiche Wurstcuche has been in operation for 870 years! Grab a table along the Danube River or order takeaway bratwurst. Soak up the history and ambiance over brats and a brew.
One of the highlights of Regensburg is St. Stephens Cathedral. Construction of St. Stephens Cathedral began in 1270. Due to various financial issues ranging from the plague to the reformation, it took some 600 years to complete the cathedral.
During our free time in Regensburg, we enjoyed drinking smooth beers at the spacious and picturesque Biergarten, Spitalgarten. Grab a seat on their terrace and enjoy lovely views of the Danube River and Regensburg over a tasty lager, weiss, pils, IPA or dunkel. Spitalgarten is a wonderful spot to spend an hour or two of your free time relaxing in Regensburg.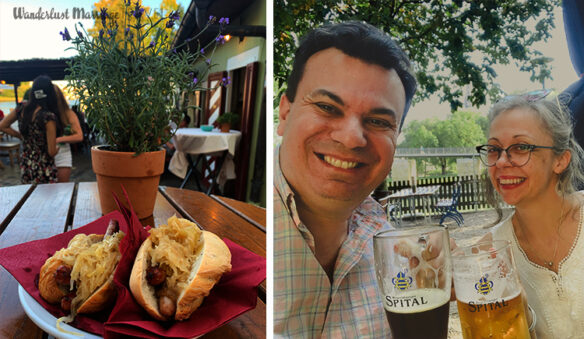 Passau, Germany
Passau, Germany is known as the "Three Rivers City." The lovely town rests along the confluence of the Danube, Inn and Ilz rivers. The morning started with an included guided walking tour of the historic center of Passau. One of the highlights is St. Stephen's Cathedral (a very popular name for cathedrals in the region!). The stunning Baroque church dates to 1688, and features a gorgeous interior.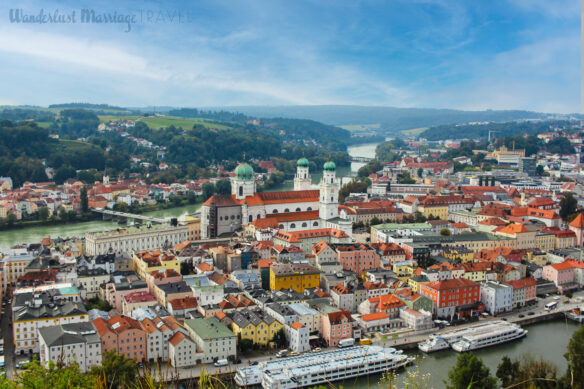 The Emerald Active guided tour, led by the wonderful activities director, Drazen, included a hike to the top of Veste Oberhaus. The fortress was founded in 1219. It previously served as the headquarters for the Bishop of Passau. Its overlook offers majestic views across beautiful Passau and the three converging rivers. Veste Oberhaus currently houses a museum, a youth hostel, a restaurant with scenic views, as well as an open-air theatre dating back to 1934.
Passau is a strikingly beautiful and charming destination. After touring the town, we enjoyed a delicious lunch onboard the ship. After lunch, we enjoyed our free time strolling Passau, including sampling its local cafes. At every destination, there is also the option to tour the area on bicycles too.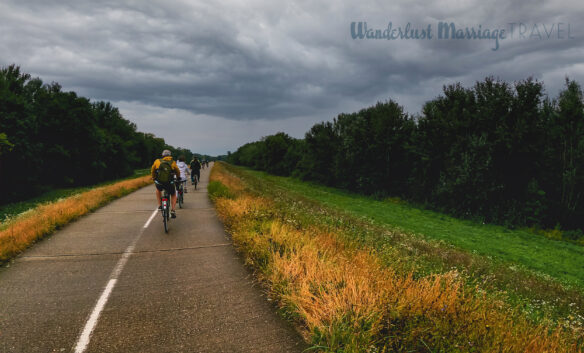 Melk, Austria
Melk, Austria is a charming destination along the Danube River. The highlight of Melk is Melk Abbey, an impressive Baroque style Benedictine abbey. The gorgeous abbey, adorned with elaborate frescoes, offers sweeping views above a charming Austrian village and the Danube River.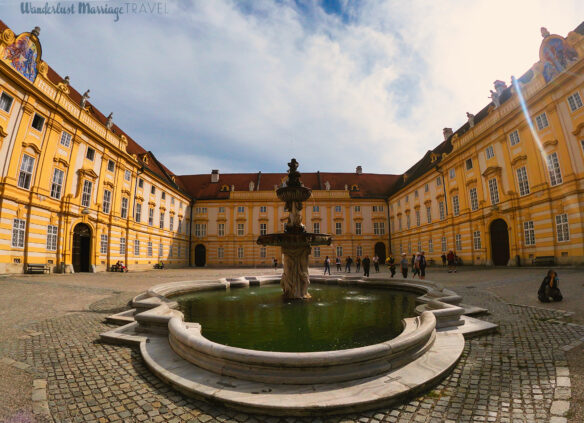 Melk is a wonderful village to stroll. Enjoy a coffee and pastry on a charming cafe terrace. Apricots are a local specialty in the region. Shops sell a variety of apricot liqueurs, jams and other products. We bought some jam and chocolates to enjoy later and to give to family and friends as gifts.
The gorgeous 28 km sail from Melk to Durnstein is strikingly beautiful. Bell enjoyed the guided bicycle tour from Melk to Durnstein. I enjoyed the castles, charming towns and vineyards from the vista deck of the Emerald Destiny. Staff came by and served us sparkling wine as we enjoyed the gorgeous Wachau Valley scenery.
Durnstein, Austria
Durnstein, Austria is another charming destination. Drazen, the activities director, led a guided hike to the ruins of Durnstein Castle. The medieval rock castle dates to 1145. It's most famous for holding King Richard the Lionheart of England prisoner as a punishment for not sharing his bounty from the Crusades with the Duke of Austria.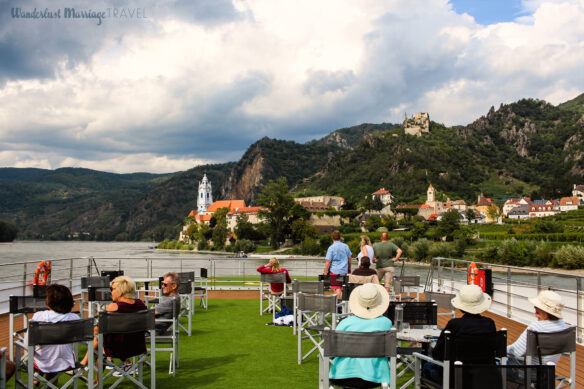 Durnstein is a great destination to purchase some gourmet chocolate and other gifts to bring home. Enjoy a coffee, beer or snack and soak up the quaint vibes of Austrian village life. Fewer than 1,000 people reside in the picturesque village known for grape growing. It's an extremely relaxing and beautiful destination.
Each day of the trip was fantastic. But the day spent in Melk and Durnstein, while sailing between them, was possibly my favorite day. The towns are lovely and the scenery is breathtakingly beautiful. Read more about visiting the UNESCO World Heritage Wachau Valley in our article on it.
Vienna, Austria
Opulent palaces, grand boulevards, music and Viennese cafes make Vienna a gem of a destination. The "City of Music" was day 5 of our 8 day with Emerald Cruises. The ship docked in the morning and the day began with a guided bus and walking tour of Vienna. We then had the afternoon free to explore the Austrian capital at our leisure.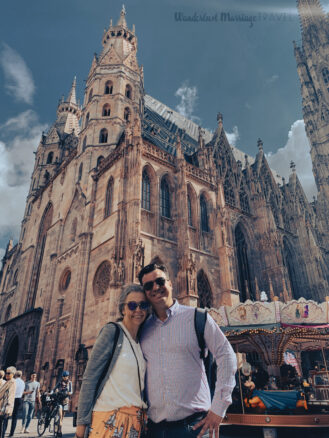 Vienna Highlights
Vienna is filled with opulent highlights including majestic palaces like Schönbrunn and Belvedere. St. Stephens Cathedral, completed in 1160, is a grand example of gothic architecture in the historic center. Another highlight of Viennese life is their spacious cafes, with a delicious assortment of pastries like strudel. On a side note, the strudel making demonstration led by the hotel manager aboard one afternoon was both educational and delicious.
Viennese Food and Cafe Culture
It's hard to skip meals onboard an Emerald Cruise because they're delicious. But Vienna was the destination we chose to skip lunch aboard the ship. We wanted to enjoy the city's most iconic dish – wiener schnitzel (breaded veal) on a lovely outdoor terrace at Griechenbiesl.
Founded in 1447, Griechenbiesl is the oldest inn in Vienna. Famous guests have included Mark Twain, Beethoven, Mozart, Schubert, Strauss, Pavaratti and Johny Cash. Wiener schnitzel is also one of the dinner choices aboard the Emerald Destiny, while docked in Vienna. So it was impossible to miss trying the popular Viennese dish!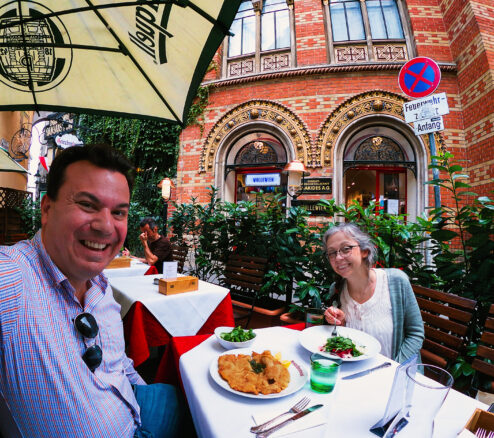 Be sure to indulge in Vienna's popular cafe culture. Cafe Central is an iconic establishment for enjoying a delicious pastry over coffee, in an inspiring and relaxing atmosphere. Chocolate lovers should pop into one of the many chocolatiers that dot the city. A variety of chocolate assortments found throughout Vienna also make for great gifts to bring back for family and friends.
An Amazing Concert in the "City of Music"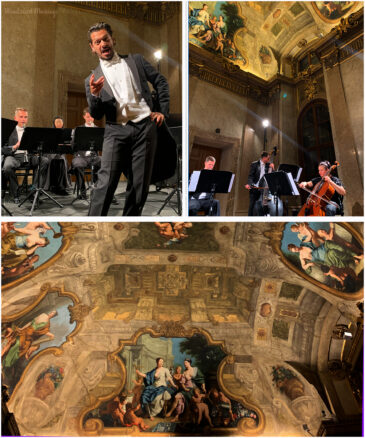 Vienna is famous for being the "City of Music," as Mozart, Beethoven and Strauss all called Vienna home. One of the absolute highlights was enjoying a live concert in Eroica Hall. Eroica Hall is a gorgeous concert hall where Beethoven performed the premiere of his Third Symphony to a private audience that included his patron, Franz Joseph Maximilian. Buses transported us to the concert hall and we enjoyed a glass of champagne in the lovely foyer before the performance. It was a strikingly beautiful concert, capped by a rendition of Johann Strauss's Blue Danube Waltz.
Bratislava, Slovakia
The capital of Slovakia is a charming and easy to navigate destination. Bratislava's compact size makes it easier to see more highlights in a day. It's much smaller compared to larger neighboring capitals like Vienna and Budapest. We enjoyed exploring Bratislava on day 6 of our 8-day Danube Delights river cruise with Emerald Cruises.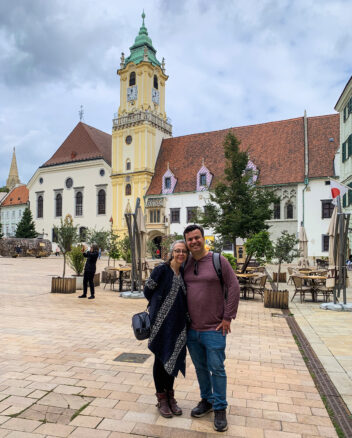 The day began with a walking tour of Bratislava's historic center, led by an expert local guide. The Emerald Destiny docks in the historic center. So it's a very short walk to Bratislava Castle and other attractions. The historic center boasts quirky architecture, chill cafes, good restaurants and a variety of craft beer bars. So there are a lot of great options on how to spend your free time there.
There is an included Emerald Active tour that covers a short hike and tour of Bratislava Castle. Emerald also offers an experience to venture outside Bratislava to enjoy cake and coffee in a Slovakian home. We wanted to be active that day, so we decided to explore the area on a bicycle, with Bell venturing over the bridge on a guided bicycle tour. I decided to explore Bratislava on my own by bicycle, cycling along the Danube River past Bratislava Castle and skirting the historic center.
One of the highlights in Bratislava was stumbling on a beautiful free outdoor concert. Another was enjoying some relaxing time at the indoor infinity pool aboard, with a lovely view of Bratislava. Sailing out of Bratislava, past Bratislava Castle, en route to Budapest is beautiful to enjoy just before sitting down for a delicious Captain's Dinner aboard the ship!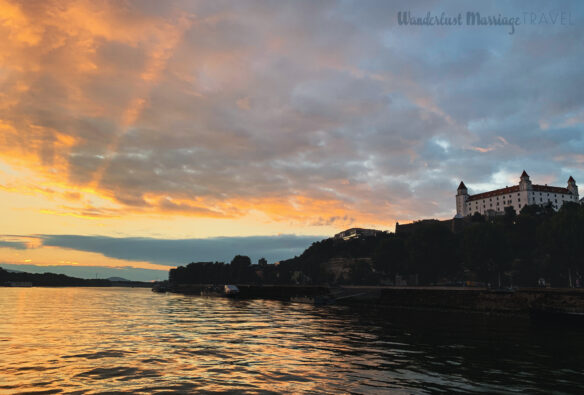 Budapest, Hungary
Budapest, Hungary is a gem of a destination. The capital of Hungary boasts one of the world's grandest gothic revival parliament buildings, relaxing mineral baths, striking architecture, great restaurants and a hopping nightlife. It is a fitting destination to cap off an 8-day Danube river cruise. We arrived in Budapest in the morning, and the Emerald Destiny did a 360-degree turn in front of the gorgeous Hungarian parliament. We enjoyed the views from the sundeck, but the scenery would have been equally dramatic if we watched through the large panoramic windows of our guest room.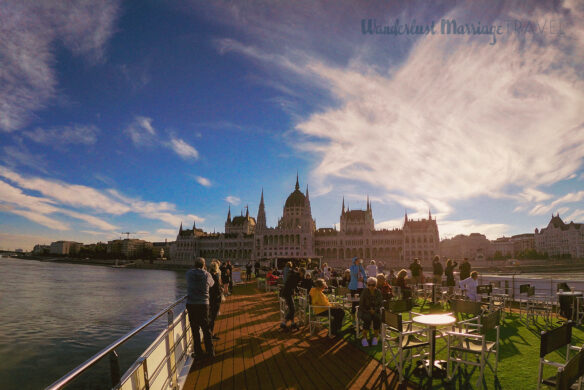 Budapest Spas
Budapest is known as "Spa City," as it is built atop 118 natural thermal springs. That's more than any other capital in the world. Large and small bathhouses are located throughout Budapest. Szechenyi is our favorite of the three baths we have visited over multiple trips to Budapest. Built in 1913, the palatial baths comprise 21 pools, saunas and it's also a great place for a massage. Szechenyi even offers a beer spa. Rudas Baths are another favorite, with over 450 years of history.
Gellert Spa is another popular choice located right in the heart of Budapest along the Danube River. The Emerald Destiny docks on the Pest side of the city, near Central Market. Gellert Spa is only around a 10-minute walk from the ship, making it the most convenient of the bathhouses to visit during a river cruise.
Curious to read more about Spas in Budapest? Read our article that dives deeper into the most popular Budapest baths. If you have more time, it will help you decide which spas you should visit.
Castle Hill
The day in Budapest began with a guided bus and walking tour of Budapest, including Castle Hill. The lookout at Fisherman's Bastion offers dramatic views overlooking Budapest, including the Hungarian Parliament. Built in 1905, the Hungarian Parliament is one of the world's largest administration buildings.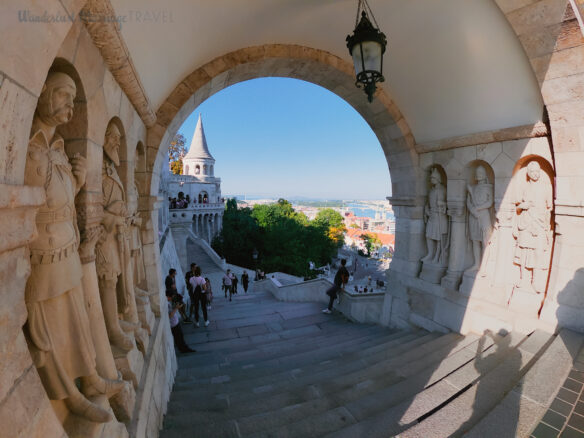 The Royal Palace (aka Buda Castle), houses the National Gallery and Budapest History Museum. Famous magician and escape artist Harry Houdini was Hungarian and magic lovers will enjoy visiting the House of Houdini in the Castle District. It's located just a hundred meters from the Royal Palace.
Szentendre, A Lovely Day Trip from Budapest
Szentendre is a picturesque artist's village nestled along the Danube River, just 20km north of Budapest. We took a guided day trip there which is organized by Emerald Cruises. Szentendre is known for its baroque architecture, colorful houses, churches and cobbled, narrow streets. Fő Tér, the main square, and its surrounding streets are lined with art galleries, museums, cafes and shops (including many tasty ice cream shops!). The Greek Orthodox Blagovestenska Church dates to the 18th-century and has elaborate decor and an ornate partition screen.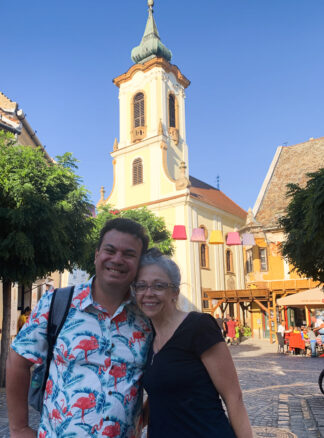 The Micro Wonder Museum houses the incredible art of Mikola Szjadrisztij. The works are so tiny that they can only be viewed through a microscope. 10 displays include intricate art made on tiny items like a grain of rice. It's unique art and an interesting exhibit that doesn't take long to appreciate and enjoy.
After the river cruise ended, we stayed in Budapest longer to enjoy more of the city. We highly recommend this if you have time, as there is so much to experience in Budapest and nearby. One afternoon we caught a train to Vac, another charming town set along the Danube River.
Final Night Aboard the Emerald Destiny
Our final dinner was another feast featuring fresh local food. That meant delicious Hungarian goulash with spaetzle, fresh egg noodles. That paired wonderfully with delicious Hungarian red wine. Hungary produces excellent wines, especially red wines. After dinner, we enjoyed Hungarian folk music in the lounge, with traditional music and dancing. It was a fun way to cap a great week as we said farewell to new friends we made from around the world on the ship!
Emerald Cruises Danube River Cruise Recap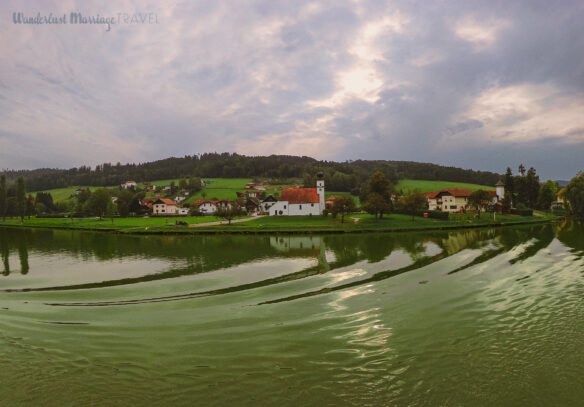 Emerald Cruises 8 day Danube Delights river cruise is a wonderful way to explore exciting European destinations with limited time. The comfortable floating hotel offers enough entertainment and relaxing options to easily occupy passengers while sailing. The dining experience is wonderful, and we loved enjoying fresh local dishes, like wiener schnitzel and Hungarian goulash, customized to the nation we were visiting. We enjoyed so many delicious wines from the best wine-producing regions of Europe throughout the cruise – like German Rieslings, French Bordeaux, sparkling Italian wine, Hungarian red wine and Portuguese port wine.
Great for Active and Foodie Couples
This is a fantastic river cruise for a variety of couples. Active couples are well covered. There is always the option to tour locations by bicycle. And often, there is a castle to hike up to as well! The Emerald Destiny even has a small gym onboard where you can get in some cardio or lift weights. Couples will also enjoy spending some time swimming and relaxing by the infinity pool. As part of a wellness trip, you can visit the spas in Budapest and book a massage onboard the ship or off of it.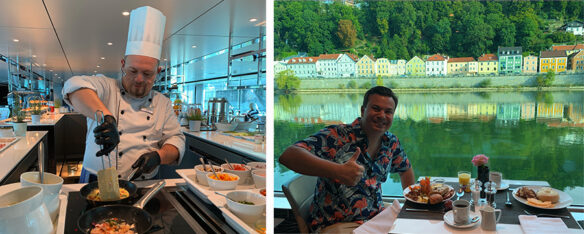 Foodie couples will enjoy the cruise for wonderful meals throughout the duration of the trip. Highlights include smoked salmon and other smoked fish at the breakfast buffet, a variety of excellent cheeses from mild to aged cheeses like Parmigiano Reggiano cheese on a variety of dishes. Local bakeries provide delicious freshly baked bread. Excellent pastries like traditional strudel served with cream covers the sweet spot of palates. There is also the option to enjoy so many delicious treats off the ship too.
Covid-19 Protocols and Safety
We felt safe aboard the Emerald Destiny for a variety of reasons. Passengers are required to be fully vaccinated and provide proof of a negative COVID-19 test before embarking on a cruise. And all staff wear masks. Guests are also required to wear masks when moving throughout public spaces of the ship indoors. We didn't notice any sick passengers or staff throughout the cruise.
A negative COVID-19 PCR test taken within 72 hours of your flight is currently required to fly back to the USA, UK and many other destinations. Emerald Cruises handed tests out on the second last day of the cruise. So for those heading straight home, that was another detail conveniently taken care of by their wonderful staff. Update: Most countries no longer require PCR tests to return home.
In our case, since we stayed in Budapest an additional week, we used emed services with the BinaxNOW COVID-19 antigen self-test that we purchased online and brought from the US to test before flying home. We highly recommend this for anyone staying longer than the duration of the river cruise!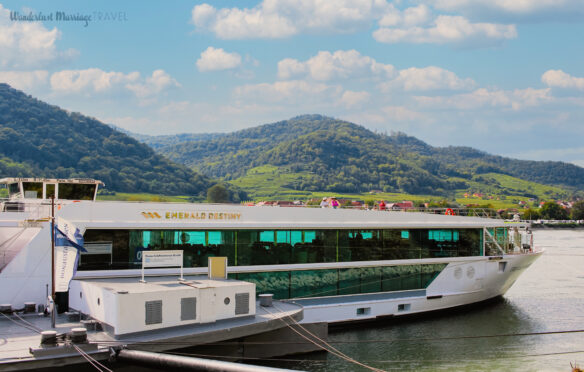 Disclosure: We were media guests aboard the Emerald Destiny. This hasn't impacted this article. All photos and opinions expressed here are ours.