We frequently travel from Boston to Washington, D.C for work. Recently we spent a great weekend in Baltimore, just 38 miles north of D.C. Living in Boston, we're spoiled for American history, but we still left Baltimore extremely impressed. Baltimore was founded in 1729 and is packed with areas of historical interest and delicious food (wonderful crab cakes are just one highlight). And "charm city" lives up to its reputation with friendly locals and great hangouts. So here's some recommendations for having fun in Baltimore!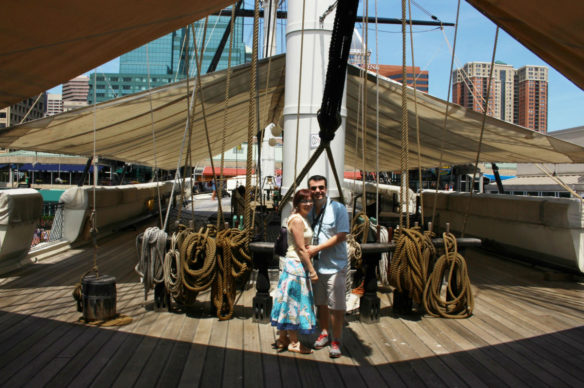 Inner Harbor and the USS Constellation
On the footsteps of downtown, Baltimore's Inner Harbor is likely the first area of town you'll explore. Especially on a sunny day, it's very picturesque and wonderful for a stroll.
Highlights of Baltimore's Inner Harbor include several old ships, including the USS Constellation. We toured the Constellation, which offers great views of Baltimore from the top deck. And in the lower decks, you'll learn a lot about naval history and life on an old battle ship. At 5pm daily, they fire a cannon and our water taxi happened to be coming in that moment, so an attendant shouted down to our boat so we wouldn't be scared.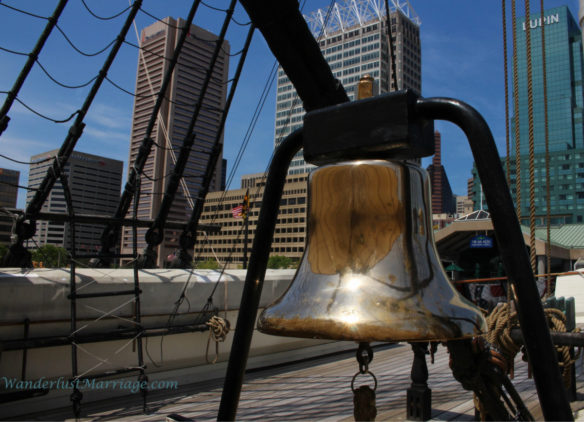 Baltimore is the second largest seaport in the mid-Atlantic and convenient water taxis serve the area. The Baltimore Water Taxi  serves the harbor, Fell's Point, Canton and Fort McHenry. For just $14 you can travel around Baltimore all day on the water. We caught the water taxi from the harbor to the historic Fell's Point neighborhood. The water taxi is a relaxing way to tour the city, offering picturesque views, and a reprieve from the heat on a hot summer's day.
National Aquarium
Baltimore's massive National Aquarium is one of the best in the world. We spent 2 and 1/2 hours touring it, and didn't see everything. For marine life lovers, this is a must while visiting Baltimore. You'll find 20,000 animal residents and rehabilitation patients there.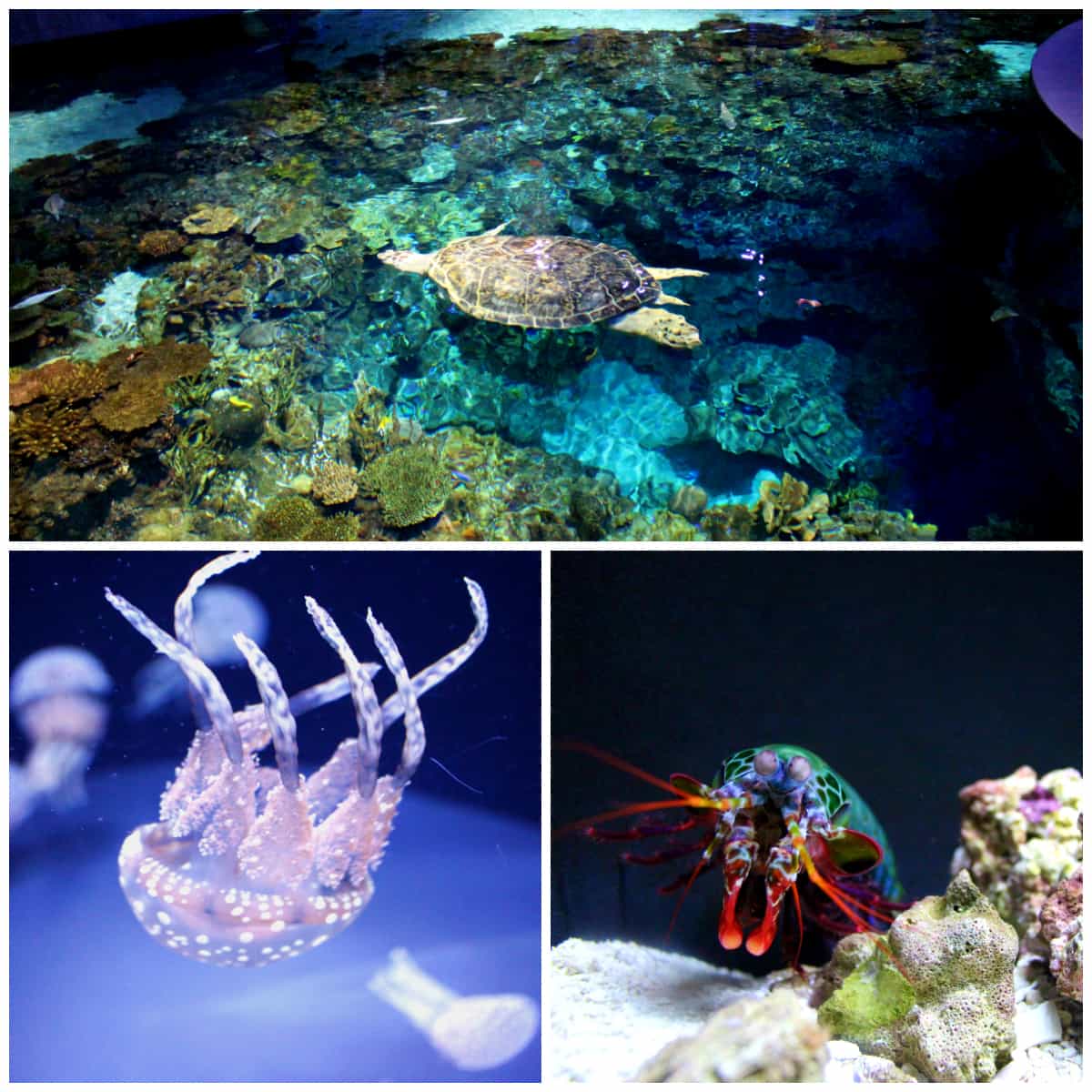 We especially enjoyed watching huge tortoises, sharks and lots of colorful fish in the reef habitat. The dolphin exhibition itself is huge and somewhere you could spend a long time watching the dolphins play from indoor stadium seating. The jellyfish exhibition was like watching something from another planet. And the Australian exhibition will transport you to a far corner of the globe. The top floor of the National Aquarium features a rainforest where you can view birds and even monkeys.
Fell's Point is Perfect for Having Fun in Baltimore
Fell's Point dates back to 1726 and is a celebration of Baltimore's British nautical history. Many of the buildings in this neighborhood date back to the 18th and 19th centuries. So there's some serious history in many of the stores, restaurants, pubs and cafes there.
Fell's Point is the place to be for nightlife, good Chesapeake Bay cuisine or just an afternoon stroll. The Wharf Rat is a fantastic English American pub where you can enjoy a great selection of British cask ales or local microbrews. The building dates back to the late 1700's and the pub oozes history and good vibes, which is the perfect recipe for fun in Baltimore.
Babe Ruth Birthplace Museum
Babe Ruth is most famous for playing for the Yankees and cursing the Boston Red Sox. But he was born in Baltimore and began his baseball career with the Orioles. Ruth was a rambunctious kid and his parents had a hard time dealing with him, so he spent much of his youth in a Xaverian reform school.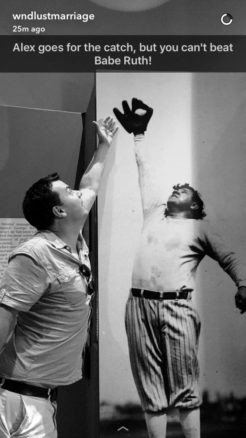 Ruth was one of the greatest athletes of the 20th century and was the first player to make money off endorsements. The candy bar Baby Ruth was named after him, but Nestle avoided paying him royalties during his playing days. The Babe Ruth Birthplace Museum is a must for baseball fans, and even Bell, who isn't a baseball fan, thought it was fun and interesting.
Ripley's Believe it Or Not
Update: Ripley's has closed their Baltimore Inner Harbor location. But you can find Ripley's attractions in 100+ other locations around the world. Check out Ripley's locations as there might be another you can visit on a road trip. 
This was our first ever visit to a Ripley's Believe it Or Not. Bell was especially keen to go as she mentioned wanting to go as a kid, on a family trip to the Gold Coast, in Australia. Robert Ripley was a world traveler and used to host a show called Believe it Or Not. Today, Ripley's museums are all over the world and feature an eclectic mix of artifacts and art.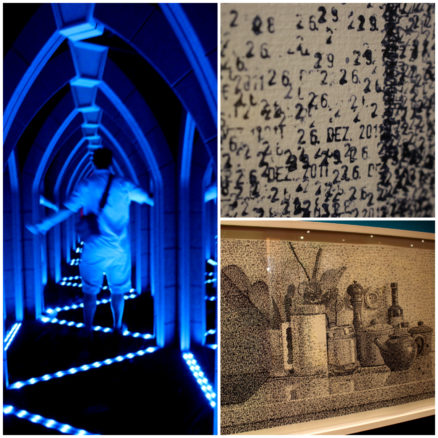 Among their collection, highlights of Baltimore Ripley's Believe it Or Not features miniature city skylines, a castle made of match sticks, indigenous antiques and paintings of the Clintons made entirely from hamburger grease. There is also an optional 2,000 sq. feet mirror maze and a simulator ride. If you're into oddities, interactive exhibitions and learning about different cultures, Ripley's is good fun in Baltimore. Even the bathroom features a wild spectacle of varying noises and tidbits of history.
What to Eat in Baltimore
Update: Canton Dockside is now closed. 
Maryland is famous for crab cakes, so if you like shellfish, don't leave Baltimore without ordering them. We enjoyed a nice seafood dinner at Canton Dockside, in the Canton neighborhood. Maryland crab chowder is also really popular and delicious, so this should be on your radar too. It's similar to Manhattan clam chowder, as it's tomato based, rather than creamy like New England chowders.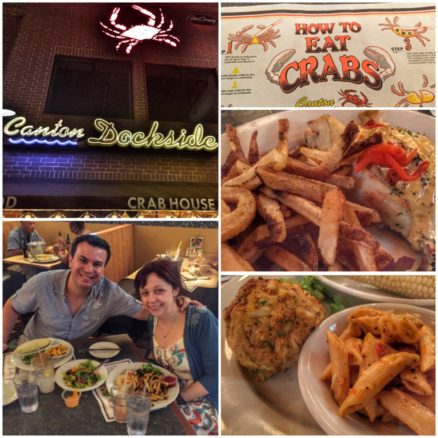 Among other eats, Baltimore also takes hot dogs seriously. We generally don't eat hot dogs, but enjoyed a ridiculously loaded quality hot dog across the street from Oriole Park at Camden Yards. Its as one of the best we've eaten. And for baseball fans, Oriole Park is a fantastic throwback venue to catch a game. While we didn't watch a game this visit, it was one of my favorite stadiums as a kid, while visiting ten east coast ballparks on a family road trip.
Where to Stay in Baltimore
We stayed at the Radisson Hotel Baltimore Downtown-Inner Harbor, formerly known as the Baltimore Harbor Hotel. We had a deluxe corner guest room with a great view of the city and outdoor pool below. Breakfast was included and served in their comfortable Balto Tavern & Tap dining room.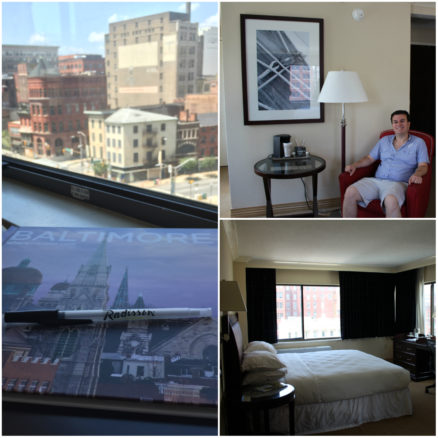 Baltimore has a wide variety of hotel options to suit various tastes and budgets. For those looking to hit the town for fun in Baltimore, a stay in historic Fell's Point would also be an excellent choice. Check out Airbnb options. If you have never used the service, sign up using our link and receive a discount off your first stay! Be sure to book apartments and homes with consistently good reviews for the best experience.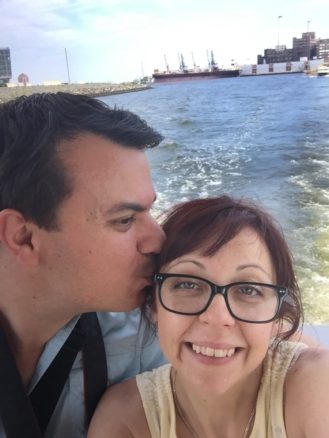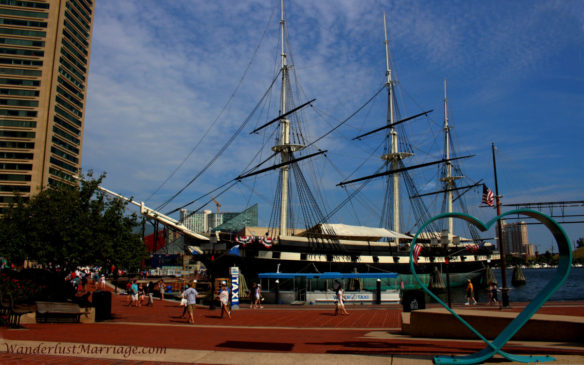 Disclosure: We were hosted by Visit Baltimore and the Baltimore Radisson. We thank them for their wonderful assistance in helping us cover their beautiful and historic city. All photos and opinions are our own. Also, this article contains some affiliate links.