We've been living in the Washington, DC area for the past 3 and 1/2 years. The city is packed with great things to do, as the Smithsonian is the world's largest collection of free museums. DC also has a fantastic culinary scene that has nobly persisted through tough Covid-19 times. For residents and those that have visited DC many times, there are also so many great nearby destinations. For this article, we've covered destinations within a 100-mile drive each way as a potential day trip. There are great destinations in four states surrounding the District that are within that distance – in Maryland, Pennsylvania, Virginia and West Virginia. Below are some of the best Washington, DC day trips! Also, check out our previous article on 25 Washington DC Travel Tips to help you plan a visit to the nation's capital!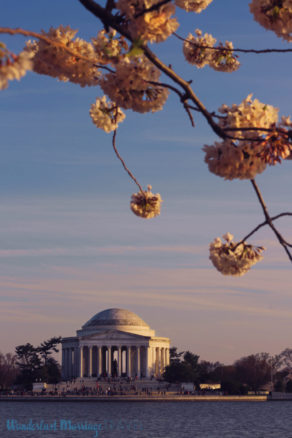 Keep in mind that traffic in the DC area can be a nightmare, especially on I-495 (the "beltway"), I-95 and other major thoroughfares in and around the city. So that can add significant time to your drive. Even if you know the route, it is worth having your GPS on to notify you of traffic congestion and alternative routes. In some cases, you may want to stay a night, or spend a whole weekend. And for several of these destinations, we've covered how you can spend an enjoyable weekend in dedicated articles.
Pennsylvania: DC Day Trips
Gettysburg
Washington, DC to Gettysburg, PA: 84 miles.
Gettysburg is most famous for the historic US Civil War battle that effectively ended the Confederacy's campaign in 1863. The history is well documented in the small Pennsylvania town that attracts around 4 million visitors a year. The Gettysburg area is packed with fun and delicious breweries, wineries and distilleries along its Pour Tour. A few good drinks makes the history more fun!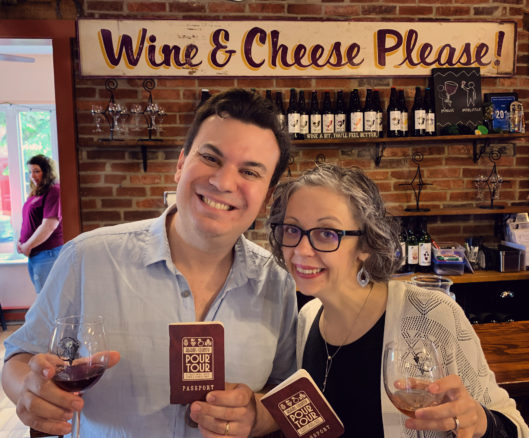 Many orchards, vineyards and other farmlands that produce a variety of fruit, hops, honey and grains can be found in Adams County. Rich agriculture allows for an excellent assortment of locally produced craft beers, wines, ciders and spirits. The Pour Tour includes 21 area businesses with 34 unique stamps to collect. Get a Pour Tour passport and get stamped after a purchase at each stop. You can then receive prizes at 5, 12 and 20 stamps.
Gettysburg's battlefields are managed by the National Park Service. There's a variety of ways to tour the battlefield from self-guided in your vehicle, to bus tours, horseback riding tours, Segway tours, bicycle tours and horse and carriage tours. Read our article on the best things to do in Gettysburg!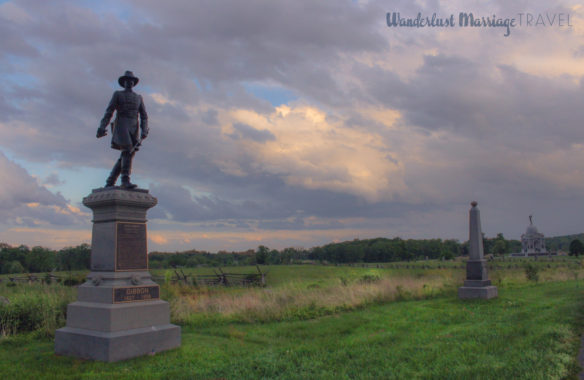 Gettysburg is also well worth spending a night or a weekend. The Brickhouse Inn B&B occupies 2 ornate Victorian buildings in the heart of Gettysburg. We've stayed at the Wyndham Gettysburg, about 3 miles outside the historic center. Rooms are comfortable, spacious and warmly decorated.
York
Washington, DC to York, PA is 93 miles.
We recently spent a weekend in York, PA, but it's also doable on a day trip. York County is great for foodies, outdoor adventure lovers and history enthusiasts. The city is named after the British city of York and was founded in 1741 by settlers from Philadelphia. The Continental Congress first drafted the Articles of Confederation there. So it lays claim to being the USA's first capital!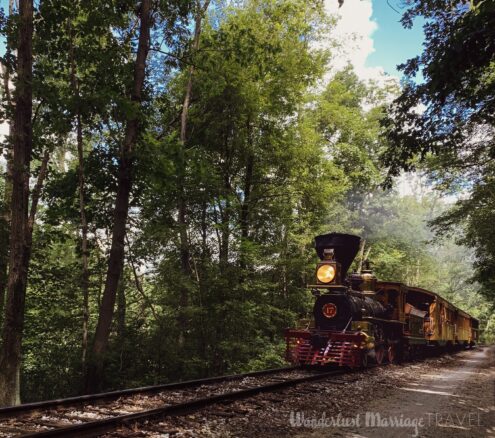 York County is home to 22 breweries and is becoming a major beer player in the mid-Atlantic. Old Forge Brewing Company and  Collusion Tapworks are two excellent breweries right in downtown York. If you want to learn a lot about beer history during non-COVID-19 times, take a brewery tour with York County Ale Trail. They offer two different walking tours as well as a brew bus tour.
Saturday mornings are a great time to check out York Central Market. The spacious two-story brick building designed in Romanesque Revival serves as the town's public market. It dates to 1888 and was designed by architect John A Dempwolf. Plan to grab breakfast there and pick up some fresh fruit, vegetables and whatever else you may enjoy.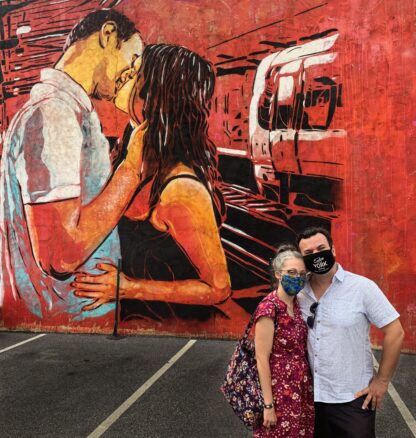 Maryland: DC Day Trips
Annapolis
Washington, DC to Annapolis is 32 miles.
Annapolis is the state capital of Maryland. The Maryland State House dates to 1772 and is the oldest continuously in use by a legislative body. It is also the oldest state house to have ever served as the nation's capital. From 1783-1784, the Continental Congress used the chamber.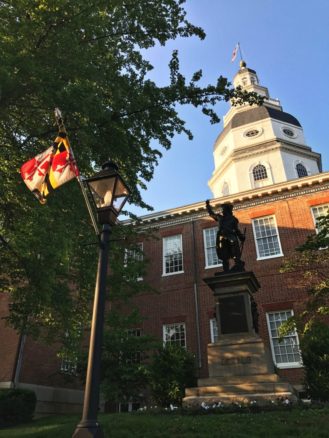 Annapolis is also home to the United States Naval Academy. You can even tour the Naval Academy. Be sure to visit the impressive Memorial Hall, within Bancroft Hall. The hall contains an honor roll of over 2,660 Naval Academy alumni who died in military operations. Bancroft Hall contains 1,700 rooms and is the nation's largest academic dormitory building.
Beyond its rich history, Annapolis is a charming town to stroll and enjoy a meal. There is a wide variety of great restaurant options. Maryland is famous for crab cakes, and there are several good seafood restaurants to try them. It's one of the best day trips from Washington, DC that we enjoy taking guests to!
Baltimore
Washington, DC to Baltimore is 39 miles.
Baltimore is the largest city in Maryland. The Inner Harbor has historic ships like the USS Constellation. It is also home to the National Aquarium – one of the largest and most impressive in the country. There are a lot of chain restaurants on the Inner Harbor, so skip those in favor of dining in Fells Point.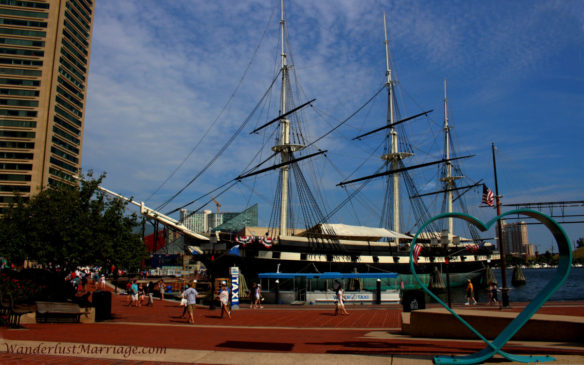 Baltimore is a great day trip from Washington, DC for those that do not want to drive. You can catch an Amtrak or Marc train from Union Station to Baltimore. There are also frequent buses that serve Washington, DC neighborhoods, including Silver Spring, and Baltimore.
Baltimore is a great sports town. Sports fans should visit the Babe Ruth Birthplace and Museum. The museum is close to Oriole Park at Camden Yards, where the Baltimore Orioles play. So during normal times, you can pair a visit to the museum with a baseball game.
Take the water taxi from historic Fell's Point to the Inner Harbor. You'll gain a wonderful perspective of the city, without having to move your car.
Fell's Point dates to 1726 and is a throwback to Baltimore's British nautical history. Many of the buildings date to the 18th and 19th centuries. Fell's Point offers great Chesapeake Bay cuisine, boutique shops and fun pubs. The Wharf Rat is a great English-style pub where you can sip away at a tasty selection of British cask ales or local microbrews. The building dates back to the late 1700s and the pub oozes history and fun vibes. Read our article for having a fun day out in Baltimore!
Virginia: DC Day Trips
Alexandria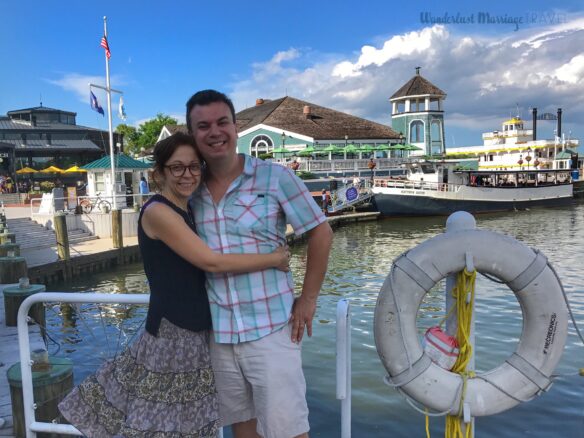 Washington, DC to Alexandria, VA is 8 miles.

Alexandria, Virginia is one of the best DC day trips that you take by public transport. Right along the Potomac River, it is just a few miles south from the nation's capital. Both the yellow and blue metro lines conveniently connect Alexandria with Washington, DC.
Alexandria, VA offers a rich history, with beautifully preserved 18th- and 19th-century architecture. Condé Nast Traveler Readers' Choice Awards named it a Top 3 Best Small City in the U.S. 2019. And Southern Living named it one of the South's Best Cities 2020.
A nationally designated historic district founded in 1749, Old Town Alexandria is home to more than 200 independent restaurants and boutique shops. Many are lined along King Street, which is wonderful for a stroll. Enjoy the brick sidewalks and well-preserved 18th and 19th-century buildings leading up to the Potomac River. You can walk one way from the metro and catch the free trolley back.
The Founding fathers dined at Gadsby's Tavern, now a museum with period objects and photographs. Carlyle House Historic Park is a restored Georgian mansion with a garden.
Leesburg
Washington, DC to Leesburg is 41 miles.
Leesburg is the county seat of Loudoun County Virginia. Its historic downtown features charming restaurants and cafes, bars, breweries and boutique shops. You will find much of the action centered on and around King Street. Enjoy lunch at King Street Oyster Bar. Pair their lobster roll with a spicy Kentucky Mule cocktail. Or try one of the many great Virginia wines, as the town is right on the doorstep of Virginia wine country.
Beer lovers will also love a day trip to Leesburg. There are five breweries in the historic downtown within walking distance from each other – such as Loudon Brewing Co, Black Hoof, Crooked Run and Black Walnut. This makes for a wonderful place for a pub crawl.
If you're looking for a DC staycation, Lansdowne Resort and Spa is a great place. The resort features a 45-hole golf course and a full-service spa. There is also a 5 pool aquatic center, tennis courts and a fitness center. Enjoy upscale fireside dining at Piedmont's Table among the four restaurants and lounges.
Winchester
Winchester is 76 miles from Washington, DC.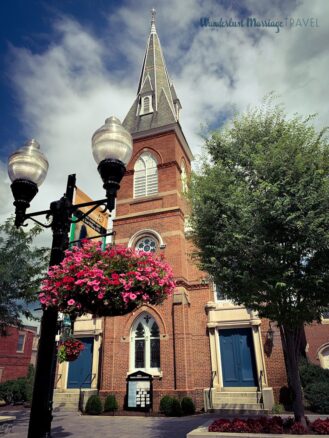 Winchester lies in the beautiful Shenandoah Valley in Northern Virginia. It has a gorgeous historic center with lots of great places to eat. And the nearby Shenandoah Valley offers scenic vistas as well as lots of hiking and outdoor recreation opportunities.
The Appalachian Trail can be accessed from Winchester. Outdoor enthusiasts can also enjoy the nearby Blue Ridge and Skyline Drive and George Washington National Forest. The scenery is stunning, especially during autumn foliage.
History enthusiasts can enjoy visiting the office of George Washington. From that office, he supervised the construction of the Shenandoah Valley Discovery Museum and Fort Loudoun. The Museum of the Shenandoah Valley covers art, history and culture of the area. Country music legend Patsy Cline was born in Winchester and you can tour her former home, which is now a museum.
Winchester can also make for a nice staycation. A great place to stay in Winchester is the historic George Washington. Located right in the historic downtown, it is a short walk from many great restaurants and bars. Speaking from experience – rooms are well-appointed and extremely comfortable. Amenities include an indoor pool, fitness center, on-site restaurant and bar and room service.
West Virginia: DC Day Trips
Harpers Ferry
Washington, DC to Harpers Ferry, WV is 67 miles.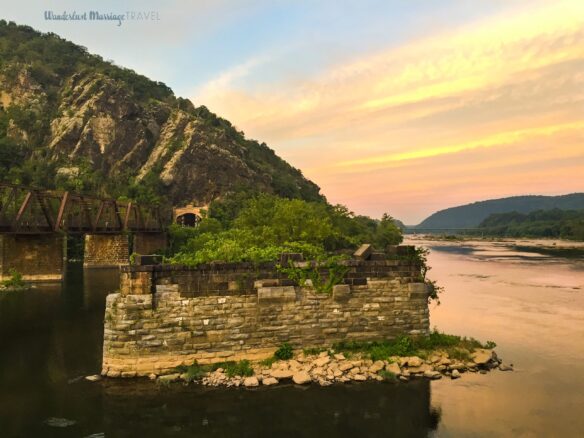 The confluence of the Shenandoah and Potomac rivers meet at Harpers Ferry, West Virginia. Three states converge at "The Point", and across the rivers, visitors can enjoy picturesque views of Maryland and Virginia. Harper's Ferry is home to 19th-century buildings, a Civil War Museum and John Brown's Fort. Harper's Ferry has some delicious spots to grab lunch too.
John Brown's Fort was originally constructed in 1848. The federal Harpers Ferry Armory used it as a guard and fire engine house. It was the only Armory building that was not destroyed during the Civil War.
The Rabbit Hole is a great place to have lunch in Harpers Ferry. The ingredients they use are high quality and prices are reasonable. Go for a pulled pork sandwich, crab cake or delicious salad. They have a nice terrace and are taking proper covid-19 precautions.
Rabbit Hole Address:
186 High St, Harpers Ferry, WV 25425
Washington, DC Day Trips Recap
There are so many great destinations within a 100 mile drive from Washington, DC. If you believe two hours is doable for a day trip, then you can even add the state of Delaware. Dover's historic capital is 93 miles from DC, and it's possible to get there in under two hours. Keep in mind that traffic in the DC area can be a nightmare, especially on I-495 (the "beltway"), I-95 and other major thoroughfares in and around the city. So that can add significant time to your drive. Even if you know the route, it is worth having your GPS on to notify you of traffic congestion and alternative routes.
Washington, DC has so much to offer. Read our previous article on 25 Washington DC Travel Tips to Avoid Missing Out!
Disclosure: This article contains some affiliate links. We receive a commission when you book directly through them. Thanks in advance for helping to support independent travel writing!