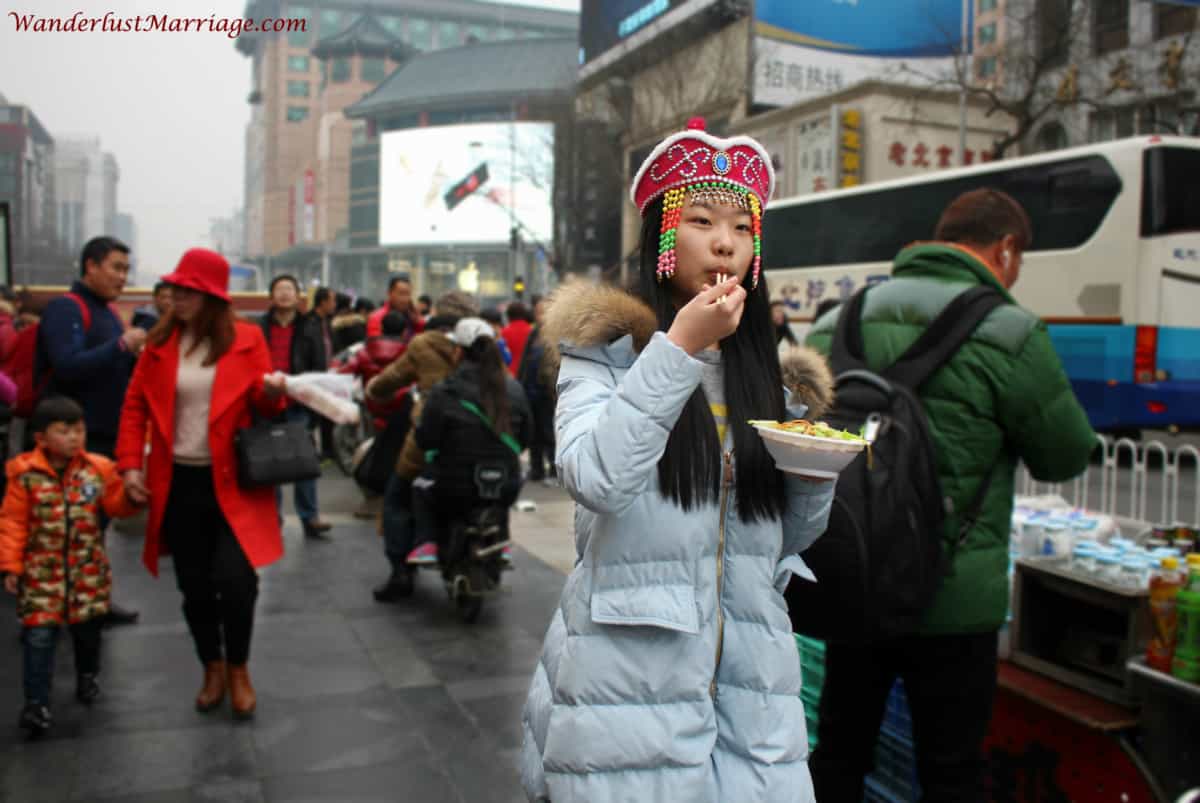 Beijing is a dynamic city with a rich history that spans thousands of years. And with 22 million people, it's also the world's 3rd largest city. It's easier than ever to visit China thanks to increased airline routes, cheaper airfares and a recent 72 hour free transit visa. On our recent visit to Beijing, we utilized the free 72 hour transit visa to spend a total of 5 days in Beijing, passing through the country twice, while traveling from Boston to Australia. It was like getting a free trip to China and we loved experiencing the phenomenal palaces, great food, the Great Wall of China and interacting with the people of Beijing.
People of Beijing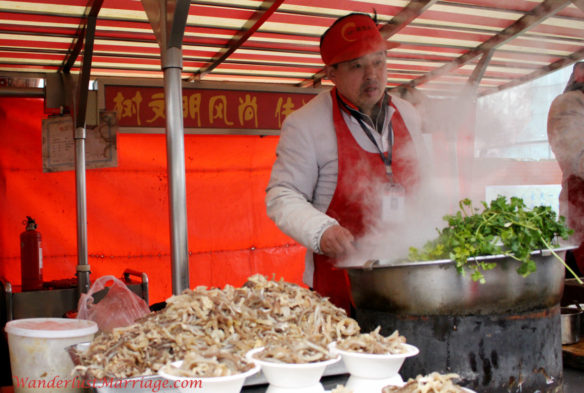 Beijing is a fantastic city for street food. This is highlighted well by several great open air street markets around the city, with a lot of variety to choose from. While we recommend much of it, including the Wangfujing Night Food Street, the Donghuamen Night Market is best for people and exotic food watching. There's a lot of gimmicky items at Donghuamen like fried scorpions, sea horses, starfish and silkworm cocoons that are popular to photograph, but hardly anybody actually buys them to eat. If you want to try them, ask that they be prepared fresh in front of you, rather than taking pre-made sea horses on a stick. But unless your highly intoxicated and adventurous, stick with the good food, and the people of Beijing provide a lot of it.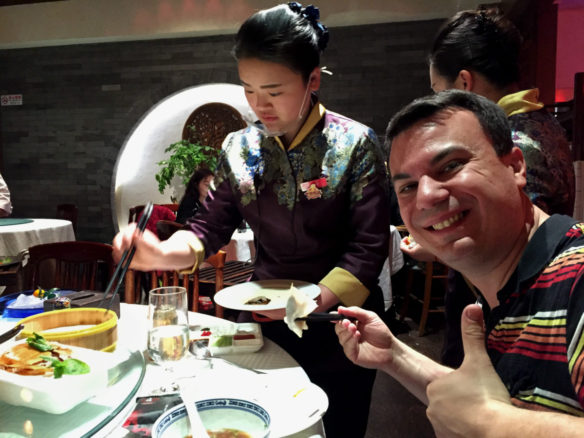 Some of our favorite foods in Beijing were Peking duck at Sijiminfu, fresh noodle dishes, dumplings and sweet treats like moon pies. There's a big variety of moon pie choices in sweet shops, with selections like bean curds, green tea and fruit flavors. If they speak English, ask for recommendations and explanations. We especially loved the coconut moon pies. We also became big fans of hawthorn fruit tea. So much so, that we recently ordered some off Amazon, which didn't compare to the freshness of what we drank in Beijing.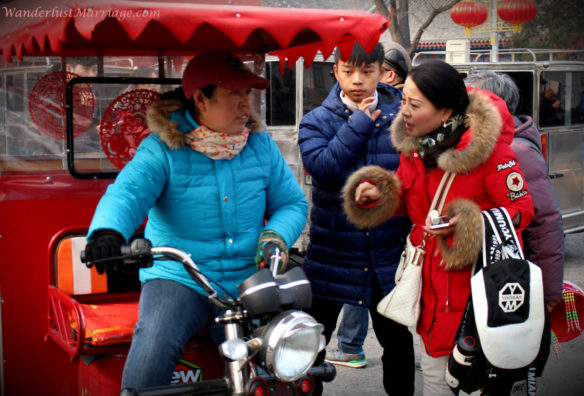 The people of Beijing don't typically speak much English, but vendors and especially those in the hospitality industry in Beijing can usually communicate basics in English. We generally found the people of Beijing to be good natured, helpful and on average, less pushy than sellers in major southeast Asian cities like Bangkok and Ho Chi Minh City.
The people of Beijing are enjoying more opportunities that have come with their booming economy. But this also means new challenges like overwhelming pollution. Beijing is the most smog filled city we've visited in our travels. Many expat children who reside in Beijing usually only go outside on rare days when the pollution index is low. But it's still a fantastic city to visit, partly because the people of Beijing have a heck of a lot to offer.
Where to Stay in Beijing?
First you'll probably need a place to stay in Beijing and we highly recommend staying at the Inner Mongolia Grand Hotel. This is a fantastic valued 5 star hotel that's very comfortable and nicely decorated. Don't stay in a western chain that will be decorated the same as a hotel in Chicago or London if you don't have to.
If that's booked, we also recommend the Prime Hotel Beijing which is another 5 star hotel centrally located in the Wangfujing district of Beijing. We stayed there our second visit to Beijing because the Inner Mongolia was booked. It's also a very nice hotel but the beds were a little firm for our liking. Beautiful rooms and nice amenities otherwise though.
You can possibly book either hotel with free cancellation to hold the room and then cancel later if your plans change.
Want to travel to China for Free?
Play the credit card points game to earn free flights with everyday spending. There's really no catch as long as you're responsible with credit (being irresponsible is the catch). We take advantage of credit card bonus sign ups and Chase is one of our favorite cards for the flexibility.
The Chase Sapphire Preferred has no annual fee the first year and offers 50,000 bonus points when you sign up. 50,000 bonus points on Chase rewards is worth about $750 in travel credit. There are no blackouts on flights, meaning that if there are seats you can use your points. You can often even earn airline miles with the free flight this way too! The Chase system is easy to use to cash in the points for free flights and hotel stays around the world, making it very popular among travel hackers. You can even transfer Chase points to many airline mileage programs at a 1:1 ratio!
Another popular card among travel hackers is the Chase Sapphire Reserve. That card also includes complimentary Priority Pass lounge access with free food, drinks and wifi. The annual fee seems steep at $450, but it includes $300 in travel credits. The 50,000 bonus point sign up is good for $750 in travel credit, sometimes enough for a free plane ticket to China! They'll also compensate you $100 for free Global Entry and TSA pre-check to skip airport lines. We've now enjoyed lounge access in airports like Istanbul and even in Tanzania.
If you're planning a trip to Beijing and have questions you can leave a comment or email me at alex@wanderlustmarriage.com and I can assist with your plans to China!
This article contains some affiliate links. We receive a small commission when you book or sign up through certain links and it costs you nothing extra. When it suits you, please use them, as it helps us help you with your travels!