Summer is a time of great outdoor activities in most major cities, and Melbourne is one of the best for great outdoor festivals and events like Moonlight Cinema. While summer highs can occasionally reach 110 fahrenheit (42 celsius), there are also plenty of balmy nights to enjoy being outside. During our February visit to Melbourne this summer, temperatures were mild and we visited two of the night markets, which offer an amazing selection of food that will leave you stuffed and still wanting to try more of what is on offer! Melbourne is one of the best cities in the world for quality food, and the markets are a great place to discover why.
When: Wednesday nights from 5pm-10pm
Getting there: Within walking distance of central Melbourne, or tram options can be found here.
Think of pretty much every international food you can imagine, with craft stalls and live music and you have the Queen Victoria Night Market. We were totally blown away by the selection, making it hard to chose from authentic Indian, Sri Lankan, Caribbean, Greek, Spanish, Thai, Turkish, Australian and much more from over 50 food stalls!
We visited with Bell's mum and split three dishes as we walked around and enjoyed the ambiance that draws around 30,000 people every Wednesday night. We tried an assortment of two Indian curries, spicy Sri Lankan chicken and goat curry with fried yuca from the Caribbean stall. Everything was delicious but the highlight, in our opinion, was the spicy Sri Lankan chicken. The paella, cooked the traditional way in huge pans looked fantastic and is a popular choice among Melbournians. But once we started enjoying curries we figured it was best to stick with other spicy foods.
The Queen Victoria Night Market's 18th season kicked off November 4th, 2015 and ends March 30th, 2016. If you visit Melbourne and can't make the night market, the Vic Market is also very worthwhile six days a week (closed Mondays) for shopping, souvenirs and trying tasty Aussie foods like pasties and meat pies. The Turkish boreks are also particularly excellent. You can even buy some kangaroo and emu steak to fry or grill somewhere like Fawkner Park where there are public grills you can use for free!
When: Thursday nights starting at 5:30pm
Getting there: See tram options here
Unfortunately Thursday, March 10th is your last chance to visit the South Melbourne Night Market for this year's summer season. The South Melbourne Market is less touristy and draws smaller crowds than the Queen Victoria Market which is perfect for some people (though make no mistake, it's still mostly Australians frequenting the Vic Market as well).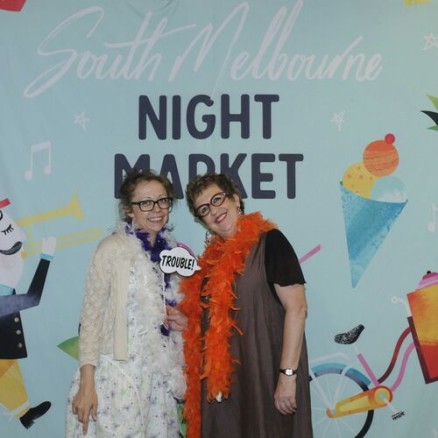 Bell and her mom enjoyed food from two of the Greek vendors at the South Melbourne Night Market, though there are a wide variety of other stands and food trucks at the market. The souvlakis we tried were cheekily named the baah and oink by the Greek Street Food truck, and were the perfect size as we still had room to also enjoy dessert. We opted for the popular loukoumades (Greek donuts) by St Gerry's, and while we had to wait in line 15 minutes, it was well worth it! We chose 8 loukoumades for $10 AUD ($7.50 USD) with two toppings; their traditional topping, with honey, cinnamon and walnuts and their salted caramel and popcorn topping. These fried treats were perfectly crispy on the outside, and delicately soft and chewy on the inside.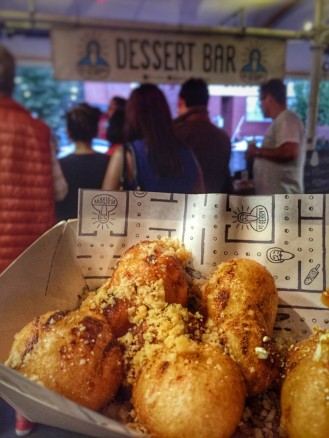 The South Melbourne Night Market also features live music and craft stalls, making it a great spot to pick up small gifts or unique souvenirs. Similar to the Vic Market, the South Melbourne Market is open during the day, but only Wednesday, Friday, Saturday and Sunday. Among a wealth of good food, it's home to some of the best dim sims in Melbourne. Dim sims are large Chinese style dumplings, typically stuffed with meat, and either fried or steamed. You'll also find some of the most delicious chorizo and feta outside of the best Spain and Greece has to offer.
Melbourne is one of the best cities in the world for great international food, mixed with a funky and forward thinking vibe. And while the city has some of the trendiest restaurants and cafes imaginable, the night markets offer lots of diversity and fun in central locations. So whether you're visiting or a Melbournian, be sure to enjoy the markets and remainder of summer down under!