Normally we're advocates of slower travel, so we rarely debate the idea of flying somewhere to only spend one night. But we've discussed visiting Tasmania for years and always put it off for "next time." And on our most recent visit to Melbourne it looked like Tasmania would once again be pushed back for a future trip because Bell was very busy, working remotely for her day job, in addition to needing time to catch up with family and friends.
Then a friend passed away from cancer and it reminded me that time isn't promised to any of us, so I decided to book a last minute plane ticket to Hobart for a day. If you only have one day in Hobart, here's a few things to consider, along with tips for making the most of a short visit to Tasmania.
Where to Go in Australia?
There's a lot to see in Australia and it's a vast country. Bell's family spent two months traveling the country in a camper when she was a kid. In previous visits and during my year living and working in Melbourne in 2004, I've traveled around Victoria, Sydney and a little around New South Wales, Brisbane, the Great Barrier Reef and Daintree Rainforest in Queensland. I've still not visited Uluru (Ayer's Rock), the Outback or Western Australia.
I've also previously not visited Adelaide or Canberra. Since they're only an hour flight from Melbourne, I considered flying to one of those cities instead of Hobart, if there was a drastic difference in the price of last minute plane tickets. But there wasn't, and Australians generally recommend Hobart over Adelaide and Canberra.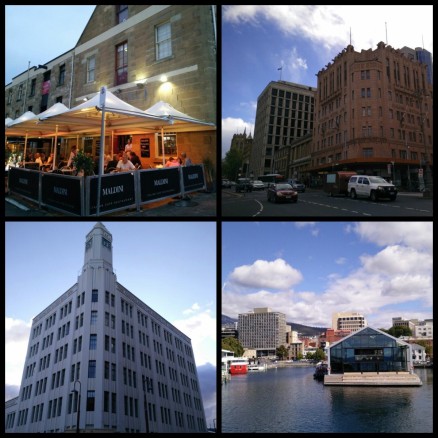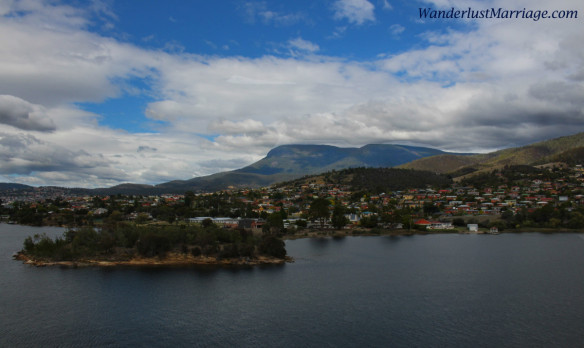 Australia Travel Budget
Australia isn't a cheap country, and if you're traveling all the way there, you've most likely already factored several domestic flights into your budget. I flew from Melbourne to Hobart with Tiger Air and returned the following night with Jetstar. Both airlines are discount carriers and even just 7 days before departure I was able to score roundtrip tickets for $160 Australian ($120 US). We recommend sites like momondo, skyscanner and google flights for finding the cheapest fares globally. And always check multiple sites.
Unless you're a backpacker with a very tight budget, don't let a little extra money get in the way of visiting Tasmania. This may be your only visit to Australia and Tasmania is very worthwhile!
How to Maximize Your Time in Tasmania
Hobart is a chill town that's very walkable. You can see many of the most worthwhile areas, like the waterfront and Salamanca Place in a couple hours. The three biggest attractions of the area are Mount Wellington, MONA (Museum of Old and New Art) and Port Arthur. On a very short visit, you're probably going to have to pick two out of the three. I chose Mount Wellington and MONA, partly because they're both closer to downtown Hobart than Port Arthur.
But I didn't rent a car and unfortunately I just missed the 10:15am shuttle bus to the summit of Mount Wellington and the only other bus was at 1:30pm. That essentially left me with a decision between the later shuttle bus or catching the 30 minute ferry to MONA. If it's a Saturday in summer there's also a 3:30pm shuttle up to Mount Wellington, but otherwise there are just two buses the other six days. I decided to visit MONA because I'd been told the ferry ride and surrounding area was fantastic, and it was.
If you rent a car, you can drive up to Mount Wellington, MONA and also squeeze in a winery. Tasmania has developed an international reputation for some high-end pinot noir. If you enjoy red wine, that is what you should drink in Tasmania!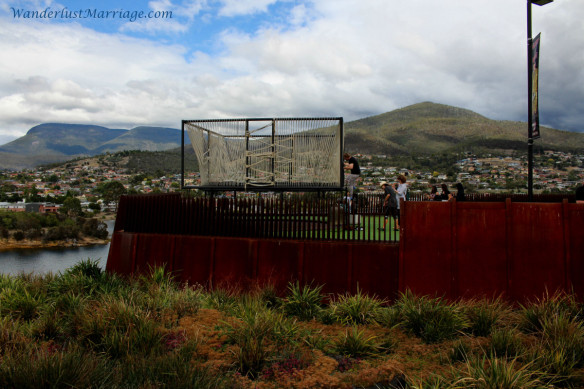 Tasmania Travel Tips
There's several activities at MONA asides from the gallery, so allow additional time to walk around and enjoy it. There's an adjacent winery and even a trampoline with an amazing view of Hobart. If you're a little conservative you may not like MONA because one aim of the gallery is to shock people, which is partly why it's become world renown and scores big special exhibitions like Gilbert & George. The ferry ride offers a wonderful view, and the boat is very modern, with interesting art like sheep and cow statues on the deck.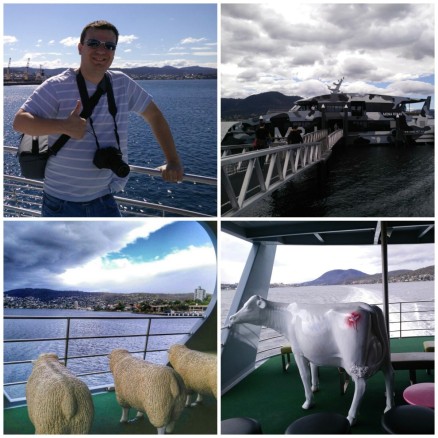 A great place for a casual dinner and tasty craft beer or Tasmanian wine is the hipster haven, Preachers. Dine inside and feel like you're eating in someone's house, or you can sit outside in their retro bus in the courtyard. I enjoyed a melt in your mouth lamb burger with nicely seasoned thick cut fries. And the staff are happy to let you sample a couple craft beers before making a commitment. But in Tasmania the highlight is the pinot noir and lots of hip bars and restaurants line Salamanca Place to enjoy a glass or bottle with company.
Saturday would be the best day to visit Hobart for some, asides from larger crowds and higher prices in the hotels. Saturday is when the Salamanca Market takes place, which is one of the best in Australia. I flew into Hobart Wednesday evening and flew back to Melbourne late Thursday night so I missed it.
Hobart Hotels
Book a great Hobart hotel in advance, especially during peak times, with free cancellation, when you can. That way if your plans change, you can cancel free of charge. Booking.com often offers great rates, with free cancellation. They also reward frequent customers with special discounts and room upgrades when available!
Hotel Grand Chancellor Hobart is an excellent place to stay in Hobart. Overlooking the majestic Derwent River and Constitution Dock, it is conveniently located a short walk from Salamanca Wharf and Hobart CBD (Central Business District). Each room has panoramic views of the harbor or Mount Wellington. Spacious guest rooms are styled with Tasmanian timbers, polished granite and contemporary furnishings.
Guests can indulge in a skyline swim with views of Mount Wellington in the indoor pool. Unwind over high tea at The Atrium Bar or reserve a table at the contemporary Restaurant Tasman which overlooks the harbor. Grand Chancellor is one of our favorite hotel brands in Australia!
Salamanca Wharf Hotel
The Salamanca Wharf Hotel is another great place to stay in Hobart. Located in the cultural and historic heart of Hobart, it is just a 5-minute walk from Hobart's waterfront. Self-contained apartments feature a 42-inch flat screen TV, timber floors, luxurious carpets, mosaic-tiled bathroom, a kitchen with Smeg appliances and granite bench tops. Guests can enjoy an in-room fridge stocked with premium Tasmanian wine, beer and cheese. Salamanca Wharf Hotel has in-house restaurant, free WiFi and free parking.
Worth Visiting Tasmania For a Day?
Yes, it's worth visiting Tasmania if you only have a spare day! Of course, you should try and visit for longer and I certainly wish I had more time. But a short time is better than no time at all, especially since Australia is far away for most people. So if you have an opportunity to visit Hobart, don't pass on it!