The Cliffs of Moher and County Clare are amazing in our book, but when we recently asked an Irish colleague how she ranked it, compared to County Kerry, she said there was no comparison. She firmly stated that County Kerry was the most beautiful county in Ireland, along with the remote northwest county of Donegal. We still haven't been to Donegal, but we recently made it to County Kerry with Paddywagon Tours, as part of a 3 day tour that began in County Clare.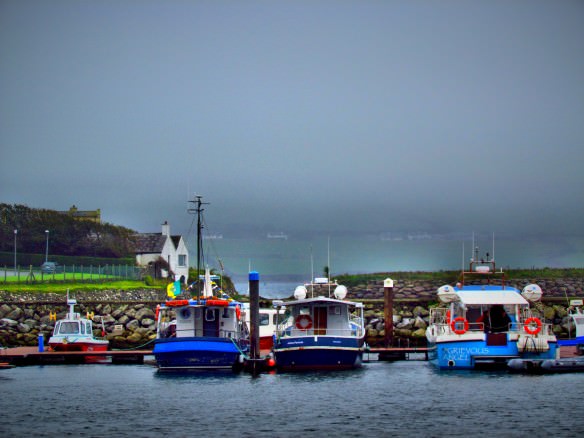 County Kerry and Ireland West Coast Tours
Among several multi-day options, Paddywagon offers a 4 day southwest tour of Ireland from Dublin starting at $441 per person. They also offer a 3 Day Northern Ireland Tour from Dublin including Giant's Causeway and Carrick-A-Rede Rope Bridge from $278 per person.
Our tour did not include the famous "Ring of Kerry," but instead took the shorter Slea Head coastal route on the peninsula across. Fog and harsh weather conditions made viewing the gorgeous scenery difficult and we were very happy we were not driving the wet, narrow and windy roads ourselves. Thankfully that job was left to our driver, guide, entertainer and singer extraordinaire Mike Coggins, who was nothing short of fantastic. At times he reminded me of one of my favorite history professors from college, who also had a seriously great sense of humor. Other times he was charming us with song, like when he sang the classic Wild Rover as we drove through County Kerry.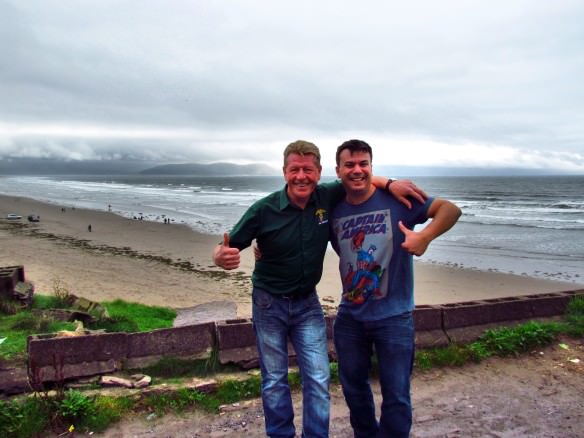 Dingle, One of Ireland's Most Quintessential Towns in County Kerry
After driving the Slea Head coastal route, we made a two hour stop in one of Ireland's most quintessential and popular towns, Dingle. Quite a few celebrities, including Julia Roberts, have been known to take up part-time residency in the Dingle Peninsula for a break from the spot light (take note paparazzi!). And if you like Irish pubs, it doesn't get much better than Dingle. Despite having a population of only around 2,000 people, the town has a whopping 50 pubs. That's 1 pub per 40 residents!
The day we were there, the Dingle Food Festival was on. So we spent much of the two hours browsing and eating at the many food and drink stalls scattered around town. We stuffed ourselves with a buffet of good local food and tasty microbrew Irish cider (no mediocre, mass produced Bulmers cider on that day!). Dingle makes for a fun time in County Kerry.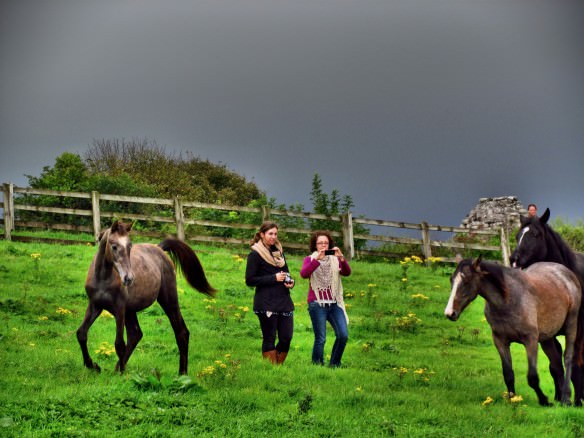 Killarney
After Dingle we took a short 65 km drive to lovely Killarney where we viewed the lakes and mountains that surround the town at what must surely be "make out point" late at night. The scenery was absolutely stunning, and I'd wondered why it took us nearly two years of living in Ireland to finally gaze upon that lovely terrain.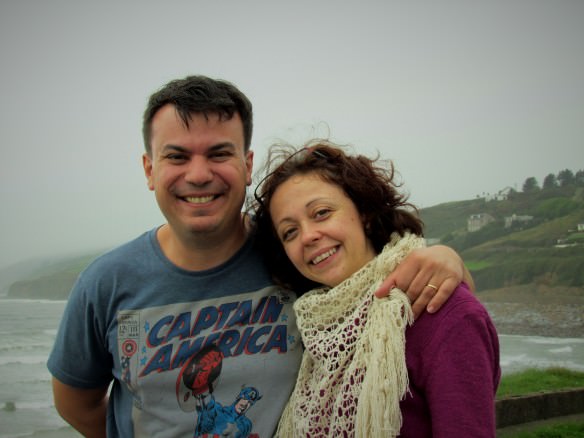 In the evening we spent the night at Paddy's Palace in Killarney, a hostel owned by Paddywagon that also provides private accommodation. Some members of our tour, including Bell, needed to be back in Dublin that night. So Bell and 2 others were placed on a different Paddywagon tour bus that was heading straight back to the capital that evening. One of a few great things about Paddywagon is the flexibility they offer in their tour options, and they can do this because they have a big fleet and offer a wide variety of tours.
A few of us from the press tour had a great night at Courtney's Pub, which has a big selection of international beers and whiskeys. If you're in Killarney and want to drink something other than Guinness or another mass produced beer, Courtney's is the place, and it's also rated first on Yelp for pubs in Killarney.
Torc Waterfalls & Killarney National Park
The next day we visited Torc Waterfalls, in Killarney National Park. It's a majestic place, and a quintessential spot where leprechauns probably come out to play when nobody is watching. Bring your lucky charms here, and perhaps you'll find a pot of gold across a rainbow. But more likely, you might see a flock of red deer like we did.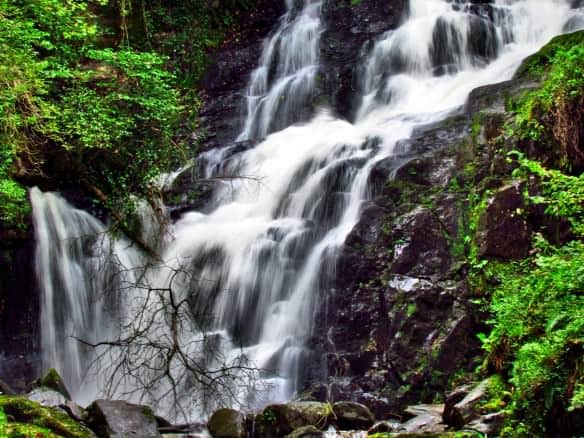 Cork
It was then on to Cork where we had 1 and 1/2 hours to tour town. I felt this was a bit short as you can easily spend an hour at the English Market alone, sampling good food…which I did! We had previously spent a few days in Cork last year so I bypassed trying to cram a big walk around town in a short period of time. If you have more time in Cork and like craft beer, the Franciscan Well is an absolute must. They brew their own beer, offer other great microbrews, and have one of the best beer gardens in Ireland. Bell's great grandmother's old house is also in Cork, so it holds a special place in her heart.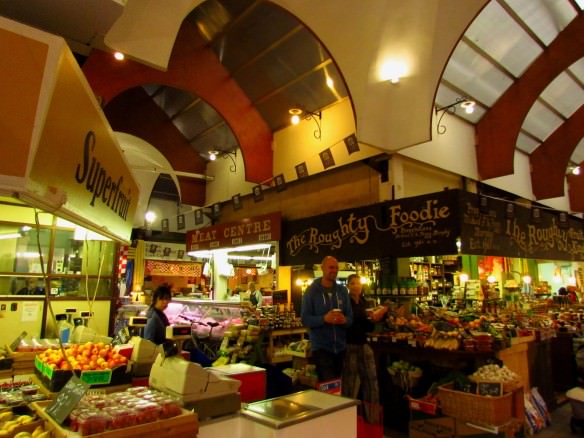 In a nutshell, if you make it to Ireland and have a week, we'd highly recommend visiting County Kerry. Dublin is fun and cultural, but if you're in Ireland for the pubs, there's plenty of great ones in Kerry too. Paddywagon is a convenient, affordable and fun way of seeing the emerald island, especially if you're not keen on driving the narrow precarious roads yourself, like Bell and I. But if you're down for driving, then you'll enjoy the freedom of touring this wonderful region via rental car.
Great Spots in Ireland Beyond County Kerry
We highly recommend you read our article How to Spend the Perfect Week in Ireland. Also, Visiting the Cliffs of Moher by Rental Car from Dublin is another popular post of ours.
Luxury travelers and those visiting Ireland for a honeymoon or anniversary should consider staying at Dromoland Castle. This was the ancestral home of the Dromoland O'Briens, whose lineage goes back 1,000 years to Brian Boru, the only High King of Ireland. This is a stay fit for the monarchy, with world-class dining and close to everything County Clare and County Limerick have to offer.
Where to Stay in Dublin Before Touring the West Coast of Ireland With Paddywagon Tours?
It's a good idea to book a hotel with free cancellation in advance. Later if prices change and you find a better deal, you can easily cancel your reservation and book another one. Here are hotel and bed and breakfast recommendations for Dublin:
Luxury:
Shelbourne Hotel is Dublin's most historic 5 star luxury hotel, as several US Presidents and many foreign dignitaries have stayed there. The hotel is a 5 minutes walk from many of Dublin's famous attractions, like Trinity College, Grafton Street, National Gallery, National Library and National Museum. They have a wonderful cocktail lounge and great dining options. Even if you're not a guest, swing in for high tea and enjoy a lovely view of St. Stephen's Green.
The Merrion Hotel is a 5 star hotel furnished with Georgian decor and Italian marble bathrooms. Awarded 2 Michelin stars, Restaurant Patrick Guilbaud serves gourmet French influenced cuisine overlooking the gardens. The hotel also has an infinity pool and spa. Rooms feature city or garden views.
Mid Range:
The Kilronan House is a family run, award-winning B&B in Dublin's picturesque Georgian Quarter.  Grafton Street and St. Stephen's Green are less than a 5 minute walk away. Trinity College and Dublin Castle are within a 15 minute walk from the house. Free parking is provided. This is one of Dublin's best bed & breakfasts for a romantic getaway.
O'Callaghan is a small chain of centrally located, comfortable hotels with good breakfasts. Trinity College often puts job applicants and guests up in these hotels. We stayed at O'Callaghan St. Stephens Green when Bell interviewed for her postdoctoral position at Trinity College and highly recommend it.
Budget:
ABC House Dublin and Egans House are quintessentially Irish bed and breakfasts in quiet neighborhoods in the north of Dublin. They both offer reasonable comfort for those that don't want to spend a lot to sleep. We spent a week at ABC House Dublin while searching for our apartment when we first moved to Dublin. We stayed at Egans House on a visit to Ireland.
Families especially will find the best deals on short term apartment rentals. If you've never used Airbnb, sign up here for free and receive $55 credit off your first stay!
Backpacker: 
Generator Hostel is conveniently located right next to the Jameson Distillery (fun!) and is part of a reputable chain of hostels in Europe that are known for being clean and having a fun atmosphere.
Want to travel to Ireland Cheap?
Play the credit card points game to earn free flights with everyday spending. We take advantage of credit card bonus sign ups to save thousands every year on travel. If you need tips on travel hacking, leave a comment below or contact us by email!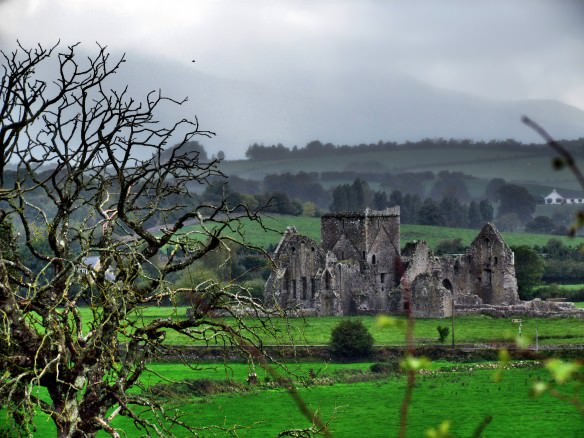 Rock of Cashel in County Tipperary, between Cork and Dublin.
Disclosure: Following Europe's largest travel conference, TBEX, Paddywagon tours organized a media trip for a group of travel bloggers that included us. While we received the tour and accommodation complimentary, this has not impacted our review. Also, this article contains some affiliate links.