I love a road trip, especially one that involves quirky stops to strange attractions like a Palace of Gold! And I'm grateful for Alex always driving, since I kind of let my Australian license expire when we were living in Europe and still haven't re-newed it. So my role when we're on a road trip is to navigate. Alex and I don't always agree on navigation methods, I'm a huge fan of GPS and never want to hunt down a paper map. Alex on the other hand loves maps and always wants to stop in at the state line visitor center to also load up on brochures of random activities. That drives me nuts, we have Google so why talk to people and clutter up the car! But as Alex likes to point out, while technology is great, it sometimes fails, so it's good to have a map as a backup.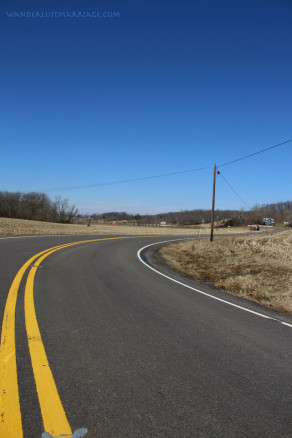 On a recent road trip when we crossed the state line into 
West Virginia
, Alex wanted to stop in the visitors center, so we did as he is, after all, in control of the car! While he was in the bathroom I was looking over the brochures and my eye landed on one for a
Palace of Gold, 
so I pulled it out. As I did a friendly staff member came over to see if I needed help. Alex came out of the bathroom surprised to see me actually interacting in a situation I typically love to avoid. I said thank you to the helpful staff member and flashed the brochure and jumped up and down and told Alex we're going here as it's just down the road!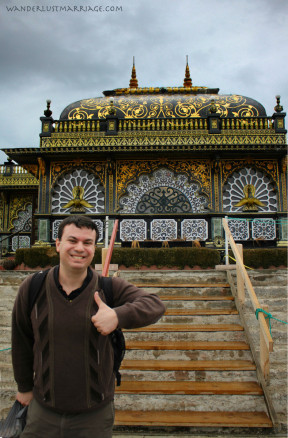 As we wound down a tiny and hilly road twenty miles off Interstate 70, we started to wonder where on Earth we were headed, as this wasn't "just down the road" as the friendly attendant at the visitors had said. After a few more miles on a crumbling, pot hole covered road, followed by a muddy dirt road, we saw the signs and finally pulled up to what seemed like something from another universe. The brochure had slightly oversold the Palace of Gold, billed as
'America's Taj Mahal'
… but we're sure that twenty years ago it was even more spectacular than it is today. Given that it was a cold and rainy Friday afternoon in early March, there were only two other cars in the parking lot and the gardens didn't look very amazing (we imagine they would be much prettier in the spring and summer).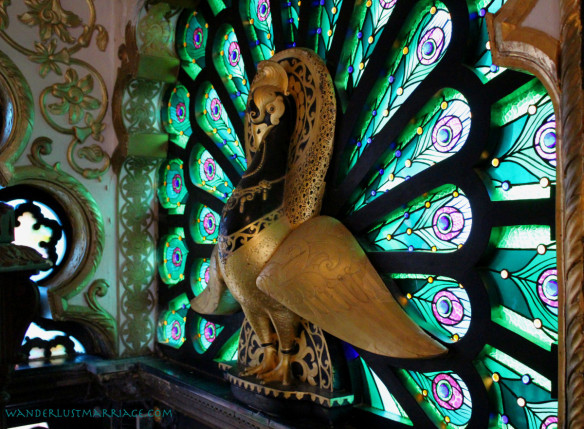 Inside we were greeted by an older white hippie, with long grey hair in a pony tail, who had plenty of time on his hands to personally show us around the Palace of Gold and discuss some ideas behind his faith. Unfortunately, you can't take photos inside the palace beyond the welcome desk, but the building was constructed by Srila Prabhuapada, Founder of the International Society for Krishna Consciousness, or more commonly known as the Hare Krishnas. It became the lavish building that it is because his unpaid devotees wanted an ornate palace that they felt befitting of their spiritual leader, Srila Prabhuapada, to reside in when visiting the US from India (not that he wanted an overly lavish Temple…so our guide said).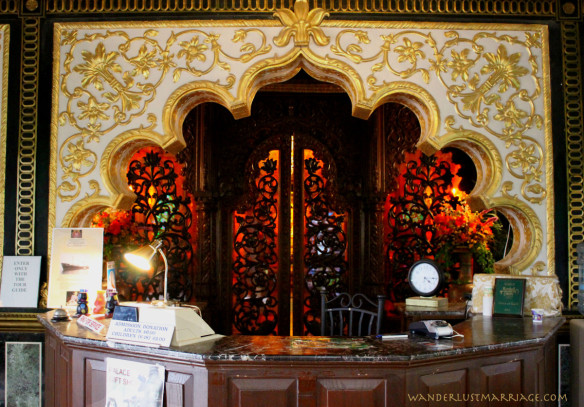 While Srila Prabhuapada died in 1977 before the completion of the palace in 1979, it has grown to be one of West Virginia's top tourist attractions, drawing over 50,000 visitors annually. A 5 year $4.27 million restoration began in 2011, to restore the temple to its original condition. Our devoted Hare Krishna guide told us that during busy tours, some people chip away at the gold leaf paint that covers the interior, which is a challenge to monitor.
Our guide told us many things, like cancer is caused by eating meat, which he said was "a fact." He also said to mind your thoughts because when you die in this world, you'll return in your next life as whatever you were last thinking about. "So if you're craving pork you'll return as a pig." He said that the faith attracts many from the hills of West Virginia, but many leave once when they realize there's more work involved than they anticipated. He also said that non-believers in the nearby communities have become more accepting of Hare Krishnas than they were when the temple was first built.
The Golden Palace hosts retreats, festivals, weddings and also offers lodging options at the Palace Lodge, with lakeside cabins on their property down the hill. During the busier months, they have a restaurant called Govinda's that serves vegetarian food. Govinda's is closed December through March so it wasn't an option during our visit.
On our way to the Palace of Gold, we'd noticed several signs along the road for fish fries. We had no idea what exactly these entailed (outside the obvious), but we were intrigued and hungry after our personal tour and lecture at the Palace of Gold ended. So we pulled up in a local high school parking lot where there was a sign out front for a fish fry. As we got out of the car and wondered where we were, a lady asked us if we were looking for the fish fry and pointed us in the right direction. We were a little uncertain, but inside we were welcomed by a trio of older gentlemen (one of whom had a hook for an arm) who explained the menu to us and took our order. For around $6 we received 2 pieces of fried fish, collard greens, butter noodles and 2 cup cakes. A tasty bargain!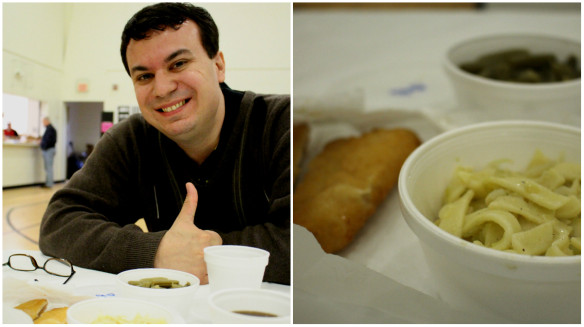 This little side trip was whacky and totally unplanned and this is part of why I love a good road trip. Anything can happen and there are some pretty awesome things to see off the side of the highway. And after this trip I have to give credit to state line visitors centers. Not only for this adventure, but for another where Alex picked up a paperback hotel coupon book, which landed us in a beautiful and historic hotel in Williamsport, Pennsylvania at a great price, which Alex
recently wrote about
. So next time you are on a road trip, stop in at the visitors centers when possible. You never know what kind of adventure you might find yourself on afterwards!
Palace of Gold
3759 McCrearys Ridge Rd.
Moundsville, WV 26041
Hours: 10am – 8pm, April – September (admission: $8 adults, $4 children)
10am – 5pm, October – March    (admission: $6 adults, $3 children)