San Marino is one of the world's oldest and smallest republics. Three towers, perched atop Monte Titano, date back to the 11th century and offer stunning views far across the horizon, all the way to the Adriatic Sea. The tiny enclave is surrounded by the picturesque Emilia-Romagna region of Italy, a culinary haven of the country.
San Marino is a wonderful destination for strolling pedestrian-only cobblestone laneways and enjoying meals and drinks over sweeping vistas. There are, however, a lot of great places to see in Italy, so is San Marino worth visiting? Here is what you can expect during a visit, along with some tips for visiting San Marino.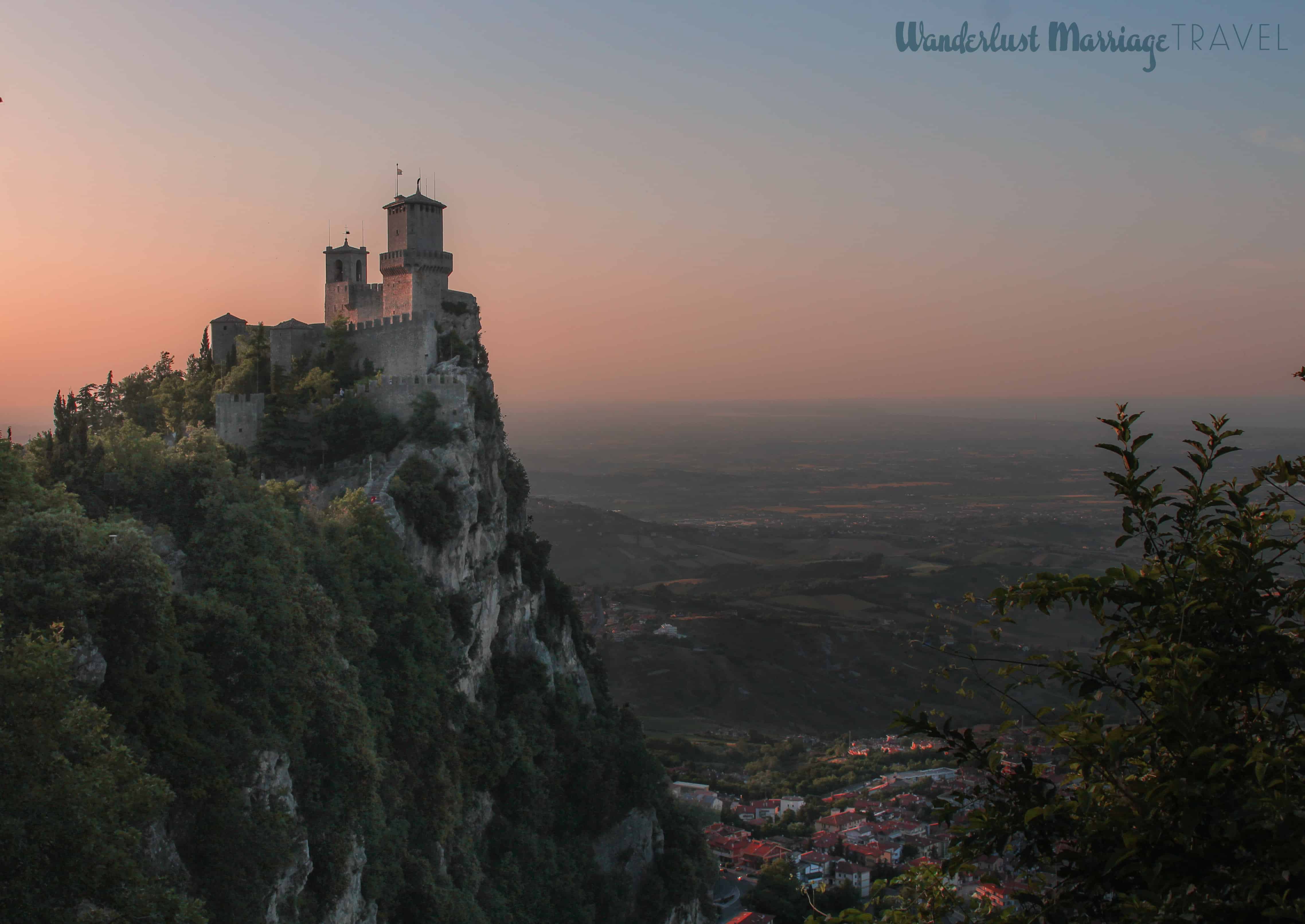 Highlights of San Marino
The Three Towers
San Marino offers stunning vistas of the Apennine Mountains in one direction and the Adriatic Sea in the other. The Towers of San Marino offer historical insight into Medieval Times, along with multiple vantage points of the dramatic landscape below. The three towers are depicted on San Marino's coat of arms and national flag.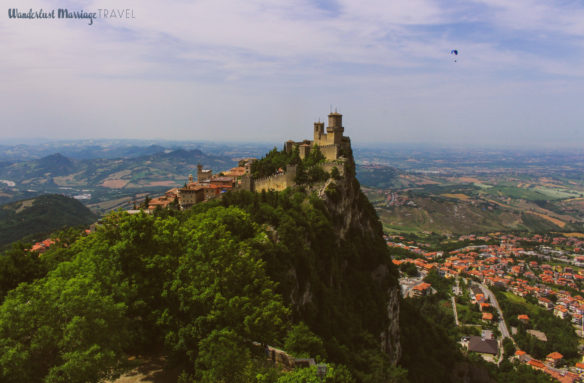 First Tower
Guaita is the most famous and oldest of the three towers. It was constructed in the 11th century and briefly served as a prison. It was rebuilt several times. Its current form dates to the 15th century, when a war was fought between San Marino and the House of Malatesta.
Second Tower
The Cesta dates to the 13th century and is located on the highest of Monte Titano's summits. A museum to honor Saint Marinus was built within Cesta in 1956. It showcases over 1,550 weapons dating from Medieval times to the present. The site previously housed an old Roman fort prior to the 13th century.
Third Tower
The Montale dates to the 14th century and is located on the smallest of Monte Titano's summits. Unlike Guaita and Cesta, the interior of Montale is not open to the public. It is thought to have been constructed to give protection against the increasing power of the Malatesta family in the region. It later housed a prison. While you cannot access the interior of Montale, it's worth taking the short hike through a forested area to see its exterior.
San Marino Public Palace (Palazzo Pubblico)
One reason San Marino has mostly stayed independent over the centuries is because of its hilly location. In the 1800's, the country took in many people who were persecuted for supporting the unification of Italy, and in 1862 a friendship treaty was signed to guarantee independence from the Italian state.
The Public Palace serves as the Town Hall of San Marino and also the seat of their republic's government. The Chamber of the Grand and General Council is an impressive room, and I was shocked to have it all to myself on a Saturday afternoon visit in mid-June!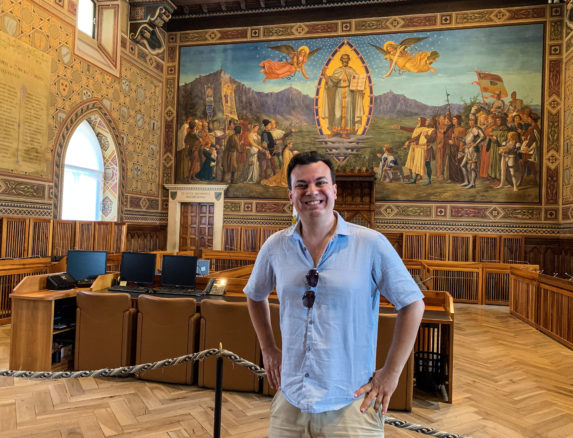 I was given the TuttoSanMarinoCard at my hotel, which allows visitors to purchase a combined museum card for just €7.50 ($8.20) – well worth purchasing! Admission into the Public Palace is included when it is open. It doesn't take long to visit the San Marino Public Palace. An hour of time is plenty to check out the museum and Grand and General Council chamber.
I was on my way out of town with luggage in tow and asked the lady working at the entrance to the Public Palace what I should do with my luggage and she said "just leave it here" – behind the desk with her! I was stunned. Can you imagine visiting the official seat of government anywhere else and being able to do that?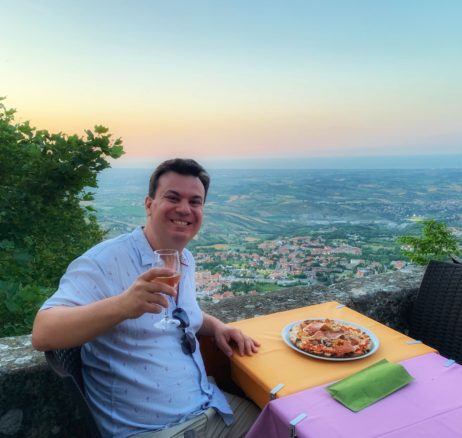 Where to Stay in San Marino?
San Marino has a good variety of small hotels ranging from budget to luxury. Book a hotel with free cancellation in advance, before peak season. That way if plans change, you can cancel without penalty. Booking is one of the best sites that rewards its frequent customers with discounts and room upgrades.
I stayed at Hotel La Rocca. This 10 room hotel offers great value atop San Marino, a short walk to the towers. 5 of the rooms have beautiful views overlooking San Marino and the valley beyond. Two of the rooms have balconies. It's worth paying extra for a room with a balcony as it makes a big difference in your stay. The first night I stayed in a room overlooking the cobblestone street. Then I paid €15 extra for a room with the balcony. Regular rooms start at €50 ($55 USD) per night and rooms with a balcony view start at €65 ($72 USD).
Hotel Cesare is a popular choice for an elegant stay in San Marino. Rooms overlook the historic center, the Tower of San Marino, or the valley. They're tastefully decorated in vibrant colors with parquet floors. Located on a pedestrian-only laneway within the historic walls of the republic, the hotel is just 50 feet from public parking in Piazzale Cava Antica.
Is San Marino Worth Visiting?
San Marino is one of the most pleasantly beautiful destinations I've visited, so it's an ideal destination for a couples getaway. It's also a great destination for solo travelers interested in history and politics. This is a tranquil destination, which is peaceful to some and boring to others. In two days in San Marino I saw no panhandlers or overtly sketchy characters, which is very unusual for a tourist destination.
San Marino would be considered a sleepy destination by most young travelers. But there are some bars and small nightclubs to knock back a few drinks.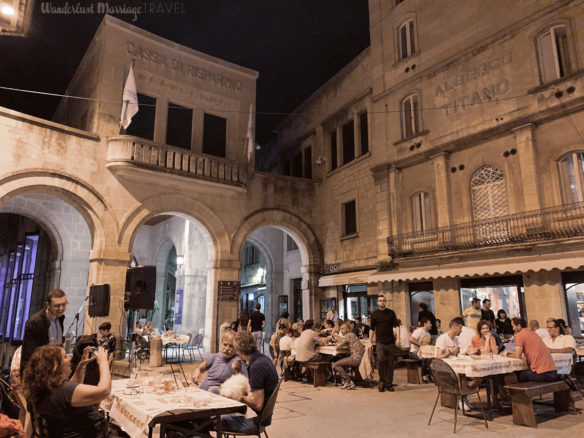 San Marino is also not generally the best foodie destination in Italy. But it is one of the best destinations in Italy for gorgeous views of the surrounding scenery.
How Long Should you Spend in San Marino?
It depends on the traveler. If you are short on time or a fast paced traveler, you can opt for a day trip. San Marino is small so you can see a lot in one day. If you have the time, spend two days like I did so you can absorb more of the local atmosphere.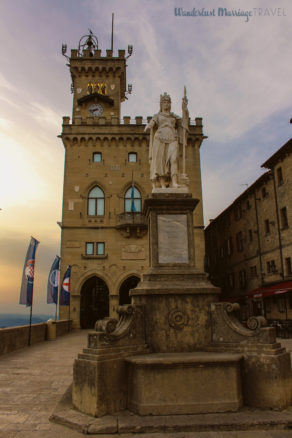 TuttoSanMarinoCard
If you stay overnight in San Marino, make sure your hotel gives you a complimentary TuttoSanMarino Card. This card entitles you to lots of savings around San Marino, including:
•purchase of the discounted € 7,50 multi-museum ticket instead of € 10,50 to visit First Tower, Second Tower, St. Francis Museum, State Museum and National Gallery of Modern and Conteporary Art. Free entry to the Public Palace is also included when it is open to visitors.
• 50% discount on the full fare ticket in the private museums (Waxworks Museum, Museum of Curiosity, Torture Museum, Exhibition of Vampires and Werewolves).
• purchase of the discounted return ticket (€ 3,50 instead of € 4,50) and single ticket (€ 2,00 instead of € 2,80) on the Cable car.
• 50% discount on the daily fare at the multi-storey car park P9.
• Visitors receive special rates guided tours with official San Marino tourist guides starting from € 65,00.
• € 5,00 discount on the su Jungle Softair deluxe (battle simulation, 4 participants at least), € 4,00 discount on the Adrenaline Tour, € 3,00 discount on the Adventure Tour, € 2,00 discount on the Kid tour at San Marino Adventures Theme Park.
• 10% discount at Ristorante Lounge Bar located inside Giochi del Titano open for dinner on Friday, Saturday and Sunday.
• 10% discount on purchases in participating shops.
• 10% discount on à la carte menu in participating restaurants and coffeehouses.
Purchase a San Marino Museum Card
The San Marino museum card is very inexpensive and well worth purchasing. Here are the options:
Two Museum Pass : € 6,50 for two Museums. Choose from the First Tower, Second Tower, St. Francis Museum, State Museum, National Gallery of Modern and Contemporary Art and Public Palace* (only if it is open to visitors).
Combined Museum Pass : € 10,50 entry to the First Tower, Second Tower, St. Francis Museum, State Museum, National Gallery of Modern and Contemporary Art and Public Palace* (only when it is open to visitors).
TuttoSanMarino Card Combined Museum Pass: € 7,50 only for TuttoSanMarino Card holders, entry to First Tower, Second Tower, St. Francis Museum, State Museum and National Gallery of Modern and Contemporary Art and Public Palace* (only when it is open to visitors).
Getting to San Marino
If you take a day trip to San Marino from Florence or Bologna, it's quicker if you have a car. Parking is available in the historic center of San Marino. The best lot for public parking is Piazzale Cava Antica as its the closest lot to the towers.
If you travel to San Marino by train you'll have to connect to a bus in Rimini. Walk across the street from Rimini train station and get on the Bonelli Bus. Bus tickets can be purchased from the driver at the time of boarding or in the tobacco shop. It's a 40 minute bus between Rimini and San Marino. Rimini has an international airport as well.
Travel Between Rimini and San Marino
30-40 minutes from San Marino, Rimini is a popular seaside holiday destination. It's not somewhere on the radar of most Americans, but Fort Lauderdale, Florida is a sister city. Imagine a more inexpensive version of Fort Lauderdale, with delicious Italian food and historic sites.
Rimini has a compact historic center with noteworthy things to see. The Tiberius Bridge (Ponte di Tiberio) was completed in 20 AD by the Romans and cars still drive over it today. The Arch of Augustus at Aosta was dedicated to the Emperor Augustus by the Roman Senate in 27 BC and is the oldest surviving Roman arch.
There are over 1,000 hotels and resorts lining the beaches in and around Rimini. Many of the hotels are well suited to value and budget travelers, as beachfront rooms are possible starting at around $50 USD a night! You'll also find a great culinary scene in Rimini, just check google reviews before sitting down. It can be helpful in having a better meal and experience in a busy tourist destination.
More on Northern Italy
If you're traveling to Tuscany, my article on Great Things to do in Florence covers many of highlights of the timeless Renaissance art haven. After my Modena food tour with Italian Days Food Tours I traveled by train from Bologna to the lovely seaside town of Rimini and the independent enclave of San Marino.
Bologna is also a wonderful town to visit, featuring Europe's oldest continually operating university. Its considered a culinary capital of the gastronomy rich nation. If you're traveling to Venice, my article on Venice, Italy tips can help you save time and money!
It can be difficult to decide where to visit in Italy. So I put together this guide on how to spend 2 weeks in Italy! From Lake Como to Sicily, there is so much to discover and devour. Happiest of travels!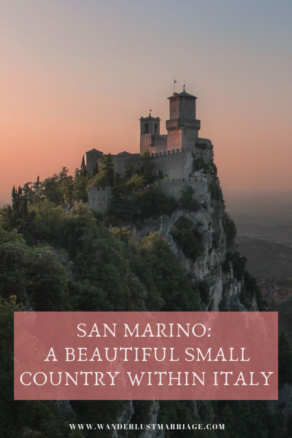 Disclosure: This article contains some affiliate links. But none of the content in this article is sponsored. I used credit card rewards points during my travels to Italy and San Marino to offset out of pocket costs.