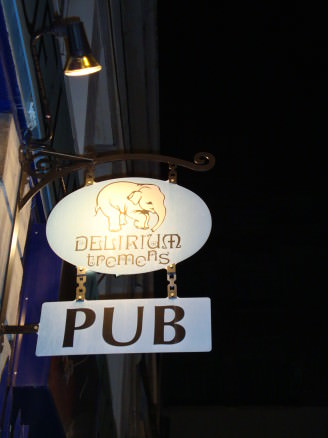 When Bell and I lived in Amsterdam we were fortunate to take a couple trips to
Belgium's underrated capital.
One of the absolute highlights for any beer lover on a trip to Brussels is a visit to the pub with the biggest beer selection in the world, the Delirium Cafe. While it
is
very touristy, and draws a fair bit of the frat boy element, it's still a must in our opinion (and no they are not paying us to write this).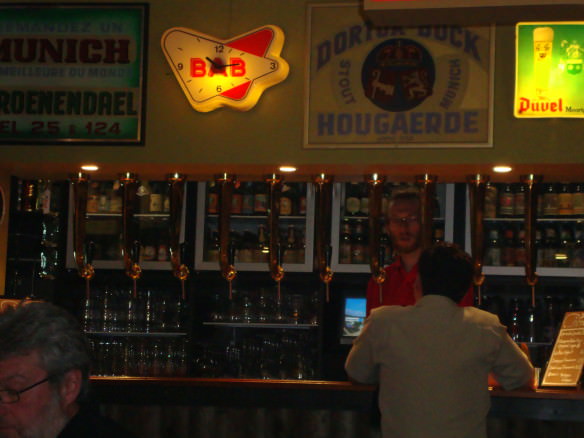 Biggest Beer Selection in the World!
The Delirium Cafe (AKA Delirium Tremens Pub) is in the center of Brussels and is housed on 3 floors. The ground floor only offers about 20 beer choices, all on draft, but almost all of them are excellent quality. The decor is pretty kitsch but we found the atmosphere to be great for a few beers in the early evening, before it gets too busy.
Partly catering to a young party crowd and being true to their name, Delirium crazily offers very strong beers in liter masts. The site of an already stumbling 18 year old, carrying a liter of high quality 9% abv beer is a spectacle. A couple good options (less than a liter at a time!) would be the house beers, the famed golden Tripel, Delirium Tremens or the darker, richer version, Delirium Nocturnum.
The Cellar Bar at the Delirium Cafe
Delirium Cafe advertises that is has "more than 2,400 beers," but the vast majority of these can only be had in their cellar bar which was always too busy to sit when we were able to swing in. Apparently you should arrive in the afternoon to peruse their massive beer menu. I've read a few people complaining that an exotic lager listed on the menu was out of stock, along with their 2nd choice. They wondered how many of the 2,400 beers are actually in stock at a given time. Or were they in stock at some point and never removed from the menu.
A word of advice though. If you're not certain that the turnover on any given beer isn't high volume, don't choose a random lager. Lager is always best at its freshest. On the flip side, most high abv ales mature with age to develop a more complex taste, similar to a good wine. If you're in Belgium, stick with ale if you can, it's what Belgians do best.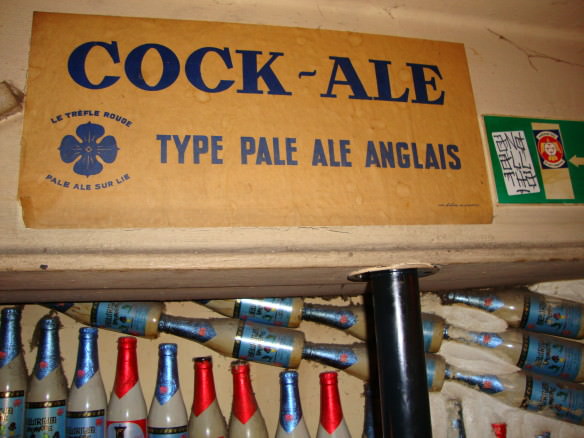 Top Floor of Delirium Cafe
The third floor bar is only a few years old and has an excellent menu of about 100 mostly awesome beers. Even at an alcoholics pace, you would need a couple weeks to drink every good beer on the smaller list. If you don't know so much about beer, just tell the bartender what you like and he'll make a good recommendation.
On our first visit to the upstairs bar, before the late night rush, I was discussing stouts with the bartender and he recommended a great choice pictured below, by the De Dolle brouwers. The next night we returned and had table service, but the bartender noticed us and had the waitress send me another great stout. "This is on the house" she said, a couple years before we even started this blog.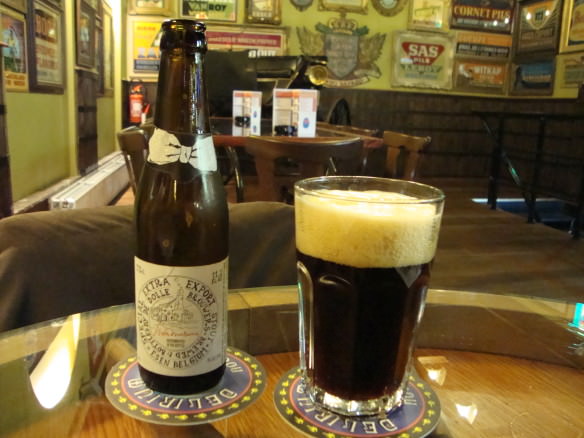 A Few Belgian Beer Recommendations for a Visit to the Delirium Cafe
If you like dark, rich malty beers go with a Monk made 'Trappist' beer. Rochefort 8 and Rochefort 12 are particularly complex, delicious and strong, so watch out. Choose those over Chimay, as you can easily find that all over the world now. Those Chimay monks have been very busy lately!
If you like Tripels (strong pale ales) or golden ales, rather than order a Duvel, which you can also find in many places now…go with Tripel Karmeliet (They haven't sold out to Anheuser-Busch InBev yet as they are brewed by Brouwerij Bosteels who have been owned and operated by the same family for 7 generations) or another great Trappist, Westmalle Tripel.
One of Bell's favorite beers is La Chouffe. While not as complex as those previously mentioned, it's a smooth and tasty golden ale. These are all popular beers in Belgium and can be found at many great smaller pubs throughout the country and in the neighboring Netherlands. If you are in Antwerp, one of the best beer pubs in the world is the Kulminator.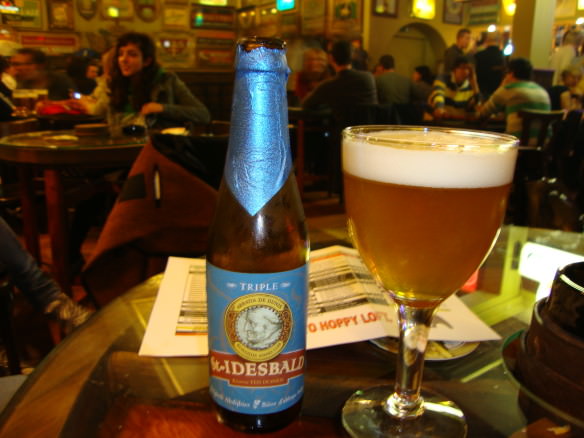 Delirium Cafe
Address: Impasse de la Fidélité 4, 1000 City of Brussels, Belgium
Hours: Monday-Saturday 10am-4am
Sunday: 10am-2am (why so early? ;))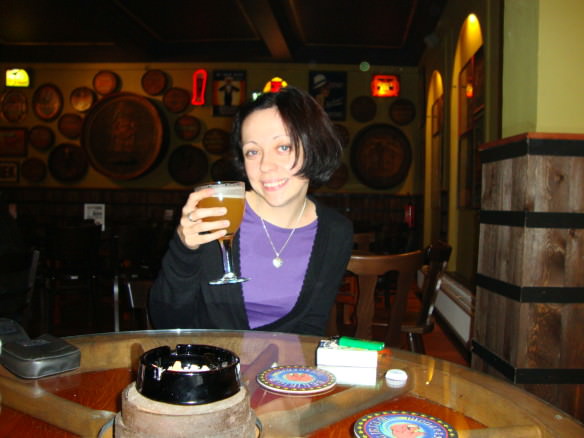 More on Belgian Beer
If you enjoy sour beers, the Cantillon Brewery in Brussels is a must. They've been in business for over a century and their method for brewing lambics hasn't changed. Wort is brewed through spontaneous fermentation in large vats. Then the brew is aged in oak barrels. Fruit is added to make delicious flavors like kriek (cherry) and framboise (raspberry). Gueuze is a Belgian lambic without fruit. Cantillon beers are superior to overly sweetened mainstream lambic style ripoff beers.
If you're traveling to Amsterdam, read about the most unique Amsterdam pubs for craft beer. Happy beer travels!
Where to Stay in Brussels to Sleep Off Beers from Delirium Cafe?
Luxury Hotels in Brussels
Brussels Marriott Hotel Grand Place offers great amenities and a wonderful central location.
Steigenberger Wiltcher's is a truly elegant hotel right off Avenue Louise, which has many of Brussels finest shops.
Mid Range Hotels
Hotel Park Inn by Radisson Brussels Midi has great rooms and a good location near Brussels Midi international train station. If you have an early international train to catch, this is a great option location wise as it's near the train station where you catch Eurostar and Thalys trains.
Budget Hotels in Brussels
Ibis City Centre has a fantastic location, just a couple minutes walk from the incredible Grand Place. Rooms are very basic but clean, and you can't beat the location.
Motel One Brussels has slightly better rooms than Ibis but it's a little further from the Grand Place. The breakfast buffet here is really good and well priced.
Families and groups of friends will often find the best value booking short stay apartments in Brussels. Look for properties with consistently good reviews within walking distance of the famous Grand Place!
*It may not be 2,400, but this is officially the 100th post on this website. Thank you to my lovely wife for all her hard work in this venture and thank you to our readers. We really appreciate everyone's support in helping us grow. 
Disclosure: This article contains affiliate links. We receive a small commission off bookings at no extra cost to you. Thanks for using them!