By Alex Kallimanis: The worlds of travel, food and general humanity were dealt a huge blow with the tragic news of Anthony Bourdain's passing. It was once again a reminder of how precious life is, and that everyone is dealing with an internal struggle. In the case of Mr. Bourdain, he was also a hero for those grappling with substance abuse issues. Anthony Bourdain was never bashful about discussing his previous struggles with drug addiction. And while navigating this equally tough and beautiful world, he was also battling major internal demons.
I received the terrible news that one of the greatest travelers of our lifetime had taken his life in a hotel in Kayserberg, France while I was on a hosted media trip. I was in Milwaukee, Wisconsin to write an article on 10 Great Things to Do In Milwaukee. I checked my phone at 7 am and a friend had texted me the news before I even woke up. More texts came in as the day went on. While I never met him, no travel writer inspired me more than Anthony Bourdain. Just a couple days prior, I visited Chicago's Old Town Ale House, because that was the centerpiece of his Parts Unknown episode on the city. And for years my travel mantra was, What Would Anthony Bourdain Eat?
In the days since his passing, I've read many articles and watched various clips on Anthony Bourdain. I read that he didn't get a savings account until the age of 44, shortly after publishing his blockbuster book Kitchen Confidential, which kicked off his journey into being a household name. Despite his suicide, his incredible legacy should give hope to anyone struggling to get by in life.
Vietnam: One of Anthony Bourdain's Favorite Countries
Anthony Bourdain was an inspiration to our travels and a reminder to continue telling travel stories beyond the shallow end of the pool. Vietnam was one of his favorite countries- for the people, and for a delicious bowl of noodles, one of the foods likely to trigger a simple but significant "oh man, that's good" from him.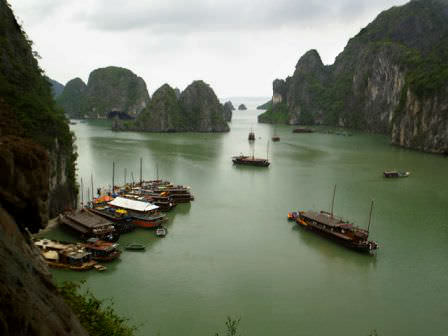 We spent 12 days in Vietnam in 2005, en route from Australia to the United States. For Americans interested in history, a trip to Vietnam is one of the most important journeys you can take. We visited Ho Chi Minh City (Saigon), took a 10-hour train ride to Na Trang and then flew to Hanoi. We also toured majestic Ha Long Bay, one of the most beautiful places we've ever visited. Hanoi is a fascinating city with a wonderful culinary scene significantly influenced by the French. French colonial occupation prior to to the 1960's led to the birth of tasty ban minh sandwiches on crunchy baguettes, which have now become a global phenomenon.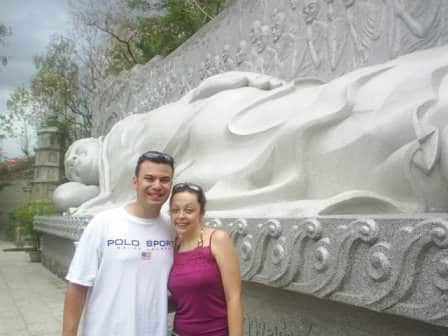 Touring the Vietnam Military History Museum in Hanoi was an incredible experience. The museum houses captured American planes, tanks and other US memorabilia. US Senator John McCain's flight suit can be seen at the nearby Hoa Lo Prison (aka Hanoi Hilton). McCain was a bombardier during the Vietnam conflict and his capture led to spending 5 years in a Vietnamese POW camp.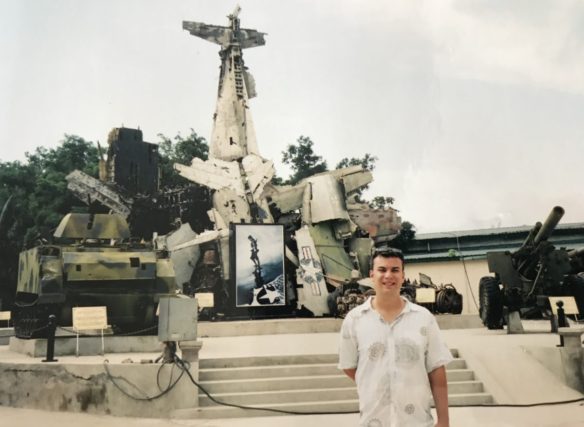 Another highlight of Vietnam was eating and drinking in a local bia hoi in Hanoi. While we were sinking our teeth into a seriously tasty beef dish, we saw a rat climb up the wall. Yes, slightly disturbing, but something that can just as easily happen in a New York City restaurant. Fresh beer for rock bottom prices and friendly local encounters made up for that. A cute five year old Vietnamese girl sat with us for awhile and posed for photos. Sitting down with different people for a meal was what Anthony Bourdain encouraged people to do.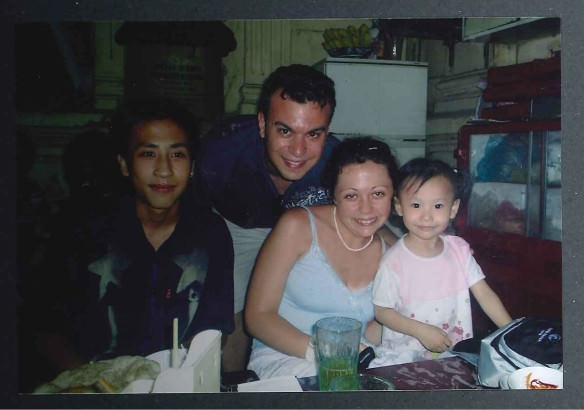 In 2005, Vietnam was not a super easy country to travel in. It's easier today, and there's boutique western shops and chains that didn't exist when we visited. Reflecting back, we loved Vietnam and previously wrote about this experience. If you haven't seen the Parts Unknown episode from a couple years ago with Anthony Bourdain showcasing modern Hanoi, watch it in Netflix. At the end of the episode he sits down for a bowl of noodles in Hanoi with President Obama.
Mexico: So Many American Kitchens Would Cease to Exist Without Mexican Cooks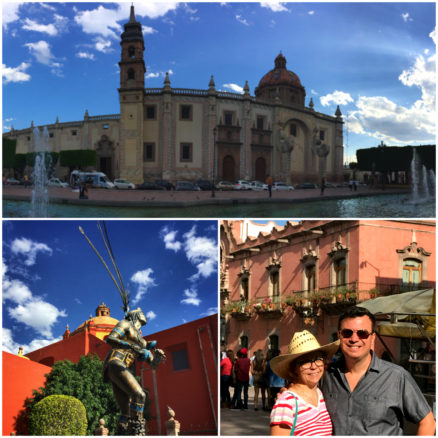 Mexico was another favorite country of Anthony Bourdain's. Many of his cooks at Les Halles in New York, including his sous chef were Mexican. His book, A Cook's Tour, in addition to friends living in Mexico, were an inspiration for us to dig deeper into Mexican travel. Bourdain was especially a fan of the Puebla and Oaxaca states: two of the very best regions in Mexico for food. Many of his cooks in New York were Poblanos, and he felt they were among the best in the industry – as capable of whipping up great French and Italian meals, as they are delicious Mexican dishes.
We spent our 12 year wedding anniversary in Puebla, Mexico in March, 2017. The food was fabulous. Some of the tastiest we've eaten in our travels. We then headed north to the Spanish town of Queretaro and were graciously welcomed into the homes of our friends Hector and Milly, whom we knew from our days living in the Netherlands. They drove us to the lovely towns of San Miguel de Allende and Bernal. We also stayed with friends in Mexico City and they showed us the high end culinary scene around Polanco. We ate a wealth of fantastic food in Mexico, whether it was being prepared in an upscale kitchen or on the street – oh man, it was good.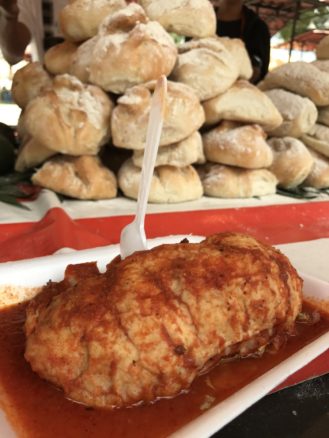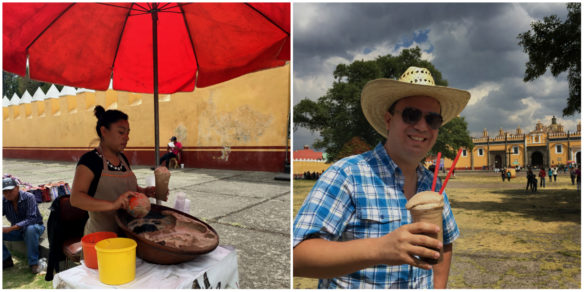 Cambodia: A Country We Haven't Visited Yet, But Would Like To
Perhaps the best chapter in Anthony Bourdain's 2001 book A Cook's Tour is his chapter on Cambodia, Road to Pailin. Pailin was/is a Khmer Rouge stronghold, harboring former government officials of one of the most brutal regimes of the 20th century, which was also supported by US government officials during the Vietnam War. A bold paragraph from this chapter where Bourdain holds back no punches against the former US Secretary of State appointed by President Nixon and who served in that position from 1973-1977, and who is still alive today at 95 years old, and thought of highly by Donald Trump:
"Once you've been to Cambodia, you'll never stop wanting to beat Henry Kissinger to death with your bare hands. You will never again be able to open a newspaper and read about that treacherous, prevaricating, murderous scumbag sitting down for a nice chat with Charlie Rose or attending some black-tie affair for a glossy magazine without choking. Witness what Henry did in Cambodia – the fruits of his genius for statesmanship – and you will never understand why he's not sitting in the dock at The Hague next to Milošević…One in eight Cambodians. As many as 2 million people were killed during the Khmer Rouge's campaign to eradicate their history."
Bourdain's chapter on Cambodia is an important history lesson that shifts back and forth from horror to hilarity. I cried and laughed reading that chapter. His adventures and the events he chronicles in Cambodia were insane on many levels. Kudos to him for being brave and reckless enough to journey into several war zones, to tell many important stories.
Anthony Bourdain's books and shows will continue to inspire our travels. If you're reading this, his life probably touched yours as well. If you haven't read his books, buy one today. His books dive even deeper into his thoughts on travel, cooking and humanity. RIP Anthony Bourdain, you will always be missed, but will never be forgotten.